Katie Burton
Fall is the time of year in New York City when the cultural calendar kicks into high gear, and restaurants follow suit as well. Following the relatively slow summer months, September kicks off the season with a flurry of new dining options, and this year is no exception. This fall's highlights include a throwback to chef Jonathan Waxman's early career, a buzzed-about new spot from the red-hot Major Food Group empire, and a ninth Blue Ribbon establishment from the Bromberg brothers. From uptown to downtown and over to Brooklyn, here's where we'll be eating in New York this fall.
By Kate Donnelly
Katie Burton
Jams
Inside the chic 1 Hotel Central Park, chef Jonathan Waxman (of the wildly popular Barbuto) has revived his influential mid-eighties restaurant, Jams. The airy space is a meld of soaring ceilings, exposed brick, and beach wood, while the menu includes dishes like squid-ink rigatoni with Peekytoe crab and garlic, and a tender pork chop Milanese. If you want to pay homage to the past, order the pepper pancakes with smoked salmon or the legendary chicken with tarragon butter and potatoes.
PLAN YOUR TRIP: Visit Fodor's New York City Travel Guide
Courtesy of Sadelle's; Photo by Evan Sung
Sadelle's
In SoHo, the dynamic empire known as Major Food Group (behind the Obama-endorsed Carbone, the moody Dirty French and the sleek Santina) has neatly spawned Jewish deli fare in a narrow, brick-exposed home. The main attractions at Sadelle's are dense, house-made bagel from baker Melissa Wells (formerly at Roberta's), smoky Nova lox, and three freshly whipped cream cheeses (plain, chive, and vegetable). There's also a beautifully presented lobster salad with neatly lined rows of potatoes, tomatoes, string beans and chives, as well as an inverted bagel tuna melt. But don't overlook the sweets—Sadelle's chocolate babka is the talk of the town.
PLAN YOUR TRIP: Visit Fodor's New York City Travel Guide
Quentin Bacon
L'Amico
Chef Lauren Tourondel's new Italian restaurant in Chelsea, L'Amico, occupies a handsome space with an open kitchen, floor-to-ceiling windows, and state-of-the-art wood-burning copper ovens. The menu includes a variety of fresh pastas and pizza fired up in the aforementioned ovens and topped with ingredients like Sicilian oregano and fennel pollen. For mains, try the blackened scallops with cranberry beans, or the skirt steak with charred cauliflower, Calabrian chili, and almond.
PLAN YOUR TRIP: Visit Fodor's New York City Travel Guide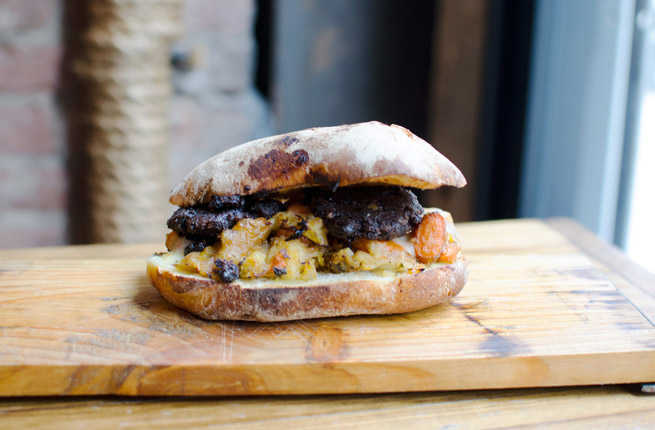 Rebekah Stein
Black Tree Bk
A new farm-to-table spot in Williamsburg, Black Tree (already a popular Lower East Side sandwich operation) takes local, sustainable ingredients from nearby farms and transforms them via in-house curing and pickling. Chef Sandy Dee Hall's rotating menu focuses mostly on one animal at a time—goat, cow, duck, and so on—and serves the different parts of that protein in various formats. The Brooklyn location laos has a "barreled program" that includes pours of wild blueberry mead and white whiskey.
PLAN YOUR TRIP: Visit Fodor's New York City Travel Guide
Courtesy of Vaucluse
Vaucluse
On the Upper East Side, chef Michael White (of the elegant Ai Fiori and Marea) has opened a new traditional French brasserie, Vaucluse, named after the region in southeast Provence. There's a "White Label Burger" with aged beef, Fontina cheese, tomato jam, and shallot confit on brioche, and vibrant house-made pastas like macaroni mouclade with jumbo lump crab, Brussels sprouts, and curry cream. The boutique firm Meyer Davis designed the warmly lit space; a vaulted ceiling recalls the interior glow of an elegant French farmhouse.
PLAN YOUR TRIP: Visit Fodor's New York City Travel Guide
Daniel Krieger
Black Seed Bagels
Opening next week is the new East Village outpost of Black Seed Bagels, the immensely popular shop that serves its carbs Montreal-style. For more than a century, this space was home to the beloved Italian bakery De Robertis; the renovation preserved original design elements including the pressed-tin ceiling and tiled floors. As at the original Soho location, the bagels will be made on the premises, but the East Village's larger kitchen means there will be an expanded menu including pizza bagels and a selection of salads, in addition to Black Seed's signature sandwiches.
PLAN YOUR TRIP: Visit Fodor's New York City Travel Guide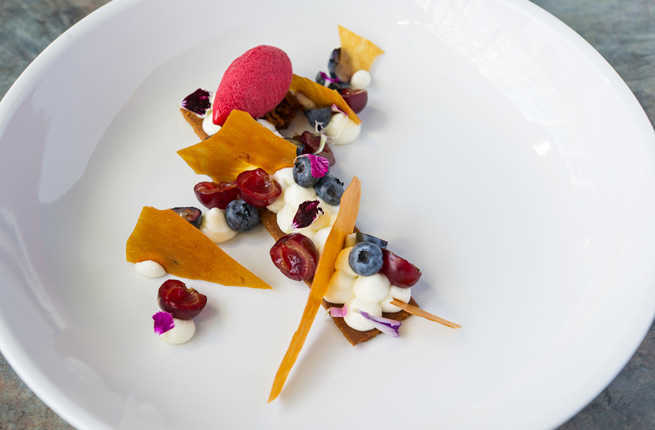 Morgan Ione Yeager
Kat and Theo
In the Flatiron District, newcomer Kat and Theo is all about aesthetics: The dining room features an old fireplace, exposed brick, and white-oak floors, while the food is all plated with artistic flourishes. In the kitchen, chef Paras Shah (an alum of Per Se and Momofuku Noodle Bar) masters Mediterranean-inflected, market-driven dishes like grass-fed steak with garlic-chive soubric and a pomegranate bordelaise sauce. For desert, try the dense, dark chocolate crèmeux with lemon and lavender.
PLAN YOUR TRIP: Visit Fodor's New York City Travel Guide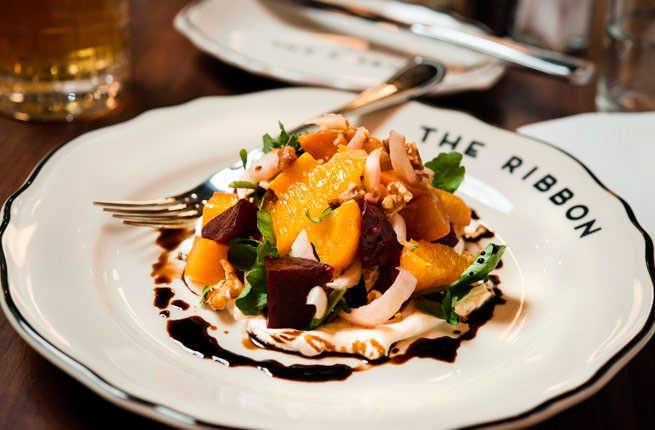 Steve Hill
The Ribbon
The Bromberg brothers have opened a ninth Blue Ribbon establishment, The Ribbon, on the Upper West Side; this location offers cheese plates, house-made pâtés, and a raw bar specialties serving oysters and clams. The 18-seat, dark-wood bar space leads to a dining room where chef Martin Brock produces burgers, pastas, and rotisserie-cooked meats in an open kitchen. On Sundays and Mondays, the famed fried chicken is where it's at, washed down with an approachable cider, craft beer, or even a whiskey (neat, please).
PLAN YOUR TRIP: Visit Fodor's New York City Travel Guide
Courtesy of Bruno Pizza
Bruno Pizza
The ambitious East Village spot Bruno Pizza trades in wood-fired Neapolitan pizza perfection. It all starts with the specially milled and finely ground flour, produced on-site, which bring the quality of their pies to heightened levels. There's more than just pizza, though: Share the corkscrew-shaped cavatappi with smoked bone marrow, clams, collards, and bacon. The sleek white-brick-walled dining room is primarily reserved for walk-ins, so arrive before hunger levels peak.
PLAN YOUR TRIP: Visit Fodor's New York City Travel Guide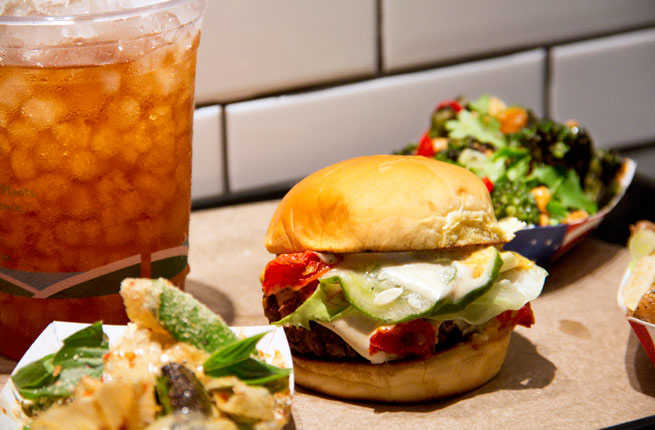 Ryan Healey
Superiority Burger
After a successful pop-up run, Superiority Burger's meatless burgers have landed in the East Village to critical acclaim (think two stars from the New York Times). The namesake burger is served on a potato bun and topped with melted Muenster, roasted tomatoes, brown honey, iceberg lettuce, and pickles. A wrap uses a whole-wheat tortilla with tofu and brown rice and, a new, vegan cold-pizza salad combines slow-cooked creamed corn, black pepper, fennel seed, garlic, and olive oil. The house-made gelato is a must, but with only six seats, be prepared to stand or take your meal to go.
PLAN YOUR TRIP: Visit Fodor's New York City Travel Guide
Katie Burton
Kings Co Imperial
After extensive travel throughout China, duo Josh Grinker and Tracy Young spawned their 65-seat Williamsburg restaurant, Kings County Imperial, as an industrial space dressed with reclaimed-mahogany tables and vaulted ceilings. To eat, there are sharable, family-style Chinese classics with organic ingredients: Sample the Cantonese crispy garlic chicken with soy and vinegar, or whole wheat lo mein with cucumber and radishes—and don't forget the prawn fries with Chinese ketchup. Close your meal with a Tiki-inspired Irish Hawaiian, made with Irish whiskey, Velvet falernum, fresh lemon and pineapple juice.
PLAN YOUR TRIP: Visit Fodor's New York City Travel Guide