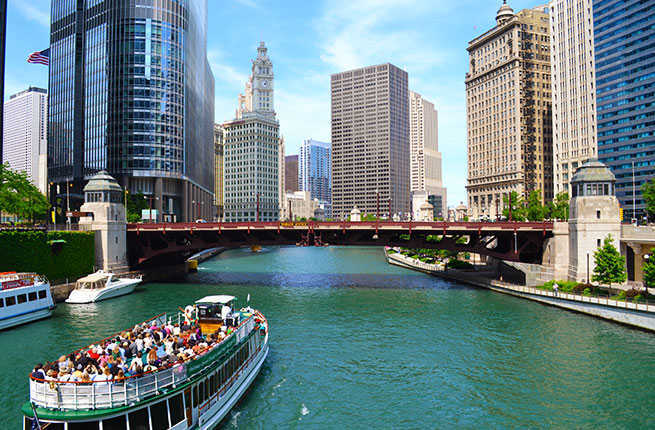 jessicakirsh / Shutterstock
The Windy City, the City of the Broad Shoulders, the Second City—there's a reason Chicago has so many nicknames: this is a city of multitudes. That also means there's a lot to do here, from fine dining to award-winning local theater to cultural gems like the Art Institute of Chicago. Needless to say, it's impossible to do everything, but there are some experiences that simply shouldn't be skipped over. Whether you're visiting Chicago for the first time or the tenth, here are twenty things you absolutely can't miss.
Jeremy Reddington / Shutterstock
Millennium Park
Downtown Chicago's parks are some of the finest in the country. In Millennium Park, make a beeline for Frank Gehry's Jay Pritzker Pavilion, where an incredible sound system allows audiences to enjoy concert-hall sound in the great outdoors. "The Bean," formally known as Cloud Gate, is a luminous polished-steel sculpture that plays tricks with the reflection of Chicago's skyline. In warmer months children of all ages can't resist a splash in the Crown Fountain, twin 50-foot towers that project close-up video images of Chicagoans "spitting" jets of water. In nearby Grant Park, you can see the iconic and impressive Buckingham Fountain.
PLAN YOUR TRIP: Visit Fodor's Chicago Travel Guide
Andrea Donadia
Dining in West Loop
There's great food all over the city, but you'll find a high concentration of some of the city's finest restaurants in both the West Loop and River North. This is where you'll find chef Grant Achatz's Next Restaurant and The Aviary, the ever-popular neighbors Avec and Blackbird, and arguably the city's best burgers at Au Cheval. Need more suggestions? Check out our Chicago restaurant reviews, where you'll find more than 100 options listed for these two hot neighborhoods. Or you could just pick a street and explore—you're likely to find someplace that's tasty.
PLAN YOUR TRIP: Visit Fodor's Chicago Travel Guide
Thomas Barrat / Shutterstock
Museum Campus
Three of Chicago's most notable museums, all dedicated to the natural sciences, sit inside this 57-acre park on Lake Michigan. At the Field Museum, say hello to Sue, the gigantic T. rex, before immersing yourself in this extraordinary museum's collection of anthropological and paleontological artifacts and animal dioramas. The dinosaurs are the thing here, but surprising collections of Tibetan Buddhist altars, mummies, and re-creations of famous gems may entice you to linger for hours. The Shedd Aquarium's fantastically colored fish, as well as dolphins and whales, are completely mesmerizing. Don't miss the Wild Reef exhibit, where stingrays slide quietly under the Plexiglas at your feet. Taking you on a journey through the stars to unlock the mysteries of our galaxy and beyond, the Adler Planetarium tells amazing stories of space exploration through high-tech exhibits and immersive theater experiences. Interactive elements and real space artifacts bring these fascinating tales of space and its pioneers down to earth.
PLAN YOUR TRIP: Visit Fodor's Chicago Travel Guide
(c) Starmaro | Dreamstime.com
Willis Tower Skydeck
Take the ear-popping ride to the 103rd floor of the Willis Tower (né the Sears Tower) to get to Skydeck Chicago, where on a clear day you can see as far as Michigan, Wisconsin, and Indiana. At the top, interactive exhibits feature notable Chicagoans; kids love Knee-High Chicago, a four-foot-high exhibit that has cutouts of Chicago sports, history, and cultural icons at a child's eye-level. Fearless folks can step out onto the Ledge, twin glass boxes extending 4.3 feet from the Skydeck and suspended a dizzying 1,353 feet above the city. Security is very tight, so figure in a little extra time for your visit.
PLAN YOUR TRIP: Visit Fodor's Chicago Travel Guide
(c) Dibrova | Dreamstime.com
Magnificent Mile
Exclusive shops, department stores, and boutiques line the northern half of swanky Michigan Avenue, better known as the Magnificent Mile. Even better, the concentration of prestigious stores in vertical malls means you can get a lot of shopping done in winter without venturing into the bluster outside. Originally designed by 19th-century architect Daniel Burnham, this famous section of Michigan Avenue is a potpourri of historic buildings, upscale boutiques, department stores, and posh hotels. Among its jewels are the Tribune Tower, the Wrigley Building, the John Hancock Center, the Drake Hotel, and the Historic Water Tower, one of the few structures that survived the Great Chicago Fire.
PLAN YOUR TRIP: Visit Fodor's Chicago Travel Guide
MaxyM / Shutterstock
The Art Institute of Chicago
The Art Institute of Chicago has the country's best collection of Impressionist and Postimpressionist art, as well as the Renzo Piano–designed Modern Wing. It's also a great place to see all those paintings you've seen only on postcards, like American Gothic and Nighthawks. Come for the sterling collection of Impressionists (an entire room is dedicated to Monet) and Old Masters; linger over the extraordinary and comprehensive photography collection; take in a number of fine American works; and discover paintings, drawings, sculpture, and design spanning the ancient to the contemporary world. A fine-dining restaurant, Terzo Piano, features nouveau Italian cuisine. Check out the outdoor third-floor Nichols Bridgeway connecting the Art Institute to Millennium Park. It offers stunning views of the skyline and Lake Michigan.
PLAN YOUR TRIP: Visit Fodor's Chicago Travel Guide
jessicakirsh / Shutterstock
Architectural Boat Tour
Chicago's impressive skyline is wonderful to gawk at while floating down the Chicago River, and many operators offer boat rides to take in the lovely sights. The best of these, however, are the 90-minute tours led by the Chicago Architecture Foundation. During the ride, a knowledgeable volunteer guide will give you the details on more than 50 buildings along the river, and explain how Chicago grew into the important metropolis it is today.
PLAN YOUR TRIP: Visit Fodor's Chicago Travel Guide
Todd Rosenberg
Second City
An institution since 1959, Second City has served as a launching pad for some of the hottest comedians around. Alumni include Dan Aykroyd, Tina Fey, Amy Poehler, and the late John Belushi. It's the anchor of Chicago improv. The revues on the company's main stage and in its smaller e.t.c. space next door are actually sketch comedy shows, but the scripts in these pre-rehearsed scenes have been developed through improvisation and there's usually a little time set aside in each show for the performers to demonstrate their quick wit. Most nights there is a free improv set after the late show, featuring cast members and invited guests (sometimes famous, sometimes not, never announced in advance). It's in Donny's Skybox upstairs that you're more likely to see one of Chicago's many fledgling improv comedy troupes making their first appearance working together on freshly penned material in public.
PLAN YOUR TRIP: Visit Fodor's Chicago Travel Guide
Ffooter / Shutterstock
Wrigley Field
With its first major league game played here on April 23, 1914, the venerable, ivy-covered home of the Chicago Cubs is the nation's second-oldest major league ballpark. The original scoreboard is still used at Wrigley Field; score-by-innings, players' numbers, strikes, outs, hits, and errors are all posted manually. Die-hard fans opt for the bleachers, while the more gentrified prefer box seats along the first and third baselines. If you look up along Sheffield Avenue on the east side of the park, you can see the rooftop patios where baseball fans pay high prices to cheer for the home team. Ticketless fans sit in lawn chairs on Sheffield during the games, waiting for foul balls to fly their way. Also check out the Harry Caray statue commemorating the late Cubs announcer; in the bottom half of the seventh inning, fans sing "Take Me Out to the Ballgame" in his honor. Tours of the park and the dugouts are given from April to October, when the Cubs are on the road.
PLAN YOUR TRIP: Visit Fodor's Chicago Travel Guide
Kyle Flubacker
Theater
In Chicago's downtown theater district, you'll usually find at least one big-budget production of a touring musical or a new show that's bound for Broadway, but it would be a shame to miss out on the outstanding local theater scene. There are dozens of options to consider, but start by looking at three of the city's finest theaters: Steppenwolf, the Goodman, and Victory Gardens. Not only will the prices be cheaper, but also the theater are smaller and more intimate, and the productions are generally top-notch.
PLAN YOUR TRIP: Visit Fodor's Chicago Travel Guide
Rob Wilson / Shutterstock
Navy Pier
Yes, it's a little schlocky, but Navy Pier is fun, especially for families. Everyone can fan out to shop in the mall, play 18-hole minigolf in Pier Park in summer, see a movie at the IMAX Theatre, or explore the Chicago Children's Museum. Plus, there's a stained-glass museum, a fun-house maze with scenes of Chicago landmarks, and an old-fashioned swing ride. Meet up later at the Ferris wheel for a photo op or just settle on the pier with a drink and enjoy the view.
PLAN YOUR TRIP: Visit Fodor's Chicago Travel Guide
alisafarov / Shutterstock
Lincoln Park Zoo
At this urban enclave near Lake Michigan, you can face off with lions outside the Kovler Lion House, watch about two dozen gorillas and chimpanzees in the sprawling Regenstein Center for African Apes, and see animals both slithery (pythons) and strange (sloths) in the glass-dome Regenstein Small Mammal and Reptile House. Inside the Lincoln Park Zoo, the big guys (hippos, giraffes, and black rhinos) are in the Regenstein Animal Journey, and bird lovers should make a beeline to the McCormick Bird House, containing extremely rare birds, some of which are extinct in the wild. The children's zoo, Farm-in-the-Zoo (farm animals and a learning center with films and demonstrations), and LPZoo Children's Train Ride appeal to youngsters.
PLAN YOUR TRIP: Visit Fodor's Chicago Travel Guide
John Kershner / Shutterstock
Oak Street Beach
In case you didn't already know, Chicago is fringed by miles and miles of beaches on Lake Michigan, and Oak Street Beach is one of the best and most popular among them. Located not far from the Magnificent Mile, this is the perfect place to enjoy the juxtaposition of sun and sand with the city's marvelous skyline.
PLAN YOUR TRIP: Visit Fodor's Chicago Travel Guide
Mariusz S. Jurgielewicz / Shutterstock
Signature Lounge
The third-tallest building in Chicago, the John Hancock Center, has the most impressive panoramic views of the lake and surrounding skyline—it's high enough to see the tops of neighboring buildings, but not so remote that you feel like you're looking out from a plane. Skip the observatory and head to the 96th-floor bar connected the Signature Room restaurant on the 95th floor—you'll spend your money on an exorbitantly priced cocktail instead of the entrance fee and enjoy the same view. Women can head to the 95th-floor ladies' room for the best view in the whole building.
PLAN YOUR TRIP: Visit Fodor's Chicago Travel Guide
Brent Hofacker / Shutterstock
Classic Eats
Just as you can't overlook Chicago's cutting-edge restaurant, you also can't ignore its traditional favorites. Locals of course have their own favorites, but here are some recommendations we stand by: For deep-dish pizza, stop into any of the eight Lou Malnati's locations in the city or Pequod's Pizza in Lincoln Park; for a classic Chicago-style hot dog, try Portillo's downtown or, conveniently located near O'Hare International Airport, the retro drive-in Superdawg; and for Italian beef, look no further than Al's Italian Beef.
PLAN YOUR TRIP: Visit Fodor's Chicago Travel Guide
Live Music
No matter what kind of music you like, you won't have trouble finding a Chicago venue that caters to your tastes. However, you should make some time for two legends of the local scene. Open since 1968, Kingston Mines is one of the city's favorite blues clubs. Farther uptown, the Green Mill Cocktail Lounge features excellent jazz performers most nights of the week.
PLAN YOUR TRIP: Visit Fodor's Chicago Travel Guide
© Stefiross | Dreamstime.com
Pilsen
Many visitors never make it to city's South Side, but it's worth a detour to Pilsen, a historically Mexican neighborhood, for the eye-catching Pilsen Murals, art galleries that stay open late on the second Friday of every month, authentic Mexican eats, and the famous Maxwell Street Market, a flea market that's held every Sunday.
PLAN YOUR TRIP: Visit Fodor's Chicago Travel Guide
Henryk Sadura / Shutterstock
Hyde Park
President Obama's former stomping grounds are worth some space in your Chicago itinerary. This handsome neighborhood is home to the incredible Museum of Science and Industry; the scenic, man-made peninsula called Promontory Point; Frank Lloyd Wright's Robie House; and the Gothic-style campus of the University of Chicago.
PLAN YOUR TRIP: Visit Fodor's Chicago Travel Guide
Clayton Hauck
Drinks in Logan Square
One of the city's hippest corners is Logan Square, where you can have a fun night out eating and drinking at some of the neighborhood's buzziest spots. Start with dinner at beloved Lula Cafe, and then stop into Revolution Brewing for craft beers. Afterward, hit atmospheric cocktail dens like Longman & Eagle or Billy Sunday.
PLAN YOUR TRIP: Visit Fodor's Chicago Travel Guide
Lakefront Trail
One of the best ways to navigate the city's scenic lakefront (and many neighborhoods) is on a bicycle. There are a number of rental services throughout the city, but you can also sign up for the official bike-sharing program called Divvy for maximum convenience.
PLAN YOUR TRIP: Visit Fodor's Chicago Travel Guide