Blanscape / Shutterstock
There's a lot to see and do when visiting Chicago—restaurants, shopping, nightlife, sporting events, boat tours, outdoor activities, museums, and more—but do you know what you shouldn't do while you're there? This comprehensive list will help you avoid common tourist mistakes and reveal what you should not eat, when not to visit, and what you shouldn't waste your money on. Follow this expert advice on what not to do in Chicago, and you're guaranteed to have a truly authentic experience.
By Michael Alan Connelly
Michael Alan Connelly is the Editor of Fodors.com. Follow him on Twitter: @malanconnelly.
Blanscape / Shutterstock
Don't fly in or out of O'Hare
Yes, O'Hare International Airport has a great Rick Bayless restaurant (Tortas Frontera), but it also has one of the worst on-time records in the country. More often than not, if your travel plans involve O'Hare, you will be delayed at some point, especially when there's bad weather. Fortunately, there's also Midway International Airport, located on the city's southwest side. Considerably smaller than O'Hare, Midway sees fewer delays, shorter security lines, and an outpost of Chicago's own Potbelly Sandwich Shop. Simply put, unless you want to reenact your favorite scene from Home Alone, avoid O'Hare.
PLAN YOUR TRIP: Visit Fodor's Chicago Travel Guide
Holzmanpictures | Dreamstime.com
Don't wait in line for the Willis Tower Skydeck
As the tallest building in Chicago (the second-tallest in the U.S.), the Willis Tower (née the Sears Tower) is undoubtedly one of the city's biggest attractions, which means the wait times to get up to the 103rd-floor Skydeck can be atrocious. If you want to skip the lines, you can shell out $40 for a Fast Pass ticket that will get you to the top in no time at all; even if you're buying a regular ticket ($19), you should still buy it online in advance to save yourself some time. Alternatively, spend your money on a drink at the bar of the Signature Room, located on the 95th floor of the John Hancock building, which offers equally stunning views without the hassle. On a clear day, you'll be able to see all of the city plus Illinois, Indiana, Wisconsin, and Michigan.
PLAN YOUR TRIP: Visit Fodor's Chicago Travel Guide
Blanscape / Shutterstock
Don't visit when it's cold
There's no getting around it: Chicago winters are miserable. If you want to be able to experience all the city has to offer, visit between May and September, when the city comes alive with outdoor food and music festivals just about every weekend. This is also the best time of year to enjoy beautiful beaches on Lake Michigan, biking on the lakefront trail, strolls through Millennium and Grant Park, and architectural boat rides on the Chicago River. If you visit in winter, you can still take advantage of Chicago's great restaurants, bars, shopping, and cultural venues, but you'll almost freeze to death in the process.
PLAN YOUR TRIP: Visit Fodor's Chicago Travel Guide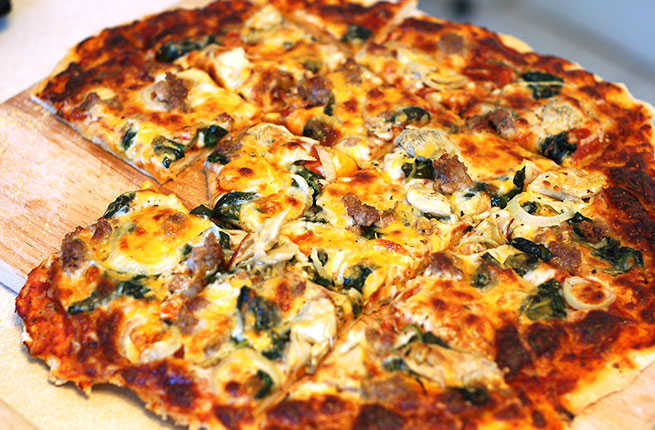 Don't only eat deep-dish pizza
Chicago gets a lot of attention for its deep-dish and stuffed pizzas (served at spots like Lou Malnati's, Giordano's, and Pequod's), but if you think that's all the locals are eating, you're dead wrong. The city is also home to an indigenous style of square-cut thin-crust pizza, the best of which you can find at Vito & Nick's, Marie's Pizza & Liquors, Candlelite, and Pat's. Chicagoans are eating a lot more than just pizza, though, and you should do the same while you're there. The city is home to a stunningly diverse dining scene, home to top-tier restaurants like Alinea, Grace, Blackbird, and Spiaggia; old-school steakhouse like Morton's and Gibsons; some of the best Mexican food you'll find in the country, including late-night taco joints like Burrito House; and everything in between. Do your restaurant research in advance and come hungry—there's a lot of food to love in Chicago.
PLAN YOUR TRIP: Visit Fodor's Chicago Travel Guide
Henryk Sadura / Shutterstock
Don't waste money on Broadway shows
National touring companies of Broadway shows always make stops in Chicago, and in recent years, the city has become a place for big-budget shows (The Producers, The Addams Family) to work out their kinks before opening in New York—but these are not the shows you should be seeing. Save the Broadway shows for Broadway, and instead buy tickets for productions at legendary local institutions like the Goodman Theatre, Steppenwolf Theater Company, and Chicago Shakespeare Theater. For a one-of-a-kind experience, check out Too Much Light Makes the Baby Go Blind (Friday–Sunday evenings), Chicago's longest-running show, in which a troupe called the Neo-Futurists attempt to perform 30 original plays in 60 minutes. And because this is the home of improv comedy, there's always something to see at Second City or at iO (formerly known as ImprovOlympic).
PLAN YOUR TRIP: Visit Fodor's Chicago Travel Guide
Henryk Sadura / Shutterstock
Don't limit yourself to downtown
For first-time visitors, it may be tempting to stay within the Loop and River North, but Chicago is a city of rich, vibrant neighborhoods that demand to be explored. On the South Side, you'll find the ethnic communities of Pilsen, Little Italy, and Chinatown plus the academic and cultural riches of Hyde Park. On the North Side, there's charming Andersonville; trendy Lincoln Square; the ever-popular triumvirate of Lincoln Park, Wicker Park, and Bucktown; and the hip environs of Logan Square. If you have the time, it's even worth getting outside the city limits to walk around Evanston (home to Northwestern University) and take in suburban sights including the Frank Lloyd Wright Home and Studio, the Chicago Botanic Garden, and Mies Van Der Rohe's iconic, minimalist Farnsworth House.
PLAN YOUR TRIP: Visit Fodor's Chicago Travel Guide
Brent Hofacker / Shutterstock
Don't put ketchup on your hot dog
Many things go on hot dogs in Chicago—raw onions, mustard, sweet pickle relish, tomato slices, a dill pickle spear, sport peppers, celery salt—but ketchup is not one of them. Violating this rule will immediately identify you as a tourist, and might even get you some dirty looks. The city's premier hot dog shop, Hot Doug's, is sadly no longer open, but there are still plenty of outstanding spots where you can get your fix, including Jimmy's Red Hots, Portillo's, Wiener and Still Champion, Gene & Jude's, and Wolfy's. If you're flying in or out of O'Hare International Airport, it would be a mistake not to plan a stop at nearby Superdawg. As long as you're at a place where they serve Vienna Beef hot dogs in poppyseed buns, you can't go wrong.
PLAN YOUR TRIP: Visit Fodor's Chicago Travel Guide
MaxyM / Shutterstock
Don't skip the museums
Between restaurants, shopping, nightlife, sporting events, boat tours, and outdoor activities, a trip to Chicago can be overwhelming, but you have to reserve at least a little time to check out the world-class museums. If you only have time for one, beeline to the Art Institute of Chicago, which has a stunning collection of work by the Impressionists (an entire room is dedicated to Monet) and Old Masters plus iconic works like Seurat's A Sunday Afternoon on the Island of La Grande Jatte and Chagall's America Windows. Also worth seeing are the Museum of Contemporary Art (currently home to the blockbuster David Bowie Is exhibition through January 4, 2015), the Field Museum (home to the largest and most complete Tyrannosaurus rexfossil ever found), the Museum of Science and Industry (where you watch stunning science- and space-related films at the Omnimax Theater), the John G. Shedd Aquarium (home to sharks, beluga whales, dolphins, and penguins), and the Adler Planetarium (where you can see the restored Gemini 12 flown by Buzz Aldrin in 1966).
PLAN YOUR TRIP: Visit Fodor's Chicago Travel Guide
Tupungato | Dreamstime.com
Don't only go shopping on Michigan Avenue
Also called the Magnificent Mile, Michigan Avenue is home to a dizzying number of stores, from high-end designer shops like Gucci and Louis Vuitton to department stores like Nordstrom and Neiman Marcus to specialty stores like Crate and Barrel and Williams-Sonoma. You can probably find most Mag Mile stores closer to home, though, so your Chicago shopping experience should extend beyond this one avenue. Wicker Park and Bucktown are notable for their independent clothing and jewelry boutiques, antique furniture shops, and specialty thrift stores. In family-centric Roscoe Village, you'll find children's boutiques, women's apparel, and home décor shops. You should head to Andersonville for standout home goods at Brimfield and Scout plus great bookstores. And there's no shortage of retro styles at vintage shops in Boystown. But if you want to splurge, high-end Oak Street is your destination, where you'll find Barneys New York and Prada.
PLAN YOUR TRIP: Visit Fodor's Chicago Travel Guide
Mike Liu / Shutterstock
Don't buy Cubs tickets in advance
Even if you don't care about baseball, a visit to Wrigley Field is a must—but that doesn't mean you need to spend a lot for the experience. With an abundance of day games, the ballpark rarely sells out, so there's no need to buy tickets in advance. If you show up shortly before the first pitch, you're more than likely to find face-value tickets for sale at Wrigley's windows (ask for the cheapest seats—there's not a bad seat in the house). You'll also find an abundance of ticket scalpers on the street who are open to making a bargain, especially when the Cubs are playing poorly. (For the deepest discounts, wait until after the game has started to negotiate.) Once inside, enjoy the retro charms of this iconic ballpark, which hasn't changed much since the first game was played here in 1914. You don't have to stay for the whole game, but don't miss the seventh-inning stretch, when the crowd rises to its feet to sing "Take Me Out to the Ballgame."
PLAN YOUR TRIP: Visit Fodor's Chicago Travel Guide