Sepavo | Dreamstime.com
From Wall Street's skyscrapers to the neon of Times Square to Central Park's leafy paths, New York City pulses with an irrepressible energy. History meets hipness in this global center of entertainment, fashion, media, and finance. World-class museums like MoMA and unforgettable icons like the Statue of Liberty beckon, but discovering the subtler strains of New York's vast ambition is equally rewarding: ethnic enclaves and shops, historic streets of dignified brownstones, and trendy bars and eateries all add to the urban buzz. But all of the tantalizing options can also make it hard to plan a trip, so instead of trying to see, eat, drink, and do it all, put these 20 musts—from iconic landmarks to local favorites—at the top of your list.
Alexpro9500 | Dreamstime.com
Metropolitan Museum of Art
It would be possible to roam the labyrinthine corridors of the colossal Metropolitan Museum of Art for days. The Met has more than 2 million works of art representing 5,000 years of history, so it's a good idea to plan ahead; looking at everything here could take a week.
PLAN YOUR TRIP: Visit Fodor's New York City Guide
Andreykr | Dreamstime.com
Times Square
Hands down, Times Square is the most frenetic part of New York City, a cacophony of flashing lights and shoulder-to-shoulder crowds that many New Yorkers studiously avoid. If you like sensory overload, the chaotic mix of huge underwear billboards, flashing digital displays, on-location television broadcasts, naked cowboys, and Elmo clones will give you your fix.
PLAN YOUR TRIP: Visit Fodor's New York City Guide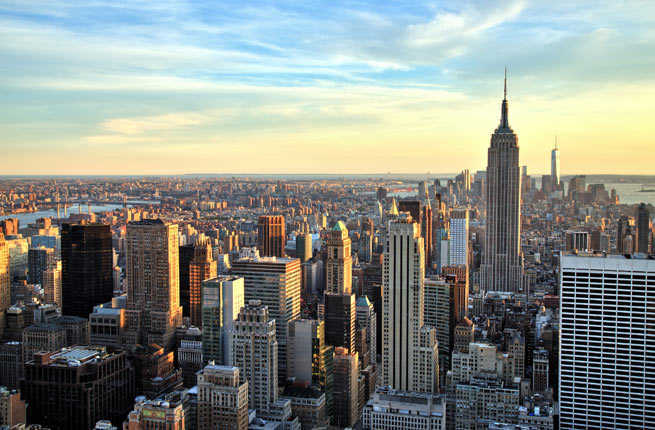 Revoc9 | Dreamstime.com
Empire State Building
With a pencil-slim silhouette, recognizable virtually worldwide, the Empire State Building is an Art Deco monument to progress, a symbol for New York City, and a star in some great romantic scenes, on- and off-screen. The views of the city from the 86th-floor deck are spectacular, but the views from 16 stories up on the 102nd-floor observatory are even more so—and yet, fewer visitors make it this far.
PLAN YOUR TRIP: Visit Fodor's New York City Guide
Dmitro2009 / Shutterstock
Museum of Modern Art
Art enthusiasts and novices alike are often awestruck by the masterpieces they find at the MoMA, including Picasso's Les Demoiselles d'Avignon and Van Gogh's Starry Night. In addition to the artwork, one of the main draws of the museum is the building itself. A maze of glass walkways permits art viewing from many angles.
PLAN YOUR TRIP: Visit Fodor's New York City Guide
littleny / Shutterstock
Brooklyn Bridge
One of New York's noblest and most recognized landmarks, the Brooklyn Bridge stretches over the East River, connecting Manhattan and Brooklyn. A walk across its promenade—a boardwalk elevated above the roadway, shared by pedestrians, in-line skaters, and cyclists—takes about 40 minutes and delivers exhilarating views.
PLAN YOUR TRIP: Visit Fodor's New York City Guide
spirit of america / Shutterstock
Statue of Liberty and Ellis Island
For millions of immigrants, the first glimpse of America was the Statue of Liberty, growing from a vaguely defined figure on the horizon into a towering, stately colossus. Visitors approaching Liberty Island on the ferry from Battery Park may experience a similar sense of wonder. The neighboring Ellis Island National Museum of Immigration tells the story not just of Ellis Island but of immigration from the colonial era to the present day, though numerous galleries containing artifacts, photographs, and taped oral histories.
PLAN YOUR TRIP: Visit Fodor's New York City Guide
Jorg Hackemann / Shutterstock
American Museum of Natural History
The largest natural history museum in the world is also one of the most impressive sights in New York. Four city blocks make up the American Museum of Natural History's 45 exhibition halls, which hold more than 30 million artifacts from the land, sea, and outer space.
PLAN YOUR TRIP: Visit Fodor's New York City Guide
Songquan Deng / Shutterstock
Central Park
A combination escape hatch and exercise yard, Central Park is an urbanized Eden that gives residents and visitors alike a bite of the apple. The busy southern section of Central Park, from 59th to 72nd Street, is where most visitors get their first impression. But no matter how many people congregate around here, you can always find a spot to picnic, ponder, or just take in the greenery, especially on a sunny day.
PLAN YOUR TRIP: Visit Fodor's New York City Guide
Marcorubino | Dreamstime.com
9/11 Memorial
Finished just in time for the 10th anniversary of 9/11, these 30-foot waterfalls sit on the footprint where the Twin Towers once stood. The pools are each nearly an acre in size, and they are said to be the largest man-made waterfalls in North America. Edging the 9/11 Memorial pools at the plaza level are bronze panels inscribed with the names of the 2,983 people who were killed in the terror attacks at the World Trade Center site, in Flight 93's crash in Pennsylvania, at the Pentagon, and the six people who died in the World Trade Center bombing in 1993.
PLAN YOUR TRIP: Visit Fodor's New York City Guide
SeanPavonePhoto / Shutterstock
The High Line
Once a railroad track carrying freight trains, this elevated space—running from Gansevoort Street in the Meatpacking District (at the Whitney Museum of Art) to West 34th Street—has been transformed into a wonderful retreat from the hubbub of the city. A long, landscaped "walking park" with plants, curving walkways, picnic tables and benches, public art installations, and views of the Hudson River and the Manhattan skyline, The High Line is now one of the most visited parks in New York City.
PLAN YOUR TRIP: Visit Fodor's New York City Guide
Courtesy of Whitney Museum of American Art; Photo by Ed Lederman
Whitney Museum of American Art
In early 2015, the Whitney opened the doors of its fabulous new Renzo Piano–designed building in the Meatpacking District, between the High Line (New York's beloved elevated park) and the Hudson River. The new museum has 8 floors (6 accessible to the public) with more than 50,000 square feet of state-of-the-art gallery space, as well as 13,000 square feet of outdoor space with views of the Hudson River, Downtown, and the Meatpacking District.
PLAN YOUR TRIP: Visit Fodor's New York City Guide
Wangkun Jia | Dreamstime.com
Solomon R. Guggenheim Museum
Frank Lloyd Wright's landmark nautilus-like museum building is renowned as much for its famous architecture as for its superlative collection of art and well-curated shows. Opened in 1959, shortly after Wright's death, the Guggenheim is acclaimed as one of the greatest buildings of the 20th century.
PLAN YOUR TRIP: Visit Fodor's New York City Guide
Victor Maschek / Shutterstock
Grand Central Terminal
Grand Central is not only the world's largest (76 acres) and the nation's busiest railway station—nearly 700,000 commuters and subway riders use it daily—but also one of the world's most magnificent, majestic public spaces. Past the glimmering chandeliers of the waiting room is the jaw-dropping main concourse, 200 feet long, 120 feet wide, and 120 feet (roughly 12 stories) high, modeled after an ancient Roman public bath. Overhead, a twinkling fiber-optic map of the constellations covers the robin's egg–blue ceiling. To admire it all with some sense of peace, avoid visiting at rush hour.
PLAN YOUR TRIP: Visit Fodor's New York City Guide
Zhukovsky | Dreamstime.com
Coney Island
More than a century ago Coney Island ranked among the country's preeminent seaside resorts, but despite a recent economic resurgence, with new restaurants, bars, and a revamped amusement park opening up, an aura of faded carny glory endures. Decades-old concessions line the boardwalk, and plenty of outsize characters keep Coney Island weird, especially at the circus sideshow and the annual Mermaid Parade. Luna Park (home of The Cyclone), Deno's Wonder Wheel Amusement Park, and the New York Aquarium are the biggest draws for most visitors; Nathan's Famous and Totonno's Pizzeria Napolitana are musts when hunger strikes.
PLAN YOUR TRIP: Visit Fodor's New York City Guide
Jennifer Arnow
Staten Island Ferry
Every day, some 70,000 people ride the free ferry to Staten Island, one of the city's outer boroughs, and you should be one of them. Without paying a cent, you get phenomenal views of the Lower Manhattan skyline, the Statue of Liberty, and Ellis Island during the 25-minute boat ride across New York Harbor.
PLAN YOUR TRIP: Visit Fodor's New York City Guide
Bayda127 | Dreamstime.com
Broadway Shows
Mostly located in the area surrounding Times Square, more than three dozen Broadway theaters host some of the greatest spectacles in town. From big-budget musicals to high-minded plays to stage debuts featuring Holly wood stars, there's likely to be something for everyone playing on the boards. You should buy tickets in advance for popular shows, but if you're willing to see anything and looking to save some money as well, stop by the TKTS booth in Times Square, which sells same-day tickets at a discount.
PLAN YOUR TRIP: Visit Fodor's New York City Guide
Pizza
Forget about bagels and hot dogs—pizza is New York's most beloved and iconic food. You can find a pretty good slice in most neighborhoods, but deservedly legendary institutions include Di Fara Pizza, Totonno's, and Lombardi's Pizza. In recent years, newcomers to the pizza scene—Roberta's, Paulie Gee's, Motorino, Emily—have generated equally fanatic followings.
PLAN YOUR TRIP: Visit Fodor's New York City Guide
Jennifer Arnow
Brooklyn
In less than a generation, Brooklyn has transformed into a global capital of culture and creativity. This happening New York City borough across the East River from Manhattan buzzes with energy, excitement, and the inherent tension of coupling reinvention with a dedication to authenticity. From food and drink to fantastic events to fun for the kids, this borough is not be missed.
PLAN YOUR TRIP: Visit Fodor's New York City Guide
Agaliza | Dreamstime.com
Lincoln Center for the Performing Arts
This massive and somewhat fortress-like, white travertine-clad complex contains 23 theaters, as well as the Juilliard School, the New York City Ballet, the Film Center of Lincoln Center, and a branch of the New York Public Library, making Lincoln Center one of the most concentrated places for the performing arts in the nation. The largest hall, the Metropolitan Opera House is notable for its dramatic arched entrance as well as its lobby's immense Swarovski crystal chandeliers and Marc Chagall paintings, both of which can be seen from outside later in the day.
PLAN YOUR TRIP: Visit Fodor's New York City Guide
Sepavo | Dreamstime.com
Washington Square Park and the West Village
If you have time to explore only one neighborhood, this is the one to pick. Start off in Washington Square Park, the physical and spiritual heart of Greenwich Village. In the early 1800s the park was a parade ground and the site of public executions; today that gruesome past is all but forgotten, as playgrounds attract parents with tots in tow, dogs go leash-free inside the popular dog runs, and everyone else seems drawn toward the large central fountain. Afterward, a stroll through the West Village reveals charming cafés, carefully disheveled celebrities out and about, and well-dressed children playing in the parks. Visitors come here to feel like a local, to daydream about a life in New York. Unlike 5th Avenue or SoHo, the pace is slower, allowing shoppers to enjoy the peaceful streets and small-scale stores.
PLAN YOUR TRIP: Visit Fodor's New York City Guide