Casper1774 Studio / Shutterstock
"A New York minute is a Hong Kong second" is a saying you'll hear from expats who live in this thrilling, idiosyncratic city of 7 million residents, and it's not hard to see why. Hong Kong teems with energy from the moment you arrive, and it never lets up. Shopping is on the list, as are dim sum, sightseeing, and the latest, hippest crop of restaurants and bars. Landmarks and skylines need to be photographed, there are countless street markets to explore or get lost in, and ferries and boat rides are waiting. Needless to say, it's impossible to do everything, but there are some experiences that simply shouldn't be missed. Whether you're visiting Hong Kong for the first time or the tenth, here are 20 things you absolutely can't miss.
By Michael Alan Connelly
cozyta / Shutterstock
See the View From Victoria Peak
If there's only one thing you must do in Hong Kong, it's to take in the famous view from Victoria Peak, arguably the city's most famous attraction. Rising 1,805 feet above sea level, the summit affords breathtaking views of Hong Kong Island, Kowloon, Victoria Harbour, and, on very clear days, Kowloon's eight mountains. There are several ways to reach the top, but the classic method is a seven-minute ride on the Peak Tram, the world's steepest funicular railway. There's an ongoing argument about whether the view is better during the day or at night—see both if you have the time and decide for yourself.
PLAN YOUR TRIP: Visit Fodor's Hong Kong Travel Guide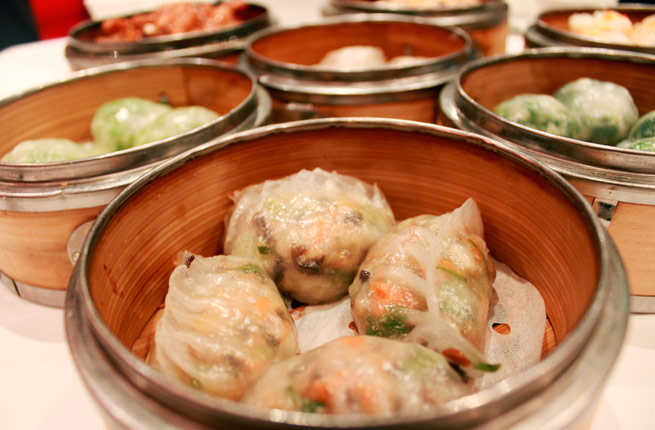 Sonadora | Dreamstime.com
Eat Dim Sum at Tim Ho Wan
Translated literally, dim sum means "touch your heart," but it refers to a family-style meal consisting of dumplings and other dishes served in steamer baskets or on small plates. Dim sum originated as a morning or early afternoon meal, but today you can have it any time of day. And there's no better place in the world to enjoy it than Hong Kong. While some restaurants serve dim sum from pushed carts and others allow guests to order from a menu, you can expect a similar roster of options including har gow (steamed shrimp dumplings), char siu baau (barbecued pork buns), spare ribs, turnip cakes, and much more.
There are countless places where you can order dim sum, but your best bet is to head directly to Tim Ho Wan, known as the cheapest Michelin–starred restaurant in the world (there are twelve locations in Hong Kong, but only the North Point, Sham Sui Po, and Tai Kwok Tsui locations are on Michelin's list). For an old-school dim sum experience, try Luk Yu Tea House (24-26 Stanley Street; +852 2523 5464); for nouveau dim sum made with high-end international ingredients, try Mott32.
PLAN YOUR TRIP: Visit Fodor's Hong Kong Travel Guide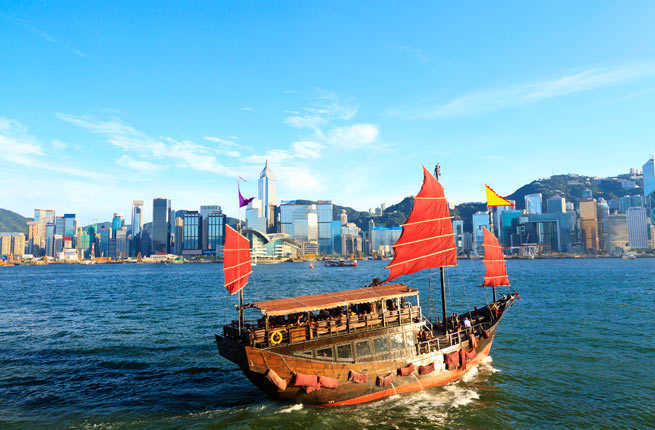 Kawing921 | Dreamstime.com
Charter a Junk Boat With Castelo Concepts
A popular weekend activity for locals is to escape the city center by renting a "junk," a term which used to apply to Chinese fishing boats but now refers to any motorized water vessel designed for leisure. But just because you're a visitor doesn't mean you can't partake in this tradition. Castelo Concepts offers seven-hour rides, including food and open bar, for up to fourteen adults (approximately $1,260), while Traway's eight-hour charters are less than half that price (their website is in Chinese, but if you call them, you can arrange something in English). Another option is to consult with your hotel concierge for the best rates. No matter what, riding a junk is a wonderful way to enjoy the water and see some places off the beaten path.
PLAN YOUR TRIP: Visit Fodor's Hong Kong Travel Guide
Daniel Fung / Shutterstock
Ride the Star Ferry
The Star Ferry, which transports 20 million riders across Victoria Harbour every year, has been around since 1888 and shows no signs of disappearing anytime soon. Even though the MTR, Hong Kong's public transportation system, is one of the best in the world and a more efficient way to travel between Kowloon and Hong Kong Island, you don't want to miss a ride on the ferry. For a nominal fee, you'll be treated to one of the most scenic boat rides in the world, allowing you to simultaneously gaze at the skylines on both sides of the water. If you're riding it for the views alone (as opposed to trying to get from point A to point B), go at night and feel free to disembark and immediately hop on another ferry going back to your starting point.
PLAN YOUR TRIP: Visit Fodor's Hong Kong Travel Guide
TungCheung / Shutterstock
Hit the Ladies' Market, the Temple Street Night Market, and All the Other Street Markets
Just about anything you could ever want to buy can be found in Hong Kong's lively street markets. Ladies' Market, home to more than 100 stalls selling clothing and accessories, and the Temple Street Night Market, where you can find everything from noodles to watches, are the most famous. Elsewhere, Cat Street is known for antiques, Apliu Street Market is the place for electronics, and Fa Yuen Street is known as Sneakers Street. There are also dedicated markets for flowers, goldfish, birds, jade, kitchenware, and more.
PLAN YOUR TRIP: Visit Fodor's Hong Kong Travel Guide
Lewis Tse Pui Lung / Shutterstock
Gaze Upon the Big Buddha
West of the city center lies the mountainous terrain of Lantau Island, home of the Tian Tan Buddha, a 202-ton statue of the deity. Commonly referred to as the "Big Buddha," the massive bronze statue is the main attraction here, but there are some other touristy attractions nearby that you can skip. The best way to get to the Big Buddha is to hop on the Ngong Ping 360 gondola, which offers impressive views of North Lantau Country Park, Hong Kong International Airport, the South China Sea, and the surrounding countryside.
PLAN YOUR TRIP: Visit Fodor's Hong Kong Travel Guide
Caminoel / Shutterstock
Hike the Dragon's Back
Hong Kong is often regarded as a city of skyscrapers and shopping malls, but it offers remarkable hiking options for active locals and visitors. Stretching for 31 miles, the Hong Kong Trail cuts through five country parks on Hong Kong Island, the most popular portion of which is known as the Dragon's Back. The highlight of this hike is reaching Shek O Peak, from where you can enjoy 360-degree views of beaches, bays, verdant countryside, waterfront communities, and the South China Sea. The shortest version of this hike can be completed in less than two hours, though you could extend it to six hours if you wanted to start from Happy Valley and make your way south.
PLAN YOUR TRIP: Visit Fodor's Hong Kong Travel Guide
Li Wa / Shutterstock
Place Your Bets at Happy Valley Racecourse
Aside from the summer months, when there are no horse races, Happy Valley Racecourse is the place to be in Hong Kong on a Wednesday night. Popular with both expats and locals, this weekly event feels more like a party than a sporting event; sure, people come to gamble, but it's more about the scene than anything else. Some weeks offer themed nights, like Oktoberfest or Carnival, and the crowd dresses accordingly.
PLAN YOUR TRIP: Visit Fodor's Hong Kong Travel Guide
Jess Yu / Shutterstock
Visit the Man Mo Temple and Ten Thousand Buddhas Monastery
For all its fast-paced modernity, Hong Kong is still home to historic religious sites that pre-date the British occupation. Man Mo Temple is the oldest in the city, and it is dedicated to the Taoist gods of literature (Man) and war (Mo). Anyone is welcome to visit, but true believers come here to leave offerings and burn incense, while fortune tellers (who are highly regarded in Hong Kong) sit in front awaiting customers. If you want to be dazzled, head to the Ten Thousand Buddhas Monastery in the New Territories, where 500 life-size golden Buddhas sit on either side of the 400 steps you'll climb to reach the temple. Inside the main temple, there are nearly 13,000 gilded ceramic statuettes, even more than the temple's name promises.
PLAN YOUR TRIP: Visit Fodor's Hong Kong Travel Guide
Casper1774 Studio / Shutterstock
Relax in Hong Kong Park and Victoria Park
Hong Kongers like to escape to beaches, small islands, and the countryside to unwind, but that doesn't mean there's no green space in the city center for visitors to enjoy. Offering respite from the frenetic streets of Central, Hong Kong Park offers a sprawling mix of rock gardens and leafy pathways, making it a popular place for locals to practice tai chi or read in a secluded spot. On the edge of Causeway Bay, beautifully landscaped Victoria Park is the largest urban green space on Hong Kong Island, and it has recreational facilities for soccer, basketball, swimming, lawn bowling, and tennis. Perhaps the prettiest escape in the city is Nan Lian Garden, a 35,000-square-meter retreat designed in Tang Dynasty style, with traditional Chinese architecture and landscaping. All three parks are easily accessible via public transportation.
PLAN YOUR TRIP: Visit Fodor's Hong Kong Travel Guide
Courtesy of The Peninsula Hong Kong
Have High Tea at the Peninsula
One of the enduring legacies of British occupation is the widespread availability of high tea in Hong Kong. Most of the city's best restaurants and hotels offer afternoon tea service daily, but the quintessential spot is in the lobby of The Peninsula, where you'll see a queue forming before 2 p.m., when tea service begins ($81 for two people). Another popular spot is the lobby of the InterContinental, where floor-to-ceiling glass walls afford wonderful views of Hong Kong Island. It's best to do some research beforehand, as high tea in Hong Kong ranges from very traditional (exactly what you'd find in London) to completely contemporary.
PLAN YOUR TRIP: Visit Fodor's Hong Kong Travel Guide
Simonie Yip
Sip Top-Notch Cocktails at Quinary
From high-end hotel bars to underground speakeasies, Hong Kong's cocktail culture ranks among the best in the world. For drinks that impress, go see the bartenders at Quinary, where cocktails are crafted with liquid nitrogen and other fancy instruments. For an exclusive feeling, try to locate 001, hidden behind an unmarked door, as is Ping Pong 129. Aberdeen Street Social is the place for balanced, garden-fresh cocktails made with herbs grown onsite, while Duddell's serves a mix of traditional and innovative tipples on its very chic outdoor patio.
PLAN YOUR TRIP: Visit Fodor's Hong Kong Travel Guide
Courtesy of Bo Innovation
Enjoy Michelin-Starred Cuisine at Bo Innovation
You don't need to spend a lot of money to eat well in Hong Kong, but if you're looking for some of the finest meals in the world, you'll find them in the city's 58 restaurants that have been awarded Michelin stars—and even those are cheaper than restaurants of similar quality in other cities. Bo Innovation (molecular gastronomy), L'Atelier de Joël Robuchon (haute French), and Lung King Heen (arguably the best Cantonese restaurant in Hong Kong), rank among the city's finest restaurants.
PLAN YOUR TRIP: Visit Fodor's Hong Kong Travel Guide
Courtesy of EAST Hong Kong
Drink on a Rooftop at Sevva
Depending on the time of year, average temperatures range from 60–90 degrees, ideal conditions for enjoying wine, beer, and cocktails outside, as long as it's not raining. Accordingly, Hong Kong has a bevy of rooftop bars to choose from. Sevva, Sugar, and Armani/Privé are all popular options, but the best rooftop bar is the one that can be tough to get into: The China Club. As an exclusive establishment, it requires that you come with one of its members to gain entry, so if you have any local connections, use them—it's worth it.
PLAN YOUR TRIP: Visit Fodor's Hong Kong Travel Guide
Beatriz Milhazes; Photo by Vincent Tsang / Courtesy of White Cube
Check Out the Art Scene at Gagosian and White Cube
Hong Kong used to have a bad reputation for being all commerce and no culture, but that stereotype has outlived its usefulness. Today the city hosts an Art Basel show every spring, art is an increasingly important element of hotels and restaurants, and the gallery scene is thriving. The city is home to big names in the art world like Gagosian and White Cube, while up-and-coming areas like Chai Wan, Sai Ying Pun, and Aberdeen are where local artists and galleries are setting up shop. Duddell's, meanwhile, has an art gallery outside its main dining room, and Bibo is a work of art in and of itself. For a look at historical Chinese works, go to the Hong Kong Museum of Art, which houses more than 15,000 objects.
PLAN YOUR TRIP: Visit Fodor's Hong Kong Travel Guide
Hnwong28 | Dreamstime.com
Escape to Shek O Beach
Less than an hour from the city center, you'll find some of the world's most gorgeous beaches, which can be reached by taxi, boat, or public transportation. Unlike many beach destinations, Hong Kong is home to many different types of beaches, so there really is something for everyone, from surfers to families to party animals. Shek O is undoubtedly one of the most popular options, along with stretches of sand in Stanley and surrounding Repulse Bay. For a more secluded experience, head to pristine Tai Long Wan on the eastern coast of Sai Kung Peninsula, considered to be one of the most beautiful places in all of Hong Kong.
PLAN YOUR TRIP: Visit Fodor's Hong Kong Travel Guide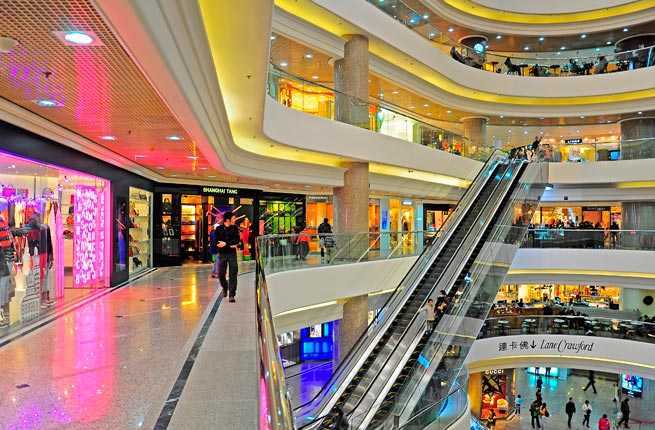 Pindiyath100 | Dreamstime.com
Shop 'Til You Drop at Causeway Bay
There's a reason mainland Chinese cross the border to visit Hong Kong, and it's all about shopping. From the high-end designer stores crowding lower Kowloon and Central to the mazelike malls of Causeway Bay to the seedy environs of Chungking Mansions on Nathan Road, shopping is an important part of Hong Kong's heartbeat. For one-stop shopping, make your way to Times Square, a gargantuan, twelve-story mall where stores are organized thematically. If time permits, a visit to one of Hong Kong's tailors is worth it to buy a garment that's customized for you.
PLAN YOUR TRIP: Visit Fodor's Hong Kong Travel Guide
StrippedPixel | Dreamstime.com
Have Breakfast at a Dai Pai Dong
Once ubiquitous in Hong Kong, the humble dai pai dong (literally, "restaurant with a big license plate," though understood to refer specifically to open-air stalls serving cooked food) has almost disappeared today, with only a couple dozen remaining. You can eat at a dai pai dong for any meal, but its most iconic dishes are typically served for breakfast. Be sure to order congee, milk tea, and Hong Kong–style French toast, which will be the best kind you've ever tasted.
PLAN YOUR TRIP: Visit Fodor's Hong Kong Travel Guide
Kawing921 | Dreamstime.com
Explore the Outer Islands of Peng Chau and Cheung Chau
Hong Kong is more than a city—it's an entire region, a Special Administrative Region (SAR) if you want to get technical about it. The SAR is home to 260 islands, each one offering something different to those who choose to venture off the beaten path. Peng Chau and Cheung Chau, both located between Hong Kong Island and Lamma Island, are popular options, and they and many other islands can be reached by ferry from the city center. One of the highlights of visiting these smaller islands is dining in fishing villages, where you can select your meal from the catch of the day. Because the islands are so different, be sure to do your research rather than pick one at random off the map.
PLAN YOUR TRIP: Visit Fodor's Hong Kong Travel Guide
Courtesy of The Oriental Spa at The Landmark Mandarin Oriental, Hong Kong
Pamper Yourself at a Spa at the Landmark Mandarin Oriental
Due to the city's fast pace and endless energy, Hong Kongers know it's important to take time to relax, which might help to explain the incredible spas you'll find here. You'll see many massage shops throughout the city—it's perfectly normal here to take twenty minutes out of your day to get a foot massage—but the best experiences await in high-end spas located in hotels, which are among the finest in the world. Standouts include The Oriental Spa at The Landmark Mandarin Oriental, where you can get a Bastien Gonzalez pedicure, and The Peninsula Spa, where serene relaxation rooms overlook Victoria Harbour.
PLAN YOUR TRIP: Visit Fodor's Hong Kong Travel Guide