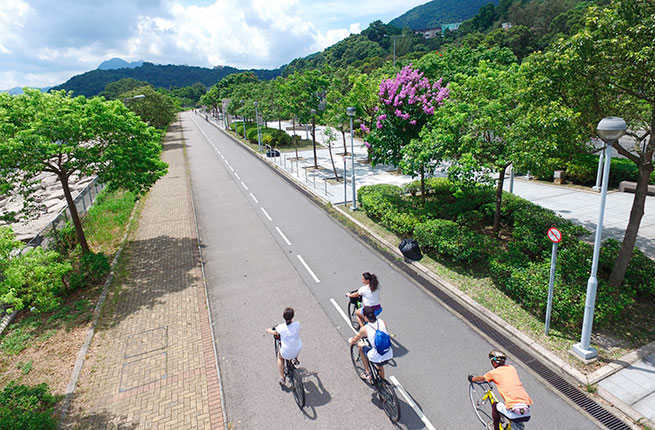 HK Discovery
Most travelers make a beeline to The Peak tram and Star Ferry on their first trip to Hong Kong, but there's so much more to discover in this vibrant city. On your next visit, learn to prepare Cantonese dumplings, wander through historic parks, shop in local boutiques, and explore up-and-coming warehouse districts. These 20 ideas should fill your itinerary with off-the-beaten-path activities in Hong Kong.—Kate Springer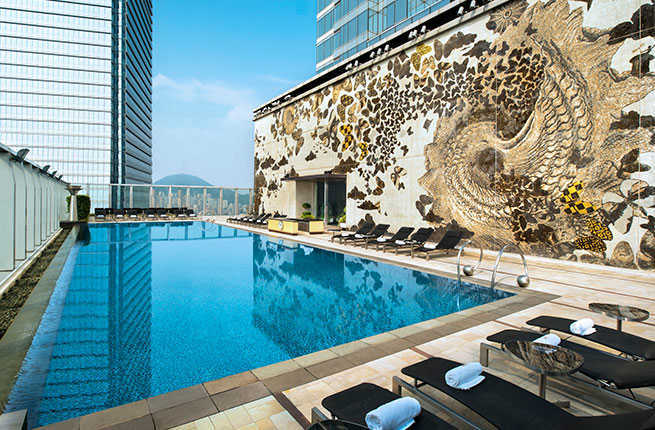 W Hong Kong
Hong Kong's known for its incredible architecture and sky-high buildings, and you can soak it all up from the comfort of a glorious pool. If your own hotel doesn't offer front-row seats to the skyline, look into day passes from Island Shangri-La, W Hong Kong, and the Grand Hyatt Hong Kong. Each serene spot offers a totally different viewpoint: the W hotel pool in West Kowloon looks across Victoria Harbour from the 76th floor; Shangri-La's pool is surrounded by Sir Norman Foster's HSBC building and I.M. Pei's iconic Bank of China Tower; and the Grand Hyatt's 50-meter-long pool overlooks the Wan Chai waterfront. This activity is particularly appealing during the steaming summer months when Hong Kong's humidity kicks into high gear.
PLAN YOUR TRIP: Visit Fodor's Hong Kong Guide
Courtesy of Teakha
Hong Kong may be full of people, but there are still plenty of charming pockets where you can relax in alfresco cafes, shop local designer wares, and escape the madding crowds. A little enclave in Sheung Wan, the PoHo neighborhood, is home to some of the city's coolest eating and shopping spots, such as Teakha, where you can sample creative concoctions like Sea Salt Yin Yang and Thai iced tea. Down the street, Squarestreet boutique is a haven for indie finds, featuring Scandinavian accessories, handmade watches, and jewelry.
PLAN YOUR TRIP: Visit Fodor's Hong Kong Guide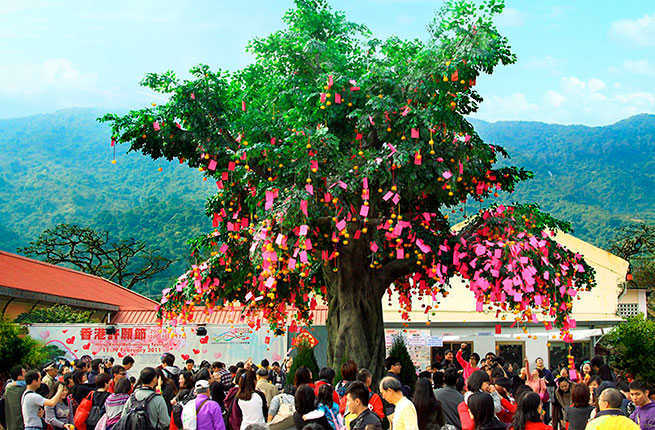 Hong Kong Tourism Board
If you're looking for a bit of luck, you've come to the right place: the Lam Tsuen Wishing Trees in Tai Po promise an endless source of good fortune. In order to ensure that the new year starts off on the right foot, thousands visit the trees during the Chinese New Year, but you can visit any time of year and avoid the crowds. To make a wish, visitors first write down their wish on joss paper (ceremonial paper) or streamers. Known as "bao die," the wish is then tied to an orange and tossed into the branches of one of the many banyan trees. If the fruit remains in the tree, then the wish should come true. But don't worry—if you miss, you can try, try again.
Insider Tip: Because of damage to the banyan trees, visitors must now toss their wishes onto a life-size plastic tree nearby.
PLAN YOUR TRIP: Visit Fodor's Hong Kong Guide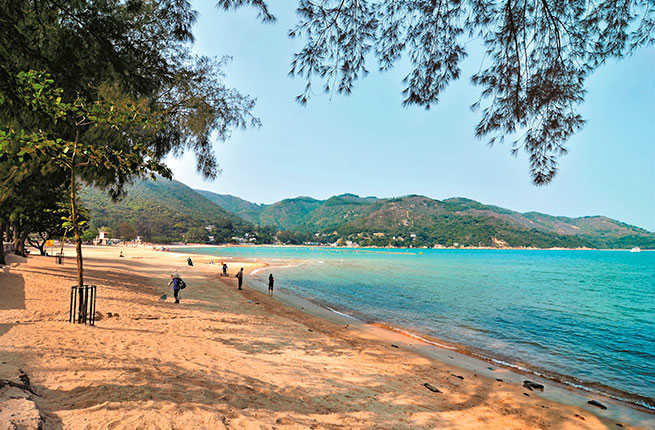 Hong Kong Tourism Board
With more than 260 islands to its name, Hong Kong isn't short on coastline. The beaches on the main island won't wow you, but venture farther and you can stumble onto some picturesque spots of sand. Tucked away up in the New Territories, Tai Long Wan draws the most adventurous sun-seekers to its pristine shores. The journey is long but worth it: from Sai Kung, you can hike to the first of four beaches. From there, it's a short hike between each beach and the farther you go, the more beautiful the scenery becomes. There's not much in terms of refreshments along the way so be sure to pack yourself plenty of water, sunscreen, and snacks.
Insider Tip: If you'd prefer not to hike, hire a boat from Sai Kung Pier to take you to the Tai Long Wan. But be sure not to confuse it with beaches of the same name on Hong Kong Island and Lantau.
PLAN YOUR TRIP: Visit Fodor's Hong Kong Guide
Mk2010 via Wikimedia Commons, [CC BY-SA 3.0]
Museum of Coastal Defense
You don't have to be a history buff to appreciate the fascinating Museum of Coastal Defense. Perched on the eastern side of Hong Kong Island, it's an adventure just getting to this hidden gem—a winding trail takes visitors along the picturesque waterfront, up through the forest and past several military relics, including a torpedo. The museum is located on the grounds of the formidable Lei Yue Mun fortress, built more than 100 years ago in order to defend Hong Kong. Upon your arrival, a light-filled dome structure awaits as well as an exhibition devoted to the past 600 years of coastal defense in Hong Kong.
Insider Tip: There are free guided tours on Wednesdays, Saturdays, and Sundays.
PLAN YOUR TRIP: Visit Fodor's Hong Kong Guide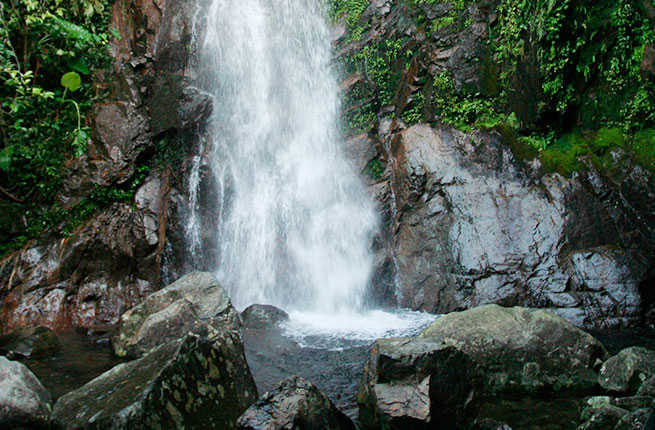 HK Discovery
When you think of Hong Kong, waterfalls probably aren't the first things that come to mind, but the Ng Tung Chai waterfalls are one of the most spectacular natural sites in the city. Located just north of Tai Mo Shan in the New Territories, Ng Tung Chai comprises four separate waterfalls, with the largest reaching 98 feet high. The trek takes about 30 minutes, taking travelers past bamboo groves and the photogenic Man Tak Monastery.
Insider Tip: The hike starts at the Ng Tung Chai bus stop (take bus 64K); from there signposts lead the way to the falls.
PLAN YOUR TRIP: Visit Fodor's Hong Kong Guide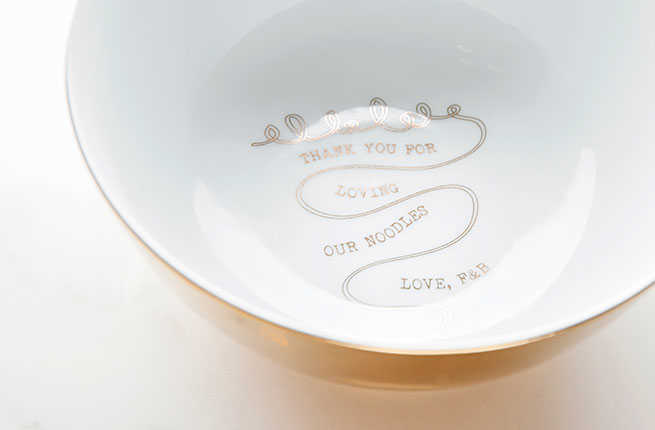 Latitude 22
Resourceful Hong Kong entrepreneurs have staked out claims in the warehouses in Chai Wan, opening up edgy art spaces and eclectic stores. While they can often be a bit tricky to find, a wander through this eastern district is rewarding for culture and design lovers. Among the many hidden gems in the neighborhood is Latitude 22N, a private shopping experience where you can mingle with designers and take home gorgeous hand-crafted ceramics. Meanwhile, art lovers will appreciate the Asia One Photo Book Center and Vertical Art Space, home to an extensive photography library and featuring a funky gallery in a stairwell.
Insider Tip: As many of the shops and galleries double as workshops, it's best to make appointments before heading over.
PLAN YOUR TRIP: Visit Fodor's Hong Kong Guide
HK Discovery
If you only hang out in the downtown area, you could leave Hong Kong without realizing that just 30 minutes in any direction there's a sea of green space. More than 40 percent of the territory is dedicated to nature reserves and country parks, which can be pleasantly explored by bicycle. There's no need to hire a tour guide—you can rent bikes in Sha Tin at the Tolo Harbour Cycling Track and pedal to Tai Po along the coastline. Another popular route is from Tai Wai to Tai Mei Tuk, a leisurely 12-mile ride that passes temples, parks, and harbor views along the way.
Insider Tips: Many of the bike rental shops allow one-way rentals if you choose to drop your bike in Tai Po or Tai Mei Tuk.
PLAN YOUR TRIP: Visit Fodor's Hong Kong Guide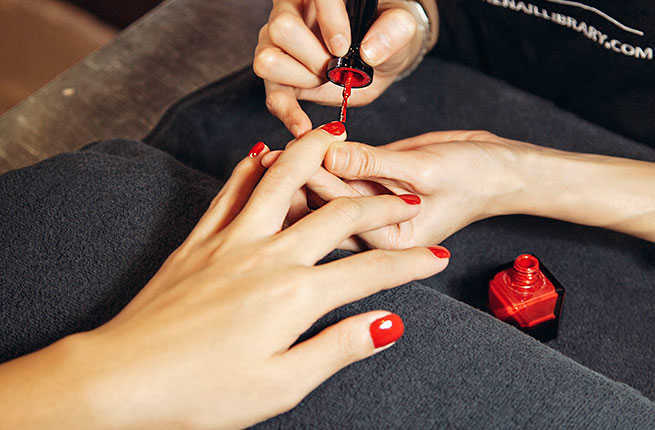 The Nail Library
A trip to Hong Kong isn't complete without a reflexology massage—of course, there are all kinds of cheap hole-in-the-walls, but how to choose? For affordable massages and great atmosphere, find your way to Tai Pan Reflexologist in Tsim Sha Tsui or Halite in Sheung Wan. The latter is an underground parlor with dim lighting and glowing orbs of Himalayan salt crystals to lead the way. If it's luxurious pampering you're after, sit down for a hand or foot treatment at The Nail Library in Sheung Wan. The New York-inspired space also specializes in nail art and designer polishes using brands such as Christian Louboutin, Chanel, Kure, and Deborah Lippmann.
PLAN YOUR TRIP: Visit Fodor's Hong Kong Guide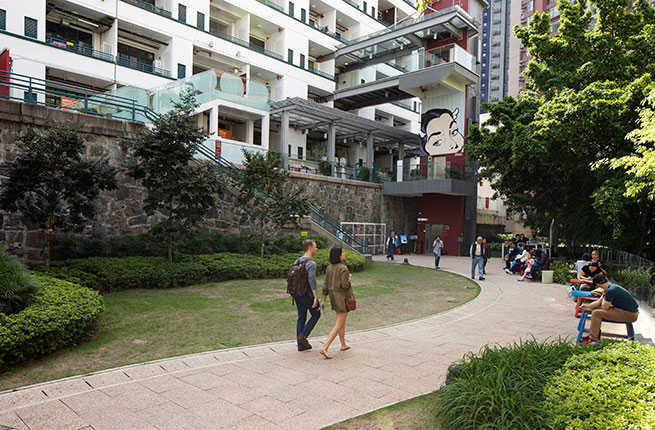 Hong Kong Tourism Board
There's no shortage of mega malls and luxury chain stores in Hong Kong, but if you're looking to go a bit more local then you'll have to search a little harder. Luckily, there are plenty of micro malls filled with pint-sized shops from Japanese, Korean, and local designers to lend fashion-forward travelers bundles of style inspiration. Start with Island Beverly Centre in Causeway Bay—the crowded floors are brimming with accessories, cocktail dresses, jewelry, and Japanese brands. Meanwhile, over in Tsim Sha Tsui, Rise Shopping Arcade is full of cool looks. Inside the nondescript building, find dozens of clothes, shoe, and accessory boutiques from edgy Asian designers.
PLAN YOUR TRIP: Visit Fodor's Hong Kong Guide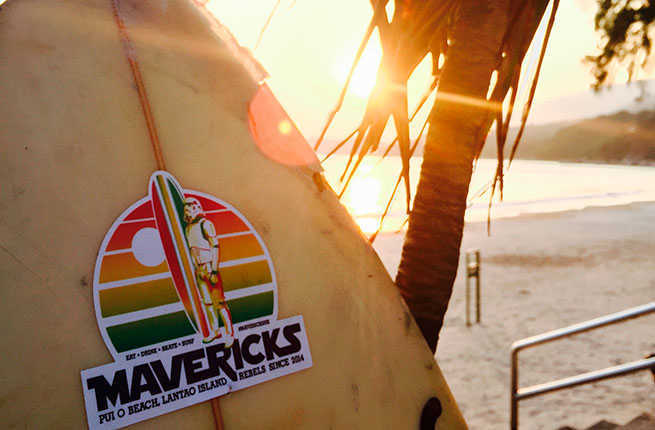 Courtesy of Mavericks
Hong Kong's beaches might not be the most pristine in the world, but there's another reason to go: great beach bars. Whether you're heading to an outlying island or down to the Southside, there are several hot spots to catch some shade. One of the most popular is Mavericks, a surfer-inspired bar along Pui O Beach on Lantau Island, offering fresh tacos and crisp craft beers. Down on the Southside, snag a seat on the terrace of Cococabana and enjoy Mediterranean bites and a glass of bubbly as the sun goes down over Shek O. Farther afield is Café Roma on oft-overlooked Park Island. The alfresco all-day restaurant is perfect for casual day drinking, thanks to its beachfront seating and views of the iconic Tsing Ma Bridge.
Insider Tip: If you're short on time for exploring, an easy option is Repulse Bay Beach where The Pulse lifestyle complex features several trendy beachside restaurants and bars, including Limewood and Hotshot.
PLAN YOUR TRIP: Visit Fodor's Hong Kong Guide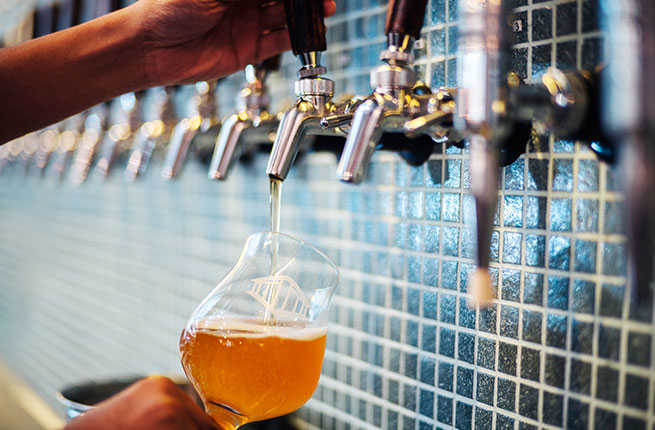 Courtesy of Second Draft
Over the past three years, Hong Kong's craft beer scene has picked up steam with nearly a dozen craft breweries opening their doors. The first in the wave of craft breweries was Young Master Ales in 2013, which also opened two specialist craft beer bars: TAP – The Ale Project in Mong Kok, and Second Draft in Tai Hang. Both come equipped with expert teams who hand-pick the beers on tap, as well as state of the art dispensing systems to keep the beer in optimal conditions. Several other craft beer bars in town offer a sampling of local craft beers, including 65 Peel Street, a gastropub in SoHo; The Roundhouse Taproom, also on Peel Street; and Casa, a casual restaurant and bar with alfresco seating in Sai Kung.
Insider Tip: Young Master Ales, Lion Rock Brewery, and Moonzen Brewery all host tours and tastings, but check the websites for availability.
PLAN YOUR TRIP: Visit Fodor's Hong Kong Guide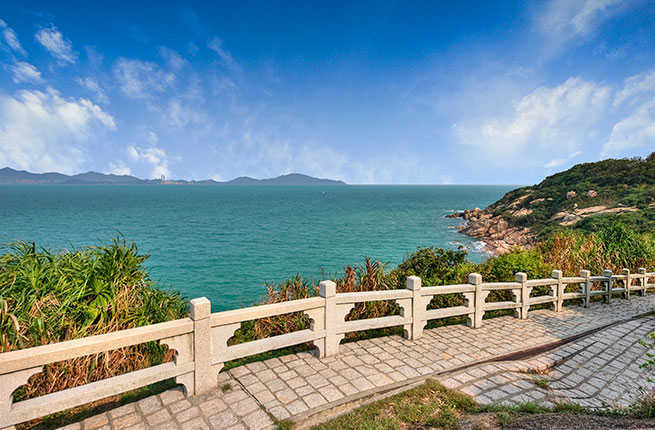 Hong Kong Tourism Board
Most travelers head to Lamma Island or Lantau for a day trip, but oft-overlooked Peng Chau makes for an offbeat way to spend a morning. Once upon a time the island was the city's industrial hub, but the matchstick factories and lime kilns are long gone. Now the sleepy island relies on fishing, farming, seafood restaurants, and mom-and-pop shops. It takes no more than a few hours to explore the island's fresh seafood restaurants, quaint pedestrian streets, low-key beach, and pleasant hiking trails. One of the most popular trails is Finger Hill, a scenic trek that rewards you with spectacular sea views at its peak.
Insider Tip: After a long walk, stop into French bistro Les Copains D'abord, where alfresco seating, cheese boards, and good wine await.
PLAN YOUR TRIP: Visit Fodor's Hong Kong Guide
Dine Art – Cosimo's Private Kitchen
There are restaurants everywhere in Hong Kong,tucked away in commercial buildings, warehouses, and even on boats. A private dining experience makes for a memorable night out, and there are all kinds of cuisines, from Spanish and Chinese to French and Italian. The burgeoning Wong Chuk Hang on the Southside is home to nearly a dozen private kitchens. One of the most popular is Dine Art, an art-meets-dining experience from chef Cosimo Taddei. The 4,000-square-foot restaurant is much more spacious than your typical Hong Kong hole-in-the-wall and features an open kitchen that serves up authentic Italian food. Also on the Southside is the Butchers Club private kitchen for dry-aged steak lovers, and CulinArt Penthouse for art-inspired fine dining.
PLAN YOUR TRIP: Visit Fodor's Hong Kong Guide
Don't let anyone tell you that Hong Kong is devoid of culture—there's plenty to do if you know where to look. If you're hoping to catch some live music while you're in town, there are dozens of bars with cover bands. But the real deal is at Orange Peel, where local bands play live gigs with original music. See everything from indie gigs to jazz, salsa, rock, and even poetry. Likewise, Visage One is another stalwart favorite. Barber shop by day, jazz bar by night, this establishment will make you feel like an insider with its intimate concerts and warm atmosphere.
PLAN YOUR TRIP: Visit Fodor's Hong Kong Guide
Courtesy of Martha Sherpa
Hong Kong has a reputation for some of the best food in the world. If you're head over heels for dim sum and Chinese cuisine, then go one step further and learn to make it yourself. A hands-on option is Martha Sherpa's Cooking School, offering a half- or full-day experience in North Point for groups of no more than four. The dim sum-making courses are especially popular with participants learning to make dumplings and prepare a variety of dishes, such as crispy spring rolls, turnip cake, and barbecue pork buns.
PLAN YOUR TRIP: Visit Fodor's Hong Kong Guide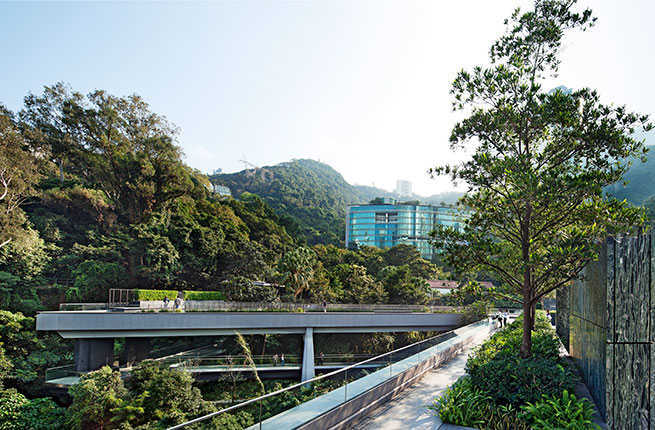 Michael Moran
A haven for art, culture, and history, a visit to the Asia Society Hong Kong Center will enrich any visit to Hong Kong. Founded in 1956, the not-for-profit society has 12 locations throughout the world with this being one of the most fascinating. The Hong Kong address is built on the site of the Old Victoria Barracks where the British Army stored ammunition. The 1,364-hectare site still embraces its historic architecture, resulting in a totally unique gallery setting where you can experience photography exhibitions, lectures, film screenings, performances, and more throughout the year.
Insider Tip: While you're there, book in for a lunch or dinner at on-site AMMO restaurant—an architectural gem that serves excellent European cuisine.
PLAN YOUR TRIP: Visit Fodor's Hong Kong Guide
Maximal Concepts
Some of Hong Kong's most mysterious bars and restaurants also happen to be the best, such as Ronin, a Japanese restaurant that's hailed for its fresh seafood and awesome whisky list. In Central, Foxglove fronts as a luxury umbrella store and opens into a hangar-inspired restaurant with old-world decor and live jazz music. Just up the hill on Wyndham Street, find Stockton tucked in a back alleyway and featuring dim lighting, wood-paneled interiors, cozy leather chairs, contemporary British bites, and a classic cocktail list. Over in Sheung Wan, Mrs. Pound has a traditional stamp shop facade, but it's a colorful, retro world inside with excellent fare inspired by Asian street food. Beloved Ping Pong Gintonería in Sai Ying Pun is marked by a simple red door. Down a flight of stairs is one of the largest spaces in Hong Kong, with high ceilings, eye-catching artwork, and a world-class menu of Spanish gin and tonics.
PLAN YOUR TRIP: Visit Fodor's Hong Kong Guide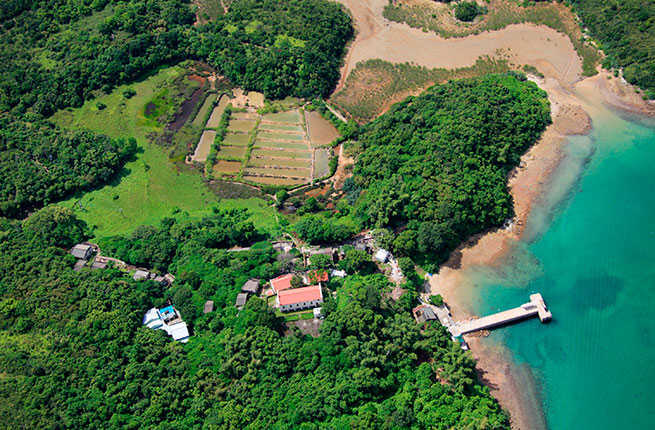 A.F.C.D.
If you find yourself overwhelmed by the crowds in busy Tsim Sha Tsui and Causeway Bay, not to worry: there are plenty of quiet corners in the territory. For an eerie outing, make your way to Yim Tin Tsai, aka "Ghost Island," off the coast of Sai Kung. This now-abandoned island was once populated by a Hakka community who supported themselves with salt farms and fishing businesses until the early 90s. You can reach Yim Tin Tsai by boat and explore the wild landscapes and deserted houses. The island has a few worthwhile sites, including a small visitors' center, a local museum, and the rehabilitated St. Joseph's Chapel—a UNESCO heritage site. Another near-empty island is Po Toi, Hong Kong's southernmost. Look for a handful of humble restaurants, a Tin Hau Temple, and beautiful rock formations.
Insider Tip: Be sure to check the ferry timetable before you go, as you don't want to risk getting stuck!
PLAN YOUR TRIP: Visit Fodor's Hong Kong Guide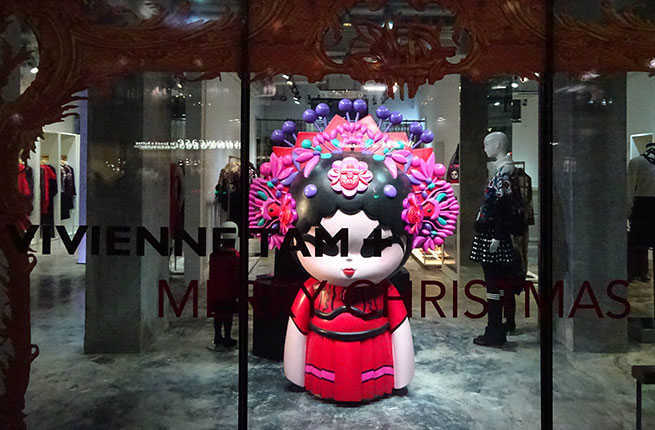 Lizatanmenhua via Wikimedia Commons, [CC BY-SA 4.0]
Skip the mainstream fashion and head instead to PMQ, home to workshops and studios from more than 100 of Hong Kong's young up-and-coming designers. The heritage building dates back to the 1880s. Originally a school and later transformed into the Police Married Quarters, it began its latest reincarnation as a design hub in 2014. You can observe artists at work in the many studios while shopping at stores such as 794729metalworkand FABcessories. The creative center also plays host to night markets, festivals, and occasional workshops where you might design your own wedding band with jewelry designer Obellery or learn metal-smithing with The Little Finger.
PLAN YOUR TRIP: Visit Fodor's Hong Kong Guide