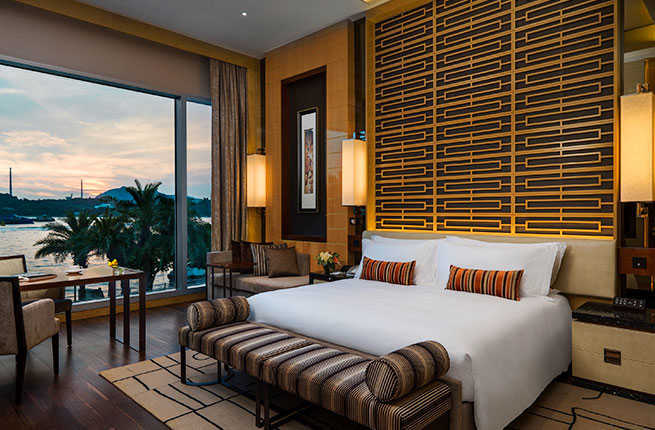 The Olympian
There's never a dull moment in Hong Kong. From its steamy summers to fresh autumn air, the city provides a constant stream of beach parties, night markets, outdoor dining, and art events. And with a crop of cool new boutique hotels popping up in offbeat neighborhoods, it's easier than ever to explore the colorful corners of the city.—Kate Springer
Madera Hollywood
Touching down on Hong Kong's most vibrant road is Madera Hollywood. The funky boutique hotel packs a punch from the start—you can't miss the pop-art facade that adds another layer to the neighborhood's creative feel. Inside you'll be transported back in time to the golden years of cinema when Marilyn Monroe, Audrey Hepburn, and Charlie Chaplin ruled the silver screen. The 38-room, all-suite hotel is full of quirk at every turn, from the vintage clocks to brightly colored rooms, retro furniture, and in-room kitchenettes. Channel your inner starlet and book a signature suite for bright views, personalized minibar snacks, neoclassical décor, and L'Occitane en Provence bathroom amenities.
Insider Tip: For something a bit offbeat, ask to stay in the Monroe Suite. It's clad in every shade of pink imaginable, complemented by black-and-white vintage portraits of the blonde bombshell.
PLAN YOUR TRIP: Visit Fodor's Hong Kong Guide
Tribute Hotel
Dedicated to all things Hong Kong,Tribute hotel has employed local designers and entrepreneurs to create a one-of-a-kind environment. The 24-room boutique property has put down roots in Yau Ma Tei, a neighborhood that's brimming with history and culture. The hotel incorporates a taste of Hong Kong by serving breakfast on dim sum–style carts and pouring local craft beers in the lounge. Aimed at sophisticated, design-savvy travelers, the minimalistic rooms come with complimentary smartphones, rain showers, smart workspaces, and cozy beds.
Insider Tip: As you explore the area, don't miss the cool cafés nearby—there's a handful in Dundas Square, as well as Kubrick Cafe & Bookstore and historic Mido Cafe.
PLAN YOUR TRIP: Visit Fodor's Hong Kong Guide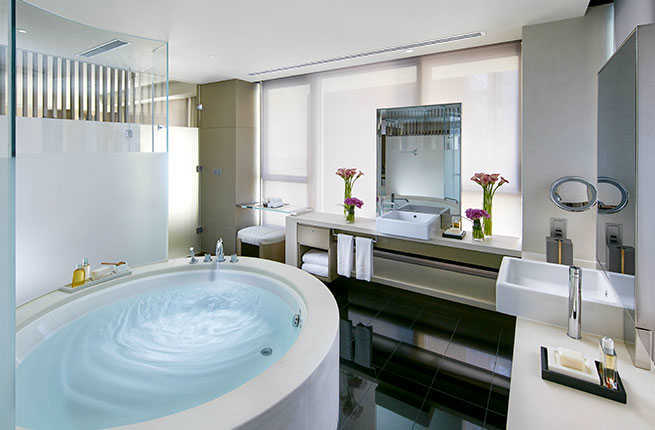 Landmark
The Landmark Mandarin Oriental
With brand-new rooms launched in March 2016, the 109-room Landmark Mandarin Oriental, Hong Kong has taken luxury to another level. A contemporary look with a cozy residential ambiance, the new L600 rooms and L900 suites were reimagined by local designer Joyce Wang, who also developed AMMO and Mott 32. The bathrooms might be the sexiest in Hong Kong, featuring 7-foot-wide tubs that will make you want to drop everything and relax all day. Sound ideal? Ask about the ultra-indulgent bath experience—picture rose petals, Champagne, chocolate-covered strawberries, candles, and music that set the tone for a romantic night in. Tech-savvy travelers will appreciate the awesome digital amenities, such as surround-sound BOSE speakers and an interactive entertainment system. Elsewhere in the hotel, there's a famously luxurious spa, sky-high MO Bar, as well as a lap pool and direct access to Landmark mall.
Insider Tip: Michelin-starred Amber restaurant—ranked no. 20 on World's 50 Best Restaurants 2016—is on the seventh floor, so you can sit down at one of the best restaurants in the city while you're there.
PLAN YOUR TRIP: Visit Fodor's Hong Kong Guide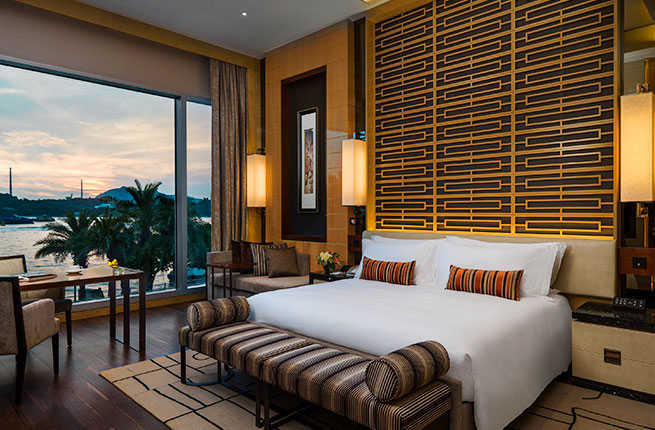 The Olympian
An elegant address in West Kowloon, The Olympian Hong Kong sets out to impress with just 32 stylish guestrooms. The boutique property is part of the impressive Sino Hotels group, which also runs The Pottinger Hong Kong in Central and The Fullerton Bay Hotel in Singapore, among others. Priding itself on excellent customer service, The Olympian Hong Kong aims to provide a seamless stay in the city, starting with in-room check-in and finishing with a Rolls-Royce transfer, should you wish to splurge. If you need to stay plugged in while you're there, you'll find everything you need: 55-inch LED TVs, Bluetooth speakers, handy smartphones, and complimentary Wi-Fi. And if you just wish to unwind, they have you covered there, too, with a soothing color palette, deep-soak bathtubs, and hypoallergenic linens for that home-you-wish-you-had feel. Best part? The hotel rooms offer panoramic views of Victoria Harbour and the glittering skyline.
PLAN YOUR TRIP: Visit Fodor's Hong Kong Guide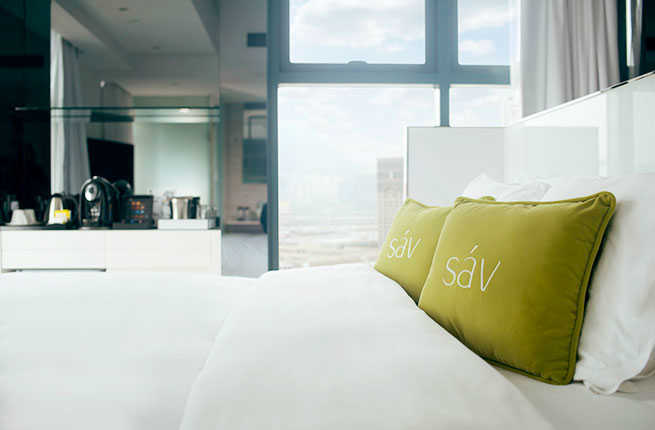 Hotel Sav
A funky new addition to the boutique hotel scene, Hotel Sáv has raised the bar in Hung Hom with its color-inspired design. From the restaurants to the rooms, Hotel Sáv adds mood-lifting hue to every experience. There's Palette restaurant, turning out seasonal international cuisine; color-coded cocktails at Amplitude; and freshly baked treats at Patisserie by Sav. There's even an entire floor devoted to up-and-coming artists—on "The Gallery–Floor of Love," travelers can look forward to various exhibitions throughout the year.
Insider Tip: For more cultural experiences, check out the nearby Ko Shan Theatre, a venue for Cantonese opera and the Cattle Depot Artist Village.
PLAN YOUR TRIP: Visit Fodor's Hong Kong Guide
Hotel Pravo
An ultra-convenient boutique spot in the heart of Tsim Sha Tsui, Hotel Pravo Hong Kong is a solid choice for both leisure and business travelers. With 92 rooms, this cosmopolitan address opens with a dramatic marble lobby and shimmering chrome details. From there, the glitz continues into the guest rooms, where design and color schemes span from romantic pinks to masculine suede, pastels, and classic luxury. While a great value, the standard rooms are pretty tight (starting at 143 square feet), so it might be worth it to upgrade to a suite. If you're able to splurge a little, go for the Presidential—there's a Jacuzzi and a private balcony that can fit up to 12 people.
Insider Tip: There's also a rooftop garden where you can BYOB and take in the great views of Victoria Harbour.
PLAN YOUR TRIP: Visit Fodor's Hong Kong Guide
Hotel Stage
Located in the heart of Kowloon, Hotel Stage offers both style and substance to art lovers and culture hounds. The 97-room boutique hotel address showcases work from local artists in the "Art Rooms," and the rest of the chic guest rooms reflect the attention to design, where a calming charcoal palette and contemporary Scandi-stylish furniture offer a reprieve from the buzz below. The bathrooms are especially satisfying, featuring dual-head massage shower systems that will help you unwind after a day of pounding the pavement. And if that's not enough, Muse Wine Bar should do the trick with vintages from far-flung locales, cheeseboards, and charcuterie.
Insider Tip: The hotel puts on live music performances and art exhibitions throughout the year, so check the upcoming calendar.
PLAN YOUR TRIP: Visit Fodor's Hong Kong Guide
Little Tai Hang
Soon to open, Little Tai Hang is less of a straightforward hotel and more of a lifestyle destination. You get a feel for the low-key vibe upon arrival—the ground floor houses one of the best craft beer bars in the city, Second Draft, from the folks who created Young Master Ales. Upstairs, there's a cocktail bar and restaurant called BOND, which is home to two inviting terraces. The hotel itself aims to be a haven for a creative, cultured crowd. The 121 rooms feature contemporary interiors with natural touches such as hardwood floors, stone walls, and massive, floor-to-ceiling windows to showcase panoramas of Victoria Park and Victoria Harbour.
PLAN YOUR TRIP: Visit Fodor's Hong Kong Guide
Popway Hotel
A new address in Tsim Sha Tsui, Popway Hotel is a practical choice with all the basic amenities, plus a few surprises—like a signature popcorn machine in the reception hall ready to greet you with a snack. The 63 guest rooms are clean and contemporary, with a few funky retro-inspired pieces of furniture to liven up the atmosphere. Elsewhere on the property, there are business facilities, a new fitness center, and a handy iMac corner in the lobby. One of the best features of the hotel is Uptop Bistro and Bar, which looks out on a sweeping 270-degree view of Victoria Harbour. And for completely open views, head to the rooftop Sky Deck in time for the nightly Symphony of Lights—a synchronized multimedia show featuring more than 40 buildings on both sides of the harbor.
PLAN YOUR TRIP: Visit Fodor's Hong Kong Guide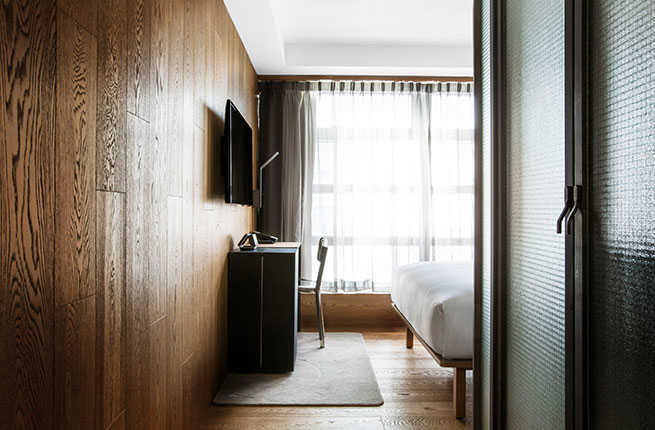 TUVE
All clean lines and cool cement, TUVE offers a distinct style of accommodation in Hong Kong. The 66-room property is quiet and relaxing, creating a retreat-like atmosphere using raw materials, such as marble, wood, and oxidized metal. Just east of Victoria Park in Tin Hau, TUVE is in a great location that's far enough from the crowds but near enough to offer easy access to the city's most colorful neighborhoods. The minimalist aesthetics continue into the guest rooms where you'll find walk-in rain showers, complimentary smartphones, and lots of natural light.
PLAN YOUR TRIP: Visit Fodor's Hong Kong Guide