Jess Yu / Shutterstock
Hong Kong has a reputation for being one of the most expensive cities in the world, but rest assured there are plenty of budget-friendly sights and experiences. Whether you're traveling on a shoestring or simply love a great freebie, you can enjoy the best the city has to offer without spending a fortune—as long as you know where to look. —Kate Springer
Leungchopan | Dreamstime.com
Where else in the world can you watch an entire skyline come alive at the same time every night? During the coordinatedSymphony of Lights, Hong Kong skyscrapers flash a wide array of neon-colored lights, all happening at 8 pm. Right beforehand, the iconic International Commerce Center puts on its own ICC Light & Music Show at 7:45 pm, and again at 9 pm, every night. The ICC show has won a Guinness World Record for "the largest light and sound show on a single building," so it's safe to say that the LED lights dancing across its façade are pretty impressive.
There's also another light show worth noting: put on by the Hong Kong Tourism Board, the Hong Kong Pulse 3D Light Show is an audiovisual extravaganza that appears on the wall of the Cultural Center and the Clock Tower in Tsim Sha Tsui during the summer and winter seasons. The next 3D show is running in August 2016—check the website for times and dates.
Insider Tip: You can see the Symphony of Lights from the Tsim Sha Tsui waterfront or from Golden Bauhinia Square in Wan Chai—both locations play the accompanying music. You can also call 35-665-665 to hear the music and narration on your phone.
PLAN YOUR TRIP: Visit Fodor's Hong Kong Guide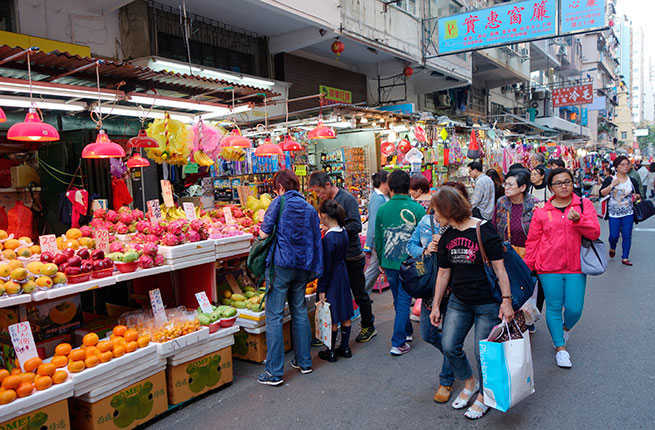 Tang90246 | Dreamstime.com
Explore Kowloon's Colorful Markets
You're never far from a market in Hong Kong. Kitschy souvenirs abound, of course, but there's also no shortage of sensory delights that are free to enjoy. Starting in Prince Edward, there's the ever-fascinating Yuen Po Street Bird Garden, where people gather to walk their pet birds, while others sell the colorful creatures and beautiful bamboo cages. Just a few blocks west is a vibrant flower market that brims with exotic blooms, colorful cut flowers, succulents, and houseplants year-round.
Head South on Tung Choi Street and you'll find the Ladies' Market, an all-day affair with merchants hawking bargain clothes and accessories. A short MTR ride to Yau Mai Tei will take you through the Temple Street Night Market (starts around 4 pm), where knick-knacks and alfresco dai pai dong cafés reign supreme. Venture farther south and you'll discover the Jade Market (closes around 6 pm), an indoor market jam-packed with gorgeous jade jewelry, statues, and more.
PLAN YOUR TRIP: Visit Fodor's Hong Kong Guide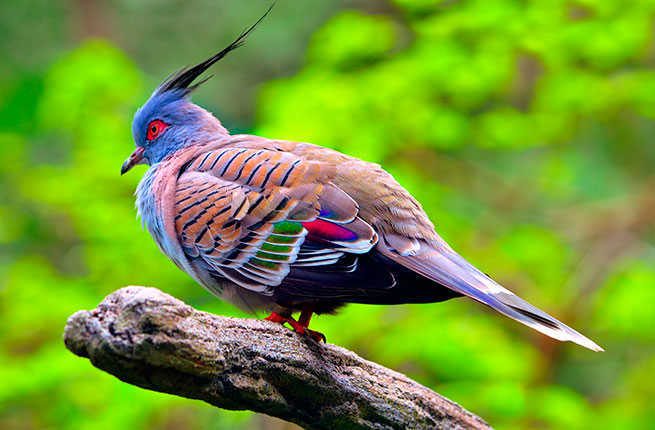 Pindiyath100 | Dreamstime.com
Relax in the Edward Youde Aviary
Explore the gentle hillsides above Hong Kong Park and you might just stumble upon the jungle-like Edward Youde Aviary. Taking its name from a former Hong Kong governor, the enchanting dome is home to over 600 types of birds. You can spot them from the wooden bridges suspended within the trees, which overlook small ponds and waterfalls. It's easy to spend a couple of hours exploring the enormous space, which feels like a tropical oasis far from the city.
Insider Tip: If you love the aviary, then you'll also enjoy the Forsgate Conservatory just a few minutes away. Forsgate is the largest greenhouse in Southeast Asia and home to all kinds of botanical beauties.
PLAN YOUR TRIP: Visit Fodor's Hong Kong Guide
Courtesy of Contemporary by Angela Li
Go Gallery Hopping on Hollywood Road
Over the last five years, Hong Kong's art scene has earned a spot on the international circuit. It's quickly becoming the epicenter of art in Asia, thanks to the debut of high-profile festivals and galleries, such as Art Basel, Pearl Lam, Gagosian, and White Cube. You can cover a lot of ground with an afternoon saunter down Hollywood Road. On this busy street there's no shortage of classic and contemporary art, antiques, photography, and calligraphy.
Walking west, look for big names like Connoisseur Contemporary, Gallery EXIT, Karin Weber Gallery, Blindspot Gallery, The Cat Street Gallery, Para/Site Art Space, Puerta Roja, Sin Sin Fine Art, and Contemporary by Angela Li. If you have time to meander up to Sai Ying Pun, just a few more blocks west, don't miss Above Second, which is devoted to urban murals, illustration, comic books and street art.
Insider Tip: Visit in the afternoon when many galleries offer guests a complimentary glass of wine or champagne while they browse.
PLAN YOUR TRIP: Visit Fodor's Hong Kong Guide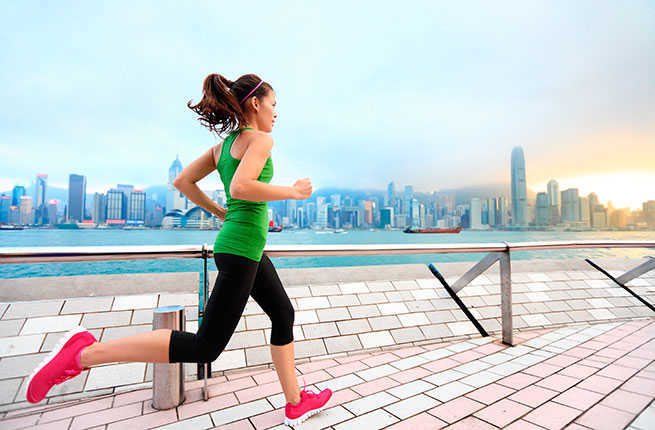 Martinmark | Dreamstime.com
With a growing number of fitness studios and healthy restaurants, Hong Kong is fast becoming a haven for health-conscious travelers. To break a sweat and make some new friends without spending a dime, check outHarbour Runners. Aimed at bringing together like-minded people, the organization meets up every Wednesday at 7:45 pm to explore Hong Kong's varied landscapes on foot. Each run is about 5 miles long and you can go at your own pace. Check the Facebook page to see where they're running next.
It's not uncommon to feel a little overwhelmed in Hong Kong—but you can find a sense of zen with a bout of Laughter Yoga. This workout group is about exercising your body and mind, as much as it is about having a good time. Free for everyone, the groups meet every week at various times and locations, so check out the website for the most up-to-date information.
Insider Tip: Most public parks in Hong Kong are equipped with free metal gym equipment. Basic as it may be, it should help you work off all that dim sum.
PLAN YOUR TRIP: Visit Fodor's Hong Kong Guide
Film has a long and rich history in Hong Kong, where stars such as Bruce Lee, Jackie Chan, and Maggie Cheung made their names. The best place to experience it all is tucked away in the unlikely neighborhood of Sai Wan Ho:the Hong Kong Film Archive boasts a rich collection that will delight movie buffs. The five-story building regularly hosts exhibitions and screenings, which are usually free, ranging from new director spotlights to morning matinees, retrospective series, seminars, and anniversary exhibitions. Check the website for the current screenings schedule ahead of your visit.
Insider Tip: Another way to catch a free movie is to hit up the Alliance Francais's Cine-Club. One Wednesday every month, La Médiathèque shows a free French film complete with English subtitles.
PLAN YOUR TRIP: Visit Fodor's Hong Kong Guide
Atosan | Dreamstime.com
Okay, it might not be entirely gratis, but the Happy Valley horse races cost a very affordable HK$10. A Wednesday night staple on the Hong Kong social circuit, the races date back to the 1840s when they were enjoyed by British and Chinese elite. The evening Happy Valley races are the most popular among visitors thanks to the jovial atmosphere and seemingly endless flow of beer, but there's another track in Sha Tin if you're interested in venturing outside the city center to see a race.
Insider Tip: The racing season runs from September to July, with races typically taking place on Wednesdays and weekends.
PLAN YOUR TRIP: Visit Fodor's Hong Kong Guide
Lounge in Victoria Peak Gardens
It might seem like nothing but skyscrapers, but there's actually an impressive amount of parkland in Hong Kong—over 60 percent of the territory is natural terrain, still untouched by development. To enjoy some of the greenery without trekking out to the New Territories, head up to Victoria Peak Gardens in the center of town. To get there, take the short hike up the Morning Trail, starting at Hatton Road. After about 30 minutes, you'll come to the intersection of Hatton, Lugard, and Harlech roads. Head left at the junction and up the small stone steps into the hillside, following the trail until you come upon a beautiful Victorian-style garden. Once the summer home of the Governor of Hong Kong, Victoria Peak Gardens is now a public park with an inviting lawn and a unique vantage point overlooking the western side of the city.
Insider Tip: If you prefer not to hike, take a taxi or Bus 15 to The Peak and walk from there.
PLAN YOUR TRIP: Visit Fodor's Hong Kong Guide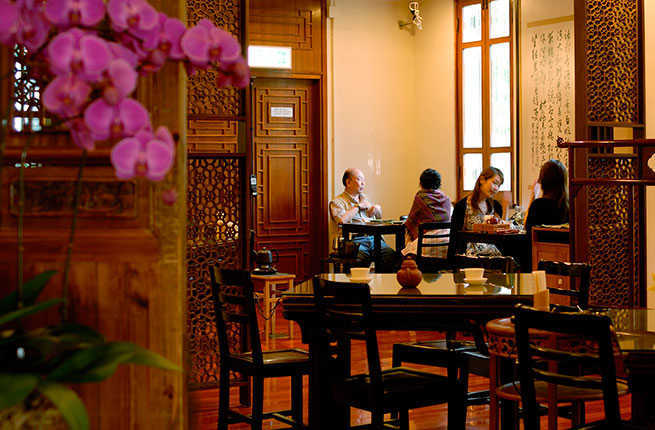 Courtesy of LockCha
Sit Down for a Tea Ceremony
An integral part of traditional Chinese culture, tea has a long and storied history in Hong Kong and Guangdong province. Even today, there are many old-school tea houses around town, some of which offer complimentary Chinese tea ceremonies to potential customers.
One of the best experiences can be found at stalwart LockCha Tea Shop, which has a tea and ceramics shop inside the Jao Tsung-I Academy in Lai Chi Kok (800 Castle Peak Road). Usually guests are invited to sit on stools around a wooden table as a shopkeeper brews the tea leaves and explains the tasting process.
Insider Tip: LockCha also has a tea house in Hong Kong Park, next to the Flagstaff House Museum of Tea Ware, where you can sample some of the city's best vegetarian dim sum.
PLAN YOUR TRIP: Visit Fodor's Hong Kong Guide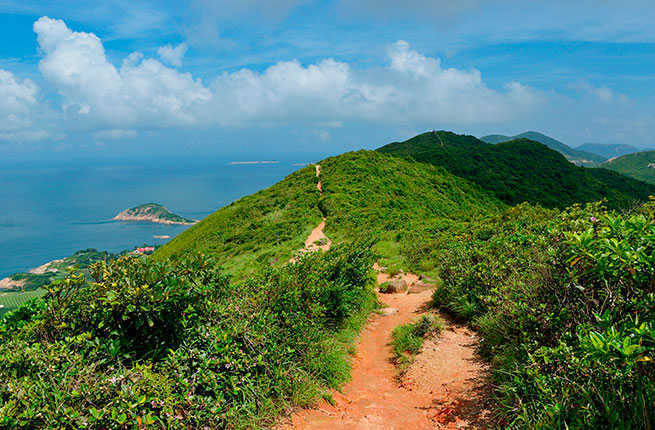 Jaysi | Dreamstime.com
Take On Dragon's Back Hike
A relatively easy hike, Dragon's Back affords incredible views of mountainous Hong Kong Island and the outlying islands beyond the coastline. The hike begins in Chai Wan's fascinating Cape Collinson Catholic Cemetery, where thousands of densely packed, terraced graves flank a steep cement stairwell. This is the hardest part of the hike, and it's a straight up incline for about half an hour.
Once you're at the top, follow the signs for Tai Tam Gap—it's a relaxing stroll that takes you over the undulating hills that give Dragon's Back its name. About two hours and dozens of jaw-dropping views later, you'll finish on a main road near a bus stop. Hop on bus 9 and hop off at Shek O, a buzzing beach town with cheap outdoor bars and friendly Thai restaurants.
Insider Tip: Instead of stretching out on the main beach, which tends to get crowded on weekends, stroll east for about five minutes to Shek O Back Beach, where Ben's Back Beach Bar and quieter plots of sand await.
PLAN YOUR TRIP: Visit Fodor's Hong Kong Guide
Mitchblatt | Dreamstime.com
Step Inside Chungking Mansions
If you think Hong Kong is all clean-cut malls and boring banks, you're missing a whole other side of this international city. Some of the best food and most diverse culture can be found inside mysterious Chungking Mansions, a 17-story complex brought into the limelight by the movie "Chungking Express."
The chaotic labyrinth is home to several towers, which house a mix of low-rent apartments and guesthouses, electronics shops, money changers, clothing stores, and mobile phone stores. But the best part is the food: Indian, Pakistani, African, and Middle Eastern restaurants are tucked away in the upper floors and along the ground floor. Even if you're not there to eat, a simple stroll around the premises is an experience in itself.
Insider Tip: For great-value Indian cuisine, check out The Delhi Club (Tower C, 3/F, Shop C3) or Khyber Pass Club Restaurant (Tower E, 7/F, Shop E2).
PLAN YOUR TRIP: Visit Fodor's Hong Kong Guide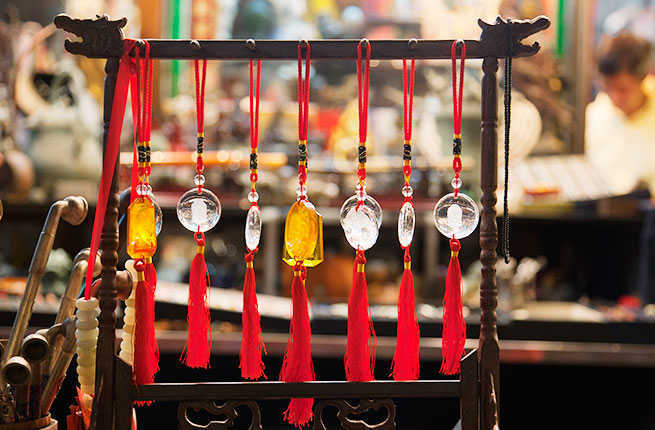 Itpow | Dreamstime.com
Shop at Hong Kong Island Markets
Kowloon isn't the only area offering outdoor shopping experiences. Starting in Central, there's more to explore: The Li Yuen Street East and West markets, dubbed the Lanes of Central, are so chock-full of ladies' fashion and luggage you can barely get through. In Sheung Wan, at the Cat Street Market (on Upper Lascar Row) there are plenty of bargain finds among the historic prints, antiques, and vintage memorabilia.
Farther west, the dried seafood markets of Sai Ying Pun's Des Voeux Road West overflow with dried cooking ingredients, medicinal tonics, and all kinds of salted fish, which can get particularly pungent in the summer heat. Down on the Southside, the Stanley Market is a little less chaotic, making for a nice change of pace. While mostly full of kitschy souvenirs, it's hard to argue with the sun-soaked shopping experience, seaside views, and nearby alfresco restaurants.
Insider Tip: Every Sunday from March to December, the Tong Chong Street Market in Quarry Bay comes alive with stalls selling treats from local farmers and Hong Kong's top restaurants.
PLAN YOUR TRIP: Visit Fodor's Hong Kong Guide
Jetjock | Dreamstime.com
Imagine Life in the Kowloon Walled City
An enormous 2.7-hectare complex of interconnected tenement towers, The Kowloon Walled City Park was originally built as a military fort during the Song dynasty and later became a garrison during British colonization. After World War II, poverty-stricken squatters moved into the vacant fort and created makeshift camps and homes.
Throughout the 1950s, '60s, and '70s, the Kowloon Walled City's dark corridors became a haven for gangs, prostitutes, opium parlors, and gambling dens. It earned its Cantonese name "City of Darkness," because the towers were built so tightly together that light could hardly stream through. Although the government bulldozed the infamous complex in 1993, today a picturesque park commemorates the infamous building that tens of thousands of Hongkongers called home.
Insider Tip: You can actually still find a few relics in the park, including remnants of the South Gate and the Chinese-style Yamen, which was built in the early 1800s to serve as military offices.
PLAN YOUR TRIP: Visit Fodor's Hong Kong Guide
Mikekwok | Dreamstime.com
Celebrate the Dragon Boat Festival
Every June, Victoria Harbour erupts with colorful boats, drumming, cheers, and lots of beer. The highly anticipated Dragon Boat Festival evolved from the ancient Chinese Tueng Ng Festival, which takes place on the fifth day of the fifth lunar month (which typically falls in May or June). Dating back to the third century, the festival is rooted in the legend of Qu Yuan, a poet who, disillusioned with a corrupt government, drowned himself in a river. Local fishermen raced into the river, paddling and banging drums to scare away spirits, but failed to rescue the poet.
Today the jubilant festival has evolved into an international event, but some ancient traditions still exist, such as the elegant long boats and rhythmic drumming. For this three-day event, dragon boat competitors from around the world descend on the city. Watching from the sidelines, fans, travelers, and bon vivants head down to the Central Harbourfront to enjoy the races.
Insider Tip: If you can't make it for the Dragon Boat Festival, not to worry: Hong Kong has a festival nearly every month. Look forward to the Hungry Ghost Festival in August, the Mid-Autumn Festival in September, Chinese New Year in January or February, and the Cheung Chau Bun Festival in May.
PLAN YOUR TRIP: Visit Fodor's Hong Kong Guide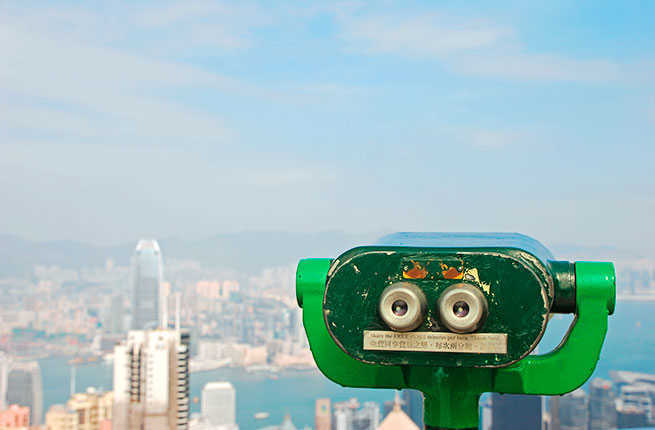 Stbernardstudio | Dreamstime.com
If you're after some incredible panoramas, you don't have to pay a pretty penny to ride a crowded tram to The Peak or buy an overpriced cocktail at Ozone bar. Several skyscrapers have observation decks or public spaces, including the Bank of China Tower's viewing platform. From the 43rd floor of the I.M. Pei–designed architectural marvel, you'll enjoy uninterrupted views across the glittering harbor and beyond. Another hot spot is the IFC Mall, where you'll find a public rooftop with sweeping views. To make the most of it, buy some craft beers or a bottle of wine at the grocery store inside the mall beforehand.
Insider Tip: If you have your heart set on visiting The Peak, don't bother paying for the Sky Terrace. Instead, follow the escalators to the rooftop of The Peak Galleria mall for free panoramic views of of Hong Kong Island.
PLAN YOUR TRIP: Visit Fodor's Hong Kong Guide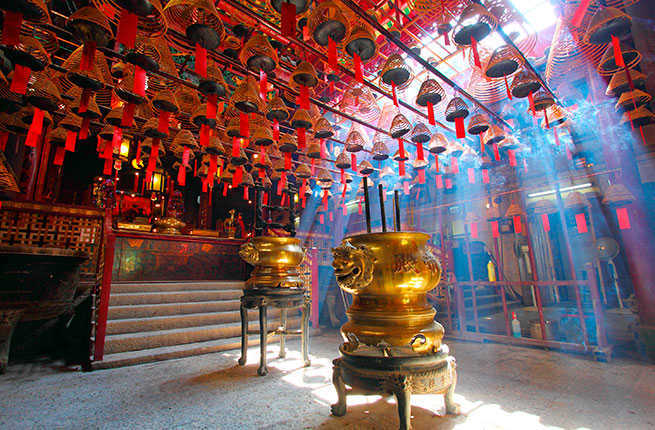 Jess Yu / Shutterstock
Tour Hong Kong's Historic Temples
A trip to Hong Kong isn't complete without a visit to at least one of the ancient temples, most of which are devoted to Confucian, Buddhist, and Taoist gods. On Kowloon side, don't miss the Hau Wong Temple in Kowloon City. Built during the Qing dynasty, around 1730, the temple is one of the oldest in Hong Kong. It's also one of the few places where you'll see a rare roofing style of triangular stepped gables, a symbolic tribute to heaven.
Also in Kowloon, but nowhere near as old, the Chi Lin Nunnery offers a different take on Chinese temples. Built in 1934—and rebuilt in 1998 without using a single nail—the exquisite temple complex mimics Tang Dynasty style by incorporating interlocked wooden beams, high ceilings, and gold details. The neighboring Nan Lian Garden offers a rare sense of tranquility thanks to waterfalls, greenery, rock formations, and meticulous landscaping.
Across the water in Sheung Wan, the quaint but historic Man Mo Temple has vibrant green roof tiles and mesmerizing incense coils. Devoted to the god of literature (Man) and war (Mo), this temple was built in 1847 and has been declared a monument and Grade I historic building.
Insider Tip: If you happen to visit the Chi Lin Nunnery around lunch time, stop into the vegetarian dim sum restaurant located right behind the waterfall in Nan Lian Garden for one of the best Cantonese meals in town.
PLAN YOUR TRIP: Visit Fodor's Hong Kong Guide
Sure, Hong Kong may be loaded with monolithic megamalls, all stocking the same luxury chain stores, but a wellspring of independent boutiques has emerged in a couple of fashion-forward districts. For all things locally made, head to PMQ, where artisans showcase their wares in small stores and workshops. The complex was originally a school and later used as the Police Married Headquarters after World War II. It was renovated in 2014 in an effort to support Hong Kong's creative community, while also preserving heritage and architectural elements.
Down the hill at Gough Street, you'll find a mix of local and international boutiques, scattered between hip cafés and traditional cha chaan teng diners. Elsewhere in Sheung Wan, the leafy area around Tai Ping Shan Street boasts indie boutiques, funky accessory stores, and charming tea shops. Over in Wan Chai, Star Street has blossomed to become a trendsetting neighborhood with upmarket fashion finds from the likes of Monocle, Le Labo, Lala Curio, and Kapok.
Insider Tip: If you're traveling with a group of at least four, book yourself in for a free hour-long heritage tour of PMQ. They're available on Tuesdays, Thursdays, and Saturdays by appointment.
PLAN YOUR TRIP: Visit Fodor's Hong Kong Guide
Hnwong28 | Dreamstime.com
Home to some of the most beautiful beaches in Hong Kong, Tai Long Wan bay stretches across the eastern side of Sai Kung Peninsula in the New Territories. It's a bit of a trek from Central, but the fresh air, green hills, and picture-perfect shores are well worth a day trip. There are four beaches in the area—each more pristine than the next.
To get there, you first need to make your way to Sai Kung. Take a 30-minute cab ride from Hong Kong Island, or take public transit in various combinations, including the MTR to Choi Hung, followed by the 1A green minibus to Sai Kung. From there, you can take a green taxi to Sai Wan Pavilion and hike 90 minutes to Ham Tin Beach, which is home to a couple of casual restaurants.
Insider Tip: If you don't care to hike, you can also hire a speedboat from Sai Kung Pier for about HK$200–300. But come prepared with a few Cantonese phrases or enlist a Hong Kong friend to help communicate with the boat drivers.
PLAN YOUR TRIP: Visit Fodor's Hong Kong Guide
One of the city's best views is actually not atop a skyscraper, but rather hidden away in Mid-Levels. Bowen Road, which runs from Magazine Gap Road in Central to Stubbs Road in Happy Valley, is a peaceful way to spend an afternoon. The shady 2.5-mile-long path is a favorite among joggers and dog owners looking to escape the city buzz, get some fresh air, and enjoy the incredible views. It's also a popular place for older Hongkongers to get together for a bout of Tai Chi, a Chinese martial art.
Insider Tip: As you walk along Bowen Road, keep an eye out for Lover's Rock—a famous phallic sculpture that's said to grant women luck in marriage and fertility.
PLAN YOUR TRIP: Visit Fodor's Hong Kong Guide
Gelia | Dreamstime.com
There's a museum every few blocks in Hong Kong, devoted to everything from art to science, history, coastal defense, and even Dr. Sun Yat-sen. For free access to the major museums, visit on Wednesdays, when most offer complimentary entry to the general exhibitions, and some even provide free guided tours. Can't make it on a Wednesday? Not to worry: Hong Kong museums are extremely reasonable, starting at just HK$10 for standard entry. In addition, some of the smaller, more niche museums are always free—like the Hong Kong Railway Museum and the Hong Kong Racing Museum.
Insider Tip: You'll have to skip the Hong Kong Museum of Art if you're visiting anytime soon, as it's currently under renovation until approximately 2018. The Hong Kong Space Museum is also getting a facelift, but should reopen by the end of 2016.
PLAN YOUR TRIP: Visit Fodor's Hong Kong Guide