Courtesy of EAST Hong Kong
In many cities summer is the best time of year to head outdoors for a tipple, but in Hong Kong it's quite the opposite, thanks to stifling humidity and the threat of typhoons in the warmer months. As soon as November rolls around, however, the city's rooftops come alive well through April. You can never go wrong with the show-stopping views at Sevva, Ozone, Eyebar, Wooloomooloo, and Armani/Privé, but these longtime and well-loved hangouts were joined by a slew of newcomers in 2015. Check out some of our favorite tucked-away terraces and new-to-town rooftops while admiring the glittering city from all angles. —Kate Springer
Courtesy of VEA
Helmed by all-star chef Vicky Cheng and award-winning mixologist Antonio Lai—also behind Quinary—VEA has an impressive pedigree. Straddling Sheung Wan and Central, the views aren't shabby either, thanks to the 29th- and 30th-floor perch on top of The Wellington. A two-story restaurant and lounge, VEA serves elegant food and cocktail pairing menus on the top floor. Meanwhile, Lai's cocktails take center stage in the lounge one floor down, where an intimate terrace delivers incredible views of the Western District.
Must-Try Drink: To start the evening on a high note, try the Cleopatra Formosa. Served in an upside-down pineapple with wood smoke, the photo-worthy cocktail combines mezcal, Absolut Elyx, pineapple star anise syrup, and lime juice.
PLAN YOUR TRIP: Visit Fodor's Hong Kong Guide
Courtesy of CÉ LA VI
Bringing its Japanese style to Lan Kwai Fong, CÉ LA VI touched down in Hong Kong's nightlife and entertainment epicenter in August 2015. Like its sister property in Singapore, CÉ LA VI is a glamorous affair. From its atmospheric SkyBar atop California Tower in bustling Lan Kwai Fong, the swish address boasts 360-degree views of the Central District and Victoria Harbour. That's also where you'll likely find the city's glitterati hanging out, either in the inviting hot tub or chilling alongside live DJ sets on weekends—Champagne in hand.
PLAN YOUR TRIP: Visit Fodor's Hong Kong Guide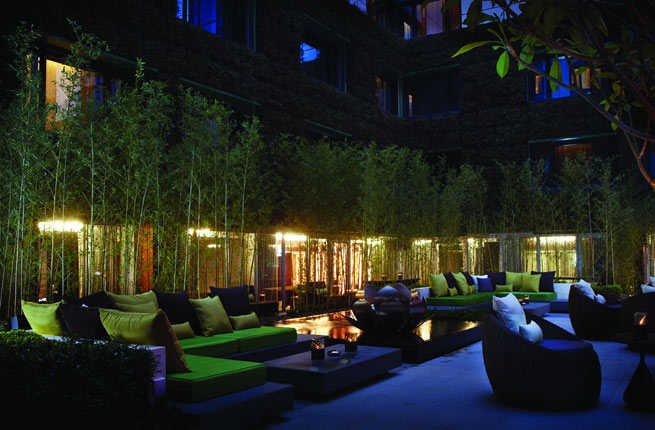 Courtesy of Vibes
It only takes a few minutes of wandering around high-energy Tsim Sha Tsui before you start pining for a cool cocktail and some quiet time. You're in luck: hidden away in The Mira Hotel is Vibes, one of the sexiest rooftop bars in town. Modeled after a secret garden, the fifth-floor alfresco oasis takes its cocktails seriously—particularly the tiki tipples—but there's no shame in keeping it simple with a refreshing craft beer. Reserve your own private cabana, set apart by frangipani trees and bamboo, or take a seat at one the lounges. On most evenings, enjoy house DJs spinning up a storm while Thursdays are dedicated to all things Arabic, when mezze platters and belly dancers abound.
Insider Tip: For an extra smokin' night, ask Khaled, the resident shisha master, to try one of the more than 20 hookah flavors.
PLAN YOUR TRIP: Visit Fodor's Hong Kong Guide
Courtesy of La Paloma
Hong Kong has been all about sharing plates and tapas lately, and La Paloma was a welcome addition to the Sai Ying Pun dining scene when it opened in early 2015. Following his success with fine-dining FoFo by el Willy, which also boasts a beautiful terrace, chef Willy Trullas Moreno thought it was time to bring a casual concept to town, and so came La Paloma, modeled after Barcelona's "chiringuitos" beach bars. The friendly Spanish restaurant doesn't just serve up crispy paella, cochinillo, and creative appetizers—it also has a tranquil terrace connected to the bar. Try a pitcher of smooth Rose Sangria, a nip of Spanish sherry, or a crisp Spanish beer.
PLAN YOUR TRIP: Visit Fodor's Hong Kong Guide
Courtesy of Above
Tucked away down in Wong Chuk Hang, Above at the boutique hotel Ovolo Southside is a unique spot for refreshments with a view. Gazing across the lush, hilly landscape, this seemingly endless stretch of green will completely upend your preconceived notions about Hong Kong's reputation as a concrete jungle. Juxtaposed with panoramic views, an edgy industrial-chic vibe featuring locally painted murals and street art adds to the appeal.
Insider Tip: Stay tuned for the opening of a new MTR station set for the end of 2016. For now you'll have to grab a taxi or a bus to reach this far-flung favorite.
PLAN YOUR TRIP: Visit Fodor's Hong Kong Guide
Courtesy of EAST Hong Kong
A longtime post-work hangout for the Taikoo Shing crowd, Sugar enjoys a devoted following despite its location outside the city center. The enthusiasm could be due to the enormous outdoor terrace, comfy lounge chairs, and unique views of Victoria Harbour from its location on the eastern end of the island. Or maybe it's the killer cocktails and Cajun fries—we'll let you be the judge.
Insider Tip: Nothing is ever that far away in Hong Kong. Though Sugar is off one of the last MTR stops on the Island Line, it only takes about 15 minutes to reach from Central.
PLAN YOUR TRIP: Visit Fodor's Hong Kong Guide
Courtesy of Cordis
Buzzing Mong Kok may not be the most verdant area, but hidden away in the heart of it all is a nice surprise. The Backyard, at recently refurbished Cordis Hong Kong (formerly Langham Place) offers an outdoor escape from the streets below. Sprawling across 6,000 square feet of space, this urban retreat is comfy and casual—picture lounge chairs, mango trees, and waterfalls. Naturally, beverages flow freely with offerings of more than 20 beers, including eight local varieties.
PLAN YOUR TRIP: Visit Fodor's Hong Kong Guide
HDP Photography
A newcomer on the Wan Chai nightlife circuit, Mahalo Tiki Lounge has taken over the top floor of the QRE Plaza. The tiki theme might give you pause, but there's nothing cliché about this open-air address. Featuring natural bamboo and stone accents, the breezy venue merges island vibes and retro '70s flair for a fresh experience. From the bar's design-driven decor to its quirky cocktails and Polynesian-inspired menu, Mahalo ticks off all our boxes for a memorable night out.
Insider Tip: Get there around 5 pm to watch the sunset from the terrace with an icy piña colada in hand.
PLAN YOUR TRIP: Visit Fodor's Hong Kong Guide
Courtesy of KOKO
Those familiar with the bar scene in Hong Kong may already know about KEE Club, a sophisticated members-only affair. Luckily for travelers just passing through, the club just partnered with Japanese soccer star and sake curator Hidetoshi Nakata to open a contemporary izakaya called KOKO. Located in the heart of Central and open to all comers, the sake specialist is home to a spacious garden terrace overlooking the newly renovated Central Police Station—a historic landmark in Hong Kong's SoHo neighborhood.
PLAN YOUR TRIP: Visit Fodor's Hong Kong Guide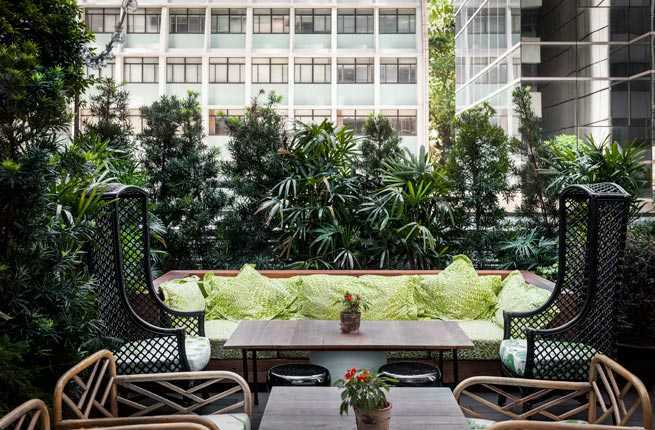 Courtesy of Duddell's
Hidden away in a commercial building on Duddell Street, aptly named Duddell's knows a thing or two about living the high life. The restaurant and bar encompass two levels, each featuring glamorous Chinese-chic furniture and contemporary artwork. A short climb up the travertine staircase to the upper floor will reward you with a lovely seat on the garden terrace, where you can enjoy an Old World wine, handcrafted classic cocktails, or authentic Cantonese cuisine.
Insider Tip: Schedule a weekend brunch to dig into Cantonese dim sum and free-flowing Veuve Cliquot. If you're not feeling dim sum there's also the "Pirate's Breakfast," which cures even the worst hangovers.
PLAN YOUR TRIP: Visit Fodor's Hong Kong Guide
Courtesy of Fu Lu Shou
If you are entering a dodgy-looking commercial building right beneath the Central–Mid-Levels escalator, then you're getting close. Head to the top floor and behold Fu Lu Shou, one of the coolest bars in town. Colorful murals brighten up an edgy atmosphere, where you can dig into Western-style Chinese food, enjoy a great cocktail, or choose from a fridge full of craft beers. A spacious outdoor terrace dominates most of the restaurant and treats patrons to dramatic city views.
Must-Try Drink: The cocktail menu is packed full of quirky concoctions, all paying homage to Hong Kong culture. We love the "Joh Sun" which means "Good Morning" in Cantonese. It's a fresh, citrusy drink with lemongrass, vodka, ginger, and chili.
PLAN YOUR TRIP: Visit Fodor's Hong Kong Guide
Courtesy of The Envoy
Boutique hotel The Pottinger opened in 2014, bringing with it a stable of top-notch restaurants and bars. Sporting a relatively roomy outdoor space on the third floor, The Envoy is another bar from master mixologist Antonio Lai, who is also the barman behind Quinary, Origin, and VEA. The Envoy takes inspiration from Hong Kong's heritage as a trade port, evidenced in the beautifully crafted cocktails, which incorporate tea leaves and aromas for a multisensory experience. Meanwhile, herringbone wooden floors and Chinoiserie wallpaper capture Hong Kong's East-meets-West heritage.
PLAN YOUR TRIP: Visit Fodor's Hong Kong Guide
Courtesy of ON
A gorgeous space in Central, ON DINING, Kitchen & Lounge is the second venture from celebrated chef Philippe Orrico, who first struck out on his own with Upper Modern Bistro in Sheung Wan. His new two-story venue, ON DINING, houses an open-style kitchen as well as an alfresco lounge showcasing city views and classic cocktails, complete with a vintage gin trolley served tableside. If you're hoping to make a night of it, the restaurant pairs beautiful Mediterranean meals with hand-picked wines, Champagne, and cheese.
Must-Try Drink: Master mixologist Giancarlo Mancino stirs together a gorgeous "ONegroni" served with hand-chipped ice.
PLAN YOUR TRIP: Visit Fodor's Hong Kong Guide
Courtesy of Seasons by Olivier Elzer
Like many restaurants in Hong Kong, Seasons by Olivier E. feels like a hidden gem due to its location in the depths of a mall in Causeway Bay. But once you're there, it's like you've stumbled into a mirage—a quiet, spacious restaurant in the middle of one of Hong Kong's busiest neighborhoods. The design concept pays homage to the seasons, with four separate dining areas. The contemporary restaurant opens up into a summery Garden Terrace, decked out with plants and parasols. Inside or out, enjoy contemporary French bites and seasonal selections from French chef Olivier Elzer.
Must-Try Drink: There's a signature cocktail for every style, but we suggest the "Hephasetus" on a cool evening. It packs a punch with aged rum, Cherry Heering, brown sugar, and chocolate bitters.
Insider Tip: If you're up for a big night out, plan your visit around the live DJ performances on Thursday and Friday nights, starting at 6 pm.
PLAN YOUR TRIP: Visit Fodor's Hong Kong Guide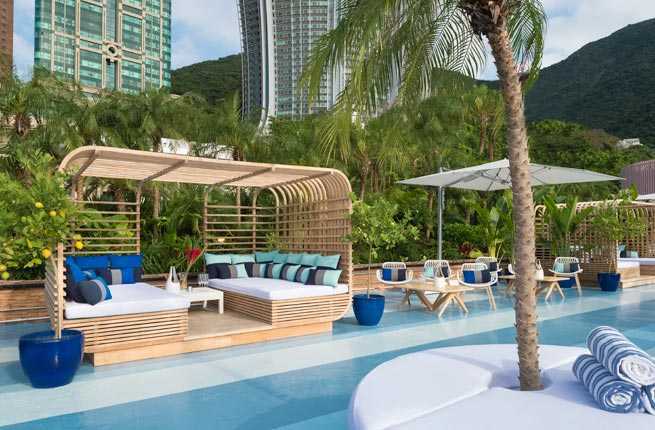 Courtesy of Cabana
Opening at the end of 2015, Cabana has taken the Southside to a whole new level—quite literally. The hotspot holds court on the rooftop of The Pulse, a new shopping and dining destination overlooking Repulse Bay Beach. But it's the outdoor bar with the best seats in the house—Japanese-style baths, to be exact. Just in case you're not keen to strip down, there are also plenty of lounge chairs and namesake cabanas on hand.
Insider Tip: Cabana is run by Le Comptoir restaurant group, which helms some of the best establishments in the city, including fine-dining The Ocean, art-savvy Bibo, and Southeast Asian oasis Tri. We highly suggest you try them all!
PLAN YOUR TRIP: Visit Fodor's Hong Kong Guide