Msavoia | Dreamstime.com
They say the best things in life are free, and in San Francisco, enjoying some of the most iconic sights won't cost you a dime. With its stunning natural beauty and a thriving arts and culture scene, the city has an abundance of things to do if you're on a budget or just saving for other indulgences. From a stroll across the Golden Gate Bridge to a drive down the crooked streets to world-class music in the park, San Francisco is a dream come true for the cost-conscious traveler.
By Amy Sherman
Radkol | Dreamstime.com
Russian Hill
This lovely neighborhood has lots of hidden charms. Just a block from the crooked section of Lombard Street, the Alice Marble Tennis Courts are set on a steep block that offers park benches and peekaboo views of the Bay Bridge, Coit Tower, and the Golden Gate Bridge with the Marina on the other side and Alcatraz in the distance.
The Ina Coolbrith Park is named for California's first poet laureate. It's a tiny, grassy spot not many people know about, so it's worth visiting for the isolated and inspiring view of the bay and the skyline, an impromptu picnic, or seeing fireworks on the Fourth of July.
If you've read Armistead Maupin's Tales of the City, you may remember "Barbary Lane," which is based on the idyllic Macondray Lane. It's a heavily forested, pedestrian-only, cobbled pathway and stairs with flowers, ferns, dappled sunlight, and a fairytale atmosphere.
PLAN YOUR TRIP: Visit Fodor's San Francisco Travel Guide
Coleong | Dreamstime.com
Beaches
The water is cold year round, but don't let that stop you from heading to the bay. The city offers a number of outstanding beaches: Ocean Beach on the Western edge of town for watching surfers and sunsets; Baker Beach for amazing views of the Golden Gate Bridge; and the Marin Headlands, the coastal trail, and Aquatic Park where you can watch Dolphin Club swimmers and see plenty of boats in the harbor.
The nearby Hyde Street Pier is great for views of the city and the bay. Aquatic Park is an urban beach, part of the Maritime Park Association and home to the Maritime Museum in the Aquatic Park Bathhouse Building. This classic art deco building resembles an ocean liner, and it's free to check out the murals in the lobby and the views from the veranda.
PLAN YOUR TRIP: Visit Fodor's San Francisco Travel Guide
Courtesy of Pier 39
Pier 39
While many locals avoid the touristy Fisherman's Wharf area, there's no denying the allure of Pier 39. This waterfront complex has street performers, shops, restaurants, attractions, a five-acre waterfront park with a 300-berth marina, and the best views of the sea lions.
If you're in San Francisco in February, head to Pier 39 for the annual Tulipmania. More than 39,000 tulip bulbs are planted and bloom for weeks at a time. Free tours are given by members of the landscaping team throughout the week and end with complimentary refreshments.
PLAN YOUR TRIP: Visit Fodor's San Francisco Travel Guide
Brunoseara | Dreamstime.com
Golden Gate Park
Golden Gate Park is a large manmade park full of forests, lakes, gardens, and museums. The weekend is prime time to visit because it's car-free on Saturdays and Sundays. On Sundays from 11 a.m.-2 p.m. between 8th and 10th Avenues, you can watch or participate in Lindy in the Park, a dance party with free half-hour swing dance lessons for beginners at noon.
While the museums and some of the gardens have an entry fee, the Japanese Tea Garden is free if you arrive between 9-10 a.m. on Mondays, Wednesdays, and Fridays, and you can make a beeline for the Hamon Observation Tower in the de Young Museum for stunning 360-degree panoramic views of downtown San Francisco, Golden Gate Park, the Bay, and the Marin Headlands.
PLAN YOUR TRIP: Visit Fodor's San Francisco Travel Guide
Films
Thanks to mild weather in summer and fall, free movies in the park are popular for locals and visitors alike. Of course you'll want to bring blankets to sit on and bundle up with if Karl the Fog should make an appearance.
Bernal Heights Outdoor Cinema runs a series of movies, and Film Night in the Park hosts movies at Union Square, Washington Square Park, and Dolores Park. Mission Bay Parks and the University of California San Francisco also host a free film night, and free screenings with complimentary wine tastings are held indoors at the Top of the Mark, at the Mark Hopkins Hotel.
PLAN YOUR TRIP: Visit Fodor's San Francisco Travel Guide
San Francisco Travel Association/Scott Chernis
Author Talks and Readings
San Francisco is very much a literary town, and bookstores offer endless hours of browsing and opportunities to hear authors speak. Omnivore Books is a mecca for food lovers and cooks, hosting an impressive lineup of culinary talent and the best chefs and food writers from around the globe. A must-visit for poets or anyone enamored with the beat generation is City Lights Bookstore, a fixture since 1953 known for its "commitment to free intellectual inquiry." Books Inc. is the oldest independent bookseller in the West, dating back to the Gold Rush era. The store has two San Francisco locations and often hosts best-selling authors and public figures of international stature.
PLAN YOUR TRIP: Visit Fodor's San Francisco Travel Guide
Walking Tours
San Francisco City Guides is a volunteer organization run by local residents passionate about their city and sponsored by the San Francisco Public Library. They lead terrific walking tours of various neighborhoods and focuses. You can learn about the Gold Rush or the 1906 earthquake and fire, see Victorian architecture, or visit Chinatown. The free tours are a particularly good way to experience lesser-known parts of the city, especially in May and October when there are expanded schedules. Check the website for times, dates, and surprise tours.
PLAN YOUR TRIP: Visit Fodor's San Francisco Travel Guide
Andreykr | Dreamstime.com
Ferry Building and Farmers' Markets
It's hard to imagine that for years the Ferry Building was dormant and used as a simple walkthrough to get to the docks. Today it's a vibrant destination filled with local purveyors of everything from cheese and chocolate to coffee and cookware. Take a walk through the beautiful building or visit the farmers' market, considered one of the best in the nation, which takes place on Tuesdays and Saturdays. Many of the cooking demos and other market happenings run by the Center for Urban Education about Sustainable Agriculture at the farmers' market are also free.
PLAN YOUR TRIP: Visit Fodor's San Francisco Travel Guide
Courtesy Pier 24 Photography, San Francisco
Photography Galleries
San Francisco is a favorite city for photographers. Established in the 1940s, Harvey Milk Photography Center is named for one of Castro's most famous residents, the first openly gay supervisor and photo shop proprietor. The center hosts exhibitions, lectures, and photo walks.
Another top spot for photography buffs is Pier 24, home of the Pilara Foundation, which is dedicated to collecting, preserving, and exhibiting photography. It offers free admission but is open by appointment only. Its visiting artist program brings six artists, writers, and curators to San Francisco for free lectures.
SF Camerawork also offers exhibitions and events. Their focus is on emerging artists, and their mission is to support artistic exploration and community involvement and inquiry.
PLAN YOUR TRIP: Visit Fodor's San Francisco Travel Guide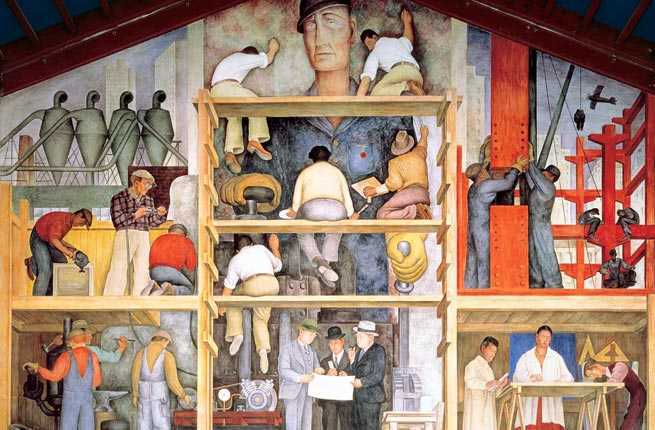 Diego Rivera Murals
San Francisco has three murals from one of the world's most famous modern muralists, Diego Rivera. Allegory of California (1931) resides on a wall and ceiling at the City Club. The main figure is Calafia, the Spirit of California. Her right hand represents the agricultural bounty of the state, while her left hand embraces the technological leaders of the day. It is open for public viewing from 3-5 p.m. Monday through Friday.
The Making of a Fresco Showing the Building of a City (1931), located at the San Francisco Art Institute, expresses the left-leaning artist's views of art, industry, and work.
Pan American Unity (1940) can be found in the Diego Rivera Theatre at the City College of San Francisco. The mural was painted as part of the Golden Gate International Exposition on Treasure Island in the San Francisco Bay. It is composed of five large panels and combines themes of art, religion, history, politics, and technology of the Americas.
PLAN YOUR TRIP: Visit Fodor's San Francisco Travel Guide
Louishenault | Dreamstime.com
Lombard Street and Twin Peaks
Eight switchbacks in one long block give the section of Lombard Street between Hyde and Leavenworth the reputation of being the "crookedest street in the world." It's on the Hyde Street cable car line, and while you can drive, you'll appreciate it more if you walk it in full.
At 922 feet, Twin Peaks, a sixty-four-acre mix of grassland and coastal scrub, offers 180-degree views that will give you a glimpse of what San Francisco looked like in its natural state prior to development.
PLAN YOUR TRIP: Visit Fodor's San Francisco Travel Guide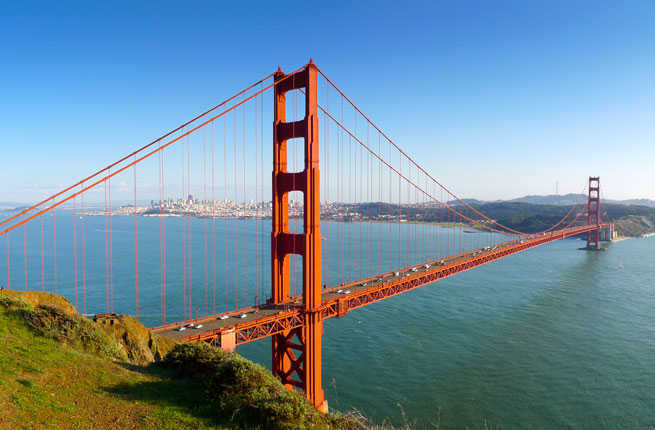 Msavoia | Dreamstime.com
Golden Gate Bridge
The Golden Gate Bridge is without a doubt the most well known emblem of San Francisco. Walking or biking across the bridge is a great experience, with incredible views from both sides. Start at the Bridge Pavilion, which offers a gift shop, historical information, and exhibits, including the original twelve-foot stainless steel Bridge "test tower" from 1933. If you want a guided tour, you can sign up for a free one most Thursdays and Sundays with SF City Guides.
PLAN YOUR TRIP: Visit Fodor's San Francisco Travel Guide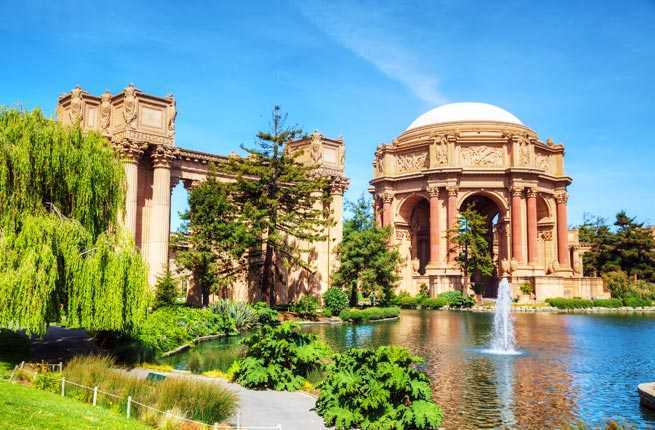 Andreykr | Dreamstime.com
Palace of Fine Arts
The Palace of Fine Arts is an iconic San Francisco building and one of the first you encounter upon entering the city from the Golden Gate Bridge. It was built in 1910 for an exposition that honored the completion of the Panama Canal and helped send the message that San Francisco was back in business after the devastating earthquake and fire of 1906. The neoclassical building evokes nature, ancient mythology, and the romanticism of the early twentieth century. It's a very popular spot for wedding photos, as the surrounding pond, home to ducks and swans, beautifully reflects the buildings.
PLAN YOUR TRIP: Visit Fodor's San Francisco Travel Guide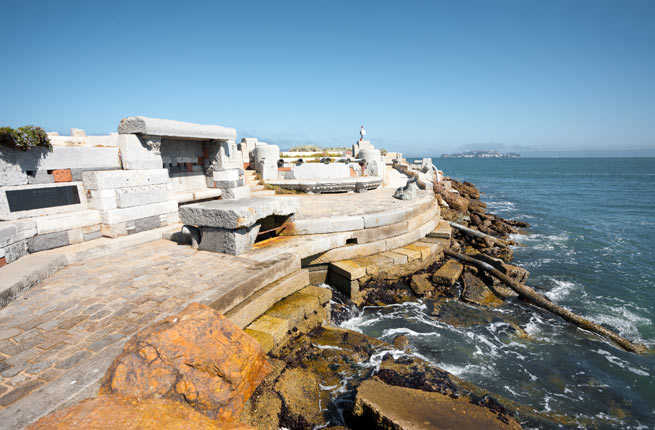 Pius99 | Dreamstime.com
Waterfront
Crissy Field, part of the Golden Gate National Parks system, stretches from Fort Point to Fort Mason, with miles of flat, open space for walking, biking, and kite flying. It's also a favorite windsurfing spot. Check out the Wave Organ, a wave-activated acoustic sculpture on a jetty in the bay at the boat harbor. Best heard at high tide, it was constructed from granite and marble from a demolished cemetery.
Fort Point, a brick fort that defended the bay from the Gold Rush through World War II, is free to visit and tour. Sports Basement, located on Old Mason Street in the Presidio, offers lots of free community activities, including yoga, group bike rides, and fun runs.
PLAN YOUR TRIP: Visit Fodor's San Francisco Travel Guide
Steps
San Francisco is built on hills, and some of the city's steps offer great views and scenery. They are even the subject of a book, Stairway Walks in San Francisco. The Lyon Street Steps offer views of the bay and the Marina district, including the Palace of Fine Arts. Their manicured landscaping gives the stairway an elegance and grandeur befitting of its wealthy neighborhood. The meticulous 16th Avenue Tiled Steps form a cascading work of art, and the reward from climbing the Vallejo Street Steps is a stunning view of the city, the Bay Bridge, and the hills of the East Bay.
PLAN YOUR TRIP: Visit Fodor's San Francisco Travel Guide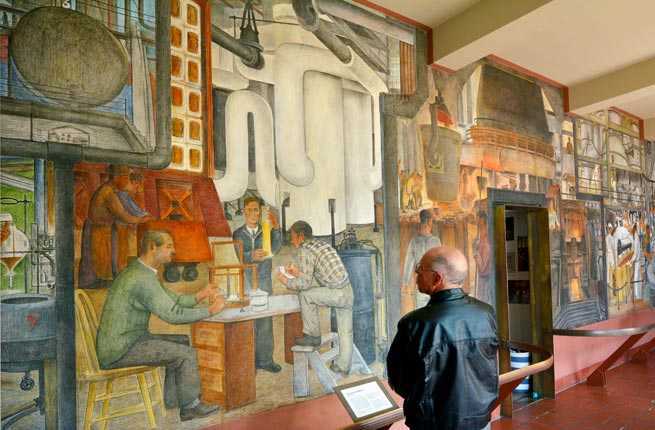 Lucidwaters | Dreamstime.com
Coit Tower
Coit Tower is another recognizable landmark. The concrete tower was built in 1933 and resembles a fire hose to honor the city's firefighters. While an elevator ride to the top will cost you, it's free to visit the tower base and see the murals painted in 1934 by a group of artists inspired by Diego Rivera's portrayals of Californian life during the Depression. The steep trails and staircases below the tower are worth exploring, too.
PLAN YOUR TRIP: Visit Fodor's San Francisco Travel Guide
Grace Cathedral
There are so many reasons to visit Grace Cathedral that it's hard to count them all. The Doors of Paradise, replicas of the famed Lorenzo Ghiberti doors from the Florence Baptistry, are at the cathedral entrance. The Interfaith AIDS Memorial Chapel showcases The Life of Christ, a bronze and white-gold triptych altarpiece and the last completed work of Keith Haring before he died of AIDS, and panels from the AIDS Memorial Quilt. Walking the cathedral's replica of the Chartres Cathedral labyrinth in France is a spiritual act, intended to enhance self-awareness and enlightenment.
PLAN YOUR TRIP: Visit Fodor's San Francisco Travel Guide
Henrik Kam
Presidio
The Presidio was established as a military base, but in recent years the number of visitor attractions, many of which are free, has steadily grown. You can learn about the current and future plans for the area with free site tours. Stop by Andy Goldsworthy's four environmental sculptures throughout the base and the Presidio Officers' Club, offering historic and cultural exhibits and lectures, along with free concerts and events on the parade grounds.
PLAN YOUR TRIP: Visit Fodor's San Francisco Travel Guide
Rramirez125 | Dreamstime.com
Museums
Some museums in San Francisco, including the Cable Car Museum, San Francisco Railway Museum, and the Wells Fargo History Museum, never charge admission, but for others you'll need to plan carefully to take advantage of free days.
The first Tuesday of the month is something of a bonanza. You'll gain free entrance at many top institutions, including the Legion of Honor, the de Young Museum, the Museum of Craft and Design, the Conservatory of Flowers, the Contemporary Jewish Museum, the Yerba Buena Center for the Arts, and the Asian Art Museum. Check out the Exploratorium's website for its six free days throughout the year.
PLAN YOUR TRIP: Visit Fodor's San Francisco Travel Guide
San Francisco Travel Association/Scott Chernis
Mission District
The Mission District is a neighborhood perpetually in transition and a convergence of cultures, cuisines, and all things cool. Lively Valencia, 24th, and 16th Streets are great places to window shop and explore. The Mission is also known for Chicano murals. Head to Clarion Alley and Balmy Alley to see the best examples.
The Mission Dolores is one of the original California missions, dating back to 1791. Next to the church is the Mission Dolores Park, whose north end was just renovated. The park has become a magnet for hipsters on the weekend, and the playground is a popular attraction for families.
PLAN YOUR TRIP: Visit Fodor's San Francisco Travel Guide
Courtesy of The San Francisco Mime Troupe; Photo by Mike Melnyk
Theater
Two annual free theater productions take place in parks around the city and the bay area during summer and fall. The San Francisco Shakespeare Festival puts on a professional production of a Shakespeare play, and the San Francisco Mime Troupe creates and produces "socially relevant" theater productions on timely political topics. This troupe mimes as in mimicking, not silent pantomime.
PLAN YOUR TRIP: Visit Fodor's San Francisco Travel Guide
Brodogg1313 | Dreamstime.com
Music
San Francisco is home to some outstanding festivals with world-class performers who draw crowds of hundreds of thousands. On the first weekend of October, Hardly Strictly Bluegrass hosts more than 100 performers of bluegrass, rock, country and more on five stages in Golden Gate Park. It's free and non-commercial, funded by a private family foundation, and draws upward of half a million attendees.
All summer the Stern Grove Festival presents ten concerts and a wide variety of acts from classical to international to rap to ballet. Picnicking is encouraged at both festivals.
Yerba Buena Gardens, just south of Market Street, also offers a full schedule of music and free outdoor programs May through October.
PLAN YOUR TRIP: Visit Fodor's San Francisco Travel Guide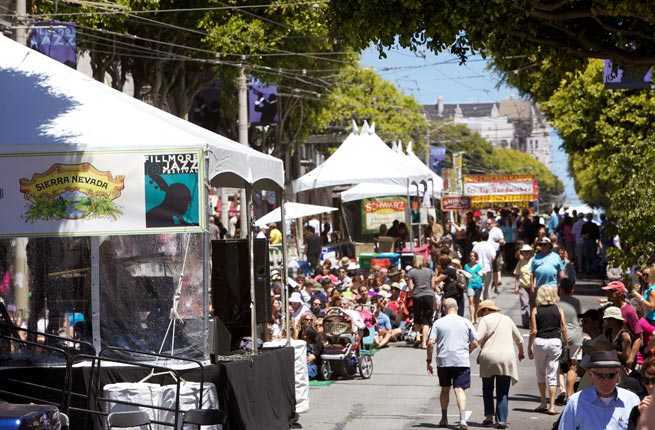 San Francisco Travel Association/Scott Chernis
Street Festivals
San Francisco hosts numerous unique parades, celebrations, and street festivals. The North Beach Festival, which has been going for more than sixty years, includes arts and crafts booths, food, entertainment, and chalk street art. The Fillmore Jazz Festival, which offers live jazz spanning styles from fusion to Latin to old time crooners, is the largest free jazz festival on the West Coast, attracting around 100,000 people. Not for the faint of heart, the Folsom Street Festival, one of the largest events for "fetish enthusiasts," is a wild party with lots of nudity, live music, and vendors selling fetish gear and adult toys.
PLAN YOUR TRIP: Visit Fodor's San Francisco Travel Guide
Seward Mini Park Slides
Not far from Mission Dolores is Seward Mini Park, which features two very long and very steep concrete slides. Bring pieces of cardboard (or wax paper if you dare!) and take a thrilling ride. The park, which closes on Mondays and at sunset, is in a residential neighborhood and surrounded by a community garden and native plants.
PLAN YOUR TRIP: Visit Fodor's San Francisco Travel Guide
Giants Games
The 2014 World Series-winning San Francisco Giants play at AT&T Park, one of the prettiest ballparks with its spectacular views of the bay. Tickets aren't cheap, but you can catch standing-room views for three innings for free by walking along the boardwalk behind right field. You'll find three arches, each offering a view through a chain-link fence.
You can also experience the ballpark during the Opera at the Ballpark live simulcast event that takes place once a year. See the San Francisco Opera website for dates and more information about reserving a free ticket.
PLAN YOUR TRIP: Visit Fodor's San Francisco Travel Guide