Azgek | Dreamstime.comn
When it comes to a romantic escape, you don't want to go where everyone else goes. So instead of Paris, San Francisco, and Buenos Aires, here are some under-the-radar suggestions for sweethearts seeking an idyllic getaway, complete with ideas for restaurants, hotels, and things to do.—Barbara Noe Kennedy
EcoPrint / Shutterstock
WHERE: China
Chartreuse fields, red-trimmed monasteries, and ancient Naxi tradition highlight this magical, 10,000-plus-foot plateau, set at the base of majestic, 18,360-foot Jade Dragon Snow Mountain—the backdoor to Tibet. Wander hand-in-hand down the cobbled lanes of the 800-year-old village of Lijiang, enchanting with its koi-filled canals, shop-house-lined alleys, and traditional rooflines sweeping to the skies. Then hop on bikes to explore the surrounding top-of-the-world plateau, stopping by Black Dragon Pool, with its sweet pavilion and mountain vistas, and the traditional hamlet of Baisha along the way.
Insider Tip: For a splurge, the Banyan Tree Lijiang Resort is a beautiful art piece in itself, with individual villas in the traditional Naxi style, private gardens, and balcony views of Jade Dragon Snow Mountain. Find a tiny, family-owned restaurant along one of the canals and feast on traditional Naxi dishes—including mushrooms with meat stuffing—as the sun goes down in this bewitching ancient city.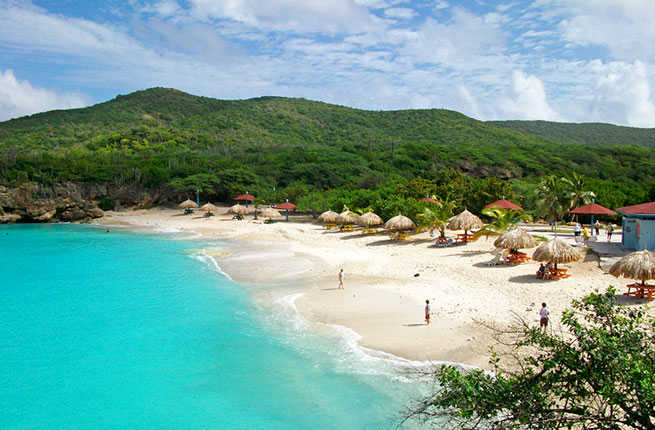 Evaulphoto | Dreamstime.com
The trade winds blow softly on this sweet Caribbean isle far off the tourist trail where you'll spend your days lazing on the palm-shaded beach, snorkeling with multicolored fish, and seeking out flamboyant pink flamingoes. But as the sun begins to set, the true magic begins. Sip a rum cocktail at one of the sidewalk bars along Willemstad's pretty channel, watching boats motor against the colorful backdrop of charming Cape Dutch abodes. Feast on fresh seafood along the town's seafront as waves crash against the rocks and stars prickle the dark sky. Then wander the colonial streets, sashaying to the melodic strains of bongo-drum-infused tumba music. No doubt about it—Curaçao lives up to a "dushi" experience, a local saying meaning "sweet" or "sweetheart."
Insider Tip: At the super-luxe Santa Barbara Beach & Golf Resort, perched on a splendid stretch of beach just far enough from Willemstad to feel pleasantly isolated, sweethearts pamper themselves with a couples massage, breakfast for two, and late check-out. One of the most romantic spots for a meal (or just a beer) is the breezy veranda of Gouverneur de Rouville, a colonial-era Dutch manse on the Otrabanda waterfront, overlooking Willemstad's Cape Dutch houses along the channel. Hint: Try the traditional Keshi Yena, a rich chicken stew baked in the rind of Gouda cheese. Then stick around for live music at the bar.
Alexey Stiop / Shutterstock
WHERE: Croatia
A rock-strewn, stark-white coastline washed with the bluest-blue waters of the Adriatic Sea, blessed with ancient villages and thousands of exquisite isles, Croatia's Dalmatian Coast dazzles as one of the Mediterranean's most romantic and undiscovered escapes. Here the scents of citrus and bougainvillea float on the temperate air and long, lazy days are spent swimming, boating, and sunbathing. In Dubrovnik, savor gelato along the main strasse, then promenade atop the ancient ramparts just as the sun sets. Or heed the siren call of the shimmering waters beyond, where thousands of enchanting islands await to dazzle you—including understated Korčula and jazzy, jet-set Hvar.
Insider Tip: In the 17th-century bishop's palace on Korčula, next to what's believed to be Marco Polo's home, the sumptuous Lešić Dimitri Palace charms with five playful and stylish apartments, each one inspired by a region that Mr. Polo traveled along the Silk Road. Luxuriate in the chic furnishings (themes include Arabia, old Venice, and China); sip local wine on a private balcony; and indulge in a couple's massage at the spa. In Dubrovnik, dine by the sea at Restaurant Nautika, where your terrace perch offers breathtaking views over the cobalt Adriatic. The lobster medallions with dainty gnocchi are to-die-for.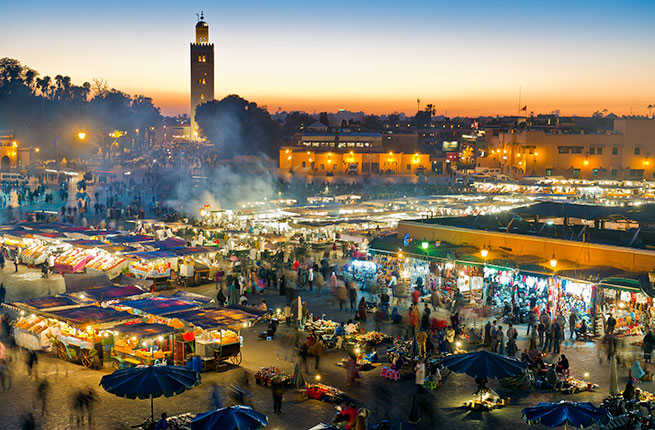 Simonhack | Dreamstime.com
WHERE: Morocco
Out-and-out sultriness emanates from every palm-shaded, lantern-lit nook and cranny of this North African city, redolent of Arabian spices, rose petals, and heady mint tea—all tinged with a French accent. Long the muse of rock stars and fashion designers, showcasing glamorous hideaways and exquisite cuisine, this desert oasis aims to seduce the most harried couples—and succeeds. Visit Yves Saint Laurent's former home and gardens, a veritable desert retreat where his Galerie "Love" showcases posters scribbled with the word "love" on each one. Then hop aboard a hot-air balloon and watch the sun set over the surrounding snow-capped Atlas Mountains, the desert's orange-red sands seemingly extending into eternity.
Insider Tip: For sheer opulence, check into La Mamounia, the palatial hotel at the heart of Prince Moulay Mamoun's 200-year-old gardens. Reflecting days gone by with its 1920s Arabesque architecture, this historic hotel enchants with plenty of pampering and privacy.
In the modern, candlelit space of bô-zin, dine on slow-roasted lamb méchoui style or burbot tagine with vegetables of the souk, and linger over a nightcap in the outdoor garden beneath billowing white tents.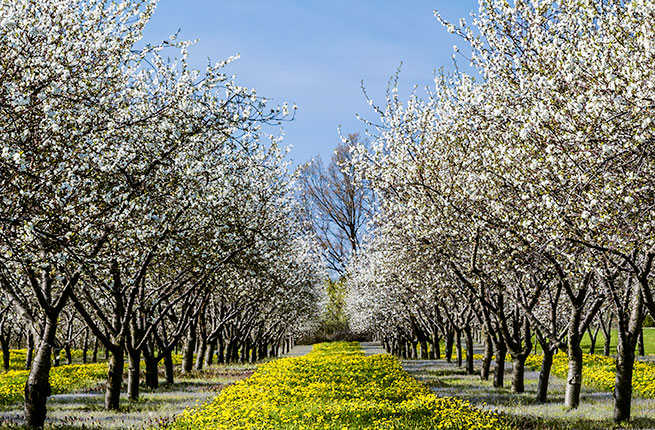 Shrirampatki | Dreamstime.com
WHERE: Michigan
Explore this hidden peninsula just north of Traverse City, where charming inns and grand houses, award-winning wineries, and breathtaking lake-and-country scenery await around every curve. Hire a driver to take you wine tasting, sampling award-winning Rieslings and learning about the wine-making process. Or rent bikes and visit on your own steam, exploring pastoral lanes along the way. Though there's nothing more romantic than enjoying a champagne sail, admiring the famous Northern Michigan sunset as you glide past genteel country homes. Nothing more romantic, that is, except for a late-night sail under the stars in the soft moonlight, relaxing to the quiet swoosh of the sail and the whisper of your love's sweet nothings.
Insider Tip: At Chateau Chantal, an elegant 65-acre vineyard estate overflowing with Mediterranean charm, treat yourselves to a "Film and Fondue" weekend—complete with movie, chocolate fondue, fresh fruit, and Cerise (port-style dessert wine). Toast the evening with a glass of Michigan Riesling in the cozy, cottage-style Boathouse on West Bay, gazing out on sublime bay views. Splurge on the chef's prix-fixe, seven-course tasting menu; many of the menu's fresh ingredients come from the chef's own farm.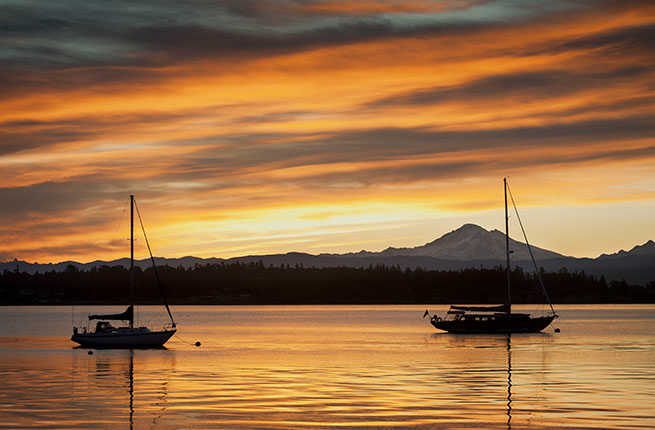 Edmund Lowe Photography / Shutterstock
WHERE: Washington
You will be happily cut off from the rest of the world in this remote, unhurried realm of 172 individual, pine-shaded isles, shrouded in mist and populated by more whales than people. Here, every day unfurls wide-open before you, your to-do list embracing kayaking, hiking, fishing, biking…or snuggling up by an open fire. The good news is you're in Washington State, where local produce informs contemporary cuisine. You're an outdoorsy couple and loving it!
Insider Tip: When it comes to romance, the historic Harrison House Suites, sitting on a bluff on the island of San Juan, pulls out all the stops: bubbly upon arrival, couples massages by the in-suite fireplace, private candlelit breakfast—and private charter to get you there. Linger over a long dinner showcasing the best of island-grown produce at McMillin's in Roche Harbor, followed by signature Northwest Nudge cocktails (that would be: coffee, Kahlua coffee liqueur, and crème de cocoa) in front of a crackling fire.
Roman Evgenev/Shutterstock
WHERE: Russia
At twilight, the palaces along the Neva River in St. Petersburg glow with rosy light, their gilded accents giving credence to the opulent époques of Peter the Great, Catherine the Great, and Tsar Nicholas II. Indeed, the imperials through the ages created one of the world's most beautiful cities, rivaling the greatest European capitals. Palatial architecture, quiet canals, and stately parks all conspire to offer the most divine venues for romance, whether you're taking a private boat ride on mirror-smooth waters, snuggling in a horse-drawn carriage along stately Nevksy Prospekt, or sipping a vodka cocktail in art deco elegance.
Insider Tip: Many famous lovers have slept at the extravagant Belmond Grand Hotel Europe, a breathtaking art-nouveau gem on Nevsky Prospekt (Tchaikovsky and his new wife spent their honeymoon here in 1877). And even if you don't stay the night, grab a vodka cocktail in its stained-glass art deco bar. High ceilings, hand-drawn murals, and crystal chandeliers add to the romance of an extravagant meal at legendary Palkin. The menu showcases foods once served to royalty: salad of smoked salmon, fresh oysters, beluga caviar; and venison with pine-nut marmalade.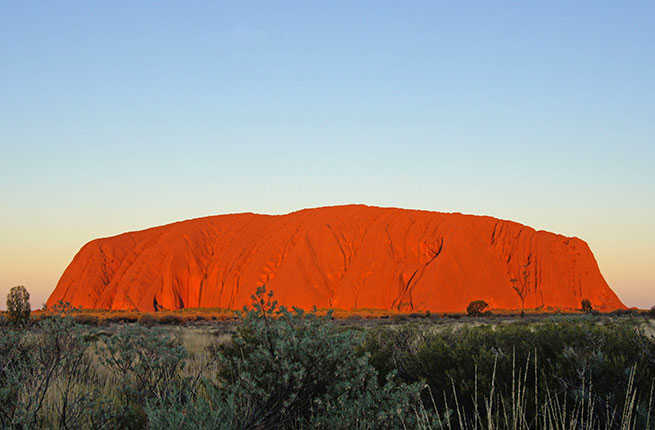 Bildagentur Zoonar GmbH / Shutterstock
WHERE: Australia
Just as dawn breaks over the high desert, turning the sacred monolith of Uluru—aka Ayers Rock—blood red, you and your love will feel as if you are the only two people in this otherworldly realm, deemed one of the Anangu's most mystical sites and the hallowed heart of Australia. Imbued with a millennia of tradition and mythology, teeming with unusual critters, this enormous landscape fills you with awestruck wonder, one that must be experienced together, whether you're hiking, exploring ancient artworks, riding camels through rich red sand dunes, or relaxing at a desert-inspired spa.
Insider Tip: Longitude 131° takes glamping (glamour camping) to its most indulgent level. Built into the curve of a red sand dune, offering wide-sweeping views of Uluru and nearby Kata Tjuta, your white-peaked "tent" features a king-size bed perfectly positioned to share the changing light of this magical land. As the heavens turn dark and twinkle with millions of stars (the milky way seems so close you can almost touch it), retreat to your intimate, candlelit table on top of a dune for your four-course dinner with Sounds of Silence—your chance to try kangaroo, Wagyu, and toothfish, carefully paired with premium Australian wines. An indigenous storyteller captivates you with personal stories about the world's oldest culture, making this truly a night to remember.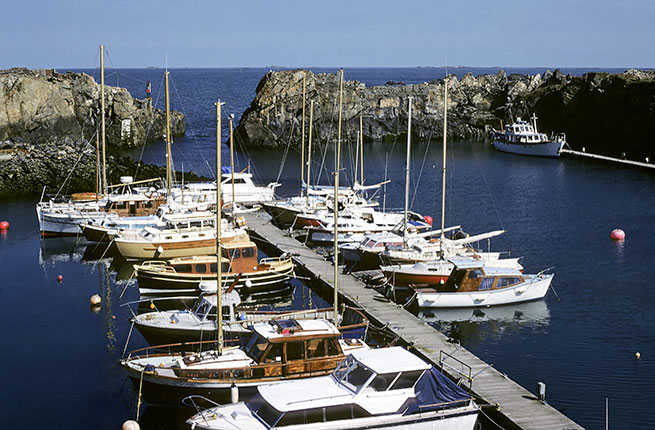 Dreamshot63 | Dreamstime.com
WHERE: England
Talk about the perfect place for a tryst. Isolated, windswept, enticingly beautiful, this isle in the middle of the English Channel was made for secret rendezvous. Just ask exiled resident Victor Hugo (esteemed creator of lovers Marius and Cosette in Les Misérables), who met covertly with his mistress, Juliette Drouet, at St. Peter Port's Victoria Tower; you'll see their initials etched into the wall. The island's main hub, St. Peter Port, is said to be the prettiest port in all of Europe, with its bobbing fishing boats, cobbled streets, and Regency architecture. Beyond, 27 bays of varying shapes and sizes offer a haven of secluded beaches with soft white sand and tucked-away coves, where you can swim, kayak, or sunbathe in privacy. But above all, this remote isle is a land for walkers. Spend long, lazy days strolling the cliff paths, once trod by Impressionist Pierre-Auguste Renoir, especially inspired by the beauty of what today's called Renoir Bay.
Insider Tip: With its gilt-encrusted ceilings, sparkling chandeliers, marble floors, and sweeping sea views, the Old Government House Hotel & Spa welcomes you in bygone style. Valentine sweethearts will be fêted with massages for two, a romantic turndown and a Champagne breakfast. Among more than 60 restaurants serving local oysters, enjoy some of the best (along with other mouth-watering seafood) at La Fregate in St. Peter Port; watch yachts scurry in and out of the harbor in one of the most romantic scenes around.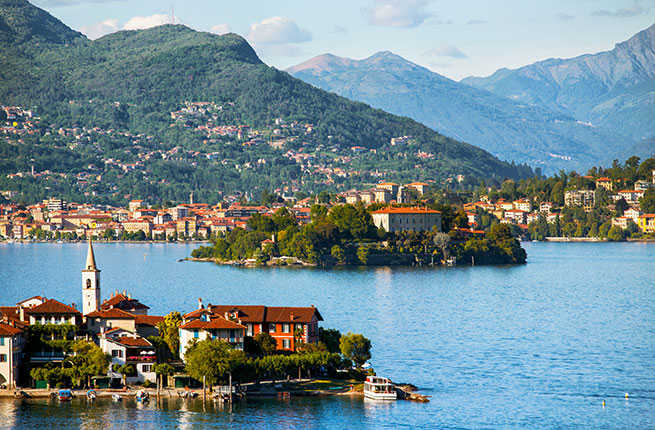 Azgek | Dreamstime.com
WHERE: Italy
You'll be hard-pressed to find scenery more poetic than the jade-green Lago Maggiore, a fact not lost on such famous honeymooners here as Winston Churchill, Princess Margaret, and George Bernard Shaw. Cradled by the snow-capped Alps in the northern Italian Lakes District, infused with the scent of fragrant orange blossoms and verbena, this ethereal, timeless lake exudes baroque charm with its turreted castles, petite churches, and beautiful gardens. But for true romantics, hire a private boatman for a cruise around the placid lake, taking your sweet time to explore hidden coves and inlets. Isola Bella is the most romantic of the lake's three isles, where the Giardino dell'Amore (Garden of Love), with its frilly flowerbeds, lily pond and happily obstructive box hedges, is a tryst waiting to happen.
Insider Tip: For grandeur and elegance, go no farther than the Grand Hotel des Iles Borromees, an opulent 18th-century palazzo on the shores of the lake (Hemingway set A Farewell to Arms here). You'll check into one of the glittering, über-ornate Romantic Suites, where a cozy sitting area and spacious panoramic terrace overlooking the lake promise a lifetime of blissful memories. Reserve a table on the rooftop terrace of intimate, family-run Ristorante CasaBella, on pint-size Isolo Pescatori, and look out on neighboring Isola Bella as the beauty of the evening engulfs you.