It's not every day you can lay down your head within the walls of a Roman emperor's palace. Or a former chocolate factory. Or a historic nunnery. Here are some edifices that have been gutted and meticulously transformed into luxury abodes with modern amenities, where stories of the past mingle with stories of today.
It's not every day you can lay down your head within the walls of a Roman emperor's palace. Or a former chocolate factory. Or a historic nunnery. Here are some edifices that have been gutted and meticulously transformed into luxury abodes with modern amenities, where stories of the past mingle with stories of today.—Barbara Noe Kennedy

Where: Atlanta, Georgia
Architect aficionados have John C. Portman to thank for creating Atlanta's sparkling skyline in the 1960s. He went on to design neo-futuristic buildings around the world—and now he's back in town. The superstar nonagenarian has bought one of his original office edifices, and on its lower nine floors has masterminded the boutique Hotel Indigo Atlanta Downtown. He's had his say (and way) in every aspect of the overhaul, from its hanging-glass-and-steel lobby spiral staircase to carpets depicting artwork from his private collection to specific dishes on the menu. The avant-garde murals in the guest rooms depict another Portman project, the AmericasMart-Atlanta located next door. No doubt, if you were an architect and could dream big, Portman's pet project would be your inspiration.
Continue Reading Article After Our Video
Recommended Fodor's Video
Plan Your Trip: Visit Fodor's Atlanta Travel Guide
Hotel Indigo
Where: Marseille, France
Lounging on your private furnished terrace overlooking Marseille's sparkling marina and Provence's hills beyond, you'd never guess you're staying in an ancient hospital. But these walls have history—ancient history at that. The original Saint-Esprit hospital was founded in 1188 to house pilgrims and care for sick and abandoned children. That structure was magnificently expanded beginning in 1753 into today's regal edifice, based on the plans of famous architect Jacques Hardouin-Mansart. It's here in 1750 that the world's first-ever cataract operation was performed. Finally closing its doors in 2006, the hospital's palatial façade, archways, columns, and monumental staircases have been preserved to perfection, in today's InterContinental Marseille Hôtel Dieu. The sleek, luminous interior is 21st-century modern, bien sûr.
Plan Your Trip: Visit Fodor's Marseille Travel Guide
Intercontinental Marseille
Where: Akko, Israel
In the ancient city of Akko (Acre in the Bible), about an hour north of Tel Aviv, this posh boutique hotel overlooking the Mediterranean Sea has been fashioned from a pair of Ottoman-era palaces. And every authentic detail—restored under the supervision of the Antiquities Authority—reminds you of that fact: grandiose lobbies, intricate wall drawings, and ornamental ceilings, for starters. The oversize, lavishly decorated suites, with arched windows, regional antiques, and Turkish marble floors will make you feel like a sultan yourself. In all reality, this site's history winds even farther back in time, with layers of archaeological evidence surfacing Byzantine remnants from the sixth century, a 12th-century Crusader vault (now the wine cellar and bar), and early Ottoman dining chambers. An added plus: The proprietor just happens also to be the chef for the city's most famous restaurant, Uri Buri.
Plan Your Trip: Visit Fodor's Haifa and the Northern Coast Travel Guide
Asaf Pinchuk
Where: Florence, Italy
It's possible Michelangelo strolled past the cluster of houses on via de'Tornabuoni built for the city's bourgeois elite in the 15th century. But he had long chiseled David by the time the houses were converted into a palazzo in 1835. Today, the structure has experienced another renaissance—this time as a stylish hotel that deftly combines past and present with Italian marble, hand-picked furniture, tiled floors, and bright glass screens. Each of the 22 rooms is unique, which architect David Ohayon explains is his way of offering guests the sense they are staying in a big private residence, right in the heart of town.
Plan Your Trip: Visit Fodor's Guide to Florence
Morgan Donovan
Where: New York City
It's a stretch that a Gothic, 19th-century Episcopal seminary could transform into one of Chelsea's hippest hotels, but here you have it—the chic High Line Hotel, complete with one-of-a-kind antiques, Tiffany-style lamps, stained-glass windows, 1920s rewired telephones, gas lamps, and slick black-and-white-dressed attendants standing around the Intelligentsia coffee bar waiting to help check you in on their tablets (no, there's no check-in desk here). There's even a champagne garden, jockeying to be one of the neighborhood's most coveted spots for a cocktail.
Plan Your Trip: Visit Fodor's New York City Travel Guide
Courtesy of The High Line Hotel
Where: Wroclaw, Poland
Sitting in the restaurant at The Granary, you can feel the history: high barrel-vaulted ceilings and red brick arches hinting at the original 16th-century granary. The granary theme repeats throughout this five-star luxury abode just steps from Wroclaw's Old Town Market Square: in the exposed walls and black-and-white photographs and grains of wheat filling decorative glass tiles beneath your feet.
Plan Your Trip: Visit Fodor's Poland Travel Guide
Granary Hotel
Where: Quebec City, Quebec
The Augustine nuns who once roamed the serene hallways of this 17th-century hospital—the first on the continent north of Mexico—would nod their habited heads in approval of its recent eco-conscious transformation into a wellness hotel (though it's the perfect jumping-off point to explore the city as well). Guests are encouraged to rejuvenate through meditation, massage, and yoga—or just chill in your peaceful, monastery-inspired room (more contemporary, spacious rooms are also available). A health restaurant serves up Quebec cuisine featuring fresh bounty from the hotel's garden. Be sure to check out the museum, celebrating the nuns who were on New France's healthcare forefront way back in the 1600s.
Insider Tip: Should you bump into a nun, you're not seeing a ghost—six to eight remain in an adjoining wing, singing morning praises and vespers.
Plan Your Trip: Visit Fodor's Quebec City Travel Guide
Le Monastère des Augustines
Where: Split, Croatia
As sunlight streams through the windows, lighting on ancient brick and stone, you wake to a unique sense of "if only these walls could talk." When Roman Emperor Diocletian retired to Split in the fourth century A.D., he built a lavish, city-size palace that remains a living and breathing edifice today. And the Hotel Vestibul Palace has been incorporated right into its very walls. More specifically, what remains of Diocletian's living room has been fused into the boutique hotel's masterfully designed, minimalist-crisp interior. You'd never guess the über-chic, Roman-herringbone-patterned walls were 1,500 years old.
Plan Your Trip: Visit Fodor's Split Travel Guide
Ljudevit Blagec
Where: Paris, France
You're guaranteed sweet dreams at this five-star hotel, tucked away in the Bastille neighborhood of Paris. Starting as a joinery workshop of exotic wood in 1926, Maison Boutet housed a Swiss chocolate factory between 1944 to 1983. The building's art deco façade has been restored to its former glory, while every detail of its industrial-minimalist interior is an elegant tribute to the past, including chocolate box wallpaper in the elevators and black-and-white photos of woodworking tools on the walls. The downstairs bar, with its soft leather furnishings and handmade wooden furniture, is the perfect place to sip hot chocolate. You can also take a guided tour to learn about the art of woodworking.
Plan Your Trip: Visit Fodor's Paris Travel Guide
ABACApress/Didier Delmas
Where: Portland, Maine
A newspaper headquarters may not be your first choice for a stylish hotel, but the Press Hotel—occupying the old Portland Press Herald building, dating from 1923—successfully capitalizes on the vintage journalism theme. In the chic guestrooms, you'll find wooden desks, herringbone area rugs, and hardwood floors fit for a midcentury writer's retreat (the coffee makers are labeled Hot …off the Press). The newspaper's "City Room" has become the Inkwell Bar. Throughout, jumbles of woodblock letters, wallpaper printed with actual newspaper headlines, and an installation of typewriters seemingly flying across a wall continue the newspaper theme. There's even an old newspaper scale in the gym.
Plan Your Trip: Visit Fodor's Guide to Portland
Irvin Serrano/The Press Hotel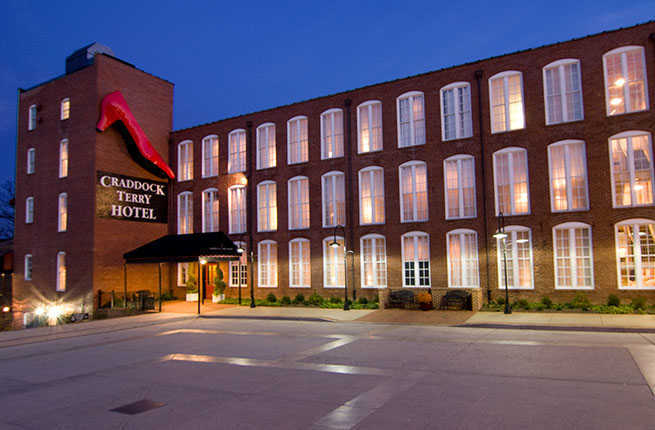 Where: Lynchburg, Virginia
Every building has a story, and in this case it's all about shoes. The Craddock Shoe Company was first established within these brick walls in 1901, reigning as the first shoe factory south of the Mason-Dixon Line. In time, the company became the world's fifth largest shoe company (at a time when the city boasted only 18,000 residents). Fast forward to today, when the building—incorporating the neighboring historic tobacco warehouse as well—has been reborn as a luxury boutique hotel. Lofty ceilings, large windows overlooking the river, and other rich architectural details add a historic panache to this otherwise modern venue. But the shoe motif isn't forgotten, with a signature in-room shoebox breakfast, a complimentary overnight shoeshine, and modern décor accented with … shoes.
Plan Your Trip: Visit Fodor's Guide to Virginia
Craddock Terry
Where: New York, New York
In the heart of New York's Garment District, this vogue boutique hotel once served as a 19th-century milliner (hat factory) and tea salon. Hence the soaring ceilings, distressed oak floors, and industrial dashes throughout. But stylish mod is the name of the game today, and the historic building has been reinterpreted with minimalist black-and-white décor in the atelier-like guest rooms and a lobby of sleek white stone, Gothic arches, and colorful contemporary art. The year-round rooftop bar, with view of the Empire State Building, is decidedly 21st century.
Insider Tip: The nearby Fashion Institute of Technology (FIT) Museum provides a serious look at NY fashion through the ages. The temporary exhibits are always a hit.
Plan Your Trip: Visit Fodor's Guide to New York City
Refinery Hotel
Where: Boston, Massachusetts
Who knew incarceration could be so trendy? The Liberty Hotel in Boston's chic Beacon Hill neighborhood occupies an imposing prison building dating from 1861. A multimillion-dollar renovation has upgraded the original prison with stunning rooms decked out with modern furnishings and a grandiose lobby complete with winding catwalks. Nevertheless, you can't get away from the jail theme, which in this case only adds to its allure: One of the restaurants is called Clink, solitary key rings are used on doorknobs instead of "Do Not Disturb" signs, and you'll even find cell bars integrated into the design (backlit with moody lavender and chartreuse lights).
Plan Your Trip: Visit Fodor's Guide to Boston
Michael Weschler Photography
Where: Milwaukee, Wisconsin
After the historic Pabst Brewing Company closed in 1996, many thought that was the end of Milwaukee as they knew it. After all, what's Brew City without its signature brew? A local real-estate developer transformed the iconic brewery into a massive reinterpretation project, the centerpiece of which is this (dare we say it?) blue-ribbon boutique hotel. As soon as you enter the lobby, you're greeted by the five-story central atrium holding six massive, gleaming copper brew kettles. The two-story stained glass window of King Gambrinus, often considered the patron saint of brewers, is a nice touch as well. Throughout the hotel, exposed whitewashed brick, oversized windows, a cast-iron staircase, and lofty ceilings provide constant reassurance that Old Milwaukee hasn't been forgotten after all. And for those who need a little something more, the adjacent Jackson's Blue Ribbon Pub has a whole slew of Milwaukee brews on tap, best sipped in the small outdoor beer garden.
Insider Tip: It's worth taking a guided tour of the former Pabst corporate offices to learn about the company that once reigned as the nation's largest brewer. Beer tasting included, naturally.
Plan Your Trip: Visit Fodor's Guide to Milwaukee
Dan Bishop
Where: Cusco, Peru
A mystical aura permeates this beautifully renovated chic hotel, whispering secrets of Cusco's ancient past as the heart of the Inca Empire. Originally a 17th-century palace and convent, it's very possible the stones used in its construction date from an earlier Inca temple. The rooms congregate around seven cloistered courtyards, with original Inca features showcased throughout. Fountains and flowing water echo the lifeblood of the surrounding Sacred Valley, and thousands of artifacts uncovered during renovation are on display in the former chapel.
Insider Tip: For a fascinating look at the Incan culture through art, the nearby Museo de Arte Precolombino (known as MAP) contains a wealth of pre-Columbian artifacts, including Incan works.
Plan Your Trip: Visit Fodor's Guide to Peru
Belmont Palacio Nazarenas