Saiko3p | Dreamstime.com
When most people think of India, they imagine Rajasthan, whether they know it or not. Literally translated, the state's name means "Land of Kings," and it was the birthplace of the Indus Valley Civilization, one of the three early civilizations of the Old World dating back to 7500 B.C. Eventually it became the seat of the powerful Rajput kings and, later, an important holding during the British colonial era. Today, evidence of Rajasthan's history abounds at every turn, from its towering forts and palaces to its ancient cities and religious temples, but modern India can be found here too, in bustling morning markets, brilliantly colored textiles, striking arid landscapes, and traditional cuisine. To get the most out of your trip to Rajasthan, here are 20 experiences not to miss. —Abbey Chase
Find one-of-a-kind souvenirs
Textiles, jewelry, pottery, carved sandalwood, perfume: almost nothing tops the quality of craftsmanship in India, from handwoven scarves to intricately designed wooden sculptures. The key to shopping in India is impulse control and bargaining. With few exceptions, you should barter when buying souvenirs, and window-shop as long as possible. Finding authentic items in the sea of Rajasthani souvenir emporia can be tough, so keep an eye out for the items that can found at every store, and instead opt for the unique finds. While all of Rajasthan is known for its textiles, try Anokhi in Jaipur and Maharani Textiles and Handicrafts in Jodhpur for reliable products (still be sure to bargain, though).
PLAN YOUR TRIP: Visit Fodor's Rajasthan Travel Guide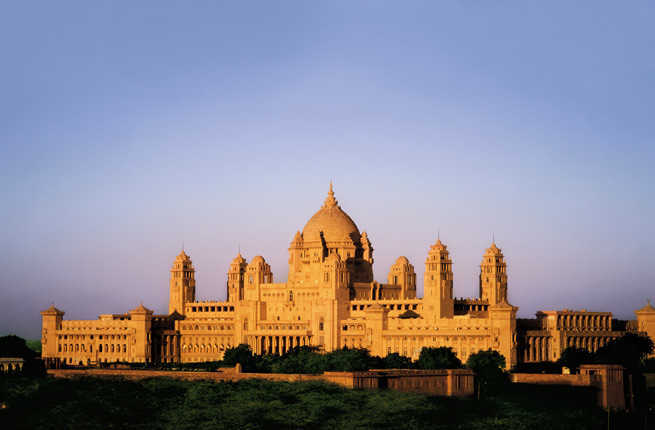 Courtesy of Umaid Bhawan Palace
It's no surprise that India's land of kings is replete with historic and still-active royal residences, many of which open their doors to tourists looking for the ultimate luxury accommodations. The royal family in Jodhpur still lives in the Umaid Bhawan Palace, the city's most opulent hotel with an enormous lawn and an imposing exterior perched on a hillside overlooking the city. In Jaipur, the Rambagh Palace was once a hunting lodge and later the residence of the Maharaja offering a more subtle, equally elegant stay with a world-class spa. The Taj Lake Palace, made famous after appearing in a James Bond movie, appears to float above Lake Pichola in Udaipur, originally built as a pleasure palace by Maharana Jagat Singh II in 1746.
PLAN YOUR TRIP: Visit Fodor's Rajasthan Travel Guide
Tinamou | Dreamstime.com
Learn about Rajasthan's historic palaces
Historic and contemporary, lavish and modest, palaces in Rajasthan blanket the 132,000-square-mile state. Udaipur's City Palace showcases a mix of Rajasthani and Mughal architectural styles, originally built in 1559 and added to over the centuries. In Bundi, a relatively small city in southern Rajasthan, the Bundi Palace houses an impressive collection of original murals and frescoes. Jaipur's Hawa Mahal is perhaps the city's most famous landmark, notable for its red-pink façade and hundreds of windows to provide the royal women with a view of the street below. It's part of the larger City Palace in Jaipur, which continues to function as a royal residence today.
PLAN YOUR TRIP: Visit Fodor's Rajasthan Travel Guide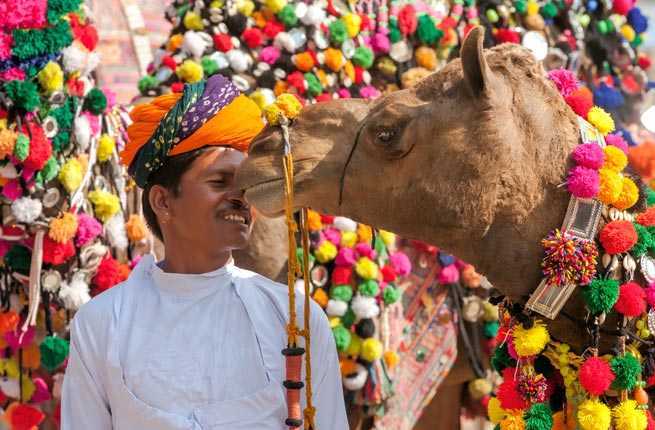 Dbyjuhfl | Dreamstime.com
Celebrate with locals at a festival
The Pushkar Camel Fair is one of Rajasthan's most eye-popping spectacles, a five-day event in November in which nearly half a million people flock to Pushkar dressed in their most festive attire to see, trade, and race camels. Cricket matches, dances, and other competitions will give you plenty to do, although the people-watching is the best part of the experience. Diwali, also in November, is a popular festival celebrated all over Rajasthan in Hindu communities. Also visit in March for Holi, the Hindu "festival of colors."
PLAN YOUR TRIP: Visit Fodor's Rajasthan Travel Guide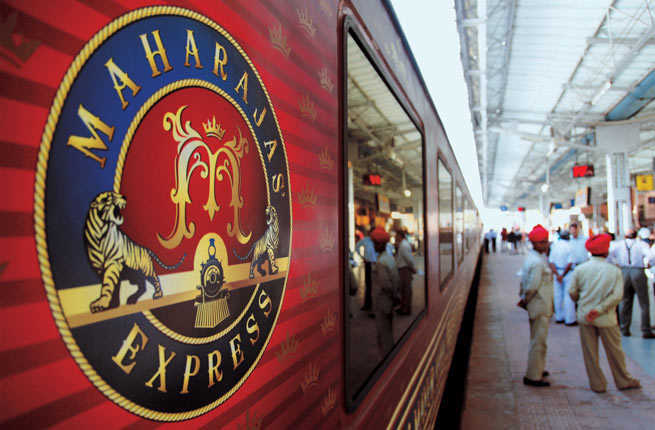 Courtesy of www.maharajas-express-india.com
Hop aboard a historic train
Old World luxury meets modern amenities aboard the Maharajas' Express, a 23-carraige train that takes you through India's most spectacular scenery with stops at noteworthy culture sites along the way. Consistently voted one of the top trains in the world, the Maharajas' Express offers five different journeys through India, all of which stop in Jaipur, pass through Rajasthan's famous landscape, and include stops in other popular destinations like Agra, Delhi, and Mumbai.
PLAN YOUR TRIP: Visit Fodor's Rajasthan Travel Guide
Mediaimagephotography | Dreamstime.com
Ride a rickshaw through Old Delhi
Though Delhi is technically its own territory and not part of Rajasthan, the neighboring Indian capital shouldn't be missed on a tour of northern India. Towering mosques, ancient forts, and royal palaces all abound in Old Delhi, but Delhi's best feature is the liveliness of the streets. In conjunction with your sightseeing in the old part of town, hire a rickshaw to explore the winding, jam-packed streets, with tangled electrical wires overhead and surprises at every turn, as you'll often come across a funeral procession, a wedding, or an impromptu game of street cricket between the overflowing shops that line the narrow centuries-old alleys.
PLAN YOUR TRIP: Visit Fodor's Rajasthan Travel Guide
Vogonify | Dreamstime.com
India's most popular sport is a favorite pastime for players and spectators alike, with matches taking on a predictably raucous atmosphere. The Sawai Mansingh Stadium (Jan Path, Lalkothi) in Jaipur is the home field of the Indian national cricket team, who took home the World Cup trophy in 2011 and is currently ranked second in the world. The season runs roughly from June through March, with tours at home and abroad.
PLAN YOUR TRIP: Visit Fodor's Rajasthan Travel Guide
Takepicsforfun | Dreamstime.com
Along with Rajasthan's regal palaces are countless fortresses, built in conjunction with or in addition to royal residences to offer more protection against invaders. Jodhpur's Mehrangarh Fort is perhaps the most dramatic; towering over the city atop sheer cliffs, the fort, known for its beautiful murals and intricate filigree work, was built in 1459 and served as the royal residence until 1943. Jaipur's Amer Fort is another highlight of the region, shimmering above Maota Lake just outside the city center. Near Udaipur, Chittaurgarh is one of Rajasthan's largest, covering 700 acres, and has changed hands multiple times over its 1,300-year history. Lohagarh Fort in Bharatpur managed to withstand an assault from the British in 1805, and a view of Jaisalmer Fort at sunset is not to be missed, when the fading sunlight changes the fort's yellow sandstone to a dark gold that camouflages it against the desert.
PLAN YOUR TRIP: Visit Fodor's Rajasthan Travel Guide
Courtesy of Oberoi Hotels & Resorts
Luxuriate at the world's best hotel
Voted the No.1 hotel in the world by Travel + Leisure in 2015 and a Fodor's Hotel Award winner in 2011, The Oberoi Udaivilas is everything you would expect of the world's top hotel. The service is impeccable and personal, rooms are sumptuously appointed, the food is excellent, and the location cannot be beat. The hotel faces Lake Pichola with a view of Udaipur and the City Palace glimmering across the water. Though not the largest rooms in the hotel, the premier rooms with semi-private pools offer the best views of the lake and the city.
PLAN YOUR TRIP: Visit Fodor's Rajasthan Travel Guide
Natureimmortal | Dreamstime.com
Ranthambore National Park in eastern Rajasthan is one of the few places left on earth to see wild tigers, its 151-square-mile expanse home to half the world's population of the endangered species. The 10th-century Ranthambore Fort provides a stunning backdrop to wildlife viewing in the park, where you can also see leopards, wild boars, hyenas, and several other native species. Near the city of Bharatpur is Keoladeo National Park, where avid birders will be able to spot more than 230 species of birds during the winter months. The UNESCO World Heritage Site is named for its Shiva temple and has been a bird sanctuary since 1976.
PLAN YOUR TRIP: Visit Fodor's Rajasthan Travel Guide
Courtesy of SkyWaltz
To take in all that Rajasthan has to offer, it helps to get a view from above. SkyWaltz offers sunrise and sunset flights over the glimmering pink city of Jaipur, or outings over the wild expanse of Ranthambore National Park. During the Pushkar Camel Fair, SkyWaltz flies over the festival, giving you the opportunity to take in the vibrant spectacle above the fray. Be sure to check flights before you go, as certain routes do not operate during the hot spring months.
PLAN YOUR TRIP: Visit Fodor's Rajasthan Travel Guide
Gunaleite | Dreamstime.com
Cooked vegetables, heavy sauces, flatbreads, and most of all, spices dominate the cuisine in northern India, where arid conditions have dictated cooking practices for centuries. Baati is the most common type of bread in Rajasthan, often served with dal (lentil curry), and while meat is not traditionally a large part of the diet in this region, stewed beef, goat, and boar are now common ingredients in curries, laal maas being the most popular in Rajasthan. Saffron rice and raita, a refreshing yogurt sauce, are usually served with the meal and help to balance the spiciness of many dishes. For dessert, try the doughnut-like balushahi or a guija, a sweet fried dumpling filled with nuts and coconut.
PLAN YOUR TRIP: Visit Fodor's Rajasthan Travel Guide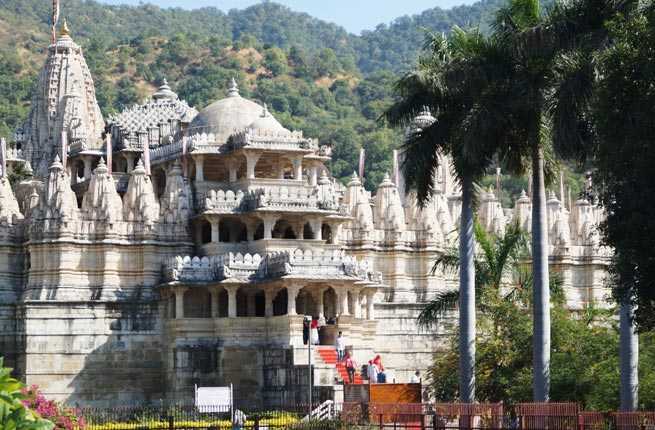 Akashaggarwal88 | Dreamstime.com
Uncover Rajasthan's religious sites
Hindus, Muslims, Buddhists, Jains, and smaller religious communities all call Rajasthan home, making the state a diverse and revered spot. Near Udaipur, the Eklingji temple complex, dedicated to the Hindu god Lord Shiva, dates back to 971 and sits at the edge of a small man-made lake in a pleasantly isolated spot. Roughly halfway between Udaipur and Jodhpur is Ranakpur Temple, a Jain complex done entirely in carved white marble that took 65 years to complete. In Osain, the Maharvira Jain Temple is said to be the oldest in the world, and Pushkar's Savitri Temple offers a picturesque hilltop view over the city. The Sufi saint Moinuddin Chisti is buried at Dargah Sharf and the Kolvi caves and ruins contain remains of the Buddhist monks who lived there more than 1,500 years ago while fleeing persecution.
PLAN YOUR TRIP: Visit Fodor's Rajasthan Travel Guide
Abbey Chase
Peruse the cities' food markets
Whether you're an avid cook looking for new ingredients or simply window-shopping, a walk through any of Rajasthan's morning food markets is a great way to experience everyday life in India. From mounds of colorful spices, to lush displays of fresh produce, to handmade snacks and hot-from-the-oven breads, the sights and smells from vendors' carts is a visual feast and olfactory overload. If you're looking to take souvenirs home, many spice vendors have shops behind their display of street wares with countless spices and herbs already packaged, ideal for tucking into your suitcase for the long journey home.
PLAN YOUR TRIP: Visit Fodor's Rajasthan Travel Guide
Courtesy of Amanbagh
Rajasthan is home to 73.5 million people, many of whom do not live near the city centers that attract most tourists. Away from the urban bustle, you'll see a side of India largely untouched by outside influence. To see this side of India, it helps to have a guide and a good base in the region. Amanbagh, located near the Aravalli mountain range, provides unrivaled luxury in its secluded environs with several excursions into the surrounding area offered on-site. Outside Udaipur, Raas Devigargh sits in an 18th-century palace on a hill near the small village of Delwara, with a beautiful terrace restaurant overlooking the valley below. The recently opened, four-room Mountbatten Lodge in Ranakpur evokes a hunting-lodge feel with several temples and Kumbhalgarh Fort close at hand. Near Ranthambore National Park, The Oberoi Vanyavilas offers the ultimate in tented camps with excursions to the nearby park and villages.
PLAN YOUR TRIP: Visit Fodor's Rajasthan Travel Guide
Bluchiavari | Dreamstime.com
Wander through Rajasthan's most beautiful gardens
When Udaipur's Maharana Sangam Singh got married in the 18th century, he received 48 ladies-in-waiting as dowry, and to welcome them he built the Sahelion Ki Bari, the Garden of Maidens. The elaborate fountains still do not have pumps, instead utilizing ancient technology that leverages gravity and the water pressure from the lakes, and among the beautiful flowers and enormous bougainvillea trees, you're sure to see some of Udaipur's locals clad in colorful saris out for a quiet afternoon. Sisodia Rani Ka Bagh is another hodgepodge of stately palaces, largely fallen into disrepair, scattered among terraced gardens and abundant wildlife.
PLAN YOUR TRIP: Visit Fodor's Rajasthan Travel Guide
Saiko3p | Dreamstime.com
India's most famous tomb, the Taj Mahal, is located in neighboring state Uttar Pradesh, but beautiful mausoleums and royal graves can be found throughout Rajasthan. On the hillsides of Jodhpur near the fort sits the Jaswant Thada, a beautifully carved marble cenotaph built by Maharaja Sardar Singh to honor his father in 1899. Lush gardens offset by the mountains behind and a sweeping view of Jodhpur in the other direction make this a peaceful spot to take in the city. In Ajmer, the revered Sufi saint Moinuddin Chisti is buried at the Dargah Sharif, which every year welcomes pilgrims who walk from Delhi, a 250-mile journey. The Moosi Maharani Chhatri near Alwar, dedicated to Maharaja Bhaktawar Singh and his queen, offers a beautiful white marble and red sandstone display.
PLAN YOUR TRIP: Visit Fodor's Rajasthan Travel Guide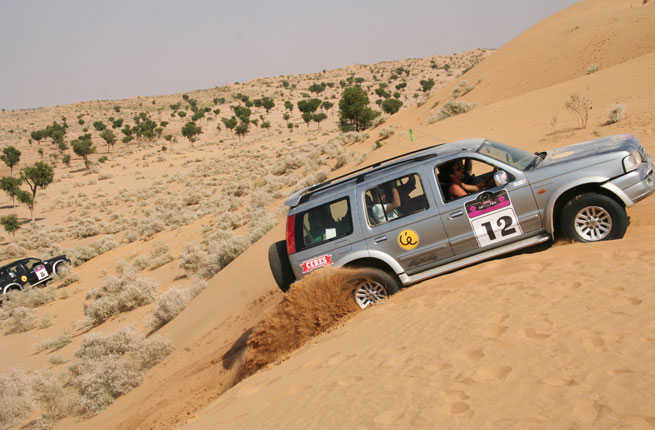 Akshay KUMAR
Nearly half of Rajasthan is taken up by the Thar Desert, a desolate expanse that borders Pakistan and offers some of the state's best photo opportunities. Near Jaisalmer, a main entry point to the desert, the Sam Sand Dunes are a popular spot to take in the arid landscape and have appeared in several movies. For more time in the desert, opt for a dune-bashing expedition with Mercury Himalayan Expeditions. The four-day adventure will test your driving chops as you traverse the inhospitable landscape. You'll overnight at different desert oasis camps and have the opportunity to see spectacular sunrises and sunsets.
PLAN YOUR TRIP: Visit Fodor's Rajasthan Travel Guide
Courtesy of Backroads
Travelers not intimidated by India's notorious traffic should suit up for an epic bike ride across Rajasthan for an intimate view of the amazing region. Backroads offers a 9-day hiking and biking tour, with stops in Rajasthan's main cities and plenty of off-the-beaten-track adventures along the way. You'll cross sand dunes, explore royal palaces, traverse the desert by camel, and cycle through Rajasthan's more rural areas.
PLAN YOUR TRIP: Visit Fodor's Rajasthan Travel Guide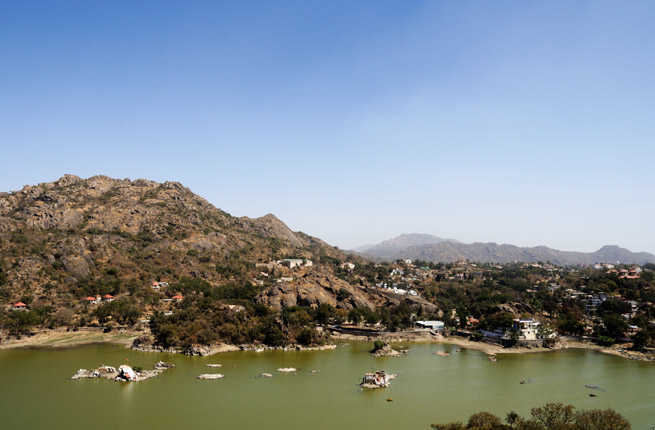 Northernexposure | Dreamstime.com
This hilltop village in the Aravalli Range offers a surprisingly lush oasis in the middle of the desert, surrounded by several lakes and evergreen forests. Small villages in this area provide tourists an opportunity to see life in Rajasthani away from the major cities, and Mount Abu is one of the only places in the region for rigorous mountain trekking. Day hikes and overnight expeditions run through this area, which includes a wildlife sanctuary and several Hindu temples. This is a good place to visit during the summer, as the elevation keeps temperatures more comfortable than in much of Rajasthan.
PLAN YOUR TRIP: Visit Fodor's Rajasthan Travel Guide