roibul | Dreamstime.com
The planet is brimming with humanity's creations, and while most of our buildings, cities, parks and subway stations still bustle with life, some have been abandoned or simply forgotten. By taking a brief look at the neglected architecture, we can, in a way, bring them back to life—although some have already been repurposed or reclaimed. Experience these uncanny places from a distance, or when possible, walk among their forsaken structures, reveling in the ingenuity and ghosts of our collective past.—Carl Pettit
Fottoo | Dreamstime.com
Where: South Tyrol, Italy
In northern Italy, near the borders with Austria and Switzerland, you'll find the manmade Lake Reschen and the lonely, somber steeple and bell tower of Graun's (the town the lake displaced) 14th-century church, jutting right out of the water. It's a striking sight, framed by the surrounding Alps, driving home the fact that nothing lasts forever.
Insider Tip: If you'd like to touch the bell tower with your own hands, visit in winter when the lake freezes over, and then simply walk out and lay gloves upon the cold stone.
PLAN YOUR TRIP: Visit Fodor's Lombardy and the Lakes Travel Guide
Toshket | Dreamstime.com
Where: Famagusta, Cyprus
Varosha was once a luxury seaside resort in the Cypriot town of Famagusta. After the division of Cyprus between Greek Cypriots and Turks in 1974, Varosha was fenced off by the Turkish military and then forgotten by time. The beaches are still magnificent, but if you surreptitiously "check in" to a derelict hotel, expect to wait a very long time for room service to arrive.
Insider Tip: While visits to Varosha are currently prohibited, views of the abandoned resort can be had from just outside the surrounding fence, and several "tourist" viewpoints dotted around the resort.
PLAN YOUR TRIP: Visit Fodor's Cyprus Travel Guide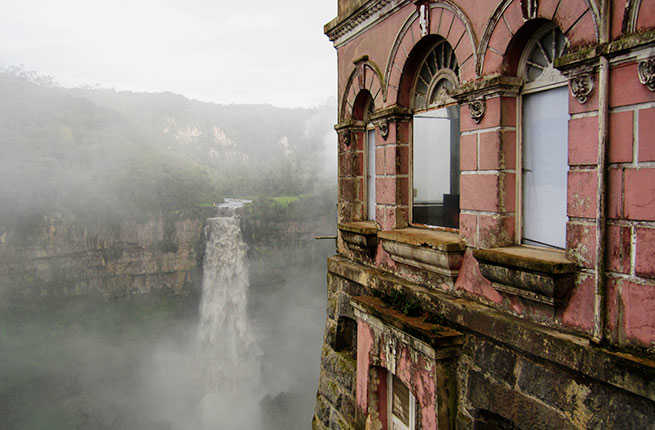 Pedro Felipe via Wikimedia Commons, [CC BY-SA 3.0]
Where: San Antonio del Tequendama, Colombia
The Salto Hotel, clinging to the side of a precipitous incline, is situated next to the roaring Tequendama Falls. This once lavish hotel offered spectacular views of the cascading Bogota River, and the verdant mountains cradling it. Alas, the hotel was eventually abandoned, but years later, the Tequendama Falls Museum of Biodiversity and Culture took over the premises. The incredible views, however, have always remained the same.
Insider Tip: The road to the old hotel is treacherous, to say the least. If you're not sure about driving in Colombia, book a tour to get you there instead.
PLAN YOUR TRIP: Visit Fodor's Colombia Travel Guide
Rifberlin | Dreamstime.com
Where: Italy
Perched high on a craggy hill in southern Italy is the abandoned (due to earthquakes and landslides) town of Craco. This ancient, austere village has severed as a backdrop to big films such as The Passion of the Christ, Quantum of Solace, and more. Breathtaking views and medieval architecture await anyone willing to explore the ancient streets of this lonely, isolated town.
Insider Tip: You'll need a ticket, a professional guide, a hardhat (usually provided), and sturdy legs to explore Craco. DIY visits are definitely not allowed.
PLAN YOUR TRIP: Visit Fodor's Puglia, Basilicata, and Calabria Travel Guide
Where: England
Once upon a time, the Maunsell Sea Forts were naval structures built to guard the Thames Estuary from German invaders during WWII. Although in service for less than a decade, these alien-looking stilt-based sea towers now offer a formidable, if rust-laden (time has taken its toll) sight for curious onlookers. All you have to do is make the effort to head out into the water and get a really good look at them.
Insider Tip: Although visible from the coast on a clear day, a boat trip is the best way to see the forts up close. Due to their dilapidated state, it's best if you don't actually try to climb onto one.
PLAN YOUR TRIP: Visit Fodor's England Travel Guide
Kgtoh | Dreamstime.com
Where: Namibia
Kolmanskop was once a thriving German and Namibian town fueled by the discovery of diamonds nearby; but those glory days are gone. The desert has reclaimed swaths of the abandoned town, and the German miners have long since departed—leaving no one behind to sweep the sand from the houses that diamonds helped build.
Insider Tip: Tours to Kolmanskop can be booked in the nearby coastal town of Lüderitz. Bring plenty of water and protective gear to guard against thirst, heat, and the desert sand.
PLAN YOUR TRIP: Visit Fodor's Namibia Travel Guide
Eastphoto | Dreamstime.com
Where: Qiandao Lake, China
Atlantis does exist (kind of), and it's located in China. Lion City, also known as Shi Cheng, was created when China relocated the town's residents and then flooded the valley where the city lay in 1959, making way for a new reservoir and a hydroelectric power station. The result is a mysterious metropolis under 130 feet of water in some places, featuring ancient buildings and sculptures, now only accessible by diving.
Insider Tip: Dive operators offer tours to Lion City, but visibility is low and there are large structures to navigate around, so a decent amount of prior diving experience is recommended.
PLAN YOUR TRIP: Visit Fodor's Eastern China Travel Guide
Tovtob | Dreamstime.com
Where: Klevan, Ukraine
Simple, beautiful, and dreamy, Ukraine's "Tunnel of Love" is one seldom-used global site that doesn't send lonesome shivers down your spine. Although a private train servicing a plywood factory does still occasionally roll down the tracks (so technically it's not totally abandoned), the overgrown, leafy tunnel is a favorite among starry-eyed couples off for a romantic stroll, pledging their undying love to one another.
Insider Tip: The train operators are aware of the tourists and lovers on the track, but even so, if you do visit, keep a watchful eye out for the train.
PLAN YOUR TRIP: Visit Fodor's Ukraine Travel Guide
roibul | Dreamstime.com
On a secluded summit in Bulgaria's Balkan Mountains, hikers can ascend to the House of the Bulgarian Communist Party, long since scrapped by the government. The building now sits atop the mountain like a crashed flying saucer. The structure has been looted for years for its roof paneling and sprayed with ironic graffiti, but even still, it serves as an imposing memorial to the power of Bulgaria's Communist past.
Insider Tip: Mount Buzludzha, at 1,432 meters, provides a fairly challenging climb. If you go in the winter for snowy vistas, bring plenty of cold weather gear, as well as food and water to last you throughout the day.
PLAN YOUR TRIP: Visit Fodor's Bulgaria Travel Guide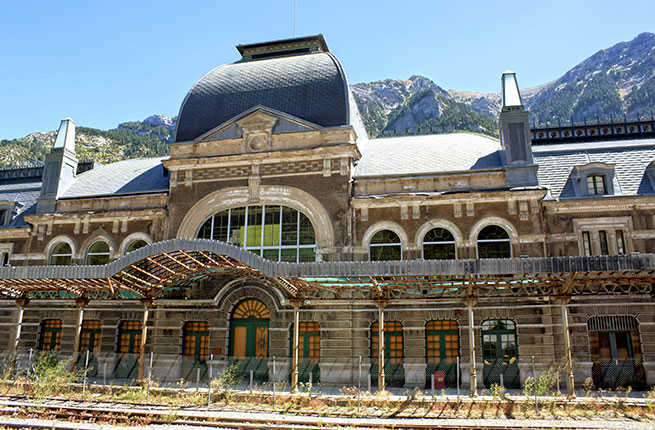 MonikMa | Dreamstime.com
Where: Canfranc, Spain
Canfranc International Railway Station, located in the Spanish Pyrenees near the frontier with France, was used by Spain's dictator Franco and his forces as well as by the Nazis during World War II (talk about an ominous past). After a bridge was destroyed in 1970, the opulent station was abandoned, and then became a large playground for people who love derelict places. Curiously enough, a mobile astroparticle physics laboratory has now been set up in the tunnels beneath the station with researchers busy investigating the nature of dark matter. Go figure.
PLAN YOUR TRIP: Visit Fodor's Pyrenees Travel Guide
Kiddckho | Dreamstime.com
Where: Japan
Hashima Island, also known as Gunkanjima (Battleship Island) is an uninhabited industrial Japanese island that once housed more than 5,000 workers (and their families) toiling away in the island's undersea coal mines. In the mid-1970s, the island was abandoned as coal become less profitable in the face of petroleum. Gunkanjima is now famed for its stark concrete structures and high seawalls, which were made even more famous as an elaborate set in the James Bond film Skyfall.
Insider Tip: Tours from Nagasaki to Hashima Island do operate, but you'll need to go with a qualified guide, as many of the island's structures are in a serious state of disrepair. The water around the island tends to be fairly rough as well, so if you're prone to seasickness, come prepared.
PLAN YOUR TRIP: Visit Fodor's Kyushu Travel Guide
Friman via Wikimedia Commons, [Public Domain]
Where: Isla de Pinos, Cuba
The Presidio Modelo, or "Model Prison," once incarcerated Fidel and Raul Castro. The circular, Panopticon prison buildings (five of them, side by side) were then utilized by Castro after he took power, but due to overcrowding, hunger strikes, and rioting, the prison was eventually shut down. Today the doors to the Presidio Modelo have been reopened and repurposed as a museum, national monument, research center, and school.
PLAN YOUR TRIP: Visit Fodor's Cuba Travel Guide
Svedoliver | Dreamstime.com
Where: Ukraine
In 1986, the Chernobyl nuclear power plant disaster took place—the worst nuclear power accident in human history. Pripyat was the Soviet "nuclear city" built to service the power plant. Needless to say, after the accident, Pripyat was abandoned, although tours to the town and Chernobyl are now offered, providing a glimpse of the desolate edifices left behind, and oddly enough, the flora and fauna (lynx, moose, wolves, and more) that have thrived in the absence of human beings.
Insider Tip: While radiation levels are now low enough for a safe visit, only short, daylong outings are recommended.
PLAN YOUR TRIP: Visit Fodor's Ukraine Travel Guide
123elis | Dreamstime.com
Where: Turkey
Although located in Turkey, Kayaköy was once populated with mostly Greek Orthodox residents. Turkey's conflicts with Greece meant that the people of Kayaköy (Karmylassos in Greek) eventually left Turkey for Greece as part of a population exchange—and thus ditched their homes. They left behind houses, churches, and other reminders of the souls that once flourished on these now vacant streets.
Insider Tip: If you want to combine a tour to Kayaköy with a visit to the Fethiye Market, aim for Tuesday, as that's the day the market really comes to life.
PLAN YOUR TRIP: Visit Fodor's Turquoise Coast Travel Guide
Demerzel21 | Dreamstime.com
Where: New York, New York
Smack dab in the heart of Lower Manhattan is the abandoned CityHall subway station. This stylish, architecturally unique station fell into disuse in the mid-1940s due to the fact that its platform only had room for five or fewer subway cars or less. Nowadays, apart from official tours to the station, its primary use is as a turning loop for the 6 train, which is a shame, because it truly is a gorgeous example of how artfully sublime a subway station can be.
Insider Tip: If you want to visit the station, book now with the New York Transit Museum, as tours are only offered periodically throughout the year, and fill up quickly.
PLAN YOUR TRIP: Visit Fodor's New York City Travel Guide
Tinieder | Dreamstime.com
Where: Liguria, Italy
Balestrino is effectively two towns these days. The new town can still claim a bit of human activity, whereas the old town is completely abandoned and off limits. Deserted in 1953 due to geological activity (earthquakes), this lovely hilltop town now affords evocative views of medieval churches, disused bridges, and an empty castle—not to mention outstanding vistas of the nearby sea.
PLAN YOUR TRIP: Visit Fodor's Italy Travel Guide
Kegskegger | Dreamstime.com
Where: New Orleans, Louisiana
Hurricane Katrina left widespread devastation in her wake in 2005, including the wrecked Six Flags Jazzland Park. Once the storm passed, the rollercoaster and other attractions were never to reopen again. What remains is water, a few alligators, and a massive monument to the destruction Mother Nature can inflict on the gigantic toys we build for our amusement.
Insider Tip: While views of the park can be had from behind the chain link fence, entrance to the abandoned park is strictly prohibited—although some intrepid urban explorers do break the rules, risk arrest, and climb the fence for a closer look.
PLAN YOUR TRIP: Visit Fodor's New Orleans Travel Guide