Leesniderphotoimages | Dreamstime.com
From one of the world's largest firework displays on July Fourth to the hallowed courts of the US Open, summer brings out the best in New York City. Signifying the breadth of culture on tap this summer, SummerStage gears up for its extended five-borough outdoor festival, while top actors celebrate the Bard at Shakespeare in the Park, and ferries transport crowds to the refined grounds of Governor's Island. Optimize your fun this summer with this definitive list of 25 musts, a handy guide to the insider spots and events that make New York special. —Zachary Laks
Jeff Thibodeau
Entering its second year as a flagship of French cuisine stateside, Le District is a 30,000-square-foot enclave in the Financial District that follows in the footsteps of Eataly, turning dining and grocery shopping into an event. Set in Brookfield Place, the former World Financial Center, the food hall features four districts: restaurant, cafe, garden, and market. For the perfect Le District experience, start your evening with cocktails on the serene terrace overlooking the Hudson before settling in for the tasting menu at the cozy 28-seat L'Appart.
PLAN YOUR TRIP: Visit Fodor's New York City Travel Guide
www.FredWatford.com/Addison Hospitality Group NYC
On an island where land is a premium and skyscrapers loom over every corner, there's no shortage of superb rooftop bars that deliver more than just a view. When it comes to height, head to one of the highest rooftop bars in the city, Bar 54, on the 54th floor of the Hyatt Times Square, where the mayhem below is tempered by one of mixologist Julie Reiner's seasonal specialties. For something a little more alternative, head to the West Village's Jane Hotel and its sixth-floor rooftop space. Incredible views of the Hudson await from the bohemian-chic hangout with a cocktail menu of eight house creations—go for the lavender and white peach Bellini.
PLAN YOUR TRIP: Visit Fodor's New York City Travel Guide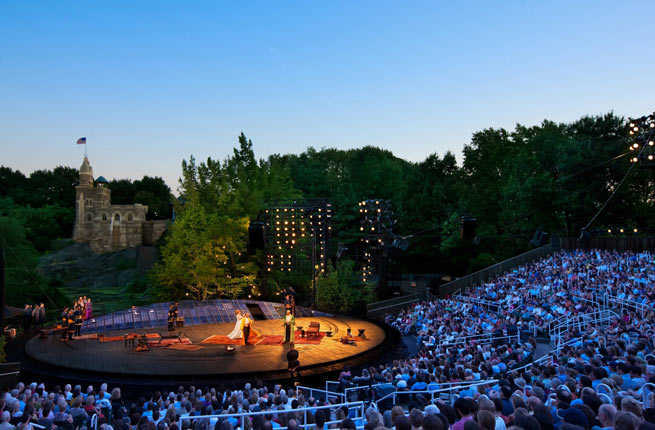 Joseph Moran
Free Shakespeare in the Park
An all-female cast led by Cush Jumbo and Janet McTeer take on one of Shakespeare's greatest comedies in new production of The Taming of the Shrew at the Public Theater's Free Shakespeare in the Park. The 1,800-seat open-air theater in the depths of Central Park attracts drama-loving crowds with its legendary free ticket program offering day-of ticket distribution at noon as well as an online lottery. This summer also features a new production of Shakespeare's lesser-known Troilus and Cressida, with a cast to be announced.
PLAN YOUR TRIP: Visit Fodor's New York City Travel Guide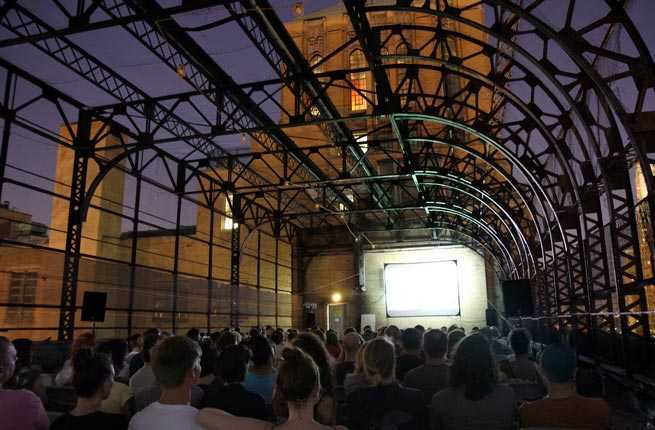 Irwin Seow
Turning the picnic into an evening affair, dozens of New York City rooftops, parks, and beaches prop up silver screens each summer and look to the stars for ambiance. Determined movie lovers charge the gates at 5 pm on the dot at Bryant Park for a prized spot on the lawn, where classics and newer blockbusters are screened; this season's roster will be announced in mid-May. Central Park offers a few evenings on its expansive Sheep Meadow lawn, while Coney Island continues its popular Flicks on the Beach series—season to be announced soon—featuring a giant inflatable screen set on the sand.
PLAN YOUR TRIP: Visit Fodor's New York City Travel Guide
At the end of the A Train there's a pot of gold—well, more like golden sand, but it will do—at Jacob Riis Park, the city's finest beach. The beach stands out for its peaceful escape from city life with less commerce and considerably less garbage and debris than other local beaches. Noting the lack of commerce, come prepared with refreshments for the day, as concession stands and food trucks have sporadic hours and there are only a few restaurants nearby. Lifeguards are on duty from 10 am–6 pm, Memorial Day weekend through Labor Day weekend.
PLAN YOUR TRIP: Visit Fodor's New York City Travel Guide
Courtesy of Macy's
With its 40th annual display this summer, the Macy's 4th of July Fireworks is promising to be the biggest, most extravagant celebration ever. There's no doubt that Macy's will deliver, as previous years have wowed with epic firework displays over either the Hudson River or the East River. Last year's barges were stationed throughout the East River, although this year's location has yet to be announced. Whether it's to the delight of New Jersey residents or the city's Brooklyn and Queens locals, it will be nationally telecast on NBC for all to enjoy.
PLAN YOUR TRIP: Visit Fodor's New York City Travel Guide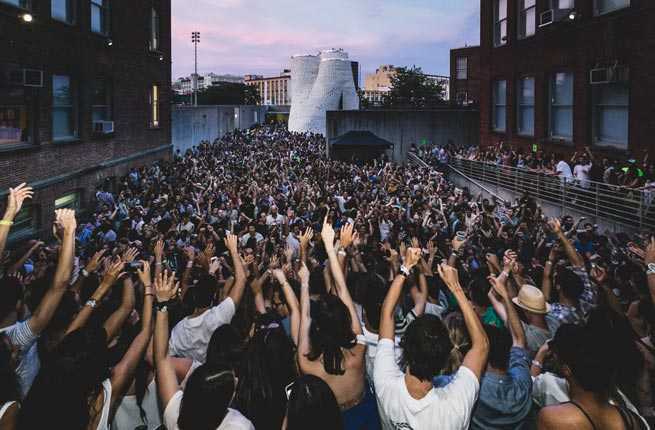 Courtesy of MoMA; Photo by Charles Roussel
Summer Saturdays shift Long Island City into high gear as MoMA PS1 continues its rocking Warm Up at PS1 concert series, now in its 19th year. Staged in the courtyard of the MoMA extension, the capacity crowd jams out to the eclectic programming on a stage that features acts that span from live bands to local and internationally renowned DJs. Typically the doors open at noon for an extended set that runs from about 3 pm until 9 pm. This year's schedule has yet to be announced.
PLAN YOUR TRIP: Visit Fodor's New York City Travel Guide
Courtesy of French Institute Alliance Francaise (FIAF); Photo by Aleksandra Sasha Arutyunova
No drop of wine is wasted as New York's Francophiles celebrate the storming of the Bastille (July 14, 1789) with Bastille Day. Celebrated in the city the Sunday before the holiday, this year's events are on July 10. The main event happens on 60th Street, between Fifth and Lexington avenues, with an afternoon fair of French food and culture highlighting mainstays in the city. Whether you've got your heart set on a freshly made crêpe or a decadent macaron, expect the crème de la crème on Bastille Day.
PLAN YOUR TRIP: Visit Fodor's New York City Travel Guide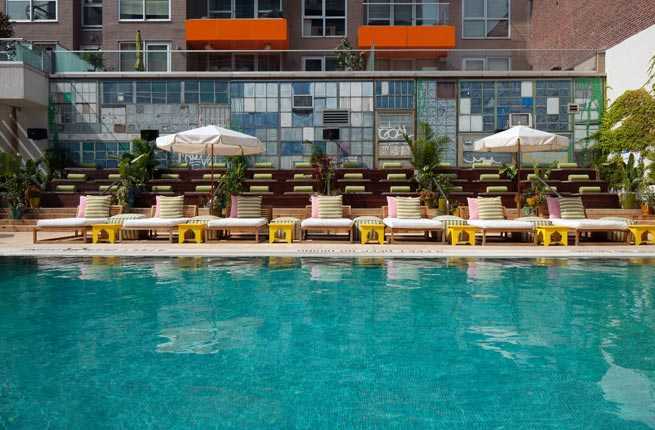 Courtesy of Chelsea Hotels, Todd Eberle
A sure way to beat New York City's summer heat, hotel pools are an oasis worth frequenting. Roof decks transform into beach scenes at the city's top hotels—namely Gansevoort Park Avenue, SIXTY LES, and Soho House New York—but don't suit up so quickly; many of them enforce strict guest-only policies. If you're looking for an "in" at one of these hot spots, the sun shines brightest in Brooklyn at McCarren Hotel's 40-by-20-foot saltwater pool. While not technically on a roof, this trendy terrace stands out with its open-door policy—for a fee, that is, ranging from $40 on weekdays to a premium $60 on weekends.
PLAN YOUR TRIP: Visit Fodor's New York City Travel Guide
Kevin Yatarola
Lincoln Center Out of Doors 2016
Attracting crowds nightly for two weeks of top-notch programming in Lincoln Center's Damrosch Park, Lincoln Center Out of Doors features free evenings of musicians, dancers, talks, and movie screenings at its open-air theater. In previous years, this seasonal highlight of Lincoln Center's diverse programming has welcomed Chinese American Arts Council Dancers, an Afropunk night, and an acclaimed "silent" movie screening of Rocky Horror Picture Show. This season's details will be announced in early May, although it's been confirmed that there will be a day-long celebration honoring rock legend Lou Reed on July 30.
PLAN YOUR TRIP: Visit Fodor's New York City Travel Guide
Ffooter | Dreamstime.com
Home of the US Open (August 29–September 11) since 1978, the oversized USTA Billie Jean King National Tennis Center in Flushing, Queens, was originally spotted by W. E. "Slew" Hester in 1977 as Hester flew over the then Singer Bowl on a flight into nearby LaGuardia Airport. This retrofitted Olympic trial stadium and concert venue has been the scene of iconic moments in tennis history, including Steffi Graf's grand slam in 1988, Andre Agassi's crushing retirement in 2006, and the Williams sisters' duel in 2001, with Venus beating sister Serena.
PLAN YOUR TRIP: Visit Fodor's New York City Travel Guide
Velvet, [CC BY-SA 3.0] via Wikimedia Commons
About an hour and half by train from Grand Central, Dia:Beacon is an expansive art museum with a collection of minimalist and conceptual art from the 1960s to present. Repurposed from a former Nabisco factory, the 240,000-square-foot museum opened in 2003 to display large-scale installations, paintings, and sculptures. Initially formed in 1974, Dia was created by Philippa de Menil, Heiner Friedrich, and Helen Winkler, who sought to provide artists with expansive spaces that would not inhibit scale or scope. Highlights that fill the cavernous venue include Richard Serra's Torqued Ellipses and John Chamberlain's repurposed automobile sculptures.
PLAN YOUR TRIP: Visit Fodor's New York City Travel Guide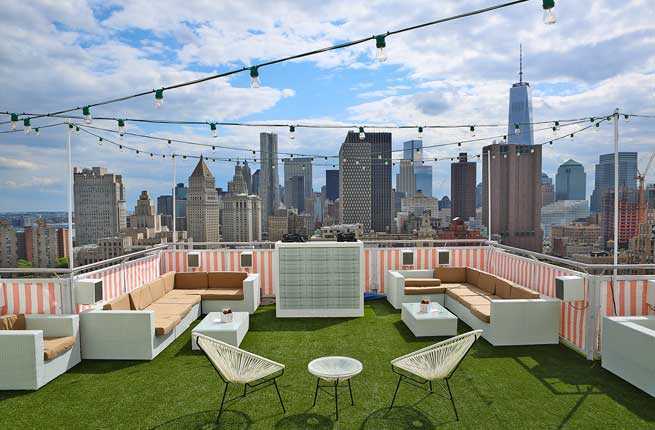 Courtesy of Morgans Hotel Group
Summer breezes pair well with New York's fine-dining scene as patios, terraces, and sidewalks overflow with gourmands in the know. For some of the best outdoor dining this season, opt for Brooklyn's indie scene, where larger and more comfortable al fresco options abound. Start with an evening toasting in the garden of Williamsburg's Maison Premiere, where $1 happy hour oysters fit the bill of this NOLA-inspired eatery. And for an old-school New York feel, head to Frankies Spuntino 457 in Carroll Gardens, where a former garage has been transformed into a lush garden, welcoming locals with authentic Italian fare in a relaxed setting.
PLAN YOUR TRIP: Visit Fodor's New York City Travel Guide
Jovannig | Dreamstime.com
Now in its tenth year as New York's most convenient day retreat, Governors Island is a playground for urban dwellers. Set to open for the season on May 28, the 172-acre island is only 400 yards from Brooklyn and 800 yards from the southern tip of Manhattan via a quick ferry trip. Billed as "a world unto itself," the island excels at creating an arts-centric, alternative scene with weekend programming that ranges from interactive sculpture gardens and art fairs to the Jazz Age Lawn Party, where revelers create the style and sensibility of a Prohibition-era soiree.
PLAN YOUR TRIP: Visit Fodor's New York City Travel Guide
Metropolitan Museum of Art Rooftop
Causing a stir as the Upper East Side's newest real estate development, British artist Cornelia Parker's haunting new site-specific installation has arrived atop The Metropolitan Museum of Art's Iris and B. Gerald Cantor Roof Garden. PsychoBarn (through October 31) is a 25-foot-tall red house facade built as an homage to the iconic mansion featured in Alfred Hitchcock's thriller Psycho. The installation plays with perspective, as views from certain angles coalesce the structure with the New York skyline. And for visitors simply looking for sweeping views of Central Park, the Met's Roof Garden Bar is a standby for refreshing afternoon cocktails and light bites.
PLAN YOUR TRIP: Visit Fodor's New York City Travel Guide
Courtesy of Brooklyn Flea / Smorgasburg
Sampling the best of Brooklyn's indie food scene and arts culture, Smorgasburg is a one-stop foodie destination. Whether you're chasing the latest food craze—like the ever-popular ramen burger—or in need of something refreshing like Blue Marble's organic ice cream, the top-flight food market covers a majority of the world's cuisines in one place. Small, independent labels help to bring the market to your kitchen with standouts that include a premium horseradish vendor, small-batch salsa, and kimchi by way of Kimchi Kooks.
PLAN YOUR TRIP: Visit Fodor's New York City Travel Guide
Nancykennedy | Dreamstime.com
An hour's drive from Midtown, Bear Mountain State Park is the antidote to a summer stuck in the city's concrete grid. Plan for a day of hiking and exploring the mountainside along the west bank of the Hudson River, where the grounds offer lake and river fishing access, a swimming pool, a zoo and museum, and even a classic merry-go-round. Don't miss out on the brisk hike up to the Perkins Memorial Tower at the peak of Bear Mountain, where incredible views of the park and the Hudson Highlands are what summer's all about.
PLAN YOUR TRIP: Visit Fodor's New York City Travel Guide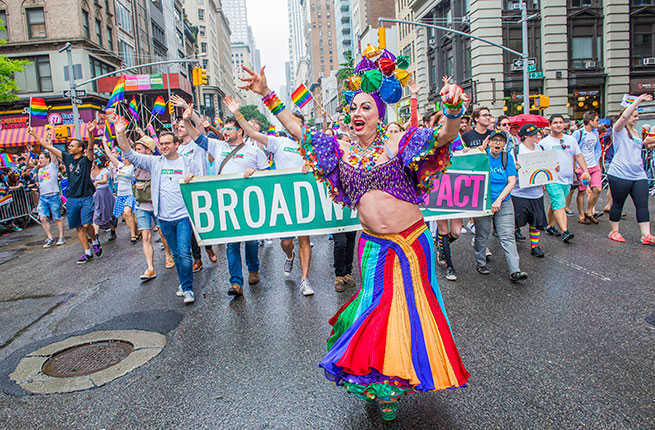 Kobby_dagan | Dreamstime.com
Every June, New York is the place to be as hundreds of thousands of people celebrate the city's vibrant LGBTQ community with NYC Pride. The weeklong celebration kicks off with a family movie night (June 21), when Toy Story will be screened outdoors at Hudson River Park: Pier 63. The March, Pride Week's main event, happens on June 26, as more than 350 organizations and 80 floats make their down Fifth Avenue toward Greenwich Village. Building-shaking dance music and raucous cheers from the crowd keep the energy high along the extended parade route.
PLAN YOUR TRIP: Visit Fodor's New York City Travel Guide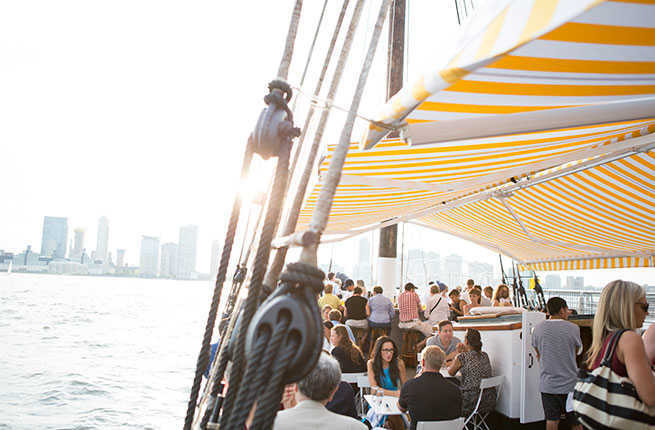 Doug Lyle Thompson
On board Grand Banks, the vintage schooner docked at Pier 25 off Moore Street in Tribeca, the raw bar and cocktails are the only destination in sight. Your best chance of scoring a table at this perpetually crowded two-year-old bar is in the late afternoon post-lunch, pre-happy hour window. Standouts on the menu of fresh takes on seafood and innovative cocktails include the Maine lobster rolls and fried soft-shell crabs, while the Wild's Negroni—gin, Campari, sweet vermouth, strawberry, and orange peel—finishes the course on a sweet note.
PLAN YOUR TRIP: Visit Fodor's New York City Travel Guide
Kevin Yatarola
Entering its 28th year at Lincoln Center's Damrosch Park, Midsummer Night Swing (June 21–July 9) brings the beat to the Upper West Side with two weeks packed with free nightly dance events. Each evening begins with dance lessons from the masters before long sets of live music fill the open-air plaza and your new moves are put to the test. The music genres vary by night from big-band swing nights to disco nights and Latin-infused evenings of samba and tango.
PLAN YOUR TRIP: Visit Fodor's New York City Travel Guide
Matt Dine
Celebrating 50 years of presenting its highly regarded compilation of classical music, Mostly Mozart has scheduled an ambitious roster of 50 premieres at Lincoln Center this summer. Featuring the Mostly Mozart Festival Orchestra, the country's only orchestra dedicated to the music of the classical period, the festival starts with a popular first-look free orchestra concert at Damrosch Park. A standout returning to the festival this summer, the Mark Morris Dance Group is set to perform their acclaimed Mozart Dances (August 24–27).
PLAN YOUR TRIP: Visit Fodor's New York City Travel Guide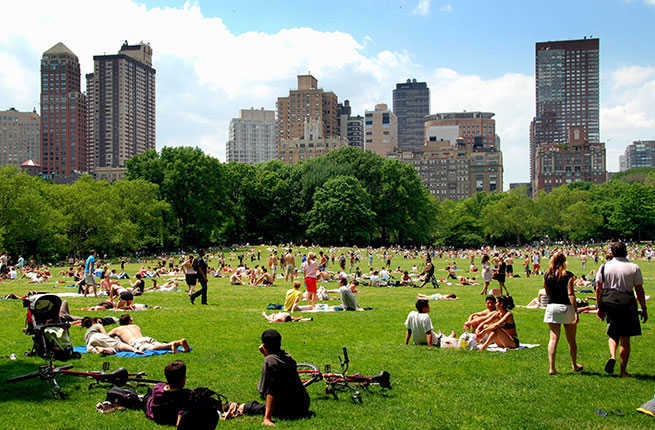 Leesniderphotoimages | Dreamstime.com
Spanning 15 acres of Central Park from 66th to 69th streets near the west side, Sheep Meadow has long been a go-to for landlocked New Yorkers looking to unwind without the hassle of leaving the grid. Blankets and beach towels create a patchwork on the large field as Frisbees fly and sunbathers preen on summer afternoons. A fascinating cross-section of the city's population, Sheep Meadow's popularity tends to peak early in the season, when New Yorkers have yet to depart the city for their summer retreats.
PLAN YOUR TRIP: Visit Fodor's New York City Travel Guide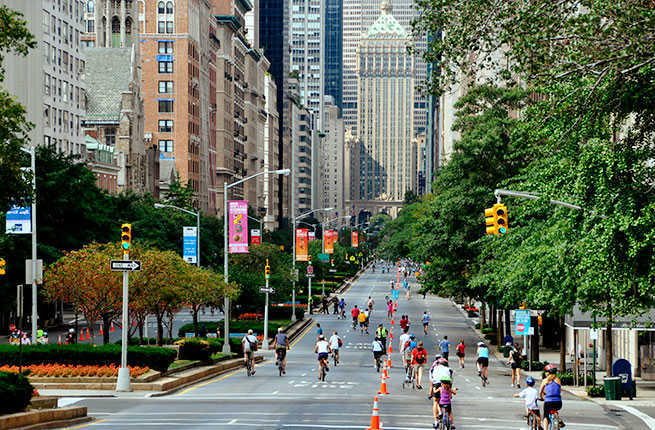 Leesniderphotoimages | Dreamstime.com
Summer Streets is the city's annual pedestrian celebration as nearly seven miles of city streets are closed off to motor vehicles. A free-for-all on some of New York's major throughways, all are welcome to run, walk, and bike down Park Avenue and Lafayette Street. Spanning three Saturdays in August, an estimated 300,000 people take to the open streets to explore the city from a new angle.
PLAN YOUR TRIP: Visit Fodor's New York City Travel Guide
Jennifer Arnow
Bohemian Citizens' Benevolent Society—Astoria's Beer Garden
Few bars in the city measure up to size and scope of Bohemian Citizens' Benevolent Society, Astoria's signature (and New York's oldest) beer garden, which covers the better part of a block in one of the country's most diverse neighborhoods. Since 1910, patrons have been savoring grilled brats and pitchers of Czechvar draft at one of the picnic tables in the expansive back yard. The family-friendly spot often features live music on the weekends, with a dance floor that picks up later in the evening.
PLAN YOUR TRIP: Visit Fodor's New York City Travel Guide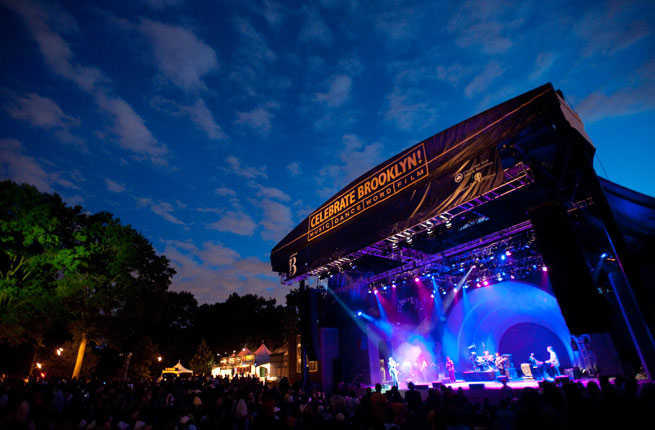 Ryan Muir
Rolling out more than a hundred free music, comedy, dance, and theater events throughout New York's five boroughs this summer, SummerStage captures an impressive swatch of city culture, from a Yiddish music concert (June 15) to Trevor Noah stand-up (June 26), both in Central Park. This year's festival will have a focus on jazz, with events including a tribute to McCoy Tyner in Central Park (June 4) and the Charlie Parker Jazz Festival throughout the city (August 26-28). Across the river, Celebrate Brooklyn! brings the party this summer at the Prospect Park Bandshell as acts on the roster include Tame Impala (June 14 and 15), and the soulful Ray LaMontagne (June 22).