F11photo | Dreamstime.com
Philadelphia is encountering a renaissance. Once a city with a gritty reputation, Philadelphia is a metropolis celebrated for its history, inventive cuisine, and a progressive arts scene. With the recent title of America's first UNESCO World Heritage City, Philadelphia has been placed on the international stage, named in Fodor's Go List as one of the top places to visit in 2016. Best of all, Philadelphia gives visitors the opportunity to experience much of what it has to offer for free.—Kae Lani Kennedy
Fairiegoodmother | Dreamstime.com
Just west of the Philadelphia Museum of Art is Boathouse Row, home to several of America's first rowing clubs, and the epicenter to some of the nation's most exciting regattas. Regardless of skill level or interest in the sport of rowing, it is a spectacle to watch teams practice and compete from the lush green riverbanks. Boathouse Row is among Philadelphia's most iconic landmarks and offers picturesque views of the city skyline. At night, lights outline each of the historic clubhouses and cast dancing reflections in the Schuylkill River below.
PLAN YOUR TRIP: Visit Fodor's Philadelphia Guide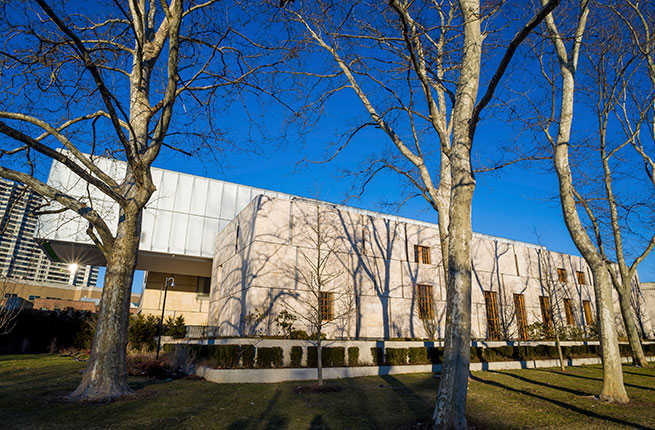 f11photo/Shutterstock
Discover Impressionism at the Barnes Foundation
Before Impressionist art was recognized as a respectable artistic movement, scientist and art collector Albert C. Barnes amassed what is considered to be one of the greatest collections of Impressionist, Post-Impressionist, and early modern paintings in the United States. In 1922 he founded the Barnes Foundation in an effort to "promote the advancement of education and the appreciation of the fine arts." Art enthusiasts from around the world visit to see works by Pierre-Auguste Renoir, Paul Cézanne, Henri Matisse, Pablo Picasso, Henri Rousseau, and Vincent Van Gogh (to name a few) under one roof.
Insider Tip: Every first Sunday of the month is free admission to the Barnes. Tickets are limited and are only available at the door at 9 am, but once inside, guests can enjoy all exhibits as well as talks, performances, and hands-on activities.
PLAN YOUR TRIP: Visit Fodor's Philadelphia Guide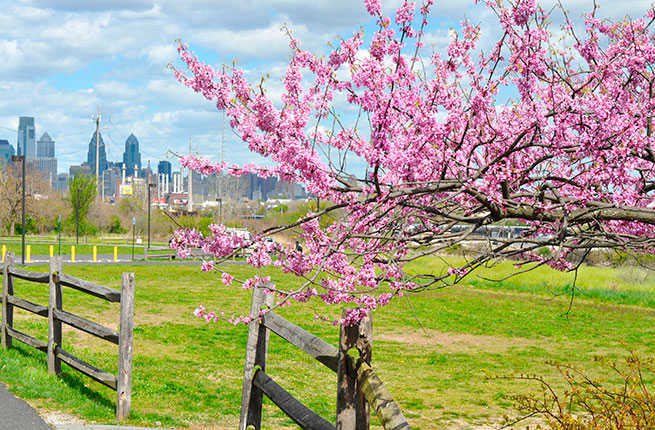 Bartram's Garden
Wander through Bartram's Garden
On the western bank of the Schuylkill River is 45 acres of grassy meadows, picturesque gardens, and fragrant wildflowers, all of which tell the story of Philadelphia's dedication to horticulture. In 1728, the Bartram family turned this farm into America's first botanical garden, and for more than 50 years the family traveled throughout North America collecting and identifying more than 200 plants. Nearly 300 years later, Bartram's Garden is the site of the Bartram's home, and their living collection of trees, wildflowers, and shrubs is free and open to the public year-round.
PLAN YOUR TRIP: Visit Fodor's Philadelphia Guide
Matt Stanley
Practice Yoga on the Waterfront
Escape the urban hustle with free yoga classes at the Race Street Pier overlooking the serene waterfront of the Delaware River. Free Yoga on the Waterfront started as a way for teachers from the Dhyana Yoga studio to share the playfulness of outdoor yoga and give equal access to all who are willing to join in the practice. Offered daily from April to October, all levels of yogis are welcome to spend an hour stretching and balancing the body, mind, and spirit while enjoying views of the Ben Franklin Bridge and the Philadelphia skyline.
PLAN YOUR TRIP: Visit Fodor's Philadelphia Guide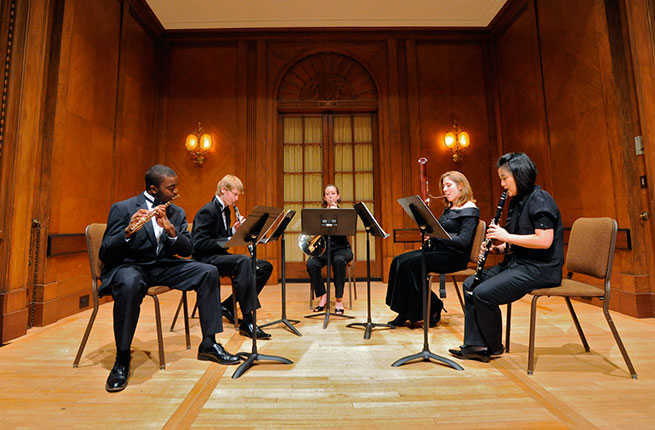 Pete Checchia
Get Serenaded at the Curtis Institute of Music
Philadelphia is home to one of America's top orchestras, but you don't have to spend a small fortune to experience world-class music. For more than 90 years, the Curtis Institute of Music has been considered one of the finest music academies in the world, hand picking only 175 extraordinary students per year to participate in their distinctive program. With an emphasis on performance, the Curtis Institute of Music Student Recital Series is an opportunity for students to take their artistry to the stage, giving music lovers a chance to witness these talented musicians for free, before they start their careers in the top orchestras, operas, and performance halls around the world.
PLAN YOUR TRIP: Visit Fodor's Philadelphia Guide
Alkukitz | Dreamstime.com
Take a walking tour of the Mural Arts Program
By transforming public spaces into engaging and thought-provoking murals, The Mural Arts Program has become the nation's largest public art program and has earned Philadelphia the international title of "City of Murals". Creating 50 to 100 new pieces per year and restoring numerous others, the Mural Arts Program gets communities involved by inviting thousands of people to participate in projects in their neighborhoods. Murals can be found all over Philadelphia, but the most stunning can be found along the "Mural Mile," which is a free self-guided tour through Center City.
PLAN YOUR TRIP: Visit Fodor's Philadelphia Guide
F11photo | Dreamstime.com
Walk Around Reading Terminal Market
Farmers' markets are the pulse of any city, providing its residents with local foods as well as serving as a central meeting place. Philadelphia's Reading Terminal Market, America's oldest continuously operating farmers' market, offers cuisines from around the world. Authentic Philadelphia cheesesteaks are a staple, as is traditional Pennsylvania Dutch fare served by Amish merchants who travel to Philadelphia weekly to run their family's stands. With more than 80 merchants, there is a lot to explore. Visitors can wander through the market aisles, watch cooking demonstrations, and learn about the history of chocolate at the Pennsylvania General Store, one of the market's longest-running establishments.
PLAN YOUR TRIP: Visit Fodor's Philadelphia Guide
F11photo | Dreamstime.com
During the summer of 1776, a group of men gathered in the Pennsylvania State House and, in an act of treason, declared independence from the King of England. After the Revolutionary War, many of these same men reconvened here to form a new government. Independence Hall is the centerpiece of Philadelphia's historical heritage and a must-see for visitors to Philadelphia. Free tours led by National Park rangers take guests to the courtroom and the infamous Assembly Room, where the Declaration of Independence was signed and the Constitution was ratified. Much of the furniture is arranged as way it would have been during the time our Founding Fathers were there; the most notable piece is George Washington's "rising sun" chair, which sits front and center in the Assembly Room.
PLAN YOUR TRIP: Visit Fodor's Philadelphia Guide
Arion Doerr
Experience Fringe Arts events all year round
In cities around the world, the Fringe Arts Festival is an annual event celebrating contemporary theater and an opportunity to highlight artists. But since 2013, the Fringe Arts has been a permanent establishment in Philadelphia, turning a once-per-year event into a year-round experience. The Fringe Arts nurtures a community of artists, giving them studio space to create and rehearse before taking their works to the main theater, which can seat up to 240 guests. During the warmer months, La Peg, Fringe Arts' restaurant and beer garden, takes performances outside with the Delaware River and the Benjamin Franklin Bridge as a backdrop.
Fringe Arts offers a wide range of free activities including musical guests, performances by local theater groups, as well as free movies every Wednesday in the summer.
PLAN YOUR TRIP: Visit Fodor's Philadelphia Guide
F11photo | Dreamstime.com
Discover public art outdoors
Outdoor sculptures break up the monotony of an otherwise gray and blocky concrete jungle. But it's not just their physical beauty that brings vibrancy to Philadelphia; it's their untold stories. The Museum Without Walls™: AUDIO is an interactive tour designed to take visitors on an in-depth journey through the secret lives of 51 outdoor sculptures in 35 locations. These sculptures are integral parts of Philadelphia's landscape that often go unnoticed. The self-guided tour features the perspectives of individuals connected to each piece of art. The Museum Without Walls™: AUDIO can be downloaded as a free mobile app that visitors can listen to at their leisure.
PLAN YOUR TRIP: Visit Fodor's Philadelphia Guide
Andykazie | Dreamstime.com
Encounter wildlife at the John Heinz National Wildlife Refuge at Tinicum
Preservation is an important part of Philadelphia's culture, both of histiry as well as nature. The John Heinz National Wildlife Refuge at Tinicum is a thriving wildlife sanctuary that shelters a diverse population of animals and plants. Just two miles away from Center City, this 1,000-acre preserve is home to hundreds of species of wildlife, including endangered species like the coastal leopard frog, the red-bellied turtle, and the marsh rice rat. With 10 miles of trails through natural habitats, bird-watchers can keep an eye out for the 300 species of birds that have been recorded here. Even bald eagles have been known to visit.
PLAN YOUR TRIP: Visit Fodor's Philadelphia Guide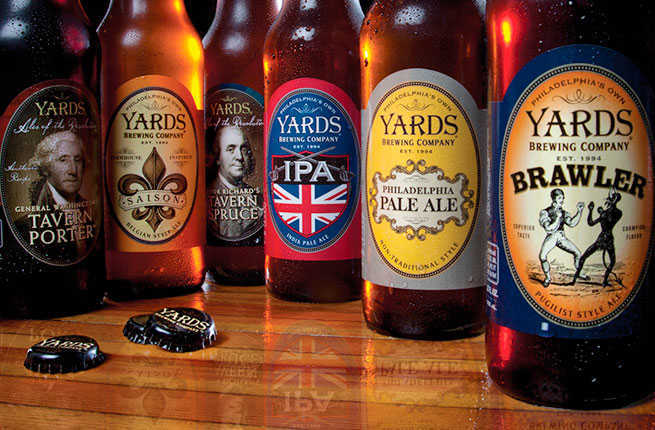 Courtesy of Yards Brewery
Although relatively new, Yards Brewery has quickly become the official local brewery of Philadelphia, a status earned with their quality craft ales celebrating both traditional brews and local history. Their line "Ales of the Revolution" recreates the favorite recipes of Benjamin Franklin, Thomas Jefferson, and George Washington, all of whom once called Philadelphia home. Yards also offers a variety of beers including IPAs, ales, saisons, and other beers that rotate each season. Touring the brewery gives visitors an inside look into one of Philadelphia's favorite beers, as well as the chance to sample a variety of delicious suds straight from the source.
PLAN YOUR TRIP: Visit Fodor's Philadelphia Guide
Tom Lovelund Photography
Enjoy free laughs at the Philly Improv Theater
What better way to get a sense of local perspective than through Philadelphia's unique and quirky sense of humor? Local actors at the Philadelphia Improv Theater pump out hilarious comedy performances bred from the emerging "Philly-style" improv. Also known as PHIT, the theater hosts local acts and visiting guests from renowned groups such as New York's Upright Citizens Brigade. The best part of improv at PHIT is that you can visit again and again and still never see the same show twice. Free shows are offered every Sunday and also scheduled throughout the week. You can catch PHIT performances at the Adrienne Theatre's second stage.
PLAN YOUR TRIP: Visit Fodor's Philadelphia Guide
F11photo | Dreamstime.com
In 1755, the State House bell hung in the tower of the Pennsylvania State House, and signaled to Philadelphians when meetings were held and when news would be announced. It wasn't until 90 years later when abolitionists, inspired by its inscription "Proclaim Liberty Throughout All the Land Unto All the Inhabitants Thereof," turned this damaged bell into a symbol of freedom. Experience the rich historical heritage that Philadelphia has to offer by visiting the Liberty Bell Center, located across the street from Independence Hall. The Liberty Bell Center not only houses the iconic Liberty Bell, but it also has rotating exhibits and collections of artifacts exploring the symbol's importance to abolitionists, advocates for women's suffrage, and the Civil Rights Movement.
PLAN YOUR TRIP: Visit Fodor's Philadelphia Guide
Appalachianviews | Dreamstime.com
Explore The Schuylkill River Trail
Among Philadelphia's plethora of trails, the Schuylkill River Trail is considered one of the best. Paved walkways put a safe distance between pedestrians and car traffic. With 26.5 miles of trails for joggers, walkers, and bikers to explore, the views are never boring. Along with excellent skyline views, visitors will pass the Philadelphia Museum of Art, Fairmount Waterworks, Boathouse Row, and Laurel Hill Cemetery.
Insider Tip: Enter the trail from the newly constructed South Street Bridge to explore the Schuylkill Banks Boardwalk, a 2,000-foot-long walkway following the shoreline of the Schuylkill River. The boardwalk connects to the Schuylkill River Trail at Locust Street.
PLAN YOUR TRIP: Visit Fodor's Philadelphia Guide
Branda O'Neil
Find peace in Awbury Arboretum
Lush, romantic, and as charming as an English garden, the Awbury Arboretum is 55 acres of gardens with a vast collection of plants and trees. The meticulously landscaped grounds are a tranquil place for visitors to find quiet amid an otherwise urban setting. Stroll along winding trails, take a seat among quaint gardens, and observe wildlife by Lower Pond during your visit to this 100-year-old agricultural village. Aside from being a place to immerse yourself in nature, the Awbury Arboretum engages visitors with educational events like documentary screenings, summer camps, and outdoor yoga.
PLAN YOUR TRIP: Visit Fodor's Philadelphia Guide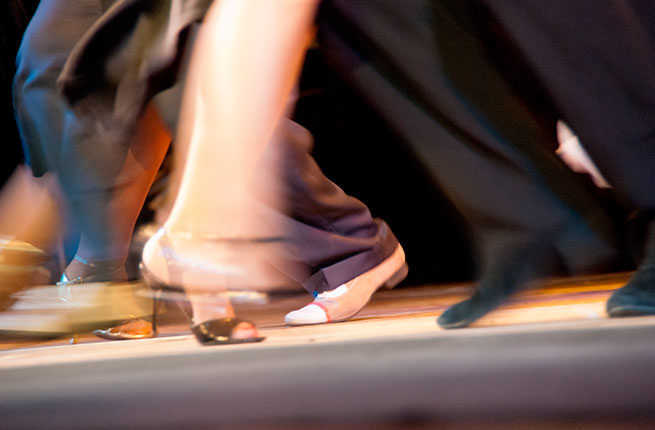 Frogtravel | Dreamstime.com
Blending Latin steps with the flow of swing, salsa is an exciting and high-energy dance. Anyone curious about this seductive style of dancing can stop by Brasil's Night Club and try free salsa lessons taught by some of Philadelphia's top teachers. On Friday and Saturday nights from 9:30 to 10:30, beginners can learn a few steps and take their new skills to the dance floor for a night of fun. More advanced dancers can visit on Wednesday nights at 9:30 for intermediate salsa lessons.
PLAN YOUR TRIP: Visit Fodor's Philadelphia Guide
Courtesy of the Edgar Allan Poe National Historic Site
Visit Edgar Allan Poe's House
Sometimes gruesome and always creepy, the works of Edgar Allan Poe have been enjoyed by generations of readers seeking thrills through their imaginations. Poe's time in Philadelphia is considered his most prolific and most productive, and described by him as his happiest, despite his wife's struggle with tuberculosis. During Poe's six years in Philadelphia, he lived in several houses, but the one on Spring Garden Street is the only one that remains. Visitors passionate about American literature can walk the very halls that Poe did, and even visit the basement that remarkably resembles the cellar depicted in "The Black Cat," one of the many tales Poe wrote while living in Philadelphia.
PLAN YOUR TRIP: Visit Fodor's Philadelphia Guide
David Niles, Artist
Get Mesmerized by the World's Largest LED Screen
Philadelphia puts a strong emphasis on the importance of public art, and it shows through the city's vast collection of murals, statues, sculptures, and monuments. But at the Comcast Center, they veer away from tradition, displaying art in an interactive way that integrates creativity with technology. Standing 25.4 feet high and 83.3 feet wide, the Comcast Experience Video Wall is the world's largest four-millimeter LED screen. Visitors can stand in the lobby and enjoy thousands of hours of unique vivid multimedia ranging from dance performances, scenes from nature, and urban landscapes.
PLAN YOUR TRIP: Visit Fodor's Philadelphia Guide