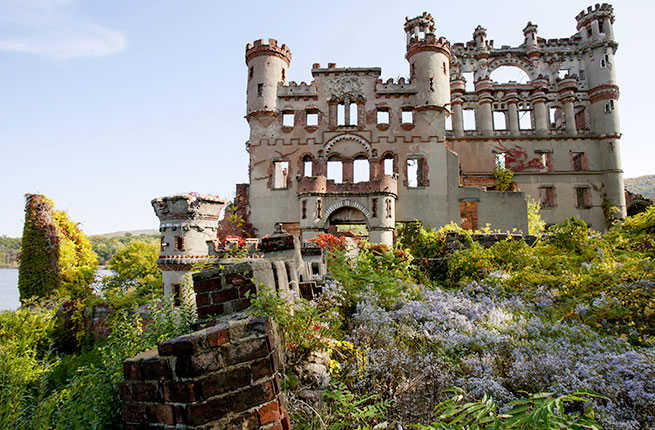 From the Met to MoMA to the tiny galleries of Chelsea and Greenpoint, New York City has plenty to keep even the most demanding of art-lovers occupied. Everyone needs a break from the city sometime, however, so why not combine a weekend getaway with a visit to some of the area's most accessible art-focused destinations? From a sprawling sculpture park upstate to a neon-bathed old firehouse in the Hamptons, each of these art-focused getaways is within three hours of New York City.—Karen Gardiner
Suchen1967 | Dreamstime.com
More than 100 sculptures—by such world-renowned artists as Alexander Calder, Maya Lin, and Isamu Noguchi—dot Storm King Art Center's 500 sprawling acres. Though the sculptures are massive, it is testament to the beauty of the center's curation that each one blends harmonically with its surrounding environment. Free trams transport visitors around the park but, if you prefer to go at your own pace, rent a bicycle and meander slowly around the rolling hills and woodlands, discovering art along the way.
Getting Here: Storm King Art Center is less than a two-hour drive from New York City and you can book a day tour with Coach USA leaving from Port Authority (admission included).
PLAN YOUR TRIP: Visit Fodor's West Point and Storm King Guide
Jennifer Arnow
Natural light floods into the vast, high-ceilinged spaces of the contemporary art museum DIA: Beacon, which is housed in a former Nabisco box printing facility in the small Hudson Valley town of Beacon. That glorious light is all the better for viewing the museum's impressive collection of large-scale installations by the likes of Richard Serra, Louise Bourgeois, and On Kawara, each displayed in a gallery dedicated to the individual artist. After viewing the artworks, save some time to stroll the museum's lush grounds and visit some of Beacon's many boutiques and restaurants.
Getting Here: From Grand Central Station, it's an 80-minute train to Beacon station, from where you can walk five minutes to the museum.
Insider tip: Metro-North offers a train and entrance ticket package, which is cheaper than buying both separately.
PLAN YOUR TRIP: Visit Fodor's Beacon Guide
Karenfoleyphotography | Dreamstime.com
For years, New Yorkers have glimpsed from train windows the mysterious ruins of Bannerman Castle on a small island in the Hudson Valley. Once occupied largely by bootleggers, Pollepel Island was purchased by the arms dealer Francis Bannerman, who built the so-called castle in the Scots Baronial style to store his arsenal. After it blew up in the 1920s, the castle lay in ruins for decades and almost completely collapsed in a 2009 storm. Since 2015, however, the castle has been lit up once more by Constellation, a public art exhibit by the artist Melissa McGill. As the sun goes down, small lights at the top of 17 aluminum poles surrounding the castle light up, giving the appearance of a new constellation in the sky.
Getting Here: The official viewing site is at Breakneck Ridge, between Cold Spring and Beacon train stations on the Metro-North line.
Insider tip: While the installation is visible from the shores of the Hudson River, you can also take a sunset boat cruise or kayak tour for a closer look.
Read More: 5 Hudson Valley Wineries to Visit
Farther into the Hudson Valley, the old port city of Hudson has transformed itself into a hip getaway for New Yorkers, helped in no small part by the many artists who have made the city their home. You could happily spend a day, or more, hopping between the galleries lining Warren Street—don't miss BCB Art, John Davis and Carrie Haddad—but be sure to save some time to take in the 19th century architecture—a mix of Queen Anne and Victorian—as well as the antique stores and restaurants.
Getting Here: Travel time to Hudson is just two hours from Penn Station on Amtrak's Northeast Regional line.
Insider Tip: Visit in mid-September for Basilica Soundscape, a weekend of thoughtfully curated art and music.
Read More: 10 Hudson Valley Hotels for a Cozy Weekend Getaway
Courtesy of Hopper House
Edward Hopper House Art Center
The mid-century realist painter Edward Hopper was born and grew up in a house on North Broadway in the town of Nyack, 20 miles north of New York City. Now listed on the National Register of Historic Places, Edward Hopper House today functions as a not-for-profit art center with one room exhibiting materials related to Hopper and the other three dedicated to work by local artists. In the summer months, jazz concerts are also held in the gardens. Nearby, on Route 9W, fans of Hopper's work can see the house that inspired his painting "House by the Railroad," which, in turn, was the inspiration for Alfred Hitchcock's sinister Psycho house.
PLAN YOUR TRIP: Visit Fodor's Nyack Guide
Robin Hill
Built in 1949 as the artist's own residence, Philip Johnson's Glass House is an influential piece of modern architecture and a National Historic Landmark. Set atop a hill, the minimalist glass and steel structure is surrounded by 49 acres of pastoral landscape in New Canaan, Connecticut, 50 miles north of New York City. The site features a permanent collection of 20th-century paintings and sculptures from Johnson's own collection—including works by Andy Warhol, Robert Rauschenberg, and Cindy Sherman—and also hosts rotating exhibitions by contemporary artists. From May through November visitors can tour the house and the galleries.
PLAN YOUR TRIP: Visit Fodor's Connecticut Guide
Bill Jacobson
The Dan Flavin Art Institute
Situated in a renovated firehouse-turned-church-turned-art gallery in the Long Island hamlet of Bridgehampton, the Dan Flavin Art Institute is dedicated to the work of the fluorescent light artist. The space holds a permanent installation of nine of the artist's works, which flood the second-floor gallery with green, yellow, purple and red lights (perfect Instagram fodder), as well as a gallery for rotating temporary exhibitions. Visitors may, however, be surprised to learn that the large neon cross is not a Flavin work, rather it is a relic of the building's past life as a church. Best reached by car, the institute is two-hour drive from New York City.
Read More: 11 Reasons to Visit Long Island
Hufton + Crow
A colorful Roy Lichtenstein sculpture greets visitors at the entrance the Parrish Art Museum, housed in a sleek, 34,000-square-foor Herzog & de Meuron-designed single-level barn-like building with poured concrete walls. The museum is home to an impressive collection, focused on artists who lived and worked in the East End of Long Island, and holds works by Lynda Benglis, Jackson Pollock, and Willem de Kooning, as well as the largest public collection (more than 40 paintings) of William Merritt Chase. First established in Southampton in 1898, the museum opened in its Water Mill location in 2012.
Getting Here: It's under a three-hour drive from New York City.
Read More: 11 Reasons to Visit Long Island
With a car, you could easily fit the Hamptons' Parrish Art Museum, Dan Flavin Art Institute and LongHouse Reserve into a single day trip from New York City. Just 20 minutes from the Dan Flavin Institute, LongHouse Reserve occupies 16 acres of serene landscaped gardens peppered with seasonally changing conifers, flowering trees and ornamental grasses as well as a water lily- and lotus-dotted pond. That idyllic setting provides a contemplative environment in which to view the reserve's collection of more than 60 sculptural works by Yoko Ono, Willem de Kooning, Sol Lewitt, Dale Chihuly, and more.
Read More: Long Weekend in East Hampton
PLAN YOUR TRIP: Visit Fodor's East Hampton Guide
Stefan Hagen
It may feel like a world apart, but you do not even have to leave New York City to get to Wave Hill. Located in the exclusive Hudson Hill section of Riverdale in The Bronx, this 28-acre estate was originally built in the Greek Revival style in 1843 by a well-to-do lawyer. Wave Hill passed through several prominent families, and was leased by Mark Twain for a spell, before being transformed into a public garden and cultural center. Most visit to enjoy the botanical garden and majestic Hudson River views, but the center also hosts rotating art exhibitions and Sunday afternoon concerts. From Penn Station, Wave Hill is just over an hour via subway and bus.
Insider tip: Get there quicker by purchasing a train ticket/admission package from Metro-North
PLAN YOUR TRIP: Fodor's New York City Guide: The Bronx