Bogdan | Dreamstime.com
With its serpentine roads and mountain passes, the Swiss Alps are a dream for road trippers. Thanks to its small size and proximity between villages, it's feasible to see much of the Swiss Alps (and several neighboring countries) in a week. Setting off from Zurich, our course forms a clockwise circle to St. Moritz–Locarno–Zermatt–Lauterbrunnen–Gstaad. Brief sections along the border dip into Italy, offering a taste of la bella vita. Each day averages three hours of driving time, with stops at village cafés along the way. Although the whole trip can be done in a week, if time permits, allot two days in each destination to allow for side trips, exploration, or better yet, some R&R. If you're tight on vacation time, yet longing for adventure in your getaway, we've created the perfect itinerary to get your motor revving. —Marlise Kast-Myers
S.Borisov / Shutterstock
Fly in to Zurich and rent a car. If you need to spend the night before you start your journey, the classy Storchen, on the banks of the Limmat River, is just 20 minutes from the international airport. Set aside your morning to explore the old town, photograph cathedrals, or window-shop along ritzy Bahnhofstrasse.
Note: A freeway vignette ($40) is mandatory for anyone driving on a Swiss motorway. The sticker can be purchased at the border, online, or at most gas stations. We also recommend picking up a parking disc, available free of charge from police stations, post offices, and tourist centers. These blue time cards track the hours your vehicle has been parked in a designated area.
Insider Tip: If you really want to make the most of your trip, rent a motorcycle.
Motorcycle gear can be obtained from Louis MEGAShop in Zurich, or just across the border at Touratech's headquarters in Niedereschach, Germany. The obvious are necessary––helmets, gloves, jackets, pants, boots, and lockable luggage panniers that function like a suitcase—just remember to pack light and bring waterproof gear. Motorbikes, starting at $100 per day, can be rented through several Zurich-based retailers including Motorbike Tours CH, Motorradhandel, and AdMo Tours.
PLAN YOUR TRIP: Visit Fodor's Zurich Guide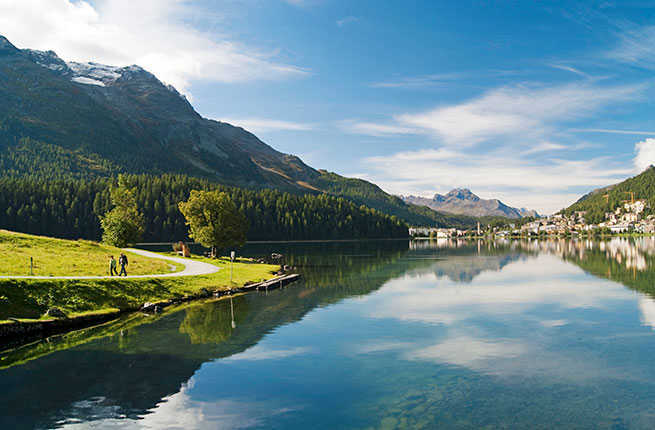 James Ketley / Shutterstock
Day 2: Destination St. Moritz
Back roads from Zurich take you to the historic town of Arbon on the southern shores of Lake Constance. Push away from the glassy shores toward Appenzell, a village famous for its cheese and celebrated for its loyalty to tradition. The car-free main square is lined with boutiques, cafés, and tall houses painted with vibrant frescoes.
Stop for lunch in Vaduz, the economic and cultural center of Liechtenstein. The landlocked country is home to the modern Kunstmuseum, a medieval castle, and charming inns tucked among vineyards.
From here, the windy Flüela Pass climbs 7,818 feet into the Swiss Alps. The road cuts through snow-covered mountains surrounded by waterfalls plunging into rivers and glacier lakes.
Overnight at Hotel Schweizerhof in the heart of St. Moritz. As the area's most prestigious property, the family-owned Schweizerhof has sweeping views of the lake where the Polo World Cup is held in winter and the Jazz Festival in summer. Pampering starts the moment you enter, with an attentive staff, well-appointed rooms, and a belle époque ambiance dating back to 1898.
Insider Tip: Romantic winter travelers can soak in the starry sky on a moonlit horse-drawn sleigh ride across the frozen lake.
PLAN YOUR TRIP: Visit Fodor's St. Moritz Guide
Marlise Kast
Day 3: Destination Locarno
From St. Moritz, lengthy tunnels take you into Italy, where you'll see cupola towers, stone buildings, Vespas, gelaterias, and private villas named for Stella, Valentina, and Bella.
Twice, the route to Locarno cuts in and out of Italy. As the warmest town in Switzerland, Locarno is situated on the northern shores of Lago Maggiore, with no resemblance to Switzerland other than its prices. Narrow alleys climb from the Piazza Grande to cafés and restaurants serving authentic Italian dishes. From lake excursions to jazz clubs, there are plenty of ways to entertain yourself.
Stay at Hotel Belvedere, located at the foot of Locarno's mountains. The property is full of manicured gardens with cone-shaped hedges, lemon trees, potted rosemary, and fountains stamped 1815. Request a lake-facing room. Outside the entrance, a funicular transports guests to Madonna del Sasso, a sanctuary offering panoramic views over Locarno's historic center and Lake Maggiore.
Insider Tip: Stay awhile here in summer to experience the Ascona Jazz Festival, the Locarno International Film Festival, the Moon and Stars music festival, the Magic Blues Festival, and the Rombo Days motorcycle event.
PLAN YOUR TRIP: Visit Fodor's Locarno Guide
Marlise Kast
Day 4: Destination Zermatt
The ride out of Locarno is not for the faint of heart. Narrow roads twist high above valleys, canyons, and turquoise lakes. The summit is marked by a cable car to Rasa, the only way to reach the mountain village.
Despite the fact Zermatt is car (and motorbike) free, be sure to keep it in your itinerary. Park in Täsch and catch the shuttle train to Zermatt from Matterhorn Terminal. At the base of the Matterhorn, Zermatt's slopes can be skied and hiked year-round. With more than 250 miles of hiking trails, it's a mountaineer's paradise with natural attractions including the Schwarzsee, Gorner Gorge, and glacier trails. Squeeze in a morning hike or a stroll through Hinterdorf, Zermatt's old town with barns dating to the 15th century.
Overnight at Park Hotel Beau Site. The elegant, alpine-chic suites are worth the splurge, with enclosed glass patios facing the Matterhorn. Although the hotel is only five minutes from town, it's difficult to leave on account of the wellness center, teatime, and enticing menu featuring veal saltimbocca.
Insider Tip: While there are plenty of day hikes to choose from, the trail from Zermatt's town center to Edelweiss Alterhaupt is a quick, one-hour trek past waterfalls, barns, and rivers, with sweeping views over Zermatt from Pension Edelweiss.
PLAN YOUR TRIP: Visit Fodor's Zermatt Guide
Danbreckwoldt | Dreamstime.com
Day 5: Destination Lauterbrunnen
Coiling past ice-blue rivers and farms selling blocks of cheese, the route reaches the Lötschberg vehicle train connecting Goppenstein to Kandersteg. After the 15-minute trip, continue the ride above Thunersee Lake.
Once in Lauterbrunnen, opt for the family-run Hotel Oberland. Centrally located, the quaint guesthouse has rooms facing the famed Staubbach Falls, the largest of 72 waterfalls that plunge nearly 1,000 feet into the valley. The town itself is cradled between alpine meadows and framed by rock faces where base jumpers soar off cliffs into fields of dandelions.
Be sure to visit top attractions including Trümmelbach Falls––Europe's largest subterranean waterfalls–– and the Jungfrau, Europe's highest mountain station at 11,332 feet, replete with an ice palace and glacier fun park. Travel by gondola to the Schilthorn, with panoramic views of 40 peaks and 20 glaciers.
A network of hiking trails can keep you active for days, unless you get derailed by the traditional Swiss rösti, fondue, and spätzle served at Hotel Oberland.
Insider Tip: Before you purchase expensive tickets to local mountain attractions or spend hours on trains to get there, check Jungfrau web cams for weather conditions and visibility.
PLAN YOUR TRIP: Visit Fodor's Lauterbrunnen Guide
Neilneil | Dreamstime.com
Day 6: Destination Gstaad
The last stop before heading back to Zurich is the resort town of Gstaad. Luxury chalets, high-class boutiques, and mountain gastronomy attract the rich and famous. Between hiking, skiing, shopping, and people-watching, Gstaad hosts events including music festivals; polo, volleyball, and tennis tournaments; and the hot air balloon festival in neighboring Châteux-d'Oex.
Get pampered at the five-star Alpina Gstaad. Its refined décor­ integrates stone, leather, steel, and reclaimed wood from centuries-old farmhouses. There's an atmosphere of elegant authenticity, from the masculine cigar lounge to the rustic wine cellar––and yes, you can even request a gold-leaf cigar or a $20,000 bottle of wine. For dining, there's cozy Swiss Stübli, the Michelin-starred Sommet, and MEGU by sushi Chef Takumi Murase.
Even if you don't splurge for the $22,000-per night presidential suite, standard rooms have heated floors, cashmere throws, bathtub televisions, and private balconies with mountain views. Between treatments at the Six Senses Spa and watching a private screening in their cinema, you might not get around to local exploration.
Insider Tip: Summer travelers yearning for snow can visit Glacier 3000, where you can ski, sled, toboggan, or simply ride the gondola year round.
PLAN YOUR TRIP: Visit Fodor's Gstaad Guide
Bogdan | Dreamstime.com
Day 7: Destination Zurich
Circle back to Zurich, where your adventure started. You'll pass through Thun, the gateway to Berner Oberland on the shores of Lake Thun. The historic old town has plenty of bars and cafés lining the cobblestone streets, and the 12th-century castle is worth a visit.
Less than two hours from Zurich, be sure to stop and dine in the medieval city of Bern. As the capital of Switzerland, Bern is known for its string of shops, historic center, and narrow streets housing bars and boutiques inside stone cellars. The best views of the city can be had from the Rose Garden near the Bear Park or from the bridge over River Aare.
Return to Zurich with enough time to go out with a bang at Dolder Grand Hotel. On the edge of Adlisberg Forest, the five-star property dates back to 1899 and boasts an unrivaled spa, a two-Michelin-star restaurant, and a vast collection of artwork by notable masters including Andy Warhol.
PLAN YOUR TRIP: Visit Fodor's Zurich Guide