AnnaKostyuk / Shutterstock
Barcelona may lure the masses with its Mediterranean beaches and mind-bending architecture, and tourists may flock to Madrid for its pulsating nightlife and world-class museums. But a cookie-cutter trip to these cities alone barely scratches the surface of a country that comprises 17 culturally distinct, autonomous regions. To discover some of Spain's ancient sites, distinctive cuisines, and vibrant streets, escape to one of its "second cities." Read on to discover our top picks. —Benjamin Kemper
Kemal Taner / Shutterstock
Seville is a typical Andalusian city, complete with boisterous tapas bars, fusty flamenco tablaos, orange tree–lined streets, and Moorish architecture. By day, explore sites along the Guadalquivir River esplanade, like the whitewashed bullring and 13th-century Torre del Oro—or better yet, hop on on a leisurely yet informative riverboat tour. With a basic understanding of the city's rich past— as a Roman metropolis, Islamic stronghold, and booming industrial center—you'll be equipped to better understand the history of other key sites such as the Seville Cathedral, the largest Gothic cathedral in the world; the 30-story Giralda, a Moorish minaret that towers above the Old Town; and the Alcázar palace complex, notable for its labyrinthine gardens and elaborate Mudéjar architecture.
Insider Tip: To revel in Andalusian folk music like a sevillano, skip the overhyped, over-touristed flamenco venues and head to Bar Anselma in the Triana district, where local legend Anselma leads raucous song-and-dance sessions late into the night.
Where to Eat: Seville is one of Spain's greatest tapas cities. Mandatory stops include Bodeguita Romero for pringá, a warm bun stuffed with assorted pork delights; Taberna Coloniales for manjar blanco, chicken smothered in garlic-almond sauce; and Casa Paco for swordfish braised in vino de naranja, an Andalusian white wine with orange peels. To sate your brain as well as your belly, reserve a spot on one of Devour Seville's English-speaking food tours and taste your way through Seville's gastronomic past and present.
PLAN YOUR TRIP: Visit Fodor's Seville Guide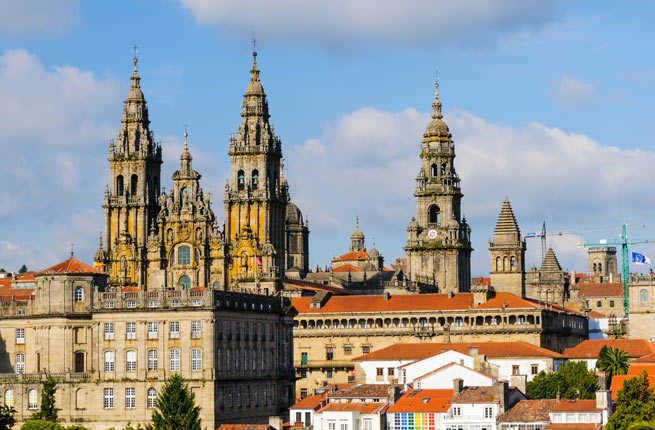 apgestoso / Shutterstock
For over a thousand years, Christians hailing from every corner of Western Europe have embarked on the Camino de Santiago (St. James's Way), one of Christianity's most sacred pilgrimage routes that terminates in Santiago de Compostela. It's here, in the city's towering Romanesque-Gothic cathedral, that the remains of St. James are said to be interred. Much of Santiago's medieval history can be seen firsthand in the Old Town, where you can meander through arcaded passageways from one picturesque plaza to the next.
Insider Tip: The cathedral at Santiago houses the Botafumeiro, one of the world's largest thuribles. To see the billowing metal censer in action— a truly spectacular display—visit on one of the holy days (a Botafumeiro schedule is available on the website).
Where to Eat: You can't leave Galicia without a few forkfuls of pulpo a la gallega, medallions of tender octopus sprinkled with smoky Spanish paprika and crunchy salt. The no-frills Bodegón Os Concheiros serves the city's best rendition.
PLAN YOUR TRIP: Visit Fodor's Santiago de Compostela Guide
Kushch Dmitry/ Shutterstock
The Moors ruled much of the Iberian Peninsula for seven centuries, and their legacy lives on in architecture, art, and cuisine. But to wrap your mind around the magnitude of their dominion, you have to visit the Alhambra, a 1,000-year-old palace and fortress complex in Granada that serves as the crown jewel of Mudéjar architecture. It's wise to set aside several hours for your visit; you'll want to take your time poring over the meticulous arabesques, mesmerizing fountains, and ornate horseshoe arches.
Insider Tip: Tickets to the Alhambra are in such high demand (the site received more than two million visitors in 2015) that it's advisable to reserve your spot online as far in advance as possible.
Where to Eat: When your legs need a break from Granada's hilly cobblestone streets, sit down to an unrushed meal at Aben Humeya, a restaurant in the historic Albaicín district whose terraces overlook the Alhambra and snowcapped Sierra Nevada mountains.
PLAN YOUR TRIP: Visit Fodor's Granada Guide
Nito100 | Dreamstime.com
Historians have speculated that Córdoba, a sun-drenched city in southern Spain, once boasted the largest population anywhere in the world. In fact, some of the greatest thinkers of ancient Rome and the Middle Ages—Seneca, Lucan, and Maimonides, to name a few—were cordobeses. As you might expect, there's no shortage of historical sites to discover in Córdoba, but one in particular eclipses the rest: the Great Mosque. Dating to the 10th century, this sprawling compound was a symbol of Islamic grandeur as the city rose to become the European capital of culture and the arts. Since its initial construction, the mosque has undergone several controversial renovations, the most significant taking place in the 16th century, when dozens of original arches were demolished to make way for a Renaissance cathedral nave.
Insider Tip: It's a painless two-hour journey from Madrid to Córdoba, provided you take the AVE, Spain's fast train that reaches speeds of nearly 200 miles per hour. Buy your tickets ahead of time to secure the lowest price.
Where to Eat: Córdoba's culinary claim to fame is salmorejo, gazpacho's richer, more unctuous cousin that gets its velvety texture from copious amounts of olive oil and soaked bread. White-clad waiters at Taberna La Viuda ladle out a particularly killer version, garnished with a dainty spoonful of jamón and hard-boiled egg. For a more laid-back experience, you can taste other Cordovan classics like berenjenas con miel, fried eggplant batons drizzled with molasses, or flamenquín cordobés, a juicy pork and Serrano ham roulade, at Restaurante Plateros María Auxiliadora.
PLAN YOUR TRIP: Visit Fodor's Córdoba Guide
Anton_Ivanov / Shutterstock
Despite being a four-hour drive from the Spanish capital, Madrid natives joke that Valencia is "the beach of Madrid," and with good reason—it's the easiest coast to get to for most madrileños. But there's a lot more to this Mediterranean city than its shoreline. For starters, Valencia boasts one of Spain's greatest achievements in modern architecture: the Ciutat de les Arts i les Ciènces, a cultural center with crustacean-like buildings designed by Santiago Calatrava and other renowned architects. Like many Spanish cities, Valencia also enchants visitors with a well-preserved, pedestrianized Old Town; to get a bird's-eye view of it, climb the 207 stairs to the top of El Miguelete, the 14th-century belltower of the cathedral.
Insider Tip: Every year in mid-March, the streets of Valencia transform into one giant, riotous spring fling called Falles. Sure, there's a solemn, religious element to the festival meant to honor St. Joseph, but for most, the main thrill lies in the epic firework displays and bonfires that set the city ablaze.
Where to Eat: Start the day off right at Santa Catalina with optimal Valencian breakfast fare: fartons (yeasted pastries with a giggle-inducing name) dunked in horchata, ice-cold tiger-nut milk dusted with cinnamon. Later on, experience paella nirvana at Casa Carmina, where ingredients like chanterelles, monkfish, and blood sausage simmer with Valencia-grown rice to al dente perfection.
PLAN YOUR TRIP: Visit Fodor's Valencia Guide
jorisvo / Shutterstock
The Bilbao of today bears little resemblance to what it was two decades ago: a gray, post-industrial city. That all changed with the opening of the Guggenheim museum, Frank Gehry's architectural masterpiece of undulating titanium and chaotic, nature-inspired forms built on the riverfront. Beyond the Guggenheim, Bilbao is a thriving small metropolis with a pintxo bar–lined Old Town, large swaths of green space (like the Parque Doña Casilda beside the Museo de Bellas Artes), and trend-setting fine dining.
Insider Tip: Bilbao's proximity to the Cantabrian coast, Rioja wine country, and even Bordeaux (a three-hour drive away) makes it an ideal starting point for all sorts of excursions. Tour organizers like Spanish Journeys take the hassle out of planning, while offering exclusive experiences such as visits with Idiazábal cheesemakers, wine tastings in private cellars, and cooking classes with renowned chefs.
Where to Eat: At Azurmendi, a three-Michelin star aerie perched in the Basque foothills, dinner starts with an intimate stroll through chef Eneko Atxa's gardens. A complimentary aperitif in hand, you'll see and taste ingredients that will later appear in your meal, a 20-course whirlwind of avant-garde plates that wink to traditional Basque flavors.
PLAN YOUR TRIP: Visit Fodor's Bilbao Guide
Anton_Ivanov / Shutterstock
In many of Spain's small cities, the plaza endures as the central hub of activity. That's the case in Salamanca, located in the province of Castile and León, whose plaza mayor is largely regarded as the most beautiful in Spain. Tucked beneath its Baroque arcades you'll find tapas bars, cafés, ice cream parlors, and souvenir shops. Centuries before Salamanca's plaza was built, the city was known across Europe for its prestigious Universidad de Salamanca. Spain's oldest university was founded in 1134, and the 30,000 students perpetually rejuvenate the city with contagious college-town energy.
Insider Tip: See if you can spot the frog on the University of Salamanca's busy plateresque façade— it's said to bring good luck.
Where to Eat: Some of Spain's most prized specimens of jamón ibérico, that unrivaled acorn-fed ham, hail from around Salamanca. Let the experts at Ibéricos Artesanos J. Sanz create a perfect picnic lunch of gourmet charcuterie and cheeses, best enjoyed on the grassy riverbank of the Tormes beside the Roman footbridge.
PLAN YOUR TRIP: Visit Fodor's Salamanca Guide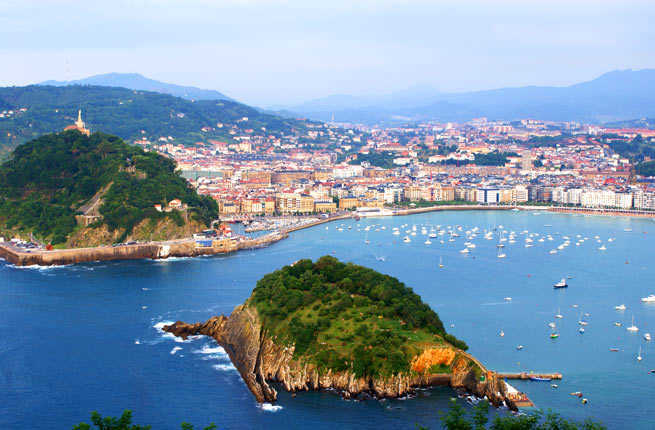 AnnaKostyuk / Shutterstock
With its pristine shoreline and lush, mountainous surroundings, it's no wonder San Sebastián, on northern Spain's Bay of Biscay, was a prime vacation spot for Spanish royalty. Although the city's natural beauty continues to attract surfers and outdoorsy types, today San Sebastián is better known for its food. Culinary trailblazers such as Juan Mari Arzak (Arzak), Andoni Luis Aduriz (Mugaritz), and Martín Berasategui (Berasategui) put San Sebastián on the map as a Michelin-starred mecca for gourmands. But if splurging on a multicourse tasting menu isn't in the cards, fear not; the city's casual dining scene, which revolves around pintxos (Basque-style tapas), brims with possibility.
Insider Tip: If you find yourself in the Basque country between January and April, you're in luck—it's sidra (cider) season. Each spring, cider houses on the outskirts of town open their doors to visitors. Here you can savor extravagant feasts of warm salt-cod omelettes and caveman-size steaks, all washed down with cider poured straight from the barrel.
Where to Eat: There's no better way to take in the variety and excitement of Basque cuisine than to embark on a txikiteo (pintxo crawl) through the Old Town. Whet your appetite at Txepetxa with a glass of txakoli, the local white wine, and an anchovy-draped canapé (the house specialty). Then make your way to Zeruko—whose bartop is barely visible beneath overflowing pintxo platters—to sample the nouvelle cuisine creations of chef Joxean Calvo.
PLAN YOUR TRIP: Visit Fodor's San Sebastián Guide
León is worth the visit for its cathedral alone, an outstanding example of Gothic architecture complete with gargoyles, flying buttresses, and pointed arches. Its 2,000 square yards of vivid stained-glass panels—second only, perhaps, to those in Chartres, France—depict biblical stories and Castilian landscapes. Another must-see is the Museo de Arte Contempráneo de Castilla y León (MUSAC), whose rainbow façade serves as a happy backdrop for group photos.
Insider Tip: There is such a thing as a free lunch in León, since every corto—the dainty quarter-pint the city is known for—comes with a complimentary tapa. The creamy croquetas at El Rebote are exceptional, particularly those laced with cecina, a dry-cured beef delicacy native to the region.
Where to Eat: León is one of the coldest corners of Spain, and if you go in the winter, you'll want to warm up at Restaurante Sorrento with their award-winning cocido leonés, a hearty Castilian-style pot-au-feu brimming with chickpeas, chorizo, pork belly, and tender beef tongue.
PLAN YOUR TRIP: Visit Fodor's León Guide
Fulcanelli / Shutterstock
With its concentration of diverse microclimates, Gran Canaria is a nature lover's paradise. Here you can trek through rolling sand dunes, verdant forests, and rocky plains—all in the same day. With its year-round summer temperatures, it would be tempting to never leave the beach, but that would be a mistake. Inland towns like Tejeda, famous for its almond confections, and Guayadeque, pockmarked with caves, exude a local character often lacking in heavily touristed areas like Las Palmas and Playa del Inglés.
Insider Tip: There's a secret beach on Gran Canaria so remote that many native islanders don't even know it exists. Inaccessible by car, the only way to reach Playa del Güigüí, with its crystalline water and stunning views of El Teide volcano in the distance, is on foot (it's a rugged three-hour hike from the closest village, Tasarico).
Where to Eat: Open the menu at any casual restaurant along Playa de Las Canteras, the prettiest beach in Las Palmas, and you're bound to find papas arrugadas, wrinkly salt-roasted potatoes doused in mojo picón, a punchy brick-red sauce redolent of garlic and hot pepper. Try them at La Marinera, whose ocean views are as delicious as its cuisine.
PLAN YOUR TRIP: Visit Fodor's Canary Islands Guide
Matt Trommer / Shutterstock
Before Madrid was decreed the capital of Spain in 1561, the Spanish monarchs ruled from Toledo, known as the "City of Three Cultures" for its history as a melting pot of Jewish, Islamic, and Christian traditions. In fact, Toledo is home to Spain's most precious vestige of Jewish history, the Synagogue of El Tránsito, whose florid stucco artistry is as spell-bindingly articulate as the Alhambra's. Toledo's other architectural opus—and top attraction—is the Catedral Primada de Santa María, a massive Gothic temple that houses centuries of priceless treasures such as the Monstrance of Arfe, a 10-foot-tall gold vessel studded with jewels.
Insider Tip: Since there's so much history to digest in Toledo, optimize your time by hiring one of the city's official local guides (Diego Esteban Sánchez is excellent), whose ear-to-the-ground knowledge and special access to cultural sites justify the investment.
Where to Eat: Toledo may have retained its medieval character through the centuries, but the city's culinary scene is anything but antiquated. A case in point, Locum's palate-thrilling cuisine is delightfully anachronistic, with modern Spanish tasting menus served in a 17th-century townhouse built around an indoor patio.
PLAN YOUR TRIP: Visit Fodor's Toledo Guide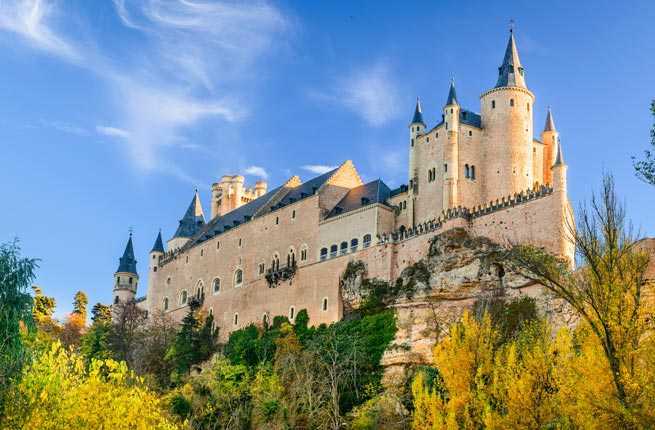 Emicristea | Dreamstime.com
One of the most impressive Roman works of civil engineering to survive today, the Aqueduct of Segovia has stood for 2,000 years. Its longevity is particularly staggering, considering that it spans nine miles at a near-perfect 1% gradient—and that mortar is entirely absent from the construction. While the aqueduct may be Segovia's star attraction, it's worth wending your way through the narrow streets of the Judería (old Jewish quarter) to the Alcázar, whose turrets and battlements helped inspire Walt Disney's Cinderella Castle.
Insider Tip: Climb the spiral staircase within the Alcázar's Tower of Juan II to the top for the 360-degree views of the city, surrounding countryside, and Sierra Guadarrama mountain range.
Where to Eat: Ask any Spaniard what to eat in Segovia, and the unanimous response will be cochinillo asado, roast suckling pig so tender that it's customarily carved using the dull edge of a plate. Most Segovianos agree that Restaurante José María's rendition, with smoky notes from a wood-fire oven, is the city's best.
PLAN YOUR TRIP: Visit Fodor's Segovia Guide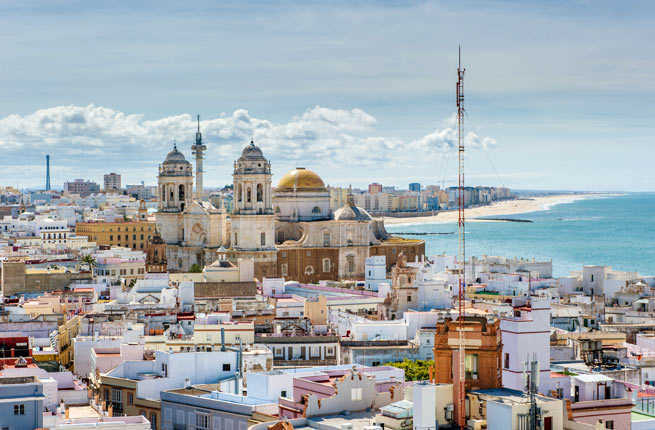 Javarman / Shutterstock
Said to be the oldest city in Western Europe, Cádiz is also the continent's southernmost capital. Sure, there are Roman ruins to uncover and pleasant parks to stroll, but Cádiz's unspoiled beaches are what make this city stand out from its Costa del Sol neighbors. For tranquility and white sand, head to Playa de Levante, which doubles as a nature reserve. If beachside restaurants and busy boardwalks are more your speed, make camp at Playa Vistahermosa.
Insider Tip: Take a quick jaunt north of Cádiz to sip your way through the bodegas of the famous "Sherry Triangle" cities: Jerez, Puerto de Santa María, and Sanlúcar de Barrameda.
Where to Eat: Surrounded by water on three sides, it's no wonder Cádiz is synonymous with pescaíto frito, a catch-all genre of seafood served crisp and hot from the fryer with plenty of fresh lemon. At Freiduría Las Flores, one of the city's most legendary seafood houses, opt for the tortillitas de camarón, thin, crisp parsley-flecked shrimp fritters, or the cazón en adobo, succulent nuggets of garlic- and cumin-marinated shark.
PLAN YOUR TRIP: Visit Fodor's Cádiz Guide
Jslsvg | Dreamstime.com
Cáceres may not draw crowds, but this medieval city in Extremadura is one of Spain's best-kept secrets. The entire Casco Antiguo (walled city)—with its crenellated archways, Golden Age palaces, and 30 Islamic towers—has been declared a UNESCO World Heritage Site. The city is sleepy enough for a weekend of uninterrupted relaxation, but there are more than enough spirited tapas bars and tabernas in and around the Plaza Mayor to keep visitors entertained.
Insider Tip: The yemas, sticky, cinnamon-scented egg-yolk confections sold by the nuns at Convento de San Pablo, make wonderful souvenirs.
Where to Eat: In Cáceres, one restaurant steals the show: Atrio. Chef Toño Pérez has single-handedly brought culinary renown to the city with his Michelin-starred cuisine, which hinges on regional ingredients like nutty ibérico pork and pungent torta del Casar cheese.
PLAN YOUR TRIP: Visit Fodor's Cáceres Guide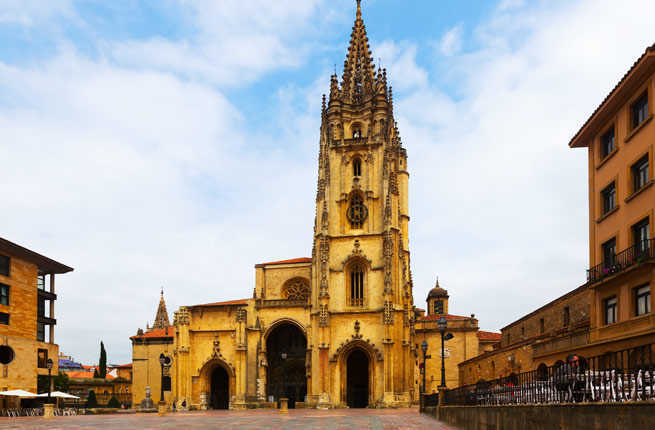 Jackf | Dreamstime.com
Oviedo is the capital of Asturias, the misty green province famous for its mountainous interior (serious climbers rave about Picos de Europa) and scenic coastline along the Cantabrian Sea. Like other ancient cities around the country, Oviedo features an Old Town with a majestic cathedral and a number of lovely plazas. But it's worth getting out of the city center, if only to witness a sunset from Santa María del Naranco, a pre-Romanesque edifice remarkable for its slender contours and detailed archways, completed in 848.
Insider Tip: Oviedo is an ideal home base for an Asturian adventure. Take a meandering drive along the ocean, stopping in Cudillero, a colorful village built onto a hillside, and Cabo Peñas, whose cliffside walk offers unparalleled views of the coast.
Where to Eat: The beverage of choice in Asturias is sidra made with apples grown in the surrounding countryside. Stroll down Calle Gascona, the "cider street," and you'll see locals pouring the culo (Asturian slang for the last sip in the glass, said to taste bitter) right into the gutters. Take a table at the unpretentious sidrería El Rincón de Gascona, and dig into one of the region's other delicacies, cachopo, a hefty breaded cutlet filled with bacon and cheese.
PLAN YOUR TRIP: Visit Fodor's Oviedo Guide
Pawel Kazmierczak / Shutterstock
The quietest and least developed island in the Balearic archipelago, Menorca is a slice of paradise (think turquoise waters, abundant wildlife, and seldom-trodden trails) whose unadulterated natural beauty is becoming harder and harder to find among Mediterranean islands. Beaches—called calas in Menorca—abound, but for prime surfing amid craggy cliffs, look no farther than Cap de Cavalleria. For sunbathing and lapping waves, on the other hand, Playa de Son Bou offers gorgeous scenery without the crowds of Playa Santo Tomás and Cala Galdana.
Insider Tip: Spend a day or two in the northerly fishing village of Fornells, whose whitewashed houses encircle a palm tree–lined marina. In its calm waters, you can windsurf, kayak, and dive by day; after the sun goes down, make your way to any of its seafood restaurants to taste the daily catch.
Where to Eat: Panadería la Mejor in the village of Mahón, which has earned international acclaim for its eponymous cheese, has been satisfying sweet tooths since 1850 with its dinner plate–sized ensaimadas. It gets its signature flake from ibérico pork lard, which serves as a subtle savory counterpoint to its sugar-coated exterior.
PLAN YOUR TRIP: Visit Fodor's Menorca Guide