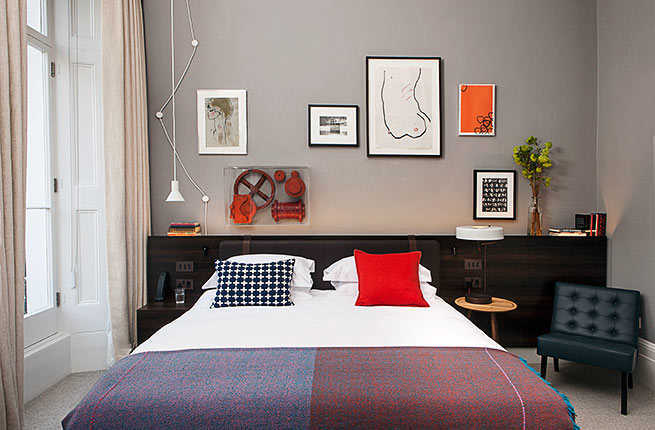 Courtesy of The Laslett
For the fifth time in seven years, London has been named the most popular city for international visitors. According to MasterCard's Global Destination Cities Index, the British capital is expected to end the year with 18.82 million overnight visitors, beating out Bangkok, Paris, Dubai, and Istanbul. It's a good thing, then, that London's hotel scene is hotter than ever, with a dizzying number of new properties opening every year to accommodate the ever-growing tourist numbers. There are still several highly anticipated openings later this year—The Old Street Courthouse Hotel, The Tobacco Dock Hotel, and citizenM Tower of London among them—but our list includes the best of the bunch that have opened since fall 2013. With private butler services, eye-popping décor, bars with dramatic views, and cutting-edge technology, these are London's best new hotels.
By Michael Alan Connelly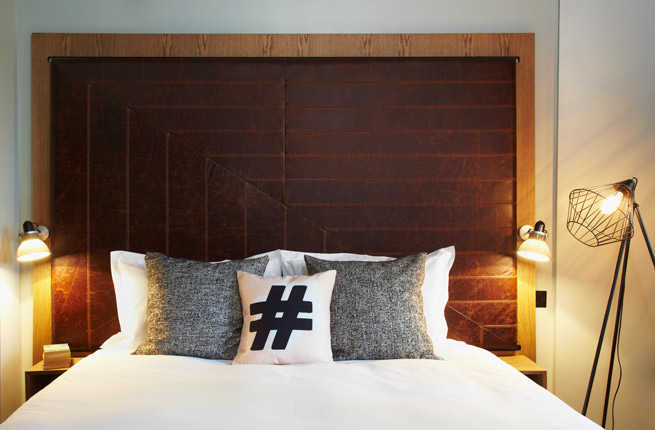 Courtesy of The Hoxton Holborn
The Hoxton, born in Shoreditch in 2006, has brought its brand of sophisticated cool to the relatively quiet environs of Holborn, not far from the British Museum. Opened in September 2014, the Hoxton Holborn houses 174 rooms in an unglamorous-looking five-story building that was formerly a BT office block. Inside, however, there's a handsome lobby that's bustling no matter what time of day, stylishly distressed vintage furniture throughout the hotel, and smartly appointed guestrooms with wallpaper designed by East London artist Toby Triumph.
There are four room options—Shoebox, Snug, Cozy, and Roomy—yet aside from size they all feature the same plush beds, sleek bathrooms, and winning décor, not to mention free Wi-Fi and a breakfast bag that arrives at your door at the time of your choosing. The property is also home to Hubbard & Bell, Chicken Shop, and Holborn Grind, all of which have become local favorites. The Holborn location was just the beginning of an expansion plan, with an Amsterdam property set to open in July and outposts in Paris and New York City scheduled to follow in 2016.
PLAN YOUR TRIP: Visit Fodor's London Travel Guide
Andrew Meredith
Ace Hotel London Shoreditch
As if to cement gritty East London's status as the epicenter of cool, the Ace Hotel London Shoreditch opened its doors here in September 2013, making it the American brand's first foray into Europe. Like many of its Shoreditch neighbors, the Ace has taken a setting that was once dreary—in this case, a hulking Crowne Plaza—and transformed it into one that is extremely desirable. As with other Ace properties, the lobby here is just as much for the locals as it for hotel guests, if not more so; in addition to a communal working space, the lobby houses a bar, coffee shop, florist, gallery, restaurant, and a front desk that doubles as a gift shop.
Upstairs, seven types of rooms and suites—there are 258 guestrooms in total—feature minimalist design schemes, patchwork quilts designed by French brand APC, and long, built-in benches that invite lounging. Vintage-looking Revo satellite radios, wall murals inspired by street art, and guitars and turntables are other standout aesthetic touches. The somewhat industrial feel may not appeal to all travelers, but if it's scene you're after, the Ace can't be topped.
PLAN YOUR TRIP: Visit Fodor's London Travel Guide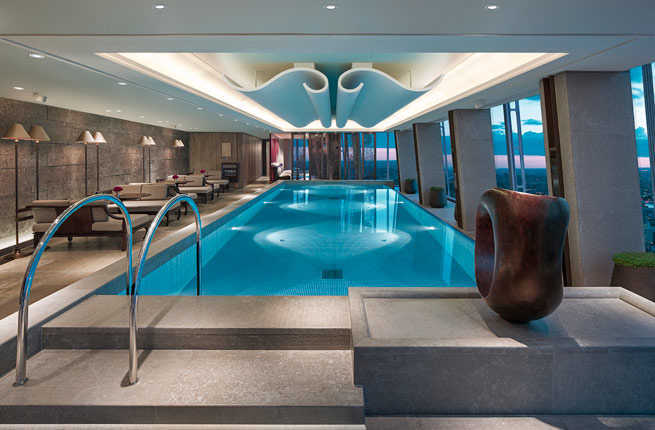 Courtesy of Shangri-La Hotel, At The Shard, London
Shangri-LaHotel, at The Shard
South of the Thames, Shangri-La Hotel, at The Shard occupies floors 34–52 of the Renzo Piano–designed skyscraper and impresses all guests with its jaw-dropping views of the city. This is London's first high-rise hotel, the tallest in Western Europe, and home to the city's highest cocktail bar and infinity pool. This is a luxury property, no doubt, with prices to match, but all rooms feature elegantly understated décor, Asian influences, large marble bathrooms with heated floors, and, of course, that view.
With regards to which of the four room types to choose (there are also six suites), the Iconic City View Room offers the best vistas of the city, and you'll be able to spot just about any landmark you can think of with the binoculars provided to you at check-in. It should be noted that an early design flaw that inadvertently allowed guests to see into other rooms has been corrected, and staying here is still a once-in-a-lifetime experience.
PLAN YOUR TRIP: Visit Fodor's London Travel Guide
Courtesy of The Lanesborough
Though it doesn't technically open to the public until July 1, there's no doubt The Lanesborough will be a stunner. Having closed in late 2013, this iconic Knightsbridge property will reopen as part of the prestigious Oetker Collection, which also operates Le Bristol in Paris and Eden Rock in St. Barts, among others. Housing ninety-three rooms and suites that have been thoroughly restored to their original Georgian splendor by designer Alberto Pinto, the hotel will be the only one in London to offer its pampered guests twenty-four-hour butler service. In addition to a spa, The Lanesborough is also home to two bars, a cigar lounge, and Apsleys, a grand dining space where you can enjoy the hotel's award-winning tea service every afternoon.
PLAN YOUR TRIP: Visit Fodor's London Travel Guide
Courtesy of Ham Yard Hotel
Tucked away in always-bustling Soho, Ham Yard Hotel offers something of a quiet retreat from busy city streets. Ham Yard Village, a tree-filled courtyard just outside the hotel, is home to independent boutiques, a restaurant, and a theater that are all hidden away from the crowds of nearby Piccadilly Circus. Because this is a new build, all ninety-one rooms are huge (by London standards, anyway), with soundproof, floor-to-ceiling windows that let in lots of light.
The décor is playful, not pretentious, and you'll find bursts of color anywhere you look. The property is also home to a lobby restaurant, cocktail bar, full-service spa, well-equipped gym, and a subterranean '50s-style bowling alley that was imported from Texas. Best of all is the rooftop terrace, where there's a blooming garden and great views of the skyline.
PLAN YOUR TRIP: Visit Fodor's London Travel Guide
Andreas von Einsiedel
The Zetter Townhouse Marylebone
Known for its eclectic interiors and cool cocktail programs, the Zetter Group has brought its signature flair to a six-story, double-wide Georgian townhouse. In the posh environs of Marylebone, the just-opened Zetter Townhouse offers twenty-one guestrooms, two suites, and one spectacular rooftop apartment.
While the sister property in Clerkenwell was designed as the home of "Zetter's great aunt Wilhelmina," the Marylebone house is the residence of "wicked uncle Semour." The namesake cocktail lounge, Seymour's Parlour, is done up in the style of a Georgian drawing room and features menus from renowned French chef Bruno Loubet and drinks designed by Tony Conigliaro. Each bedroom has been individually decorated with antique furniture and curios from "Uncle Seymour's days as a loveable rogue and gambler."
PLAN YOUR TRIP: Visit Fodor's London Travel Guide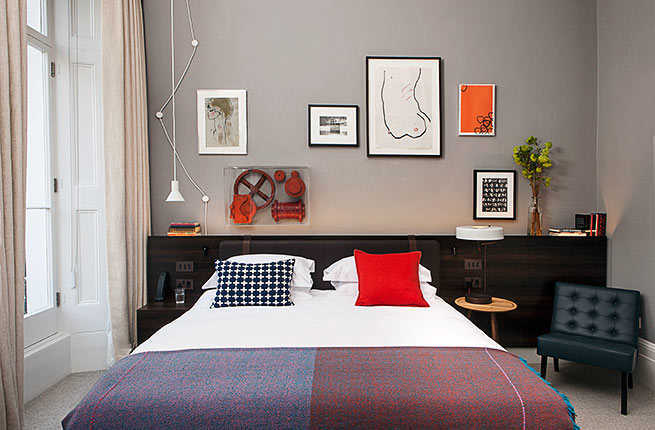 Courtesy of The Laslett
Proving a welcome addition to Notting Hill's lacking boutique hotel scene, The Laslett occupies five Victorian mansions on Pembridge Gardens and houses fifty-one bedrooms and suites designed to look like a "stylish friend's townhouse." Interiors feature modern furniture, locally sourced antiques, and contemporary artwork, aiming to refelect the neighborhood's rich cultural heritage. The ground floor aims to be a local hangout more than a hotel lobby, with a coffee shop, library, bar, and gallery featuring The Laslett's collaborations with designers and artists. Celebrated chef Sally Clarke, whose dishes have heretofore only been available in her eponymous restaurant, oversees the food program.
PLAN YOUR TRIP: Visit Fodor's London Travel Guide
Richard Booth
For the artsy set, The Hospital Club offers fifteen visually striking bedrooms near Soho and Covent Garden. Housed in an eighteenth-century hospital building, the property opened in January as a private members' club for local creative and media types, but the bedrooms are open to the public. Outfitted by Russell Sage Studios, each room features bold uses of leather, velvet, wood, and stained glass, in addition to original artwork made by on the club's members. Other highlights include rain showers, REN amenities, Roberts radios, and cocktail trolley service. Guests staying at The Hospital Club have full access to all of its facilities, including the on-site restaurant, café, exhibition gallery, and live performance space.
PLAN YOUR TRIP: Visit Fodor's London Travel Guide
Tim Clinch
Hip hotelier André Balazs opened Chiltern Firehouse last year, and it immediately became a fixture on the scene for the see-and-be-seen crowd, thanks to its in-house restaurant helmed by Michelin–starred chef Nuno Mendes. Occupying a former fire station built in 1889, the hotel offers twenty-six elegantly restored bedrooms and suites, each one featuring one or more fireplaces. The rooms are quite generously sized by London standards—the Classic Room has a minimum of 250 square feet—and each guest is looked after by a personal concierge who provides customized services. Even though this may not be the newest property in Marylebone, it remains the hottest.
PLAN YOUR TRIP: Visit Fodor's London Travel Guide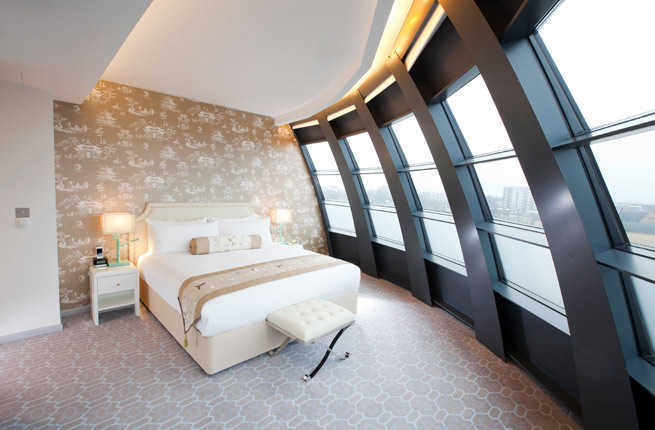 Nic Gaunt and Rebecca Gaunt
Opened in 2014, Dorsett Shepherds Bush occupies a landmarked building that originally opened in the 1920s as a movie theater. Unoccupied since 2001, the structure underwent a complete rebuild before reopening, with only the red-brick façade of the original building remaining intact—and even that's now covered by a tinted-glass exterior, giving the property a contemporary look.
Inside, its 317 rooms are tastefully decorated in British style and Chinese influences, with marble bathrooms to boot. Located a couple of miles west of Kensington Palace, the location might seem off-putting for anyone who wants to stay in central London. But there's plenty to see and do in Shepherds Bush, and the nearest Tube station is less than ten minutes away.
PLAN YOUR TRIP: Visit Fodor's London Travel Guide
Michael Sinclair
Tucked between Chelsea and Belgravia, Artist Residence London is home to ten "rustic-luxe" rooms and suites in Pimlico Village. Having opened successful hotels in Brighton and Penzance, owners Justin Salisbury and Charlotte Newey opened a low-key property that features lots of exposed brick and pieces from local antique shops. Each room is individually styled, but all are charming and feature subway-tile bathrooms. The ground-floor restaurant, 64 Degrees, overlooks a lovely garden, and the basement space doubles as a daytime café and evening cocktail lounge.
PLAN YOUR TRIP: Visit Fodor's London Travel Guide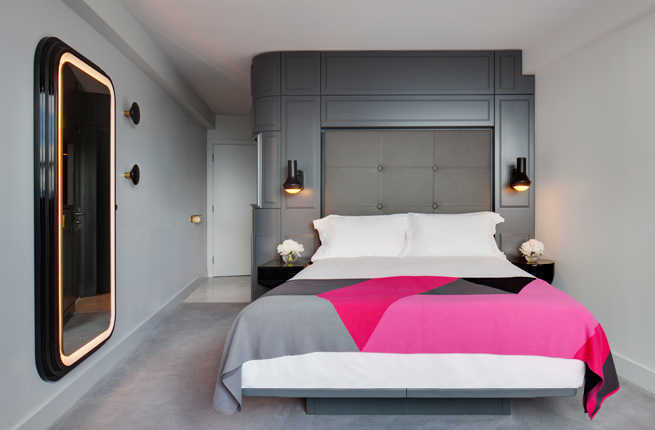 Niall Clutton
Originally intended to be a luxury hotel when it opened in the 1970s, the Sea Containers House did not quite fulfill its purpose until it reopened last September as the Mondrian London, the brand's first property outside the U.S. Bringing glamour to the South Bank, the hotel's irresistibly chic look takes its design cues from 1920s cruise ships; the copper-clad wall in the lobby evokes the hull of a ship. Most of the 359 rooms and suites come with spectacular views of the Thames and the city. Also on site, Dandelyan is a bar clad in green marble overlooking the river, while rooftop bar Rumpus Room features panoramic views of London that can be enjoyed year-round.
PLAN YOUR TRIP: Visit Fodor's London Travel Guide
Courtesy of The Beaumont; Photo by Nick Ingram
Restaurateurs Jeremy King and Chris Corbin (The Wolseley, The Ivy, Le Caprice) are behind The Beaumont, which opened last fall in a handsome 1920s Art Deco building originally used as a garage in Mayfair. Matching the building's façade, the interiors evoke pre-war elegance, with vintage art and photography, glossy rosewoods, and bronze mirrors.
The five-star property houses fifty rooms, thirteen studios, and ten suites, one of which is a presidential suite that can be expanded to occupy the entire fifth floor. In addition to the throwback drinking and dining spaces, there is an "inhabitable sculpture" titled ROOM, created by artist Antony Gormley. The sculpture serves both as a unique one-bedroom suite and an architectural extension of the hotel.
PLAN YOUR TRIP: Visit Fodor's London Travel Guide
Courtesy of M by Montcalm
M by Montcalm Shoreditch London Tech City
The rejuvenation of East London continues apace, with M by Montcalm opening earlier this year in a futuristic-looking tower on City Road. The twenty-three-story tower fuses large-scale art, sculpture, and architecture, including a fifteen-story work by artist Bruce McLean. Inside, 269 high-tech rooms and suites come with complimentary Wi-Fi, smartphone docks, and plasma screens that double as mirrors. The property also has an attractive pool and spa, plus two bars and restaurants, one of which is overseen by a Michelin–starred chef.
PLAN YOUR TRIP: Visit Fodor's London Travel Guide
Tom Sullam Photography
Having previously focused its efforts on central London, boutique-budget brand The Z Hotels opened its fourth London property, Z Shoreditch, earlier this year in one of the city's hippest neighborhoods. Housed in a former office building, the hotel has 107 rooms that are compact but comfortably furnished, with free Wi-Fi, 48-inch LED high-definition TVs, and organic-fiber beds. Take note that some rooms are "inside rooms," meaning they have no windows, but with prices starting at £49, that's a drawback that's worth considering for travelers who don't intend to spend much time at the hotel, especially considering its proximity to some of London's most exciting shopping, drinking, and dining spots.
PLAN YOUR TRIP: Visit Fodor's London Travel Guide