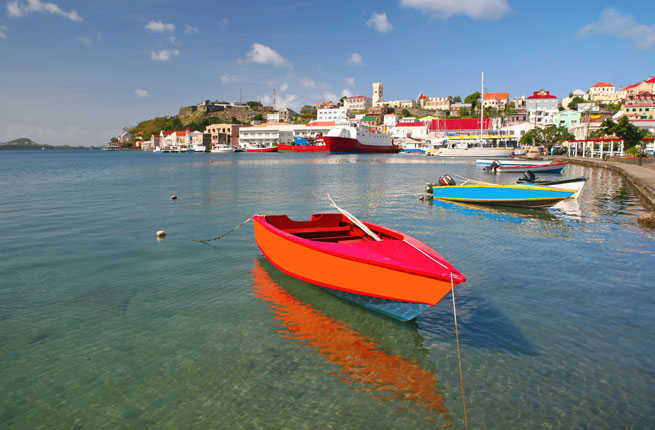 Lidian Neeleman/Dreamstime.com
Tourists seem to love winter in New York City, but the surplus of chilly, gray days inspires many locals to hop on planes headed for warmer climes. Fortunately, NYC's three major airports—JFK, La Guardia, and Newark International—offer direct flights to several beach destinations, from quick Florida jaunts and Caribbean hotspots all the way to the west coast of Mexico. These are our picks for the best non-stop trips from New York to the beach.
Dan Kosmayer/Shutterstock
From: JFK, LaGuardia, Newark
Flight Duration: 2 hours and 23 minutes
Why Go: Palm Beach is known as Florida's Gold Coast, and for good reason. The area offers 47 miles of glittering beaches, numerous historic and cultural attractions, and sophisticated shops and restaurants. Browse 19th and 20th-century paintings at the Norton Museum of Art, which features an outdoor sculpture garden and a gourmet restaurant in its western courtyard. Water sports enthusiasts will enjoy snorkeling and surfing at Delray Municipal Beach. Stop by Worth Avenue for upscale shopping and tours of historic buildings.
Insider Tip: Ideal weather during the colder winter months means bigger crowds; consider booking a trip in early December to beat the high-season rush.
Where to Stay: Although Palm Beach offers smaller hotels and reasonably priced bed-and-breakfasts, the area is most famous for its lavish resorts. The Breakers Palm Beach features a world-class spa, elegant rooms, and oceanfront amenities.
PLAN YOUR TRIP: Visit Fodor's Palm Beach and the Treasure Coast Guide
Paul Brennan/Dreamstime.com
From: JFK Airport, LaGuardia, Newark
Flight Duration: 2 hours and 35 minutes
Why Go: Fly into Fort Myers for easy access to the Lower Gulf Coast. The area's powdery sand and calm surf make it a perfect destination for families. Enjoy 166 acres of untouched beach at Delnor-Wiggins Pass State Park, or island-hop to explore different parts of the region. Seashell collectors and nature enthusiasts will love Sanibel and Captiva Islands, an area famous for its shelling grounds and wildlife. Catch a glimpse of endangered species at Corkscrew Swamp Sanctuary, a wet-prairie marshland and nature preserve.
Insider Tip: The Lower Gulf Coast is one of the best places to observe rare West Indian manatees. During the winter, visitors can spot the sea cows in inland springs.
Where to Stay: Lodging in the Lower Gulf Coast is expensive—but many properties offer affordable rates throughout the year. For views of the gulf and beachfront amenities, book a room at LaPlaya Beach & Golf Resort in Naples.
PLAN YOUR TRIP: Visit Fodor's Lower Gulf Coast Guide
Enrique Gomez/Dreamstime.com
From: JFK, LaGuardia, Newark
Flight Duration: 2 hours and 57 minutes
Why Go: Miami draws an international crowd. Travelers from around the world flock to the city for its white sand beaches, turquoise waters, and colorful nightlife. Play a game of beach volleyball or work on your tan at South Beach, Miami's most popular stretch of sand. For a more peaceful beach-going experience, take a short drive to Bill Baggs Cape Florida State Park to enjoy miles of unspoiled beachfront property and views of the Miami skyline. End the night at Mynt Lounge, an exclusive bar with a celebrity clientele.
Insider Tip: Every March, South Beach hosts a Winter Music Conference. Guests at neighboring hotels can enjoy music from world-renowned DJs and party by the pool or beach.
Where to Stay: Most vacationers book a room near South Beach for easy access to the city's best beaches, restaurants, and bars. The James Royal Palm is the epitome of South Beach culture, with colorful art deco interiors, beach and poolside amenities, and two in-house restaurants.
PLAN YOUR TRIP: Visit Fodor's Miami Guide
Jo Ann Snover/Shutterstock
Providenciales, Turks and Caicos
From: JFK
Flight Duration: 3 hours
Why Go: Sparkling turquoise waters and beautiful beaches make Turks and Caicos an ideal beach getaway. Visitors can easily hop from island to island, and spend an entire day lounging by the water. Providenciales, one of the area's most popular islands, offers a variety of water-sports and beach activities. Stop by the island's Grace Bay for powdery white sand beaches and miles of snorkeling trails. Half Moon Bay links two cays and features limestone cliffs and small, secluded coves.
Insider Tip: Turks and Caicos boast some of the world's best scuba diving sites. Most sites can be reaches in under an hour and offer up-close looks at colorful marine life and coral.
Where to Stay: Most properties in the region are located on Providenciales, and offer peaceful accommodations close to the beach. For the ultimate in tranquility, consider Amanyara. The hotel features elegant, peaceful rooms and one of the best beaches on Providenciales.
PLAN YOUR TRIP: Visit Fodor's Turks and Caicos Islands Guide
Ruth Peterkin/Dreamstime.com
Grand Cayman, Grand Cayman Islands
From: JFK
Flight Duration: 3 hours and 34 minutes
Why Go: Grand Cayman is a vacationer's dream. The island makes the most of its white sand beaches and crystal clear waters and offers a variety of family-friendly activities. Parasail and snorkel at Seven Mile Beach, a 6.5-mile-long stretch of sand with beach bars, playgrounds, and water sports. At Cayman Turtle Farm, visitors can tour turtle ponds and interact with marine animals. For a more secluded beach experience, visit Owen Island in nearby Little Cayman.
Insider Tip: Foodies will love the Taste of Cayman Food & Wine Festival. The multiday event is held in January and features demos, classes, and tastings from celebrity chefs.
Where to Stay: Grand Cayman offers accommodations ranging from small, beachfront condos to exclusive luxury resorts. For peaceful rooms and a taste of local culture, book a room at Cotton Tree. The plantation-style property features chic rooms, sea views, and on-site art and culinary classes.
PLAN YOUR TRIP: Visit Fodor's Cayman Islands Guide
Sasha Buzko/Shutterstock
Charlotte Amalie, Virgin Islands
From: LaGuardia, Newark
Flight Duration: 3 hours and 40 minutes
Why Go: Despite its small size, St. Thomas offers activities for all ages and interests. Charlotte Amalie, the island's main point of entry, is footsteps away from the island's most popular attractions. Visitors can charter boats for full-day fishing trips or shop duty-free along the city's Main Street. For unparalleled views of the water, visit 99 Steps. The staircase "street" leads to Blackbeard's Castle—a historic landmark known for its pirate folklore.
Insider Tip: Renting a car is one of the most cost-effective ways to explore St. Thomas. Taxis are available for vacationers, but farther reaches of the island are best accessed by car.
Where to Stay: Many vacationers choose hotels on Charlotte Amalie for easy airport access. Hotel 1829 offers affordable rates and is close to the area's main attractions.
PLAN YOUR TRIP: Visit Fodor's St. Thomas Guide
BlueOrange Studio/Shutterstock
From: Newark, JFK
Flight Duration: 3 hours and 54 minutes
Why Go: Fashionable shops, pristine beaches, and gourmet food make St. Martin a popular destination. Located on the French-controlled side of a Caribbean island, the city offers upscale accommodations for more refined palates. At La Cigale, visitors can enjoy French cuisine on a peaceful, open-air beach patio. Baie Orientale offers two miles of white sand beaches and an underwater marine reserve. For designer boutiques and duty-free stores, stop by St. Martin's popular shopping quarter.
Insider Tip: Every year in February or March, St. Martin hosts Carnival—a week-long celebration with parades, concerts, and dancing.
Where to Stay: St. Martin offers chic accommodations that are footsteps away from the island's best beaches. For attentive service and recently renovated suites, book a room at La Samanna. The full-service resort features a private spa, plunge pools, and a number of beachfront amenities.
PLAN YOUR TRIP: Visit Fodor's St. Martin Guide
Kjersti Joergensen/Shutterstock
From: JFK
Flight Duration: 4 hours and 25 minutes
Why Go: "Take care of our tourists" is Aruba's motto, and the island does just that. Warm hospitality, white sand beaches, and vibrant nightlife make it the perfect place to relax and unwind. Spend a day on Eagle Beach, a mile-long stretch of sand near most of the island's resorts. Visit Western Aruba for windsurfing and dramatic sea views. Bon Bini Festival is held every Tuesday night and features Antillean dancers and local artwork.
Insider Tip: Don't miss the island's Carubbian Festival, held most Thursdays from 6 to 10 p.m. The party includes Aruban music, authentic street food, and booths selling local handicrafts.
Where to Stay: Most Aruban resorts are located on the island's southwest coast, and offer all-inclusive vacation packages. Located across the street from Eagle Beach, Amsterdam Manor Beach resort offers reasonably priced rooms and authentic Dutch hospitality.
PLAN YOUR TRIP: Visit Fodor's Aruba Guide
Lidian Neeleman/Dreamstime.com
From: JFK
Flight Duration: 4 hours and 43 minutes
Why Go: Grenada flies low on many travelers' radar but is quickly gaining popularity as a vacation destination. The island's old-world charm and natural beauty make it the perfect place to escape the city's hustle and bustle. For secluded stretches of beach, visit Sandy Island. Located in Carriacou, the island offers an underwater marine protected area perfect for snorkeling, and private, palm-tree lined beaches. Hike through Concord Falls for views of picturesque waterfalls. Escape the sun at Grand Anse Beach. The sandy oasis features gentle surf, coconut palms, and rainbows that frame the nearby harbor.
Insider Tip: Stop by the Grenada Sailing Festival in late January or early February for six days of boat races and regattas.
Where to Stay: The island offers a number of small hotels and privately owned villas close to the water. Spice Island Beach Resort, Grenada's most luxurious beach property, features Balinese-inspired guest rooms, family-friendly amenities, and suites that open out onto Grand Anse Beach.
PLAN YOUR TRIP: Visit Fodor's Grenada Guide
Alexandra Nitsche/Dreamstime.com
San Jose del Cabo, Mexico
From: Newark
Flight Duration: 5 hours and 19 minutes
Why Go: Los Cabos offers travelers the best of both worlds. San José del Cabo features peaceful surroundings with stylish restaurants and shops, while nearby Cabo San Lucas is known for its lively beaches and nightlife. Take a dip in Bahía Santa María's calm waters or explore its underwater marine reserve on a snorkeling expedition. Playa del Amor, or "Lover's Beach" is home to one the city's most popular landmarks, "El Arco," and offers a variety of water sports. Stop by the Boulevard Mijares San José del Cabo to explore the city's best restaurants and shops.
Insider Tip: Winter in Los Cabos means whale watching. Every year, from December through April, locals and tourists can observe 45-ton gray whales migrating down Baja's west coast.
Where to Stay: The larger resorts on Los Cabos feature beachfront amenities and all-inclusive plans, but smaller properties provide a more unique visiting experience. Walk through an underground tunnel to check into the Capella Pedregal, a stylish beachfront resort located near the tip of the Baja Peninsula.
PLAN YOUR TRIP: Visit Fodor's Los Cabos Guide