Galyna Andrushko/Shutterstock
Yes, there's a whole world out there to explore, but think of all the amazing places in our own country you've never visited. These are the iconic images ingrained in every American's mind, the places, signs, and monuments that represent the best of what America is all about. They're the beacons of democracy in D.C. and Philadelphia, the emblems of excess in New York City and Vegas, the wonders of nature in our many stunning national parks. They make up the cultural fabric of the country, and these classic destinations all deserve a spot on your list of places to see in your lifetime.
By Jayme Moye
Puppie2008/Dreamstime.com
Walt Disney World's Magic Kingdom
WHERE: Orlando, Florida
If anything encompasses the ethos of Disney World's Magic Kingdom, it's the "It's a Small World" ride. That same tune represents a certain kind of American dream: one of a land comprising many cultures, welcoming to all. The Magic Kingdom certainly welcomes everyone into its dreamworld, where Mickey Mouse and Cinderella roam and whirling rides thrill. The whole scope of the American imagination is represented, from the futuristic Tomorrowland to the classic Fantasyland. It's a pixie-dusted retreat from reality that can't be missed, no matter your age.
Insider Tip: Avoid standing in long lines by purchasing a FastPass+, which allows you to secure arrival times for rides and attractions in advance.
PLAN YOUR TRIP: Visit Fodor's Walt Disney World Orlando Guide
Crackerclips/Dreamstime.com
The French Quarter
WHERE: New Orleans, Louisiana
Like the confluence of cultures that created it, New Orleans' French Quarter's aesthetic is a vibrant collage of textures: cobblestone corridors, lush courtyard gardens, storied wrought-iron balcony railings. The city's rich history and musical heritage are inextricably linked; jazz, blues, classic rock 'n roll, and electronic dance music all reverberate from the quarter's doors. A spirit of resilient jubilance pervades the French Quarter, making it an American icon you must experience.
Insider Tip: Get a great view of the French Quarter for free by riding the Canal Street Ferry to historic Algiers. It leaves the terminal across from Harrah's Casino every 30 minutes.
PLAN YOUR TRIP: Visit Fodor's New Orleans Guide
Erika Cross/Shutterstock
Times Square
WHERE: New York, New York
If you want to be thrust headlong into the frantic heart of excess, consumerism, spectacle, and everything unabashedly American, look no further than Times Square. Throngs of wide-eyed, over-stimulated tourists from every corner of the world walk through the blaring ads and kaleidoscopic signs in awe, cameras in hand. This roaring neon hub of humanity truly never sleeps, and it simply must be seen to be believed.
Insider Tip: Despite the crowds, there are places to sit and relax. Between 42nd and 47th Streets, former traffic lanes on Broadway are now pedestrian-only areas. You can also plop down on the red bleachers behind TKTS for some restful people-watching.
PLAN YOUR TRIP: Visit Fodor's New York City Guide
Israel Pabon/Shutterstock
Fenway Park
WHERE: Boston, Massachusetts
The Boston Red Sox have played at Fenway Park, the oldest Major League Baseball ballpark, since 1912. Baseball legends Babe Ruth, Ted Williams, and Carl Yastrzemski all stepped up to bat here. It's both a vestige of an American golden age, preserved in all its old-fashioned glory, and a mecca for fans of a quintessentially American sport—and its rabidly supported team.
Insider Tip: Didn't manage to nab tickets in advance? Try your luck at Gate E two hours before the game, when a handful of tickets are sold. Or meander the street-fair-esque Yawkey Way near the stadium for a taste of the Red Sox Nation spirit.
PLAN YOUR TRIP: Visit Fodor's Boston Guide
Critterbiz/Shutterstock
Mount Rushmore
WHERE: Keystone, South Dakota
Not only is Mount Rushmore stunning in terms of its sheer scale as a monumental mountainside edifice, it's also perhaps the boldest embodiment of American ideals there is. A shrine to democracy chiseled in the same wild western lands that came to represent to pioneering American spirit, the sculpture features the faces of four iconoclastic U.S. presidents in what is now the largest work of art on Earth.
Insider Tip: Follow the Presidential Trail through the forest for excellent views of Rushmore, or walk the Avenue of Flags, which represents each U.S. state, commonwealth, district, and territory, for a different perspective.
PLAN YOUR TRIP: Visit Fodor's Mount Rushmore and the Black Hills Guide
Weldon Schloneger/Shutterstock
Taos Pueblo
WHERE: Taos, New Mexico
These multistory, mud-and-straw adobes have sheltered Tiwa-speaking Native Americans for nearly 1,000 years, making them both a UNESCO World Heritage Site and the largest collection of multistory pueblo dwellings in the U.S. As though frozen in time, the Taos Pueblo today appears much as it did when the first Spanish explorers arrived in New Mexico in 1540, and inside, the traditional Native American way of life endures.
Insider Tip: The people inside the pueblo are very friendly; strike up a conversation, and be sure to try the popular fry bread, sold around every corner.
PLAN YOUR TRIP: Visit Fodor's Taos Guide
Liem Bahneman/Shutterstock
Pike Place Market
WHERE: Seattle, Washington
Once a riotous assembly where vendors hawked produce and haggled with hordes of customers, Pike Place Market today is a foodie destination where affable fishmongers sell their wares alongside many restaurants, bakeries, coffee shops (including the flagship Starbucks), ethnic eateries, and more. The flower market also can't be missed, with its cheap and generous arrangements, as well as the more crafts-oriented corridors of the market.
Insider Tip: Don't miss one of Seattle's weirder hidden gems, the Gum Wall on Post Alley, in Pike Place Market. Thousands of visitors have "left their mark" on the city by sticking their used chewing gum to the wall.
PLAN YOUR TRIP: Visit Fodor's Seattle Guide
Filedimage/Dreamstime.com
Big Sur
WHERE: California
Unending wildflowers, soaring California condors, sea otters reclining in kelp beds, ancient forests—it's no wonder Big Sur is a storied retreat for artists and writers. Hike the high ridges for spectacular vistas, including the three million acres of wilderness in the Los Padres National Forests, or relax on the idyllic beach, where whales and seals can be seen. Or enjoy it all from the car on coastal Highway 1.
Insider Tip: If you plan to camp, book every campground you plan to use, and far in advance—most reserve half their site for "first come, first served" on the day, making planning difficult.
PLAN YOUR TRIP: Visit Fodor's Santa Barbara and the Central Coast Guide
Galyna Andrushko/Shutterstock
The Grand Canyon
WHERE: Arizona
The Grand Canyon is an American icon in that it represents the expansive, larger-than-life ruggedness of the country. Volcanic features and soaring sandstone canyon walls make for awesome vistas, as well as a welcoming venue for year-round adventure. On the floor of this 227-mile natural wonder, the wild Colorado River traces a swift southwestern course.
Insider Tip: The best free activity in the canyon is watching the vibrant splashes of color on the canyon walls at sunset or sunrise.
PLAN YOUR TRIP: Visit Fodor's Grand Canyon Guide
Elephantopia/Dreamstime.com
South Beach
Miami's South Beach stretches along the Atlantic like a sandy sculpture garden of bronzed, chiseled bods. Everyone's on display here, from the motionless models sunbathing on the shore, to the impeccably styled patrons posing in café chairs. Muscled cyclists breeze by under soaring palms that sway gentle toward the turquoise water. And at night, the streets are a spectrum of glowing neon. It all makes for quite the aesthetically pleasing tableau of an iconic America's beach.
Insider Tip: Families should head to Mid- or North Beach—South Beach tends toward the PG-13 (and above).
PLAN YOUR TRIP: Visit Fodor's Miami Guide
javarman/Shutterstock
Golden Gate Bridge
WHERE: San Francsico, California
If you stand still on the "international orange"-colored, 1.7-mile long, art deco suspension bridge connecting San Francisco and Marin County when it's windy, you can feel it sway a bit. The majestic Golden Gate Bridge was built to withstand high winds and earthquakes, and its power is palpable as you take in the San Francisco skyline and bay islands from its edge. In afternoons and mornings, the red towers poke out from mystical, thick fog below.
Insider Tip: Head into the Bridge Pavilion for historical information and exhibits about the science and story behind the bridge.
PLAN YOUR TRIP: Visit Fodor's San Francisco Guide
somchaij/Shutterstock
Las Vegas Sign
WHERE: Las Vegas, Nevada
A trip to the Strip can't end without a picture in front of this kitschy, 50s-style sign. The flashy, diamond-shaped testament to the Vegas spirit is an American icon in primary colors, welcoming all to their quest through the city's hedonistic streets. Expect to feel giddy when it comes into view: That's when you know your adventure is about to start.
Insider Tip: People will line up to take their picture front and center, but just scoot to the right for an equally good picture from a unique angle.
PLAN YOUR TRIP: Visit Fodor's Las Vegas Guide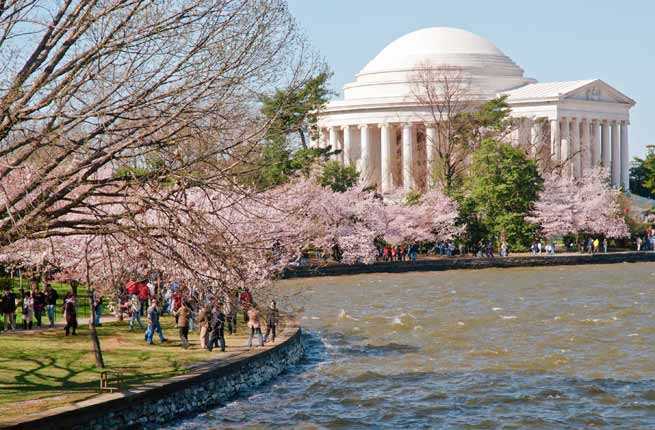 Zack Frank/Shutterstock
Thomas Jefferson Memorial
WHERE: Washington, D.C.
Washington, D.C. has its fair share of iconic American monuments, but if you're only going to see one of them during a visit, head to the Thomas Jefferson Memorial. Its stately domed marble roof and commanding columns are instantly recognizable, while its graceful steps overlooking the Potomac make for a lovely lunch or resting spot. As author of the Declaration of Independence, our third president, and a visionary founding father, Jefferson and his memorial are icons of the American spirit.
Insider Tip: Go during D.C.'s cherry blossom season in the spring for an extra stunning view.
PLAN YOUR TRIP: Visit Fodor's Washington, D.C. Guide
Cafebeanzphoto/Dreamstime.com
Millennium Park
WHERE: Chicago, Illinois
Chicago gets hot in the summer. Cool down at Millennium Park, where giant images of Chicagoans' faces, broadcasted on a 50-foot-high glass tower, emit a cool fountain from their mouths. "The Bean" is another captivating structure (its official name is Cloud Gate), with its gleaming polished steel commanding a photographic fun with reflections. The otherworldly Jay Pritzker Pavilion hosts several can't-miss music festivals. All in all, Millennium Park is the perfect icon for the truly American city of Chicago.
Insider Tip: Take a free guided tour of the beautiful five-acre Lurie Garden, an urban oasis designed to pay homage to Chicago's transformation into a bold and powerful city.
PLAN YOUR TRIP: Visit Fodor's Chicago Guide
bannosuke/Shutterstock
Hollywood Sign
WHERE: Los Angeles, California
When you think of L.A., chances are you envision Hollywood: Since the early 1900s, it's defined the entire Tinseltown mythology of the city. It'd be tough to find an American sign so deeply ingrained in our collective cultural subconscious—the 50-foot, fluorescent white HOLLYWOOD sign has perched on Hollywood Hills since 1923, and it's been featured in countless films and TV since.
Insider Tip: Careful if you're driving up from the residential streets; drivers tend to speed around the blind corners.
PLAN YOUR TRIP: Visit Fodor's Los Angles Guide
Stuart Monk/Shutterstock
Grand Central Terminal
WHERE: New York, New York
Enter Grand Central Terminal from its ornate, East 42nd Street, Roman-triumphal-arch-inspired façade, and you'll pass under its Corinthian columns and soaring arched windows to find an elegant clock for rushed commuters that pass in currents all around. Grand Central is one of the world's largest, busiest, and most beautiful stations: Chandeliers glimmer in the waiting room, while in the cavernous main concourse, sleek marble walls support an arched, robin's-egg-blue ceiling that twinkles with a fiber-optic map of the constellations.
Insider Tip: Try out the secret "whispering gallery" by famous Grand Central Oyster Bar downstairs. The acoustics of the arches can cause a whisper from across the entryway to sound like a shout.
PLAN YOUR TRIP: Visit Fodor's New York City Guide
Doug Lemke/Shutterstock
Portland Head Light
WHERE: Portland, Maine
George Washington commissioned the Portland Head Light in 1790 to tower over the keeper's quarters in Fort Williams Park and beckon ships to land. Also making it an American icon is Edward Hopper's 1927 Portland Head-light painting, from which many might recognize it. It's a truly beautiful and classic lighthouse, with its smooth white stone topped by a black spire against the blazing red roof of the keeper's quarters, all perched on the romantic cliffs of Maine.
Insider Tip: Try a classic New England lobster roll from A Bite Out of Maine, the quaint food truck that parks here.
PLAN YOUR TRIP: Visit Fodor's Portland Guide
EastVillage Images/Shutterstock
Grand Teton National Park
WHERE: Wyoming
The rugged, snowcapped peaks of the Grand Tetons jut boldly up from the green fields below, with no foothills to soften the ascent—it's just 12,605 feet of sheer rock, like the glacier-slick Mt. Moran, with a variety of lakes gleaming along the base. Iconic animals of the American West keep the Tetons as their stomping grounds, like elk, bears, and bald eagles. It all makes for an unforgettable and awe-inspiring landscape you don't want to miss.
Insider Tip: Learn the history of homesteading by visiting the 1890s barns and ranch buildings of Mormon Row or Menor's Ferry.
PLAN YOUR TRIP: Visit Fodor's Grand Teton National Park Guide
Sean Pavone/Dreamstime.com
Philadelphia City Hall
WHERE: Philadelphia, Pennsylvania
A 37-foot-tall bronze statue of William Penn gazes at the patriotic streets of Philadelphia from the top of this stately, imposing building—which was Philly's tallest until 1987. City Hall stands at the geographic center of what is perhaps the city most steeped in American history, a monolith of democracy and locus of municipal and state government. The largest city hall in the country and tallest masonry-bearing building in the world, this is an icon of American fortitude you can't miss.
Insider Tip: Attend one of the frequently heated City Council meetings, held each Thursday at 10 am.
PLAN YOUR TRIP: Visit Fodor's Philadelphia Guide
Tkfz22/Dreamstime.com
Grand Prismatic Spring
WHERE: Yellowstone National Park, Wyoming
From above, the Grand Prismatic Spring looks like a giant aquamarine geode sunk into the earth. It's the largest hot spring in Yellowstone and the U.S., and the third largest in the world, at 370 feet in diameter and 121 feet deep. The technicolor-blue spring gets its name and otherworldly colors from bacteria that form its yellow and orange rings. If you're to see one thing in the American rite of passage that is Yellowstone, make it this.
Insider Tip: For an elevated and thus better view of the spring, take the "Fairy Falls" trail just south of the Midway Geyser Basin. It runs behind the spring and has some great platforms for photo ops.
PLAN YOUR TRIP: Visit Fodor's Yellowstone National Park Guide