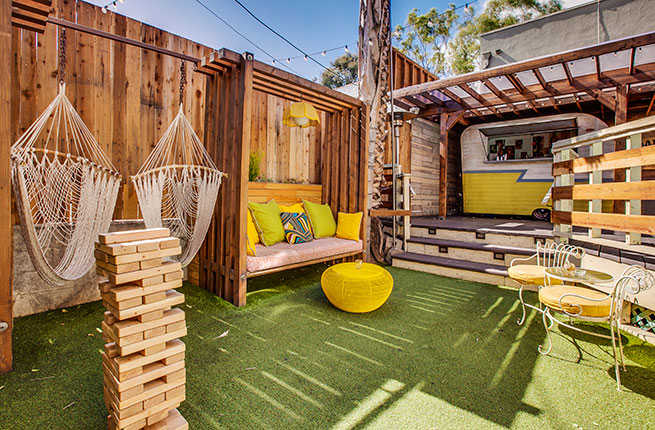 ​Luke Gibson
Let's be honest, 2017 is shaping up to be a pretty weird year. So why not vacation in another one? These bars and restaurants are portals to another time and place. Travel to colonial times and drink Thomas Jefferson's home brew, or play arcade games in the 80s. Whether you remember the time or want to know what it was like, it's easy to time warp to these destinations. It's just a jump to your left, and click to the right.—Meg Butler
Ashford Castle
1200s: Have a Medieval Time at an Irish Castle
WHERE: County Mayo, Ireland
Historical fiction fans will recognize Ashford Castle from an episode of the CW period drama Reign. History purists will notice that while not much has changed since this castle was erected in 1288, the castle-turned-hotel does feature a few modern amenities in its rooms. If spring mattresses, indoor plumbing, and other creature comforts are too anachronistic for your liking, you can always head outside. The hotel's activities are true to the period and include horseback riding and even falconry.
Read More: 10 Castles You Can Actually Afford to Sleep In
Concepts By Staib, Ltd.
1770s: Dine Like the Founding Fathers
WHERE: Philadelphia, Pennsylvania
Inside the walls of The City Tavern, it's always 1770-something. Everything here is exactly the way it was when the founding fathers were regulars—even the menu. Not only can you eat what the founding fathers ate (on dinnerware of the period), but you can eat what they made. The City Tavern menu includes Benjamin Franklin's recipe for tofu, and Thomas Jefferson's own home brew.
PLAN YOUR TRIP: Fodor's Philadelphia Guide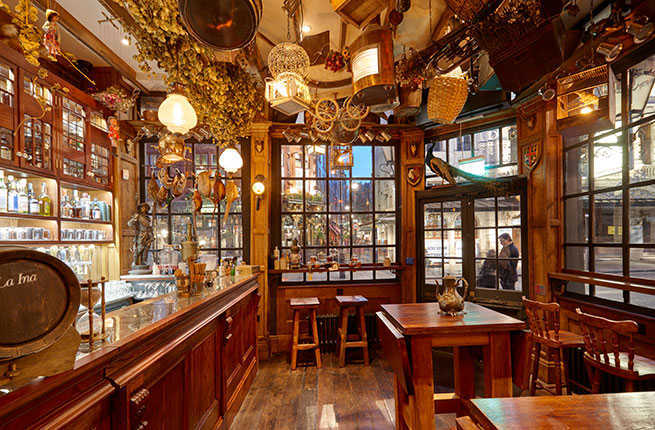 Mr. Fogg's
1850s: Visit Victorian London
WHERE: London, U.K
Walk through an old pair of tavern doors near Leicester Square and into the Victorian world of Phileas Fogg, the protagonist of Around the World in 80 Days. While Mr. Fogg is fictional, the décor at Mr. Fogg's is authentic. Like a Victorian TGI Fridays, this whimsical tavern's walls are covered with antique "souvenirs" from Mr. Fogg's travels, like rifles and hot air balloons. The only thing more surreal than the atmosphere is the drink list. Libations like the Old-Fashioned Fanny, Enthuzimuzzy, and Nanty Narker go a long way to help transport patrons to another time.
PLAN YOUR TRIP: Fodor's London Guide
Martina Monopoli
1860s: Drink Moonshine in the Prohibition Era
WHERE: Rome, Italy
In a back alley, in the heart of Rome, there's a doorway that leads to a moonshine shack, The Jerry Thomas Project, in the prohibition era; Pennsylvania 1862 to be exact. It's the publication date of one of the first mixology books in the world, and every drink here is based on the recipes in its pages. The atmosphere is also true to the period, from the slide guitar playing in the background to the password required to get in.
Read More: 6 Hidden Speakeasy Bars in Rome
Closerie des Lilas
1880s: Enjoy La Belle Epoque at a French Bistro
WHERE: Paris, France
Renoir, Monet and Cezanne all dined at La Closerie de Lilas, likely before heading to the Folies Bergere to see the girls dancing their way through université. If you've ever been curious about what it was like to wine and dine in the party era of the belle époque, you'll be glad to hear that little has changed since those days. Not only are the décor and menu items largely the same, Paris' intellectuals and artists still stop here before hitting the town.
Read More: 20 Under-the-Radar Things to Do in Paris
1920s: Take a Sweet Trip Back to a Soda Shop
WHERE: Forest Hills, New York
Eddie's Sweet Shop takes you back to the time when soda shops were the place to be. This portal to the 20's doesn't just look the part—Eddie's today is identical to black and white photos of the place—it tastes it too. Eddie's serves classics you just can't get anymore, like egg creams and homemade ice cream in flavors you just won't find in 2017.
Read More: 15 Ultimate Things to Do in Queens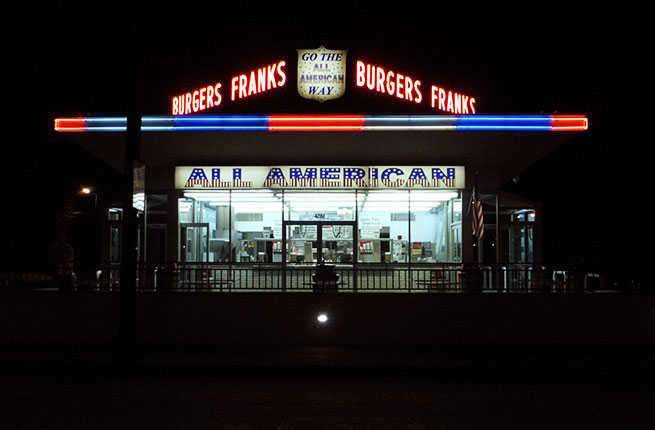 All American Hamburger Drive In
1960s: Re-live Fast Food History at a Vintage Drive-In
WHERE: Massapequa, New York
Nothing has changed at the All American Hamburger Drive-In since it opened in 1963, not even the wrappers—or the guests. Patrons who have long-since moved away come back for a taste of the way things used to be, including stars like Jerry Seinfeld and Alec Baldwin who stop by when they're in town. New fans come here to travel back in time and taste the flavors that helped fast food take over the world before additives of the Super Size Me era.
Read More: America's Best Burger Joints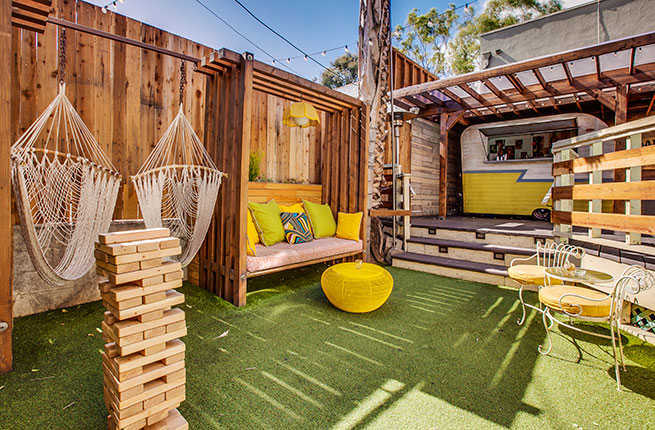 Luke Gibson
1970s: Electric Slide at a 70s House Party
WHERE: Los Angeles, California
In the heart of Hollywood at Davey Wayne's, there's a secret door that leads to a '70s house party. In the living room, a DJ plays hits from the decade on an antique TV cabinet. In the backyard is the bar: a vintage Airstream trailer that sells alcoholic snow cones. You can even buy some of the memorabilia that lines the walls to take a piece of your trip to the '70s back home with you.
Read More: 25 Ultimate Things to Do in Los Angeles
Courtesy of Ralph Lauren
1980s: Travel Back to the Reagan Era With Ralph Lauren
WHERE: New York City, New York
The year was 1985. It was very hip to be a square, and no one was anyone unless a tiny animal was embroidered on their shirt. For everyone who remembers the time, Ralph Lauren has created a shrine to the style that made Polo and country club style world famous: The Polo Bar. Here, paintings of fox hunts and horses still line wood-paneled walls, the plates are oversized, and everything has a designer logo. So dust off your tailored Armani, reserve a table, and relive the days when Huey and the News and embossed business cards were important matters of the day.
Read More: 10 NYC Spots With Old World Glamour
Laure Joliet
1990s: Relive Your Childhood Video Game Addiction
WHERE: Los Angeles, California
Centiped. Galaga. Donkey Kong. If just hearing these names makes your button-mashing finger tingle (Mario Brothers, Klax, Punch Out), fill your pockets with quarters, hop on your Huffy and bike over to Los Angeles' Button Mash. An homage to the great arcades of a bygone era, this restaurant is lined with classic games you can play until your fingers cramp. But save a little dexterity for later. The Asian-American junk food fusion they serve is from this decade, but you'll be nostalgic for it for years to come.
Read More: 25 Ultimate Things to Do in Los Angeles