Founded and designed by Japanese-American artist Isamu Noguchi, the recently renovated Noguchi Museum—set within a former industrial building in Long Island City—delivers in-depth insight into the 20th-century sculptor's work. Contemplate some 200 sculptures set in stone, metal, wood, and clay, presented in both permanent and special exhibitions; the outdoor sculpture garden is a particular highlight. Look out, too, for special talks featuring experts in art, architecture, and design; musical performances; poetry readings, art workshops; artist-led gallery tours; and more.
PLAN YOUR TRIP: Visit Fodor's Queens Guide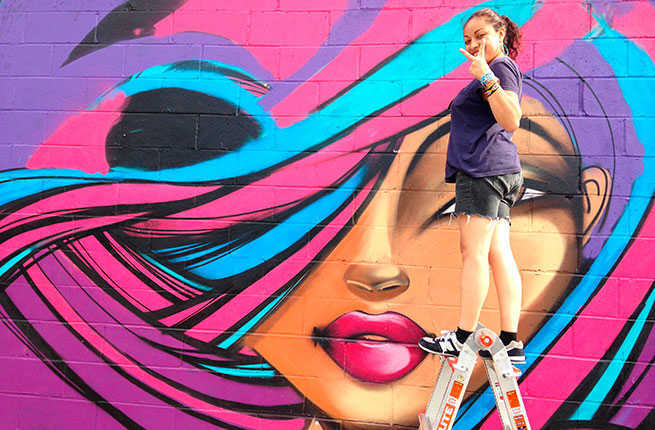 Garrison Buxton
With more than 150 murals from 100 local and international artists, the Welling Court Mural Project provides an exemplary public arts showcase in Astoria. Organized and curated by Ad Hoc Art (a design house founded in Bushwick, Brooklyn) since 2010, the multi-block street art project in the residential-meets-industrial streets on and around Welling Court has gained in momentum and size over the years, with an array of large-scale paintings adorning building walls for blocks. Bonus: It's free and open to the public 24/7.
PLAN YOUR TRIP: Visit Fodor's Queens Guide
Zhukovsky | Dreamstime.com
The U.S. Open (held in late August/early September each year) is one of professional tennis's Grand Slam tournaments—jam-packed with matches between the world's best tennis players. It is the highest attended annual sporting event worldwide, attracting some 700,000 fans each year. The event (nab tickets early!) is held at the USTA Billie Jean King National Tennis Center (in Flushing Meadows Corona Park), which is open to the public year-round – test your mettle on one of 34 outdoor courts or 12 indoor tennis courts; they're available for public rentals on an hourly basis.
PLAN YOUR TRIP: Visit Fodor's Queens Guide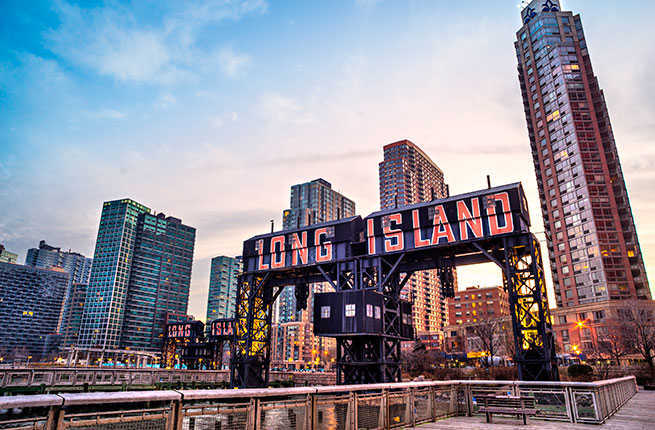 Masterlu | Dreamstime.com
Several of Queens' East River-fronted parks, with their sweeping, Instagram-ready Manhattan skyline views, are of the take-your-breath-away variety. In Astoria, for instance, the 59-acre Astoria Park pairs stellar city and bridge views (it sits between the Triborough and Hell Gate bridges) with a track, outdoor tennis and basketball courts, playgrounds, and the oldest and biggest pool in NYC. A bit farther south in Long Island City, the 12-acre waterfront Gantry Plaza State Park is another green space worth seeking out, complete with piers, green lawns, and well-designed chairs and benches that are perfectly poised for soaking up the Midtown Manhattan scene across the river. Look out, too, for the restored gantries (former shipping lifts) and a landmarked Pepsi-Cola sign, which stand in testament to the neighborhood's industrial past. Just adjacent to the park is the newer 5.5-acre Hunter's Point South Park, complete with a dog run, playground, basketball court, and the LIC Landing by COFFEED where you can enjoy a cold drink (including local craft beers) and light bites, just adjacent to the ferry landing.
PLAN YOUR TRIP: Visit Fodor's Queens Guide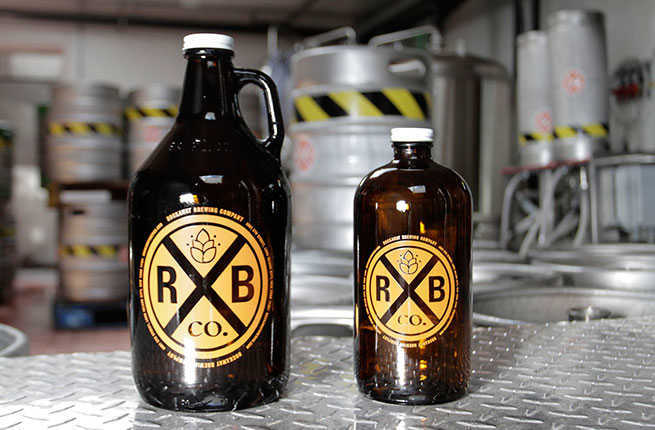 Christopher Baron
The microbrewery renaissance that's been sweeping the nation in recent years has found a bustling hub right in Queens. Craft beer lovers can get to tippling at some eight Queens breweries, including four in Long Island City alone: Rockaway Brewing Company (our favorite, with expansions planned for a second brewery in the Rockaways), Transmitter Brewing, Big Alice Brewing, and LIC Beer Project. In Astoria, try SingleCut Beersmiths; in Ridgewood, hit up Queens Brewery (their taproom is scheduled to open this fall) or Bridge & Tunnel Brewery; or, in Glendale, try Finback Brewery. Better yet, sample the best of the bunch at the seasonal all-Queens alfresco beer garden at the LIC Flea & Food; now in its second year, the beer garden is planning to host a Queens beer festival in October 2016.
PLAN YOUR TRIP: Visit Fodor's Queens Guide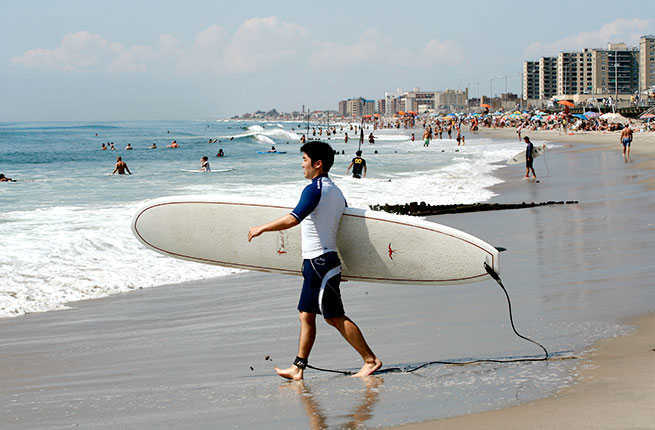 Shiningcolors | Dreamstime.com
Hitch a ride to Ramones' favorite "Rock-rock, Rockaway Beach," where an anti-Hamptons beach scene beckons beach bums looking for a fix of sand and sea right in the midst of NYC. There are ample sandy shores and boardwalks, with some more unexpected finds, too, like a lively surfing scene (brush up on your board skills with Locals Surf School, New York Surf School, or Skudin Surf). Opt to get active with Jet Ski rentals (from Rockaway Jet Ski) or paddleboard outings (via A-Team Paddleboarding), or even have a go at whale-watching, with wildlife boat tours helmed by Gotham Whale. When you're ready for some "Rockapulco"-style refueling, look for the beachside concessions at the Riis Park Beach Bazaar at the beachfront Jacob Riis Park (try ice cream from Ample Hills Creamery or made-to-order pizza pies from Slice O' Whit), or stop by hip surfers' hangout Rockaway Beach Surf Club, known for their frozen margaritas and fish tacos.
PLAN YOUR TRIP: Visit Fodor's Queens Guide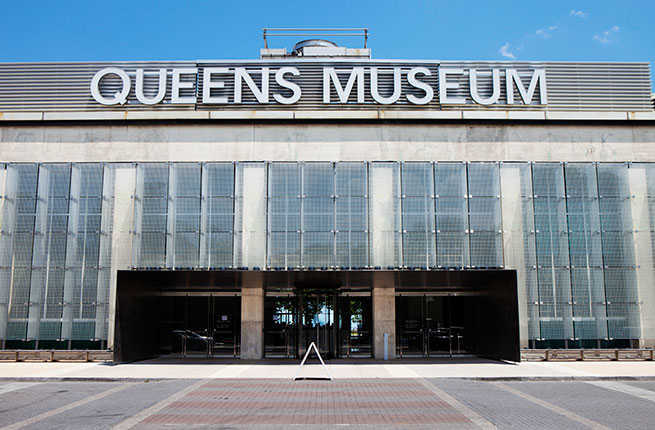 Aneese | Dreamstime.com
The recently revamped and expanded Queens Museum, located within Flushing Meadows Corona Park, is a cultural heavyweight for the borough, jam-packed with permanent and rotating exhibitions dedicated to contemporary art, architecture, and design. Don't miss the permanent collection of Tiffany lamps (a Queens-born company), or the museum's star attraction: the wonderfully detailed Panorama of the City of New York, a model of NYC that was created for the 1964 World's Fair, featuring nearly 900,000 scale models of city buildings. Plus, the museum hosts educational public programming related to the arts and an international artist residency program, too.
PLAN YOUR TRIP: Visit Fodor's Queens Guide
Jennifer Arnow
Have a Pint at a Historic Pub
Queens is rife with watering holes that are rich in history. In Woodhaven, Neir's Tavern has been a neighborhood oasis for more than 180 years. As the oldest bar in Queens, if not NYC, you might recognize it from the scenes shot here for major feature films like Goodfellas and Tower Heist. In Astoria, The Astor Room provides a sophisticated space for imbibing classic cocktails in the Kaufman Astoria Studios complex; with plenty of polished wood and frequent live music, the historic bar comes set up within the old commissary of the original movie studio that first opened here in 1920. If casual beer gardens are more your speed, don't miss out on Astoria's century-old Czech- and Slavic-influenced Bohemian Hall, or make your way to Ridgewood, where the German tavern Gottscheer Hall was founded in 1924 and is still going strong.
PLAN YOUR TRIP: Visit Fodor's Queens Guide
Citifield
The boys from Queens—beloved for their underdog appeal—play at Citi Field, the Mets' brick ballpark that replaced Shea Stadium in 2009; it's designed to recall the old Ebbets Field (one-time home of the Brooklyn Dodgers). Don't miss the impressive multistory Jackie Robinson Rotunda entranceway, with historical exhibits related to the famed boundary-breaking Dodgers player. There's also a Mets Hall of Fame and Museum on-site, which documents the National League team's history through artifacts, memorabilia, and exhibits. Concessions are worth saving room for, with Shake Shack burgers, Blue Smoke barbecue, and plenty of microbrews on tap. The Mets' season runs from April through playoffs in October; stadium tours are also available.
PLAN YOUR TRIP: Visit Fodor's Queens Guide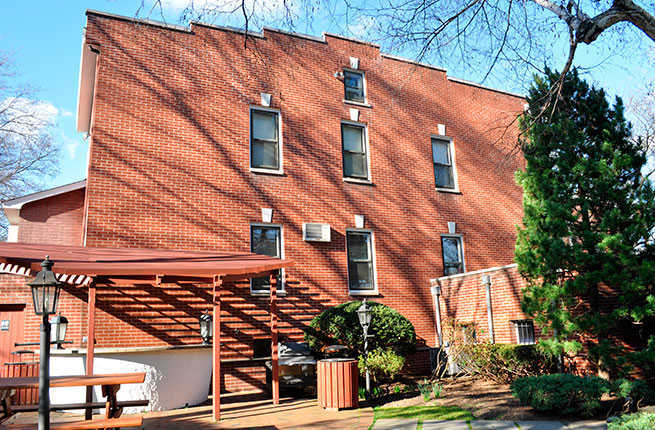 Joe Mabel via Wikimedia Commons, [CC BY-SA 3.0]
Follow in the footsteps of jazz great Louis Armstrong in his longtime and now-landmarked Corona home (where he lived with his wife for the last 28 years of his life). Visitors can delve into the life and career of the famed trumpeter on 40-minute guided tours that intimately depict his life and times via home-recorded audio clips, photographs, family mementos, Armstrong's home furnishings and personal effects, and more. Plus, the Louis Armstrong House Museum hosts public programming spanning lectures, film screenings, and concerts, like the "Hot Jazz/Cool Garden" summer series, all with keeping the cultural legacy of Louis Armstrong in mind.
PLAN YOUR TRIP: Visit Fodor's Queens Guide
This temple to the art of film serves as a reminder that this very location, in Astoria, Queens (on the site of the former Astoria Studio complex), was once the center of the nation's pre–Los Angeles movie-making empire, back in the 1920s and '30s. Today, the museum offers a series of permanent and rotating exhibitions that showcase the art, history, craft, and technological aspects behind film, television, and digital media (including video games). With more than 130,000 industry artifacts, it's the country's largest collection of its kind. In addition, the MoMI also hosts panels and talks from motion picture notables (past appearances have included the likes of Martin Scorsese, Daniel Day-Lewis, and Tim Burton); plus, it runs more than 500 film screenings annually, spanning classic to contemporary works, in its full-size movie theater.
PLAN YOUR TRIP: Visit Fodor's Queens Guide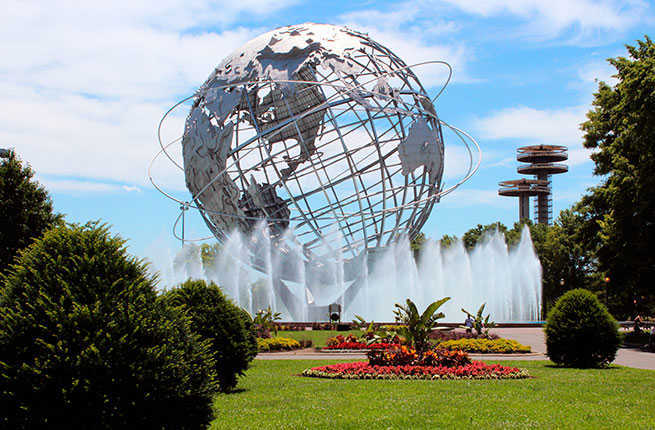 Bdingman | Dreamstime.com
Flushing Meadows Corona Park massive swath of parkland in central Queens is littered with curious remnants from the days when it hosted two World's Fairs (in 1939, and again in 1964), like the iconic Unisphere (a 140-foot-tall stainless-steel globe) and the distinctive trio of New York State Pavilion towers. The largest park in Queens at 898 acres, the diversions in Flushing Meadows Corona Park are abundant, with baseball and soccer fields, a swimming pool, ice-skating rink, carousel, pitch-and-putt golf, barbecue pits, and six playgrounds, not to mention the major institutions tucked within the park boundaries. Pair a walk in the park with a visit to the Queens Museum, Queens Zoo, Queens Botanical Garden, New York Hall of Science, Citi Field, or the USTA Billie Jean King National Tennis Center.
PLAN YOUR TRIP: Visit Fodor's Queens Guide
This Museum of Modern Art affiliate serves as an exhibition space for the world of cutting-edge contemporary art. A showcase for emerging and experimental artists and new genres, MoMA PS1 uses the unique canvas of an old converted schoolhouse as a backdrop, with art brimming through more than a hundred rooms, including old classrooms and even the boiler room and bathrooms. Rotating exhibitions include site-specific installations and artist retrospectives, along with a complementary program of music and performance, like the popular "Warm Up" outdoor dance party series, held in the courtyard on summer Saturdays. Tip: Stick around for a chalkboard-specials lunch at M. Wells Dinette, a café that's set up like an old classroom.
PLAN YOUR TRIP: Visit Fodor's Queens Guide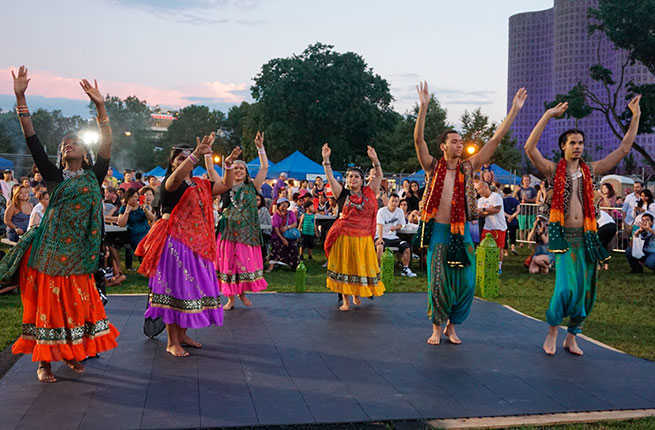 Sharon Medina-Chavez
Queens's world-class culinary scene requires no introduction—the hardest part of dining here is choosing just what kind of standout ethnic eats to sample. A trio of Queens food markets present a smorgasbord for sampling, bringing together lots of local food vendors so you can effortlessly sample diverse fare. The Queens International Night Market debuted in 2015, bringing an open-air food fair to Flushing Meadows Corona Park on Saturday evenings. Sample food from some 60 vendors hawking everything from squid skewers to Korean pancakes; plus, look out for merchandise and artwork on sale, and a changing roster of live entertainment (the night market season runs from late April through August). In Long Island City, a parking lot turns into the lively LIC Flea & Food market on in-season weekends (April through October). Check out 80 stands (about half of which serve food and drink) selling handmade items, artwork, and cuisine covering Peruvian, Greek, and more. There's a Queens-brews-only beer garden and live entertainment, too. Finally, don't miss the Riis Park Beach Bazaar in the Rockaways, where 20 vendors (Fletcher's Brooklyn BBQ, Bolivian Llama Party, Ample Hills Creamery, Slice O' Whit) fill up the beachfront concession stands to palate-pleasing perfection.
PLAN YOUR TRIP: Visit Fodor's Queens Guide
This waterfront sculpture park was little more than an abandoned landfill and dump site before it was brilliantly reimagined as a public art space in 1986. East River and Manhattan skyline views serve as the backdrop for the rotating roster of large-scale contemporary installations on display outdoors here. Entry to Socrates Sculpture Park is always free, as is the institution's impressive public programming, which includes art workshops, a monthly jazz series, and a popular outdoor summer film series.
PLAN YOUR TRIP: Visit Fodor's Queens Guide