Sophie Lloyd
You've been to the Eiffel Tower and the Louvre, but have you ever learned to cook French pastries or attended a classical music concert at a 13th-century church? On your next trip to Paris, try one of these 20 suggestions and discover Paris's off-the-beaten-path activities, from hip market streets to hunting museums to hidden parks, and much more.
Paris Tourist Office / Daniel Thierry
Swim in a Cool Pool at Piscine Pontoise
Paris's aquatic gems are a great place to feel Parisian right down to your skin. Flooded with daylight, glass-roofed Piscine Pontoise—a model of Art Deco design tucked between Notre Dame cathedral and the Jardin des Plantes—is illuminated only by underwater lights 'til midnight on weeknights. Opened in 1924, all three pools of the picturesque indoor-outdoor Butte-aux-Cailles complex are fed by an underground spring. Care to swim in the Seine? Afloat on the river (but not in it, whew!), the popular Piscine Josephine Baker is the next best thing, with a retractable roof that keeps sunbathers happy. The recently renovated Piscine Molitor is open to guests at the MGallery Hotel only, but it may be worth the splurge for a dip in Paris's most glorious pool.
PLAN YOUR TRIP: Visit Fodor's Paris Guide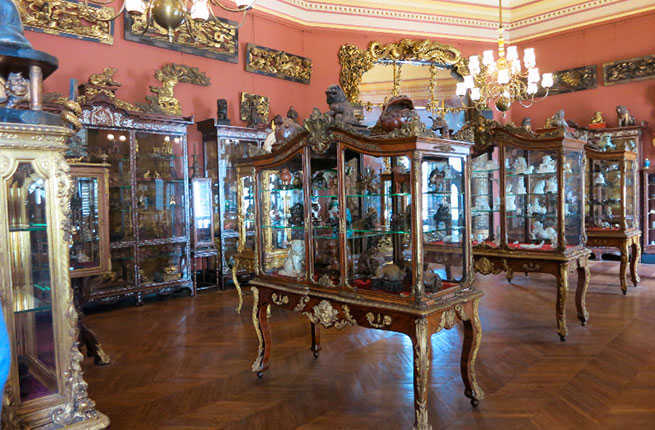 Jennifer Ladonne
Explore an Unknown Asian Art Museum at the Musée d'Ennery
You don't have to be an Asian art connoisseur to appreciate the Musée d'Ennery. This hidden gem reopened in 2012 after a total renovation restored the elegant mansion to its late-19th-century splendor. Once the home of passionate collector Clémence d'Ennery, the wife of a successful Parisian playwright, the 7,000-piece Musée d'Ennery was lovingly assembled over 30 years and donated, house and all, to the Musée Guimet. Exquisite Chinese and Japanese porcelains, stamps, figurines, carvings, and ivories, dating from the 12th to the 19th centuries, fill dozens of gorgeously inlaid cabinets punctuated by larger sculptures, furniture, and a spectacular collection of rare inlaid trunks. The museum accommodates small groups two Saturdays a month, so be sure to plan ahead and book early.
PLAN YOUR TRIP: Visit Fodor's Paris Guide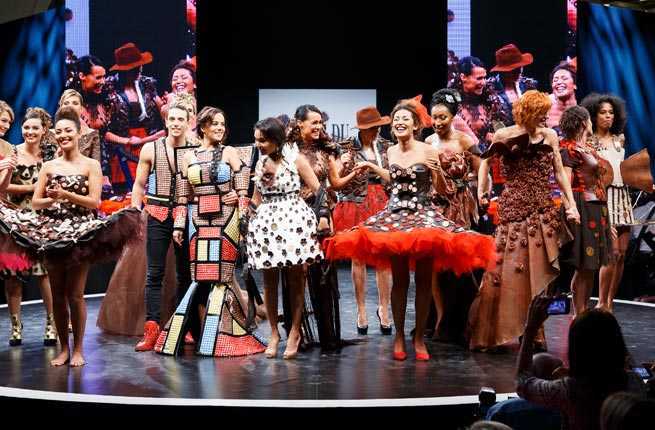 Courtesy of Salon du Chocolat
Visit a Parisian Salon at Salon des Vins et Vignerons Indépendants
There's no better way to plunge into French culture than to visit one of Paris's bustling trade shows. Twice a year, the Salon des Vins et Vignerons Indépendants assembles more than 500 winemakers from every corner of France, all offering a taste of the goods. A small fee buys you entrance and a tasting glass, so you can sip, swill, or spit out all day long (there's also an aisle for gourmet snacks and sandwiches). A nine-day extravaganza, the Salon International d'Agriculture features produce, foods from around the world, livestock, and all good things from down on the French farm. The world's biggest chocolate event, the Salon de Chocolat, held every fall, features everything chocolate, from the bean to the finest pastries, plus tastings and a chocolate fashion show (yes, they even wear it).
PLAN YOUR TRIP: Visit Fodor's Paris Guide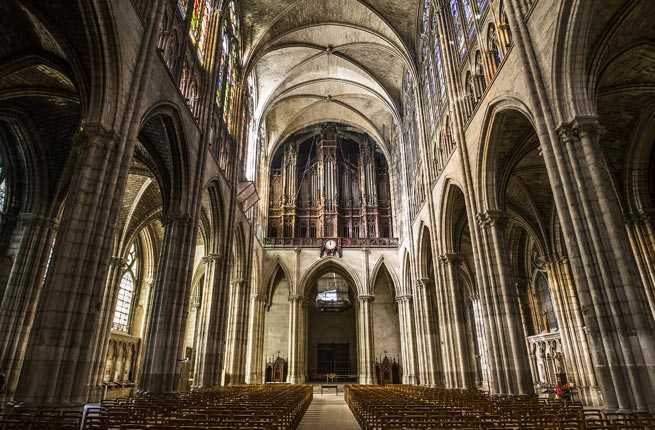 Photogolfer | Dreamstime.com
Explore the Amazing Gothic Cathedral of Basilique Saint-Denis
Everyone has heard of the great Notre Dame cathedral, but history buffs will send you straight to the Basilique Saint-Denis, a mere 20 minutes from central Paris on metro line 13. France's most celebrated Gothic cathedral, Saint Denis was named for the patron saint of Paris, who in the year 250 allegedly walked to this site from the heights of Montmartre carrying his own head after his execution at the hands of the Romans. A masterpiece of Gothic and Romanesque architecture, the church was built over a 150-year period beginning in 1136, and is the final resting place of the kings and queens of France—including Louis XVI and Marie Antoinette—whom you will see in exquisite marble effigies. With so much history to take in, a guided tour in English, available by reservation, is recommended.
PLAN YOUR TRIP: Visit Fodor's Paris Guide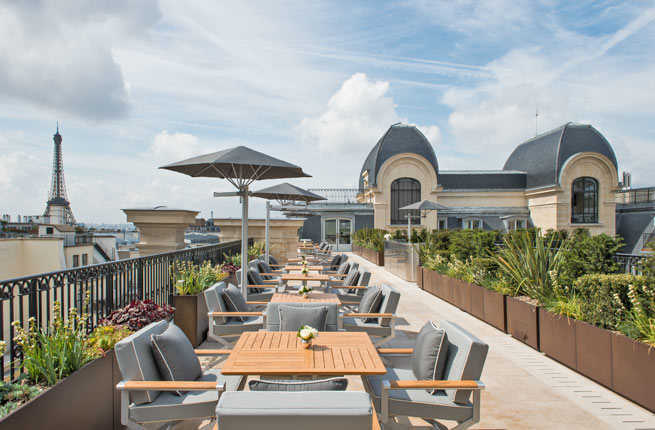 Courtesy of The Peninsula Paris
Sip on a Cocktail With a View at the Peninsula Hotel
There has been an explosion of new cocktail bars in Paris, but taking in panoramic views of the city while sipping your drink is still a tall order. Though at different ends of the glamour spectrum, two hotel bars boast to-die-for views. On the higher end, the spectacular Peninsula hotel's L'Oiseau Blanc, named after a French plane lost in a 1927 attempt to cross the Atlantic (a full-size replica is suspended outside), offers 360° views from the restaurant, bar, and terrace. More modest in presentation but not in awe factor, the Holiday Inn Notre Dame's 43 Up the Roof bar is the sixth arrondissement's best-kept secret. Open every night after 5 pm, an elevator takes you up to the top floor, where this terrace bar reveals the entire city in front of you.
PLAN YOUR TRIP: Visit Fodor's Paris Guide
Virginie Garnier
Grab a Gourmet Bite on the Rue du Nil
Tucked away in an off-the-radar corner of the second arrondissement, this tiny street shelters the Frenchie empire and more. Well known to foodies, Frenchie—helmed by star chef Gregory Marchand—is one of the city's most sought-after tables. With reservations at a premium, the excellent Frenchie Bar à Vins allows a taste of what the fuss is about plus a list of natural wines to please the most persnickety palates, all available by the glass. Marchand's more proletarian Frenchie to Go is open all day for breakfast, lunch, or a coffee break. But for a cup of Joe, you might cross over to L'Arbre à Café, a coffee connoisseur's dream, focusing on rare single-origin beans and coffee accoutrements. Knowledgeable staff help select a coffee sure to please you, to drink at the café or to take home. A few steps away, Terroirs d'Avenir supplies gourmands—and Paris's top restaurants—with France's best produce, cured meats, cheeses, and much more.
PLAN YOUR TRIP: Visit Fodor's Paris Guide
Par Mbzt — Travail personnel, via Wikimedia Commons, CC BY-SA 4.0
Take in a Film at Historic Movie Theaters the Louxor or La Pagode
In 2013, the Louxor cinema, a masterpiece of Egyptian-inspired Art Deco architecture, reopened its doors after a total restoration. A designated historic monument situated in the scruffy, but up-and-coming Pigalle neighborhood, the cinema screens art-house films—many of them American—and offers a café-bar with a terrace and views of Sacré-Coeur. La Pagode is exactly that, a pagoda brought lock, stock, and barrel from Japan and converted into a cinema. Restored to its original glory, La Pagode shows international and art-house films (and tea can be had in the Japanese gardens). Dating from 1932, the illustrious Grand Rex boasts Europe's largest screening room and a Baroque-inspired decor, complete with frescoed ceilings and fountains. The Fondation Pathé opened in 2014 in a historic building—complete with sculptures by Rodin—restored with a shimmering 21st-century addition by Renzo Piano. The foundation contains a movie museum, featuring historic posters, cameras, and projectors, plus a small, state-of-the-art screening room.
PLAN YOUR TRIP: Visit Fodor's Paris Guide
Paris Tourist Office / Marc Bertrand
Relax and Refresh in the Gardens of Musée Zadkine
Paris's small museums offer a rare and intimate view of Parisian life as it was lived by artists and connoisseurs behind the elegant façades. Hidden away near the Luxembourg gardens, the luminous Musée Zadkine was the home of Russian-born sculptor Ossip Zadkine and his wife, painter Valentine Prax, from 1928–67. Famous for its sculpture-filled garden, this is where Parisians come to lounge and dream. The Musée de la vie Romantique, the 19th-century home of Dutch painter Ari Scheffer, whose art collection and works are on display, boasts Paris's most charming garden tea salon, open mid-March to mid-October with a full lunch and tea menu to enjoy en plein air. The recent renovation of the Musée Rodin—the sculptor's studio in a grand 17th-century mansion—extends to its spacious gardens, where visitors can relax on a bench, enjoy the flowers, or grab lunch or a snack from 10 am until 5 pm.
PLAN YOUR TRIP: Visit Fodor's Paris Guide
Ludivine Nakedcat – Myphotoagency.com
Who hasn't dreamed of experiencing what it's really like to live in the City of Lights? Answering a new travel trend to get up close and personal, VizEat invites travelers to dine at a Parisian's home for a real taste of la vie Parisienne behind closed doors. Whether you want an informal dining experience en famille or a romantic gourmet dinner for two, the sky's the limit. Ever wondered about those mysterious French dishes like tête de veau or lapin à la moutarde? VizEat allows you to select from a huge variety of menus, locations, and styles to suit your inclination.
PLAN YOUR TRIP: Visit Fodor's Paris Guide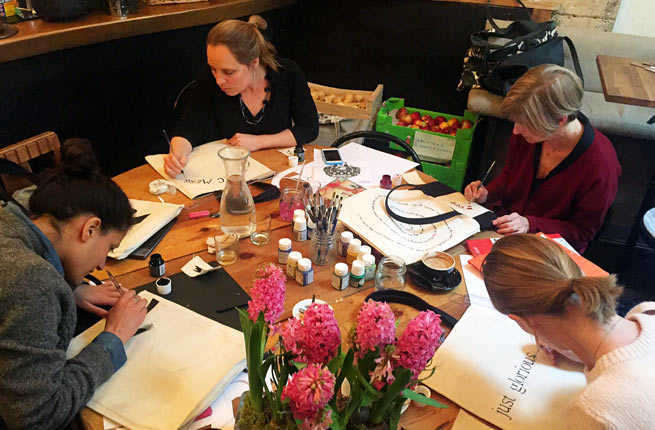 Kasia Dietz
Take a Workshop at the Luxembourg Gardens
It's one thing to wander the Louvre, but quite another to take a family workshop to create your own graphic novel or try out photographic techniques in the Luxembourg Gardens—just a few of the dozens of art-inspired classes offered for adults, kids (age 6 & up), and families. But that's not all: Les Art Décoratifs, the contemporary arts center 104 Centquatre, and the Musée d'Orsay all offer workshops throughout the year for inspired visitors to immerse themselves in French with something to show for it. Although most teachers speak some English, if you're uncomfortable winging it, American artist Kasia Dietz teaches a workshop to create your own super-chic Paris-inspired tote to immortalize your impressions of Paris.
PLAN YOUR TRIP: Visit Fodor's Paris Guide
Courtesy of Franck Kestener
Go on a Chocolate Crawl to Saint-Germain-des-Prés
Chocoholics on a bender should head straight to storied Saint-Germain-des-Prés, where no fewer than a dozen world-class chocolatiers convene within a few blocks. Across from stately Saint-Sulpice, a lifelike chocolate orangutan lounges in the window of sculptor-chocolatier Patrick Roger, whose copy of Rodin's Balzac recently graced the newly opened Musée Rodin. A few blocks away, chocolate artist Jean-Charles Rouchoux's fish, dogs, busts, and other objects make novel gifts and superb snacks. Star chef Alain Ducasse's new boutique, on an ancient cobbled square across from the historic church of Saint-Germain, carries all the luscious confections made in his factory on rue Keller. Other not-to-miss boutiques include Henri Le Roux (creator of the salted caramel), the legendary Maison du Chocolat, Belgian standout Pierre Marcolini, and rock star pastry chef and chocolatier Pierre Hermé. On opposite sides of the Luxembourg gardens, don't miss wizard Franck Kesterner and Christian Contant's delicately perfumed ganaches.
PLAN YOUR TRIP: Visit Fodor's Paris Guide
Explore the Hidden Architectural Gem of the Gare de Lyon
One could easily miss this soaring masterpiece of Belle Époque architecture hidden away in the Gare de Lyon train station. Whether you're on your way to the Riviera or not, this eye-popping brasserie is a destination unto itself. It's a marvel, with French boiserie woodwork, gilding, and murals by leading 19th-century painters depicting railway scenes and portraits of famous Parisians (can you spot Sarah Bernhardt?). The brasserie's all-day hours make it the perfect stop for a coffee, a meal, teatime, or a drink at the sumptuous bar, plush with oriental rugs and grand chandeliers. After a top-to-toe renovation in 2013, a new and improved menu was introduced featuring all the French classics or a gourmet plateau répas (€35) beautifully packaged to take along on your train trip to Provence.
PLAN YOUR TRIP: Visit Fodor's Paris Guide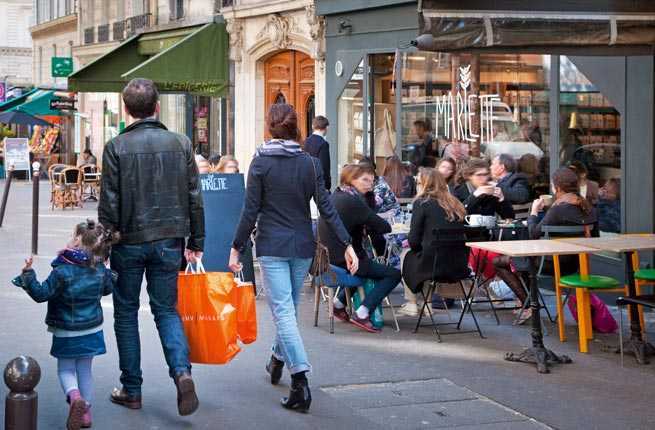 Paris Tourist Office / Amélie Dupont
Explore Paris's Historic Market Streets, Including the Rue des Martyrs
Paris's legendary market streets are rich and textured monuments to daily life that speak of the city both past and present. A quintessential example, the downhill stretch of colorful Rue des Martyrs, from the Abbesses metro stop to Notre Dame de Lorette church, packs in chic jewelers, antiques shops, cafés, coffee bars, gourmet and traditional grocers, and fine pastry shops for one of the most pleasant walks in Paris. Everything needed for a French feast spills over the cobbled pedestrian walks of rue Montorgueil: fresh produce, wine, cheese, oysters, and pastries. Once an offshoot of Les Halles markets, it is also home to the city's best cookware shops, including E. Dehillerin, a favorite haunt of Julia Child. Every day is market day on rue Mouffetard, an ancient thoroughfare in the fifth arrondissement immortalized in Hemingway's A Moveable Feast. Wall-to-wall vendors, grocers, bars, and cafés line this narrow street all the way to the Place Contrescarpe.
PLAN YOUR TRIP: Visit Fodor's Paris Guide
Courtesy of Le Foodist
Learn to Cook a Quintessentially French Dish at Le Foodist
Forget the trinkets and T-shirts; learning to cook a French specialty is a souvenir for a lifetime. Whether it's a featherweight macaron or one of those buttery croissants that's hard to find at home, after a few hours at Le Foodist, you'll be ready to impress your friends with culinary skills acquired firsthand in Paris. Better yet, combine your lesson with a trip to a typical Parisian market then sit down to a meal of your own making or hone your cheese and wine pairing skills at an expert-led tasting. There's no limit to what you can learn at these lively and inspiring classes—all taught in English. At the École de Cuisine Alain Ducasse you can learn to make a baguette or the secrets of bistro or haute cuisine. Though pricier, the classes are also taught in English and are backed by a name that's synonymous with the best.
PLAN YOUR TRIP: Visit Fodor's Paris Guide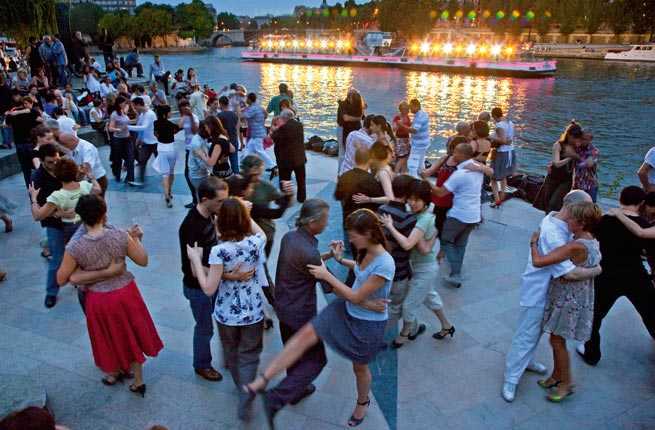 Paris Tourist Office / Amélie Dupont
Dance the Night Away at the Bal des Pompiers or the Bal Populaire
Seasonal public balls are a long-established, deeply Parisian tradition that few tourists know about, let alone experience. To celebrate Bastille Day, two nights a year—on either July 13 or 14—every city hall in Paris and its suburbs hosts a bal des pompiers (firemen's ball), starting at 9 pm and lasting into the wee hours of the morning. Dancing, eating, drinking, and revelry (and sometimes a lighthearted striptease by the famously beefy firemen) are all part of the fun. Popularized in the Paris cabarets and suburban guinguettes of the 19th century, the bal populaire was a working-class pastime fueled by high spirits, plenty of wine, music, and dancing. Once a month at the marvelous 104 Centquatre, one of Paris's reigning contemporary arts centers, locals gather under garlands of light to dance to live music. The balls are free and have a different theme each month, listed on the Centquatre website.
PLAN YOUR TRIP: Visit Fodor's Paris Guide
Delstudio | Dreamstime.com
Explore an Abandoned Railway at La Petite Ceinture
Part of a huge, many-year restoration project spearheaded by Paris City Hall, La Petite Ceinture (little belt), a 19-mile-long abandoned railway that rings the city, is Paris's final green frontier. A haven for biodiversity—with more than 200 plant and 70 animal species—the future of the Petite Ceinture is unsure, as Mayor Hidalgo's plan for restaurants, cinemas, housing, as well as gardens and green space, is hotly contested by neighborhood organizations and environmental groups. Nevertheless, every year or two, beginning in 2008, portions of the line—which goes above and below ground and includes bridges and tunnels—have opened to the public for hiking and exploration. In the 13th arrondissement you can reach the newest section open to the public at 60 rue Damesme; in the 16th, a larger green space, between the Porte d'Auteuil and Gare de la Muette, has elevators and wheelchair access, and in the 12th, a 600-foot-long-nature train can be accessed at 21 rue Rottenbourg. Adventurers can hop in anywhere along the line to find the favorite lairs of Paris graffiti artists and hidden entrances to the catacombs—if you dare.
PLAN YOUR TRIP: Visit Fodor's Paris Guide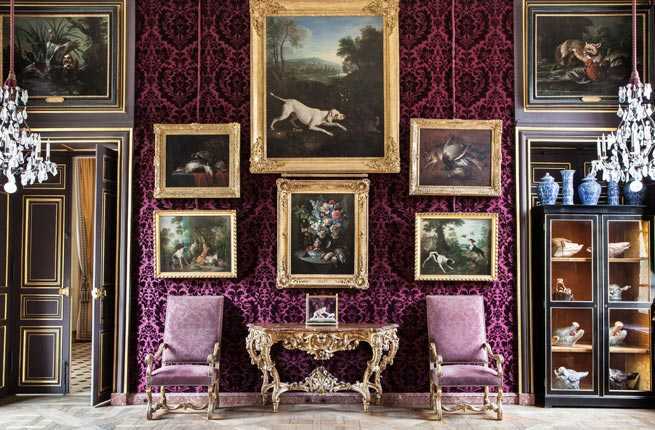 Sophie Lloyd
Discover the Art of the Hunt at Musée de la Chasse et de la Nature
If you think a museum of the hunt sounds uninteresting, think again. Situated in the beautiful 17th-century Hôtel Guénégaud, the Musée de la Chasse et de la Nature is one of Paris's most imaginative and appealing small museums. Focusing on hunt- and nature-themed art, elaborately inlaid antique weaponry (with amusing videos on how they were used), and taxidermied game animals, the museum also features multimedia exhibits, and dozens of surprising and humorous revelations and discoveries—drawers open to reveal antique treasures, animal tracks (or scat), or artworks.—so visitors are actually on a hunt of their own. The museum hosts excellent nature-themed contemporary art exhibitions and every Thursday night offers a special "nocturnal visit" that might be a concert, a nighttime walk to discover Paris's wildlife, or a performance featuring frog sounds. The museum also funds a conservation-focused foundation.
PLAN YOUR TRIP: Visit Fodor's Paris Guide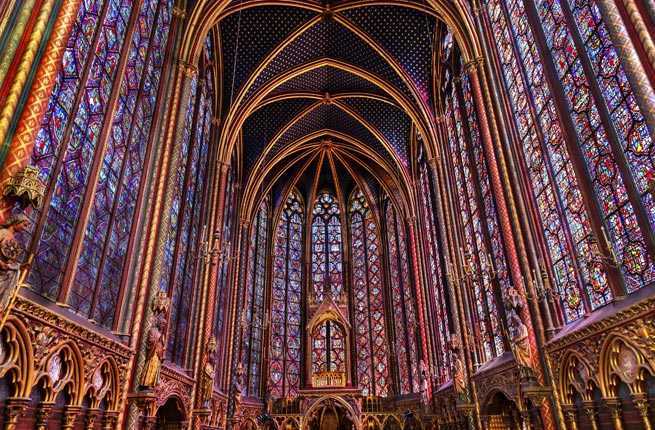 Bpperry | Dreamstime.com
Attend a Concert at the Historic Churches of Sainte-Chapelle and Église Saint-Germain-des-Prés
There's no better way to make the spirit soar than to experience a live concert in a historic Paris church. Savor the strains of Bach's sonatas for solo violin under the glorious jewel-like windows of gothic masterpiece Sainte-Chapelle (built in the 13th century to house a holy relic from Christ's crown of thorns). Concerts begin at 7 pm and last an hour. Package tickets, including dinner or a post-concert glass of champagne, are a nice way to round out a festive evening. The Église Saint-Germain-des-Prés, Paris's oldest church, is a famous neighborhood venue for its popular series of classical concerts and the Saint-Germain-des-Prés Jazz Festival (May 19-31, 2016). Upcoming classical concerts include the music of Bach, Fauré, Handel, Beethoven, Vivaldi, Schumann, and Pachelbel. Concerts start at 8:30 pm and last an hour and a half.
PLAN YOUR TRIP: Visit Fodor's Paris Guide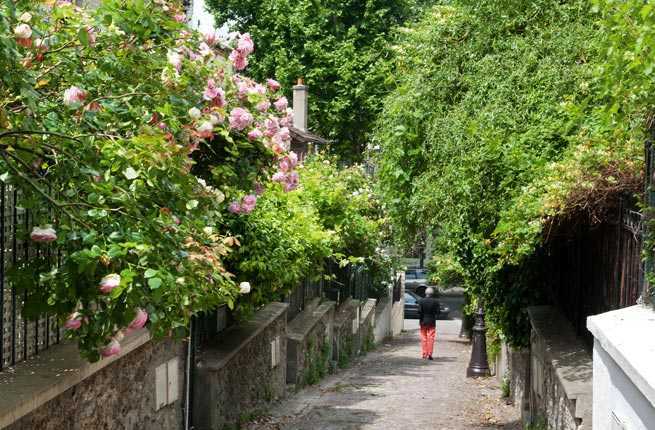 Paris Tourist Office / Amélie Dupont
Visit the Village of Mouzaïa, a Willage Within the City
On any sunny day in the Mouzaïa (also known as the Quartier d'Amérique) the sound of birdsong fills the air as residents tend their luxuriant gardens. A slice of the countryside in Paris, charming Mouzaïa is one of Paris's last hidden neighborhoods, where some 250 unique cottages, dating from the late 19th and early 20th centuries, were built over Paris's old gypsum quarries. Originally built as some of the city's first low-income housing for laborers, these storybook one- and two-story cottages are now some of Paris's hottest real estate, populated by artists, writers, and even celebrities. These protected historic enclaves near the lovely Buttes Chaumont park can be found along the rue de Mouzaïa and the rues du Général Brunet, de la Liberté and Bellevue, starting at the metro stop Botzaris. For a bite, stop in to the La Table de Botzaris (10 rue du Général Brunet) or Aux Petits Joueurs for some music with your meal, or experience Paris's last guinguette (19th-century café for music and dancing) at Rosa Bonheur in the Parc de Buttes Chaumont.
PLAN YOUR TRIP: Visit Fodor's Paris Guide
Reeboace | Dreamstime.com
Head to Chateau de Vincennes, a Medieval Chateau and Garden
A hop, skip, and a jump from central Paris on metro line 1 (Chateau de Vincennes stop) lies one of France's largest and best preserved medieval chateaux. Originally a royal hunting lodge amid the wild forests of Vincennes, the Château de Vincennes has housed both kings and criminals during its long history—including the Marquis de Sade—and witnessed the massacre of 26 French resistance fighters at the hands of the Nazis headquartered there. The chateau's stunning Gothic chapel (under renovation until 2017) housed the famous crown of thorns relic until its more famous cousin, Paris's Sainte-Chapelle (which was modeled after Vincennes) was completed. Situated just behind the chateau, Parc Floral is not to be missed. Paris's most beautiful and extensive gardens, host a program of outdoor classical, jazz, and pop concerts throughout the summer, two cafés, and a huge park for kids.
PLAN YOUR TRIP: Visit Fodor's Paris Guide