Courtesy of Bill's Food & Drink
In a place as big and bustling as New York City, you won't always find gracious service, a properly stiff drink, and attention to the small details that add up to a memorable dining experience. But some bars and restaurants nail that old-world style, with top-notch service and comfort. They take reservations, honor your reservation when you arrive on time, and don't push you out the door when your glass nears empty. Here are 10 watering holes and restaurants in New York City where white tablecloths reign, and classics are updated for modern palates.
by Jessica Colley
Courtesy of Starwood Hotels & Resorts Worldwide, Inc.
King Cole Bar
Set inside the iconic St. Regis hotel, the King Cole Bar has been slinging stiff drinks since 1948. A revamp in late 2013 refreshed the glamorous bar, resulting in a brighter space for sipping a Bloody Mary (according to the St. Regis, the drink was invented in 1934 in the hotel). Even the famous mural of King Cole behind the bar is fresher and more vibrant than before. The drinking gets started early here, and while the bar remains first come, first served, it is possible to make reservations for the comfortable adjoining salon.
Courtesy of DANIEL KRIEGER PHOTOGRAPHY
Carbone
The team behind Torrisi Italian Specialties and Parm opened Carbone in early 2013 on a quiet block of Thompson Street in Greenwich Village. What was once a classic red sauce joint with a neon sign outside is now a refined restaurant with finely dressed waiters and a touch of theater in the service (though the neon sign remains). As for the food, you've tasted these dishes before, but not in the form they take at Carbone, where ingredients, style, and presentation have all been elevated.
Courtesy of The Leopard at Cafe Des Artistes
The Leopard at Café Des Artistes
Walk into the The Leopard at Café Des Artistes, located in the historic Hotel Des Artistes on the Upper West Side, and something is different. There is space around the host desk. You aren't backed into a corner trying to remove your coat. And when you sit down, you can't hear your neighbor. This southern Italian restaurant was taken over by a new team in 2010 who carefully restored murals painted in the 1920s by Howard Chandler Christy. The service is gracious, the space generous, and the Sicilian wine list expansive.
Don Riddle Images/Rosewood Hotels and Resorts
Bemelmans Bar
Located in The Carlyle on the Upper East Side, Bemelmans Bar is named after Ludwig Bemelmans, creator of the Madeline children's books. These whimsical figures adorn the walls of this watering hole and the environment is such that you might find yourself automatically ordering an Old Fashioned, no matter what your usual drink may be. The playful, large-scale murals are the backdrop for nightly live music, accompanied by light bar snacks (oysters, lobster mac & cheese) and classic cocktails (Moscow Mule, Old Fashioned).
Courtesy of Keens Steakhouse
Keen's Steakhouse
If anything speaks to the timeless appeal of a perfect steak, it is the existence of Keen's, a Midtown West steakhouse dating back to 1885. This landmark demonstrates how a restaurant can show off its history—check out the wood-paneled walls and mix of random art and artifacts—while maintaining relevance over time. The white tablecloths, inviting booths, and aged porterhouse steaks evoke the best of old-world dining.
Raoul's
. This SoHo institution is the neighborhood's original bistro, serving up oysters, rack of lamb, and steak au poivre behind an unassuming façade since the 1970s. Two brothers from the Alsace region of France opened this Prince Street institution, and decades later, it is as appealing as ever.
Courtesy of Eric Laignel
Sirio Ristorante
Born in Tuscany, owner Sirio Maccioni has spent over 50 years in the New York restaurant business, at institutions including Delmonico's and Le Cirque. Sirio, located in the Upper East Side in the Pierre Hotel, is an elegant space with Fellini-inspired décor, modern interpretations of classic Italian dishes, and an excellent Italian wine list. The environment is ideal for a long, leisurely lunch complete with antipasti, one of the divine pastas, dessert, and espresso, followed by a sunny stroll in Central Park across the street.
Courtesy of Gotham Bar & Grill
Gotham Bar and Grill
It is only fitting that a restaurant with a name like Gotham Bar and Grill still sets the standard for the quintessential New York City restaurant. Celebrating its 30th anniversary in 2014, Gotham has a "your wish is my command" mentality, making all guests feel like a million bucks. Located in Greenwich Village, this downtown restaurant manages to offer both vibrant atmosphere and privacy at the table. Chef Alfred Portale serves timeless American cuisine and the wine program has only gotten better with age.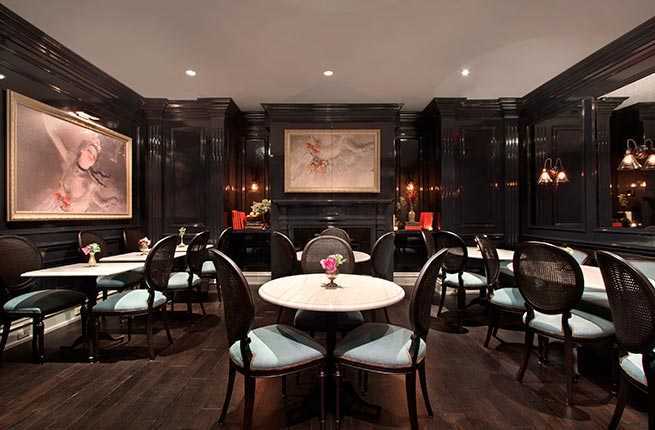 Courtesy of Lantern's Keep
Lantern's Keep
Don Draper would have felt very at home at Lantern's Keep, an intimate cocktail den tucked away in the back of the Iroquois Hotel in Midtown West. With a low-lit, drawing room feel, this is the type of bar where you make reservations in advance and have a plush seat waiting for you on arrival. The cozy space is ideal for sampling cocktails inspired by classics, whether shaken and served on the rocks, or stirred and enjoyed straight-up. There is also a menu of small plates to accompany these thoughtful libations.
Courtesy of Bill's Food & Drink
Bill's Food and Drink
The team behind Bill's brought this 19th-century townhouse lovingly back to life with the opening of their multi-level restaurant. Located in Midtown East on 54th Street, Bill's Food and Drink was inspired by traditional steakhouses and secret speakeasies. Exposed beams, original murals, and fireplaces all set the atmosphere for a relaxed meal. If you can snag a coveted corner booth in the dining room, settle in for a dry aged New York strip and finely crafted cocktail from the downstairs bar.