minnystock | Dreamstime.com
Chase away dreary, monochrome winter thoughts with an explosion of color signifying the season's rebirth. While botanical gardens start opening their doors to visitors, and flower festivals get underway, you can head out into the countryside and run into fields of wildflowers around the world. For even more overwhelming views, here are a few places where you can see dense concentrations of specific blooms that create seas of color.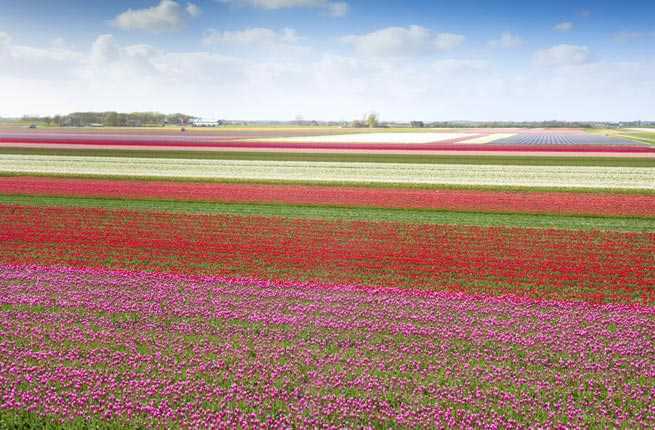 AndreAnita / Shutterstock
In Lisse, the widely photographed and popular Keukenhof Gardens is the largest tulip garden in the world, with roughly 4.5 million Dutch tulips covering 80 acres. At least 100 varieties of tulips bloom here every year such as dark pink China tulips, yellow West Point tulips, and red Mariette tulips, in addition to other types of flowers (daffodils, hyacinths) and trees.
When to Go: In 2016, the gardens are open to the public March 24 to May 16.
PLAN YOUR TRIP: Visit Fodor's Lisse Guide
Poppies: Mojave Desert, California
Visitors to the relatively arid Mojave Desert may be surprised to find thick concentrations of California's official flower—the orange fluorescent California poppy—during the spring. The Antelope Valley Poppy Reserve spans an area of 1,745 acres within the desert that are usually covered with poppies and other wildflowers in the spring. The reserve's seven miles of trails are a great way to add some hiking to your spring break plans.
When to Go: Mid-February to mid-May; guided tours begin in mid-March for the 2016 season.
PLAN YOUR TRIP: Visit Fodor's Mojave Desert Guide
Rasoft74 | Dreamstime.com
If you'd rather head across the Atlantic to see a natural carpet of orange poppies, Italy's hilly Umbria region is also known for its sweeping fields of darker orange poppies. Spectacular hiking opportunities abound around the town of Assisi, throughout the region, and in neighboring Tuscany.
When to Go: Mid-April to May.
PLAN YOUR TRIP: Visit Fodor's Umbria Guide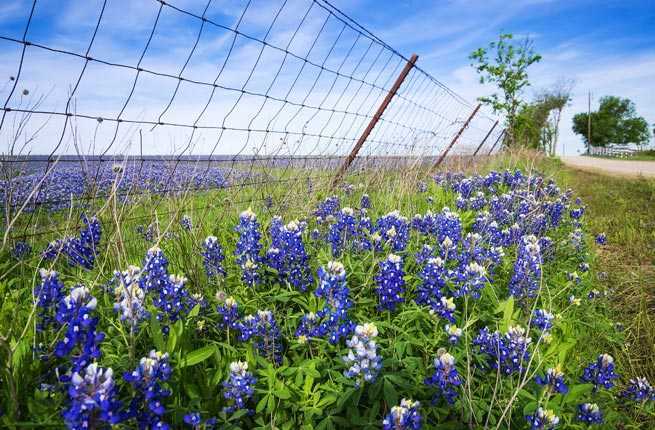 Leerobin | Dreamstime.com
Everything is bigger in Texas. That includes the state's concentration of its official flower, the bluebonnet. To see these deep blue wildflowers, rent a car in Austin and travel around the Hill Country in central Texas, where highways are lined with bluebonnets, fields are carpeted by bluebonnets, and farms in the region also grow bluebonnets along what is known as the Bluebonnet Trail.
When to Go: Late March to mid-April.
PLAN YOUR TRIP: Visit Fodor's Hill Country Guide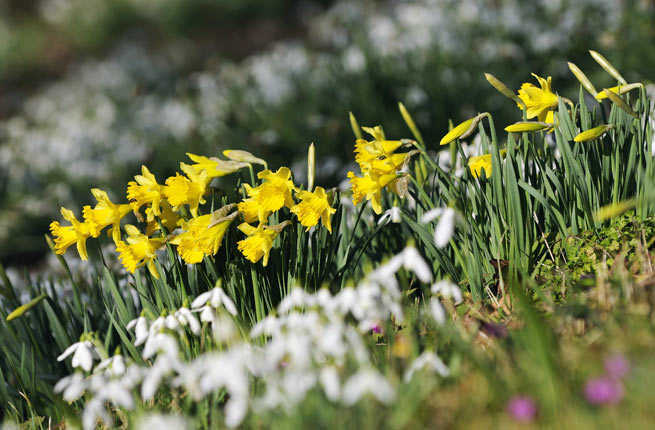 Whiskybottle | Dreamstime.com
Daffodils: England's Cotswolds
Head to the Cotswolds in the United Kingdom to witness sweeping rows of butter-yellow daffodils. When the wildflowers bloom in their (arguably) millions, the countryside is painted a lush yellow, especially in a section aptly termed Daffodil Way in the Leadon Valley. In the tiny village of Dymock (population roughly 300), join hundreds of walkers on the circular footpath and enjoy miles of beautiful wild daffodils in their natural habitat.
When to Go: First two weeks of April.
PLAN YOUR TRIP: Visit Fodor's Cotswolds Guide
Cherry Blossoms: Washington, D.C.
In 1912, the mayor of Tokyo gave 3,000 Yoshino cherry trees to the U.S. as a gift and today these trees flank historical monuments and the shores of the Potomac River's tidal basin in the nation's capital. Washington, D.C. celebrates the annual National Cherry Blossom Festival to remember the friendship between both countries.
When to Go: Late March to mid-April; the 2016 festival runs from March 26–April 17.
PLAN YOUR TRIP: Visit Fodor's Washington, D.C. Guide
Toiletroom | Dreamstime.com
Cherry Blossoms: Tokyo, Japan
These delicate white-and-pink flowers line streets all over Japan in spring, especially in larger cities of Tokyo, Osaka, Kyoto, and Nagoya, where you'll find these trees by the thousands. Visit Tokyo's Yasukuni Shrine to see a dense concentration of blossoms in full bloom.
When to Go: March–April
PLAN YOUR TRIP: Visit Fodor's Japan Guide
Photo by Liz Ligon; Courtesy of Brooklyn Botanic Garden
Cherry Blossoms: New York City
Overshadowed by the blooms in D,C., New York City's cherry blossoms are just as lovely. The traditional place to see them is at the Brooklyn Botanic Garden, where this year's Sakura Matsuri festival takes place April 30 and May 1. Other places in the five boroughs where you can enjoy the cherry blossoms include Randall's Island, Riverside Park, Queens Botanical Garden, and New York Botanical Garden.
When to Go: April–May
PLAN YOUR TRIP: Visit Fodor's New York City Guide
Simonhack | Dreamstime.com
You can find wildflowers just about anywhere you look in Cyprus in the spring, but the western part of the island is the ideal place to see them. Your best bet is to explore the hillsides near the villages of Drouseia, Kritou Terra, and Peristerona.
When to Go: March–April
PLAN YOUR TRIP: Visit Fodor's Cyprus Guide
ookpiks / iStockphoto
Orchids and Rhododendrons: Bhutan
This magical, secluded country enters full bloom come March, but the most prized arrivals are those of the orchids and rhododendrons. You'll find them all over the country, but places not to miss include Bumthang, Paro, and Thimpu.
When to Go: March–June
PLAN YOUR TRIP: Visit Fodor's Bhutan Guide
Known as the City of Roses, Portland is home to thousands of rose bushes that were first planted in preparation for the Lewis and Clark Centennial Exposition in 1905. The Portland Rose Festival is held every June, and the city is home to the International Rose Test Garden, which features 8,000 plants and more than 550 different rose species.
When to Go: May–June
PLAN YOUR TRIP: Visit Fodor's Portland Guide
Once the snow melts, the countryside becomes awash in color as flowers cover the landscape. Sweden boats 45 varieties of orchids, most of which you can see on the island of Gotland, accessible by ferry from Stockholm. Accomplished hikers should head to Sarek National Park to see wildflower at their best.
When to Go: May–June
PLAN YOUR TRIP: Visit Fodor's Sweden Guide
The stunning Scottish countryside becomes awash is soft shades of lavender once field of heather pop up on the moors and in the forests. Though mostly restricted to summer, you can start to see heather in late spring here.
When to Go: June–September
PLAN YOUR TRIP: Visit Fodor's Scotland Guide
Cvandyke | Dreamstime.com
Rhododendrons: North Carolina
As spring nears its end, the western part of the state is covered with white, pink, and purple blooms, particularly in the areas around Asheville. Just off the Blue Ridge Parkway, the area known as Craggy Gardens is an ideal place to explore.
When to Go: June
PLAN YOUR TRIP: Visit Fodor's North Carolina Guide
minnystock | Dreamstime.com
Wildflowers: Bavaria, Germany
Against the stunning backdrop of the Alps, Bavaria's wildflowers bloom in late March and April, offering some truly stunning vistas. Head to Mittenwald and hike up to the Lautersee for a postcard-perfect setting.
When to Go: Late March–early May
PLAN YOUR TRIP: Visit Fodor's Bavarian Alps Guide