Adrian Gaut
There was a time when staying in a hostel meant bare-bones accommodations, dingy bathrooms shared with countless others, and inedible food. These days, however, hostels have completely transformed, and now they're the hottest thing in hospitality. In recent years, more and more hostels have begun to focus on design, food, and the guest experience while still keeping prices reasonable. Craft cocktails, locally sourced meals, cultural activities, historic buildings, and cutting-edge design are key elements at these new hostels, not to mention private rooms. From New York City to Tokyo, here are 20 outstanding hostels where you can pay less and still have an unforgettable stay. —Michael Alan Connelly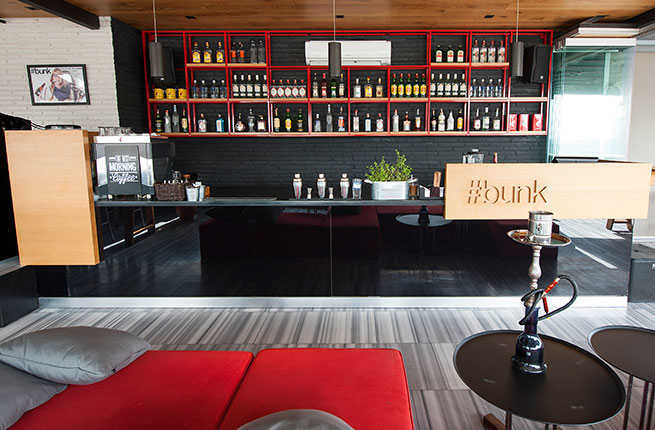 Doruk Seymen
WHERE: Istanbul, Turkey
Less than a half-mile from Taksim Square, Bunk Taksim occupies a historic six-story building in the city's center that was completely renovated before opening its doors in March 2014. Featuring sleek, contemporary design, most rooms are appointed with bespoke beds and marble bathrooms, though you can opt for private rooms without private bathrooms, and some rooms come with balconies and city views. Arguably the biggest draw here is the rooftop terrace, where guests enjoy an extensive breakfast buffet every morning; there's also a pizzeria and a bar on the top floor.
PLAN YOUR TRIP: Visit Fodor's Istanbul Guide
BUNKA HOSTEL TOKYO
WHERE: Tokyo, Japan
Outfitted by textile designer Hiroki Takahashi, Bunka Hostel Tokyo is undeniably sleek. Looking at hip ground-floor eatery Izakaya Bunka, it's impossible to know that the floors above are a hostel filled with innovative, box-style bunk beds. There are no private rooms for solo travelers here, but there is a family room that can sleep up to 4 people. The largest rooms sleep up to 32 guests, but the curtains guarantee each guest a great deal of privacy. Bunka is located in the northeast part of Tokyo in Asakusa, a district that is famous for Sensō-ji, a Buddhist temple.
PLAN YOUR TRIP: Visit Fodor's Tokyo Guide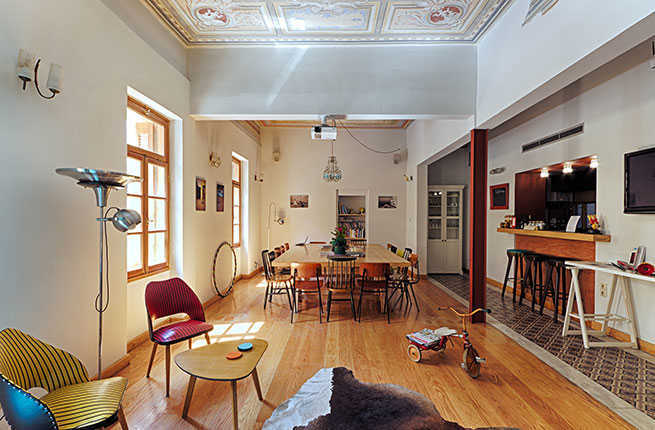 Dimitris Kleanthis
WHERE: Athens, Greece
The hip Psyrri neighborhood is the home of City Circus Athens, opened in 2012 not inside a circus but rather an early 20th-century mansion. Baroque tiles, frescoed ceilings, and wrought-iron balconies are among the property's charms, and there's also work from local street artists on display. Some private and shared rooms have balconies; be sure to ask for one when you book. All guests are welcome to rent bikes and go on guided walking tours led by the City Circus staff; nearby sights include the Acropolis and Lycabetus Hill. On-site restaurant Zompanó takes traditional Greek cuisine and revamps it for modern palates.
PLAN YOUR TRIP: Visit Fodor's Athens Guide
Undine Pröhl
WHERE: Mexico City, Mexico
Even established hospitality businesses want to get in on the hostel market, as evidenced by Downtown Beds, which is owned by the acclaimed Grupo Habita. Housed in a former palace dating to the 17th century, the hostel is located in the middle of the Centro Histórico, close to many major attractions. Private and shared rooms come with original brick barrel-vault or tile ceilings, but the property's best assets are those that are shared by all guests. In addition to a rooftop swimming pool, there's a beer garden, cinema, interior courtyard, hammocks, restaurant serving Mexican street food, and more. Whenever guests want to leave, they can borrow complimentary bicycles.
PLAN YOUR TRIP: Visit Fodor's Mexico City Guide
Adrian Gaut
WHERE: Miami, Florida
It's hard to imagine booking a private room two blocks away from South Beach for less than $100 a night, but that's exactly what you'll get at Freehand Miami. Design stars Roman and Williams are responsible for the eclectic interiors of what was formerly the Indian Creek Hotel, one of Miami's iconic 1930s Art Deco buildings, where guests now relax in the lush courtyard or by the outdoor pool. Both private and shared rooms are available here, and guests can rent custom bikes to cruise around the neighborhood. One on-site attraction is the Broken Shaker, a popular cocktail spot for locals and visitors, where mixologists whip up drinks using ingredients you'd never imagine in your libations (fish sauce Sazerac, anyone?). Freehand has an equally lovely sister location in Chicago, and a Los Angeles outpost is coming soon.
PLAN YOUR TRIP: Visit Fodor's Miami Guide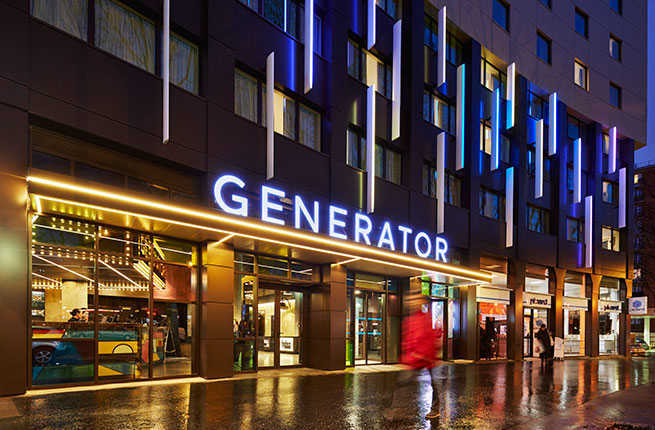 Nikolas Koenig
WHERE: Paris, France
Have you ever heard of a hostel with a creative director? With 10 locations and two more opening soon, Generator is shaking up the industry with its expanding empire of design-focused hostels. Although each Generator property is outstanding in its own way, it's hard to beat Generator Paris, where private rooms include large outdoor terraces with hammocks and views of the Eiffel Tower. Located in the hip Canal St.-Martin neighborhood in the 10th arrondissement, the property also features a rooftop bar where guests can enjoy the surrounding views, and an underground bar with vaulted ceilings inspired by the Paris métro. Elsewhere in Europe, Generator's recently opened Amsterdam property is a stunner in a former zoological university, and locations in Rome and Stockholm are set to open soon.
PLAN YOUR TRIP: Visit Fodor's Paris Guide
Hostelling International USA (HI USA)
WHERE: Chicago, Illinois
One of more than 50 hostels in the U.S. managed by Hosteling International USA, HI Chicago is the only hostel located downtown, meaning it's the only place you can stay close to some of the city's top attractions for less than $50 per night. Set in a historic building, the hostel is within striking distance of Grant Park, Buckingham Fountain, the Art Institute of Chicago, and Millennium Park. The property has 500 beds available in eight room types ranging from private with two beds to shared with eight beds. What sets this hostel apart are its cultural offerings, ranging from daily walking tours to happy hour outings to DIY Chicago-style hot dog nights in the dining room. Note that in order to stay at this or any other HI USA hostel, you'll be required to pay an annual membership fee of $28 or a daily membership fee of $3, although the fee is waived for anyone 18 or younger.
PLAN YOUR TRIP: Visit Fodor's Chicago Guide
Francisco Nogueira
WHERE: Lisbon, Portugal
Lisbon is a hotbed of beautiful hostels, and The Independente ranks among the city's best. Housed in a 19th-century palace, the design features vintage furniture and original moldings and floors. There are 11 dorm-style rooms, each with its own lounge, and four suites with private balconies overlooking the Tagus River; next door, an expansion features 18 magnificent suites. The property is also home to two fantastic restaurants serving Portuguese cuisine: original eatery The Decadente and newer addition The Insólito.
PLAN YOUR TRIP: Visit Fodor's Lisbon Guide
Börkur Sigthorsson
WHERE: Reykjavik, Iceland
With an aesthetic that wouldn't be out of place in Brooklyn, Kex Hostel looks like a trendy (expensive) boutique hotel, not a place where you can get a bed for as little as $24. Housed in a former biscuit factory (kex is the Icelandic word for "biscuit"), this downtown Reykjavik property is all subway tile, reclaimed wood, and vintage furnishings. Highlights include the in-house barber shop, a boxing ring-style gym that doubles as a theater, a well-stocked library, and a handsome gastropub that forms the heart of the hostel. There is a variety of private and shared accommodations, all of which are relatively small but smartly designed.
PLAN YOUR TRIP: Visit Fodor's Reykjavik Guide
M Montreal
WHERE: Montreal, Canada
Constructed in 1867, the building housing M Montreal features lots of exposed brick and elaborate stone masonry, visible in some rooms and in the hostel's bar. Private and shared rooms all feature ensuite bathrooms and big-screen TVs; a housekeeping staff keeps everything tidy with daily service including optional laundry service for a small fee. Situated between Old Montreal and the Latin Quarter, the hostel is conveniently located near the many restaurants and shops that line St-Catherine Street. For the past three years, M Montreal has been voted the best hostel in Canada by Hostelworld.com, and in 2014 and 2015, it was voted best hostel in all of North America.
PLAN YOUR TRIP: Visit Fodor's Montreal Guide
VanderWolf Images | Dreamstime.com
WHERE: Marrakech, Morocco
If you think you need to splurge on a private riad to enjoy the splendors of Marrakech, think again. Equity Point Marrakech offers a delightful array of traditional Moroccan decor—think whitewashed arches around a pool, gorgeous tiles, hand-carved wood, and other visual treats. Located in the center of the Medina, Equity Point is one of the tallest buildings in the area, affording guests wonderful views of the city and the Atlas Mountains. In addition to a range of private and shared rooms, the hostel offers cooking classes, belly dance classes, and spa services.
PLAN YOUR TRIP: Visit Fodor's Marrakech Guide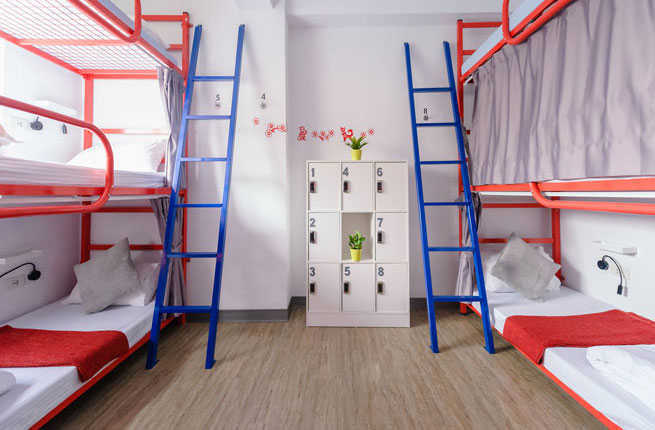 Willy Tsao
WHERE: Taipei, Taiwan
Celebrating traditional and contemporary Taiwainese culture, Meander Taipei also strives to show off the best of the city. That means daily cycling tours led by staff members who show off their favorite spots around lesser-known parts of Taipei. Even if you don't stray far from the hostel, however, there's plenty to see: the surrounding Ximending district is home to more than 6,000 shops, cafes, karaoke bars, and night markets, making it comparable to Harajuku or Shibuya in Tokyo. Inside the rooms, clean lines, lots of wood, and small pops of color make for a visually appealing stay. Elsewhere, the large communal area encourages lounging and cultural exchange with staffers and other guests.
PLAN YOUR TRIP: Visit Fodor's Taipei Guide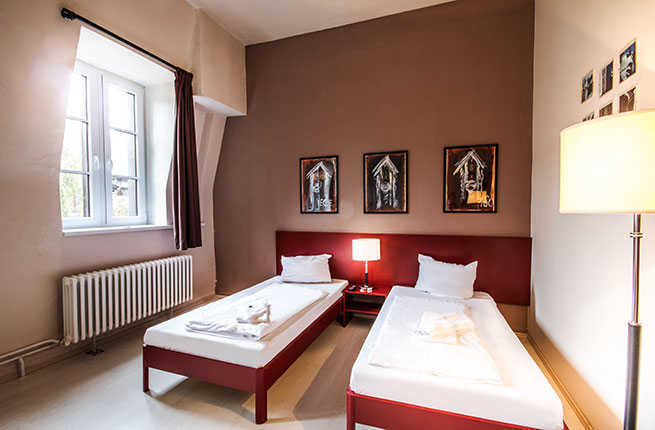 PLUS Hotels
WHERE: Berlin, Germany
Located in the lively Friedrichshain neighborhood, PLUS Berlin is just as appealing for what's inside its doors as what's outside of them. The 100-year-old Neo-Gothic building, which was once a fashion school and managed to survive both World Wars, is close to countless cafés, bars, shops, and the longest surviving stretch of the Berlin Wall. Inside the hostel, besides the Instagram-famous pool, there are weekly yoga classes, a sauna, and a rooftop restaurant. Private and shared rooms are simply decorated but tidy, but common areas sport a vibrant look. PLUS also has properties in Prague, Venice, Rome, and Florence.
PLAN YOUR TRIP: Visit Fodor's Berlin Guide
Frenchie Cristogatin
WHERE: Lyon, France
As its name suggests, Slo Living Hostel encourages guests to unwind and interact with fellow travelers in style. Located a short walk from the banks of the Rhône, the property puts an emphasis on community by planning walking tours, pétanque lessons, and dinners at the hostel on Sunday and Monday, when most restaurants in Lyon are closed. The staff is 100% Lyonnaise, so they can serve as experts on which bouchons are best to visit (they'll even make reservations for you) or which local wine is best to drink on the patio. Designed by local architects and artists, the rooms and common areas are pleasantly understated without being boring, a perfect setting in which to embrace the slow-living philosophy.
PLAN YOUR TRIP: Visit Fodor's Lyon Guide
Courtesy of Soul Kitchen Junior
WHERE: St. Petersburg, Russia
Within walking distance of St. Isaac's Cathedral, the Hermitage Museum, and Kazan Cathedral, Soul Kitchen Hostel is a charmer ideally situated on the banks of the Moyka River. Private and shared rooms are available, and all feature a funky aesthetic that blends old and new; one standout design that guests love are the bunk bed curtains that make sleeping in a shared room feel more private. Other highlights of the property include the large TV lounge, a dedicated reading lounge, and a spacious kitchen stocked with everything you need to make a good meal. With so much to offer, it's no surprise that Soul Kitchen Hostel was voted the best hostel in Europe in 2014 and 2016 by the readers of Hostelworld.com.
PLAN YOUR TRIP: Visit Fodor's St. Petersburg Guide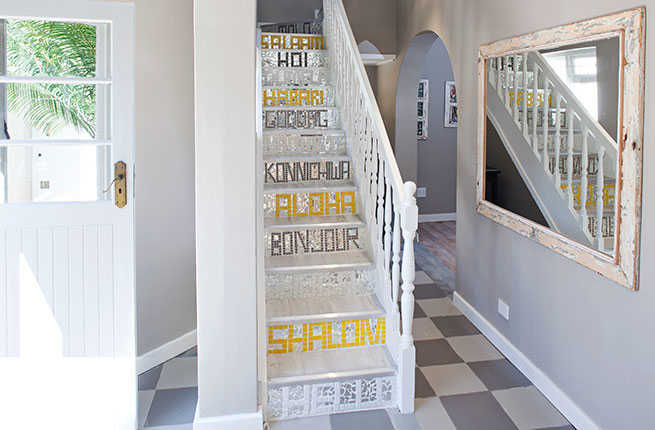 Francis Moult
WHERE: Cape Town, South Africa
Down time is the best time at The B.I.G., where an outdoor pool, garden, and braai (grills) invite guests to hang out and relax. The property also has three shared kitchens for guests to use at any time, and a travel desk that can arrange any tour in or around Cape Town. Every room, whether private or shared, has an ensuite bathroom, and free breakfast is offered to guests daily. When it's time to explore Cape Town, it's only a 10-minute walk to the bustling Victoria & Albert Waterfront, Cape Town Aquarium, Cape Town Stadium, and more; Table Mountain and Signal Hill are both a 20-minute bike ride away.
PLAN YOUR TRIP: Visit Fodor's Cape Town Guide
The Bowery House
WHERE: New York City, New York
Soldiers returning home from World War II once slept inside what is now known as The Bowery House, and the hostel celebrates that history with keys shaped like dog tags and preserved historical details like original bedframes. Private and shared rooms are small but handsomely appointed, but you won't need to spend much time in them given the expansive rooftop garden and the celebrated in-house restaurant Pearl & Ash. Common areas feature accents like mahogany wood and leather sofas, lending a luxe feel to a budget property. Similarly, the shared bathrooms feature heated Italian-marble floors, Red Flower bath products, and high-pressure rain shower heads.
PLAN YOUR TRIP: Visit Fodor's New York City Guide
U Hostels Albergues Juveniles SL
WHERE: Madrid, Spain
Housed in a 19th-century palace next to the Alonso Martínez metro station, U Hostels Madrid is situated near the city's best restaurants, shopping, and nightlife in popular areas such as Castellana, Sol, Gran Vía, Chueca, and Fuencarral. Private and shared rooms are mostly white, with occasional pops of color like a painted accent wall or sliding bathroom doors that glow in vibrant shades. All guests have access to the cinema, shared kitchen, rooftop bar, library, and communal computers on every floor, and a dining area where traditional Spanish breakfast is served each morning.
PLAN YOUR TRIP: Visit Fodor's Madrid Guide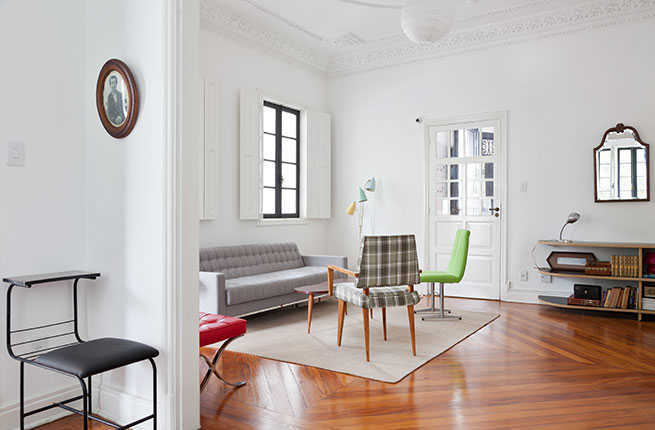 We Hostel+Design
WHERE: São Paulo, Brazil
Located in the lively Vila Mariana borough of Brazil's biggest city, WE Hostel sits inside a converted 1926 mansion and was designed by architect Felipe Hess. Rooms can have one to eight beds, and the best of them come with a private balcony. The common areas, packed with vintage furnishings, are a design lover's dream. A homemade breakfast is served every day in the lounge, and there's also a shared kitchen.. The outdoor bar and garden are highlights, as are the bathrooms outfitted with sky-blue tiles.
PLAN YOUR TRIP: Visit Fodor's São Paulo Guide
Alan Williams
WHERE: London, England
A stone's throw from the Tower Bridge and the Thames, Wombat's City Hostel London consistently earns high marks and rave reviews from its guests for its airy design and traveler-friendly features. With anywhere from one to eight beds, each room comes with an ensuite bathroom and separate toilet, plus an outlet and USB port for each guest. Originally a hostel for sailors, the 150-year-old building now pays homage to its past with large swaths of reclaimed wood from ships and churches adorning many of the public areas, including the lobby, the shared kitchen, and the subterranean womBar, an exposed-brick tavern where guests can mingle. Wombat's properties can also be found in Berlin, Budapest, Munich, and Vienna.
PLAN YOUR TRIP: Visit Fodor's London Guide