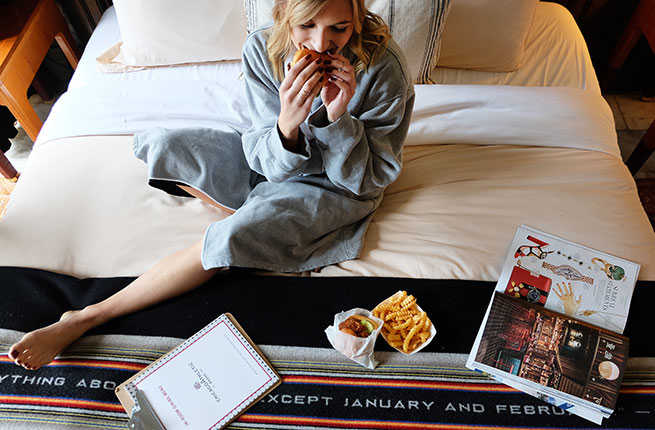 Chicago Athletic Association Hotel
Eating delicious things and loafing around in bed are two of life's sweetest pleasures. So why not combine the two? Dining from a four-poster is a killer way to start the day—just ask any parent who's been surprised with breakfast in. These 9 spots take hedonism to the next level, with elegant food and cool interiors instead of the usual scrambled-eggs-with-a-bacon-smile dish Mom's used to balancing on her knees. Bon app, lazybones!—Andrea Bartz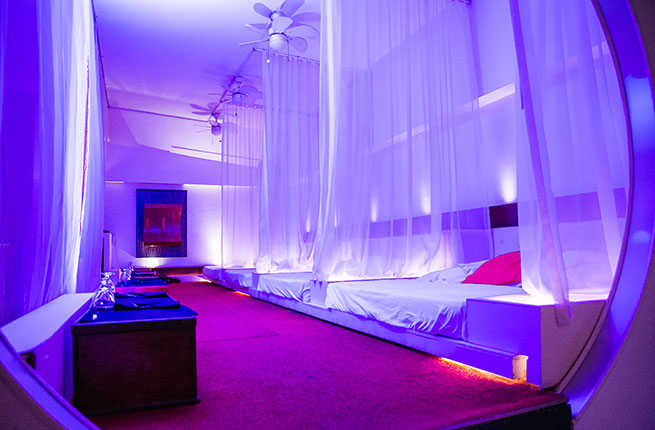 Screaming Eagle
WHERE: Oranjestad, Aruba
This elegant French-fusion restaurant didn't really need a shtick; the dishes, like Asian-glazed pork belly and crème brûlée of Hungarian duck liver, as well as the Wine Spectator–awarded wine list, speak for themselves at Screaming Eagle. But the setup makes the trendy spot a standout: Guests dine like Roman emperors, reclining on comfy lounge beds.
PLAN YOUR TRIP: Visit Fodor's Guide to Aruba
The Milestone
WHERE: London
This luxury inn, across the street from the Kensington Palace, offers a late-night meal fit for a king. Their Midnight Feast features salmon mousse and crudités served with anchovy puff pastry, fresh-baked breads with assorted butters, a cheese plate with homemade chutney, chocolate-covered strawberries, and a bottle of Champagne—all delivered in a wicker hamper around 11 pm. Each of the Milestone Hotel's 62 guest rooms brims with over-the-top antiques, opulent upholstery, and fine linens, so you can pretend you're the Duke and Duchess of Cambridge, not a commoner 1,600 feet south of the palace.
PLAN YOUR TRIP: Visit Fodor's Guide to London Hotels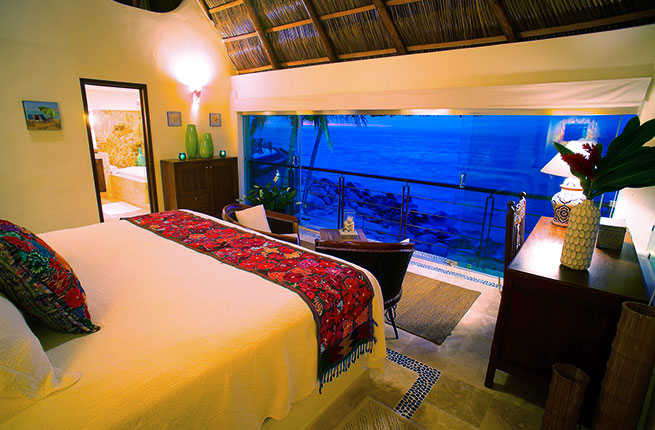 La Troza
WHERE: Puerto Vallarta, Mexico
There's luxury, and then there's a-dedicated-chef-and-full-kitchen-staff luxury. La Troza offers the latter, with secluded beachfront guestrooms and sweeping views of the Pacific Ocean, as well as, yes, Mexican specialties (and unlimited booze) prepared by a five-star chef and delivered while you recline in bed—or on a beachfront lounge chair. The property comprises three elegant buildings and is booked exclusively by one party at a time, so round up your 15 closest friends and prepare to relax.
PLAN YOUR TRIP: Visit Fodor's Guide to Puerto Vallarta
Craddock Terry Hotel
WHERE: Lynchburg, VA
In its earlier incarnation, this boutique hotel was a factory for the Craddock Terry Shoe Company. Paying homage to its roots (or soles), the Craddock Terry Hotel features shoe-themed decor and a unique amenity: every morning, a complimentary continental breakfast arrives tucked inside an old-fashioned wooden shoeshine box. That means you can enjoy juice, fresh fruit, and pastries from a local bakery all before you even throw open the curtains. Why can't every day begin that way?
PLAN YOUR TRIP: Visit Fodor's Guide to Central and Western Virginia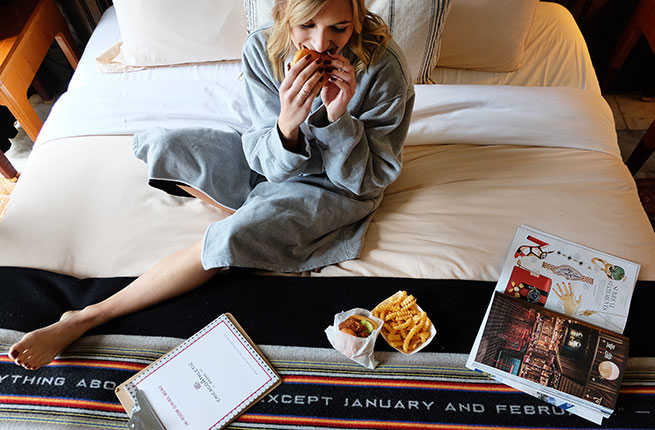 Chicago Athletic Association Hotel
Chicago Athletic Association Hotel
WHERE: Chicago
Inside this hip Michigan Avenue hotel (restored from an actual athletic club built in the 1890s), burger lovers can now order Shake Shack directly to their rooms—the first time the beloved fast food chain has appeared on a hotel's in-room dining menu. On nights when the Chicago wind makes wandering around the Loop impossible, slip into a custom robe and snuggle into the Sferra sheets with a Shackburger and cheese fries. Oh, and don't worry too much about the dissonance between the hotel's name and your own feast: The original Chicago Athletic Association was more about drinking, gambling, and playing pool than sweating away on the weight rack, anyway.
PLAN YOUR TRIP: Visit Fodor's Guide to the Loop
Fairmont Hotels & Resorts
Where: London
As anyone who's ever had a traditional English breakfast will tell you, morning meals are where Brit cooks shine. But when you've had your fill of bacon, grilled tomatoes, and black pudding, The Savoy has you covered. In fact, its in-room dining menu lets you travel the world before you even get out of bed. Sample Japanese, Chinese, and Middle Eastern breakfast fare, from toasted seaweed to steamed dim sum to hummus and labneh on Arabic bread—and feel truly cultured before you even step outside in London Town.
PLAN YOUR TRIP: Visit Fodor's London Travel Guide.
W Maldives
Where: Fesdu Island, Maldives
Don't let the name fool you; the Robinson Crusoe package at the W Maldives won't have you hunting wild goats or salvaging nonperishables from a shipwreck, like its namesake. Instead, you'll travel by boat from the main resort to Gaathafushi, a (nearly) deserted island where your only connection to the outside world is a single landline—and a private chef who motors in twice a day to arrange a candlelit barbecue and a tropical-fruit-heavy breakfast for you to enjoy in bed, beneath a thatched roof.
PLAN YOUR TRIP: Visit Fodor's Guide to the Maldives
Entre Cielos Luxury Wine Hotel
Entre Cielos Luxury Wine Hotel
WHERE: Mendoza, Argentina
You know what's even better than eating in bed? Drinking in bed. At the 16-room Entre Cielos Luxury Wine Hotel + Spa, nestled on 20 acres of vineyards, guests can have the hotel's sommelier come by and lead a tasting of the hotel's three Malbec varietals. When you're not drinking red in bed (in other words, living your best life), visit the property's hammam spa, outdoor pool, restaurant with locally sourced ingredients, or packed wine cellar . . . or just enjoy the views of the working vineyards and snow-capped Andes.
PLAN YOUR TRIP: Visit Fodor's Primer on Argentina's Best Wines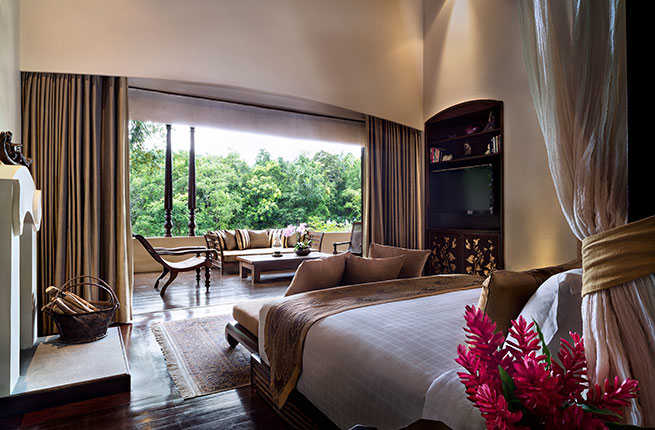 Four Seasons Chiang Mai
WHERE: Chiang Mai, Thailand
Imagine waking up (or nodding off) to the smell of fresh Thai herbs wafting in from the kitchen. Even if a private chef isn't part of your day-to-day routine, you can experience what it's like to have a butler prepare old family recipes for you at the Four Seasons Resort Chiang Mai's secluded suites with a dedicated live-in butler. We promise, their cooking and demeanor will quickly make you comfortable with the idea of a stranger bringing you a hot meal in bed.
PLAN YOUR TRIP: Visit Fodor's Guide to Chiang Mai