Rabbit75 | Dreamstime.com
New York City is an exciting place any time of year, but the ideal time to visit is fall. Following the relatively slow summer months, the cultural calendar swiftly kicks into high gear with film festivals, Broadway openings, and more, all while the trees in Central Park turn beautiful shades of orange. It's not just the city that's worth a visit in autumn—vineyards on Long Island and Hudson Valley towns will also be at their most picturesque in the coming months. Whether you're drawn by the high-powered glitz of Fashion Week or the classical offerings at Carnegie Hall, you'll find something to get excited about on our definitive list of things to do in New York this fall.—Michael Alan Connelly
Agaliza | Dreamstime.com
Organized by the Film Society of Lincoln Center, the New York Film Festival (September 30–October 16) is one of the season's most highly anticipated cultural offerings. Now in its 54th year, the lineup includes films and cinematic shorts. Among this year's hottest tickets are new films by Ava DuVernay and Jim Jarmusch. Tickets sell out fast, so book as early as possible.
PLAN YOUR TRIP: Visit Fodor's New York City Guide
Julie Angel Saad / Shutterstock
Twice a year, some of the world's biggest designers converge on New York to show off their new collections during Fashion Week. This edition will showcase the Spring 2017 presentations of dozens of designers. Access to shows is tightly regulated and limited to members of the press, celebrities, and industry insiders, but the city is full of special events and parties that non-glitterati can attend. Even if you don't attend any Fashion Week events, it's fun to be in the city when it feels even more chic than usual.
PLAN YOUR TRIP: Visit Fodor's New York City Guide
Billy Farrell Agency
With proceeds going to hunger-relief charities, the New York City Wine & Food Festival features the best of the citiy's dining scene as well as celebrity chefs from around the world. Mario Batali, Emeril Lagasse, Michael Symon, Giada De Laurentiis, Bobby Flay, and many other food-world stars all appear on this year's lineup, while chef-led classes cover everything from making chocolate and to mastering the art of butchery. Admission doesn't come cheap at these events, but the world-class talent and noble cause makes the price well worth it.
PLAN YOUR TRIP: Visit Fodor's New York City Guide
Courtesy of Whitney Museum of American Art, Photo by Ed Lederman
As always, there's much to see at the city's legendary art museums. At the Museum of Modern Art, Insecurities (opens October 1) traces the art of discplacement and shelter. At the Metropolitan Museum of Art, Cornelia Parker's Transitional Object (PsychoBarn) is on the roof until October 31. Downtown, the Whitney Museum of American Art will present Carmen Herrera: Lines of Sight starting September 16.
PLAN YOUR TRIP:Visit Fodor's New York City Guide
Courtesy of Friends of the High Line; Photo by Liz Ligon
Stargazing on the High Line
Every Tuesday night through October, take a peek at the stars, planets, and moon from the High Line. Thanks to high-powered telescopes provided by the Amateur Astronomers Association, anyone can get a closer look at celestial bodies from dusk until 11 p.m. No reservations are required and it's free, so just enter the High Line at 14th Street and look for the telescopes.
PLAN YOUR TRIP: Visit Fodor's New York City Guide
ChameleonsEye / Shutterstock
Summer is generally a slow season for Broadway, but that all changes in September, when a new production premieres seemingly every week. This season includes notable revivals of The Cherry Orchard, Les Liasons Dangereuses, and The Front Page. During Broadway Week (September 5–18), you can purchase two-for-one tickets to many shows.
PLAN YOUR TRIP: Visit Fodor's New York City Guide
Rabbit75 | Dreamstime.com
If you can't get out of the city, there's no better urban retreat than Central Park, with its 843 acres of paths, lakes, ponds, and open meadows. The park is at its most gorgeous when the leaves start to turn in the autumn months, inviting long walks around the Jacqueline Kennedy Onassis Reservoir, picturesque boat rides on the Lake, and lazy afternoons spent sitting beside Bethesda Fountain. (If you want to enjoy a picnic without the hassle of putting it together, stop by Herb N' Kitchen in the New York Hilton Midtown, located a few blocks from the park, for a ready-to-go, $68 basket that includes a Murray's Cheese plate, two sandwiches, two signature salads, New York cheesecake and a bottle of wine.) While many locals and visitors rarely make it above the Met, it's worth a trip uptown to the northern boundary at 110th Street to see the park's more rugged features, like the North Woods and the Harlem Meer. For an unbeatable view of Midtown Manhattan, climb to the top of the Great Hill (enter at 106th Street and Central Park West).
PLAN YOUR TRIP: Visit Fodor's New York City Guide
Ken Howard/Metropolitan Opera
Even if you have no interest in arias, it's worth a trip to the Metropolitan Opera House at Lincoln Center just to see the auditorium awash in deep reds and golds, and the Marc Chagall murals in the lobby. Opera fans will be rewarded this fall with performances of Tristan Und Isolde, La Boheme, and Don Giovani, among other productions.
PLAN YOUR TRIP: Visit Fodor's New York City Guide
Paul Kolnik
The former stomping ground of Mikhail Baryshnikov, the New York City Ballet is one of the most illustrious dance companies in the world, founded by George Balanchine and Lincoln Kirstein in 1948. The company has a reputation for its contemporary style, but ballet purists should seek out the annual performances of George Balanchine's The Nutcracker starting after Thanksgiving. This fall, highlights include productions showcasing the choreography of Justin Peck and others. Young travelers should take advantage of the $29 for 29 program; NYCB gives away rush tickets to anyone 29 years old or younger for $29.
PLAN YOUR TRIP: Visit Fodor's New York City Guide
Courtesy of St. Ann's Warehouse / Marvel Architects, PLLC
Cutting-edge arts venue St. Ann's Warehouse opened in its newly refurbished space, the Tobacco Warehouse, in November 2015, following two years of turning the remaining shell of a historic building into a performance venue with two theaters. Though St. Ann's has been around for 35 years, this is its first permanent home, and the space's second season features an exciting lineup, kicking off with Taylor Mac's History of Popular Music.
PLAN YOUR TRIP: Visit Fodor's New York City Guide
Mike Liu / Shutterstock
We'll see if the Yankees and Mets make it to the postseason, but if you definitely want to see a game before the regular season is out, the last home game at Yankee Stadium is October 2, and the last one at Citi Field is September 25. Throughout the fall, Madison Square Garden is the home of Knicks games starting October 8, and the Barclays Center is where you can see the Brooklyn Nets shoot hoops starting October 6. If you're a football fan, you can find the New York Jets at MetLife Stadium in New Jersey.
PLAN YOUR TRIP: Visit Fodor's New York City Guide
Courtesy of Skyviews Survey
Queens County Farm Museum
If you want a taste of farm life without leaving the city, head to the Queens County Farm Museum for a lot of family-friendly fun in the fall, including a three-acre corn maze (open weekends, September 24–October 30). Also of note: the Annual Queens County Fair (September 24 and 25), the pumpkin patch (open October 1–30), a Halloween haunted house (October 29 and 30), and more. Check out the events calendar for full details.
PLAN YOUR TRIP: Visit Fodor's New York City Guide
Ranked as one of the best sculpture parks in the world, Storm King Art Center (open through the end of November) features more than 100 works of art spread out over 500 acres of fields, hills, and woodlands. Just 90 minutes north of New York City, Storm King is a great day trip (you'll want at least four hours to explore the grounds) that perfectly marries art and nature.
PLAN YOUR TRIP: Visit Fodor's New York City Guide
Nancy Kennedy / Shutterstock
Day Trip to the Hudson Valley
With many towns accessible via Metro-North or Amtrak, the Hudson Valley is an ideal place to visit thanks to its beautiful riverfront scenery and abundance of fall foliage. Depending on where you go, there are also museums, state parks, historical sites, and quaint villages; our top picks include Beacon, Cold Spring, Hudson, Hyde Park, Poughkeepsie, and Rhinebeck. You can also pick apples at many of the region's farms and orchards, including Barton Orchards and Greig Farm.
PLAN YOUR TRIP: Visit Fodor's New York City Guide
Courtesy of Brooklyn Botanic Garden; Photo by Liz Ligon
A verdant 52-acre oasis in Prospect Heights, the Brooklyn Botanic Garden is a stunning retreat any time of year, especially in fall. Spice lovers, meanwhile, should flock to the garden for the Chile Pepper Festival on October 1.
PLAN YOUR TRIP: Visit Fodor's New York City Guide
Every year, from September through the end of December, the city's finest restaurants are filled with the heady, earthy aroma of imported white truffles from Europe. Best enjoyed shaved over plates of cheesy risotto or buttery tagliatelle, white truffles don't come cheap—a couple of ounces added to your plate could easily triple or quadruple the price of your dish—but the splurge is worthwhile. You'll find white truffles at top restaurants like Daniel and Per Se, and also more casual spots like Locanda Verde, which hosts an annual Trufflepalooza dinner.
PLAN YOUR TRIP: Visit Fodor's New York City Guide
Courtesy of Archtober; Photo by Cooper Hewitt, Smithsonian Design Museum
The fifth annual Archtober is a month-long festival of architecture activities, programs and exhibitions held throughout October. Each day of the month has a corresponding Building of the Day that you can tour on that day, while the rest of the program consists of a mix of conferences, exhibitions, talks, and walking tours. Many events are free, but some require advance registration; check the calendar for more information.
PLAN YOUR TRIP: Visit Fodor's New York City Guide
Ben Helmer
Open House New York Weekend
Every October, the Open House New York Weekend (October 15 and 16) takes people behind locked doors to get a look at some of the city's most important buildings. OHNY Weekend offers unparalleled access to hundreds of sites across the five boroughs, with tours, talks, performances, and other special events taking place throughout the weekend. The list of participating sites and programs won't be available until early October. For updates via email, sign up for OHNY's mailing list here.
PLAN YOUR TRIP: Visit Fodor's New York City Guide
Juan G. Aunion / Shutterstock
With stunningly clear acoustics, Carnegie Hall is the ultimate venue to enjoy classical music, devoid of the usual heavy curtains, chandeliers, and frescoed walls that interfere with crystal-clear sound distribution. The illustrious venue sounds as good as ever and will host The New York Pops and The Philadelphia Orchestra, among countless other renowned musicians. Not far away, Jazz at Lincoln Center features a wonderfully diverse lineup of performers all season long.
PLAN YOUR TRIP: Visit Fodor's New York City Guide
T photography / Shutterstock
If avant-garde performance attracts you, don't miss the 2016 Next Wave Festival (September 7–December 16) at the Brooklyn Academy of Music. An annual event, the festival features cutting-edge music, theater, and dance from around the world.
PLAN YOUR TRIP: Visit Fodor's New York City Guide
R.A.R. de Bruijn Holding BV / Shutterstock
This 172-acre island in Upper New York Bay is easily overlooked in a city overflowing with tourist attractions, but the view of the lower Manhattan skyline from Governors Island on a crisp fall day is unrivaled. Take the ferry from the Battery Maritime Building to the island, which served as an important American fortification during the Revolutionary War, and rent a bike from Blazing Saddles. The island is easily explored on two wheels thanks to extensive bike paths, and the lawn near Fort Jay makes for the perfect picnic spot when you're ready for a break.
PLAN YOUR TRIP: Visit Fodor's New York City Guide
Jennifer Arnow
Fall is a perfect time to head out to the North Fork of Long Island for fine wine and dining. Before you go, check the Long Island Wine Council's site to see a full list of wineries and upcoming events. Where you go is up to you, but standouts include Shinn Estate Vineyards, Bedell Cellars, and Croteaux Vineyards. If you want to do an overnight trip, book a room at The North Fork Table & Inn in Southold. Alternatively, you can head to the Hamptons for wine tastings at Duck Walk Vineyards, Channing Daughters Winery, and, our favorite, Wölffer Estate Vineyard.
PLAN YOUR TRIP: Visit Fodor's New York City Guide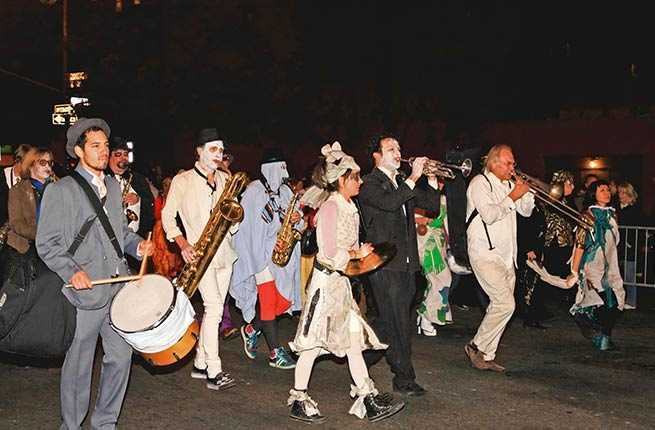 Gary718 | Dreamstime.com
New York's annual Village Halloween Parade (October 31 at 7 p.m.) is an unforgettable experience, with thousands of costumed parade participants and spectators lining Sixth Avenue. A stunning display of creativity, the parade is known for its over-the-top costumes that don't resemble anything you can find in a store. To make the evening even more unforgettable, march in the parade itself; all you have to do is wear a costume and line-up between 6:30 and 8:30 (see official website for details).
PLAN YOUR TRIP: Visit Fodor's New York City Guide
lev radin / Shutterstock
Macy's Thanksgiving Day Parade
If you can't stand crowds or the cold, this may not be the event for your, but despite the inevitable chaos that accompanies this annual tradition, the Macy's Thanksgiving Day Parade is a raucous, have-to-see-it-once experience. Now in its 89th year, the three-hour spectacle will offer 2.5 miles of public viewing space along Central Park West and Sixth Avenue. Head to the Upper West Side the night before the parade to watch the enormous balloons being inflated at 79th Street and Columbus Avenue.
PLAN YOUR TRIP: Visit Fodor's New York City Guide