Lawrence Bryant
St. Louis does BBQ and beer very well–just look to Pappy's Smokehouse, Urban Chestnut, and Schlafly Bottleworks for proof. But over the last few years, this Midwestern city has expanded its offerings to encompass many more international flavors, from Latin American fare at Público to Middle Eastern mezze at Olio.—Amber Gibson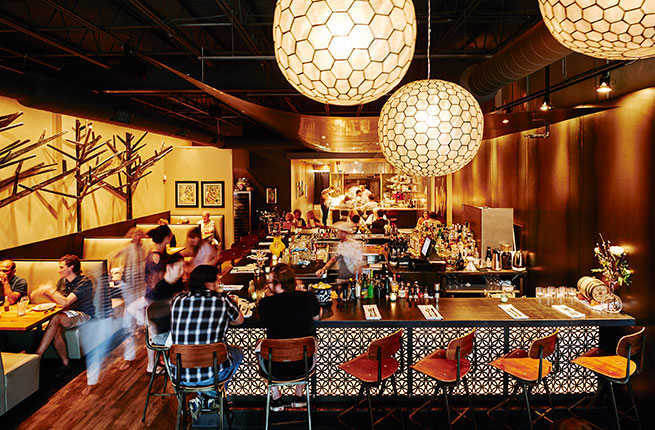 Greg Rannells
This wood-fired, Latin-inspired restaurant evokes Francis Mallmann's rustic cooking style, but in the Midwest rather than Patagonia. Chef Mike Randolph's newest venture was a James Beard Best New Restaurant semifinalist this year and the local press has crowned it the best new restaurant in St. Louis. Almost everything is prepared on the oak-burning hearth. Sit at the four-seat chef's counter for the best view of the open kitchen. Smoky white fish, al pastor, and barbacoa tacos are served on corn tortillas, ground and pressed in-house. Start the evening with a frozen caipirinha or mezcal margarita, and when the 32 oz. bone-in rib eye arrives, open a bottle or bold Argentine malbec or Spanish tempranillo.
PLAN YOUR TRIP: Visit Fodor's St. Louis Guide
Scott Lewis
The Memphis-style dry-rubbed BBQ ribs here are succulent beyond belief, slowly smoked for 14 hours until they just fall off the bone. You'll smell the apple and cherry wood aroma as soon as you step out of your car, and although you may be waiting in line for up to an hour on weekends, it's well worth every minute. Four housemade sauces ranging from sweet to spicy accompany the smoked meat. While ribs are the main event, there's spicy sausage, pulled pork, turkey breast, and beef brisket, too. Pitmaster Mike Emerson often takes breaks from working the grill to check in on ravenous diners and catch up with regulars.
PLAN YOUR TRIP: Visit Fodor's St. Louis Guide
Greg Rannells
The build-your-own pasta and salad bowls here bring James Beard Award-winning Chef Gerard Craft's Pastaria concept to the masses. Start with pasta, gluten-free pasta, farro, or romaine and kale as a base, then mix and match your sauce, protein, and toppings. There are plenty of options for any dietary restriction, and vegetarians will love the spicy local tofu. Right now there's just one location downtown, right across from the National Blues Museum, but this craveable concept could easily spread like wildfire across the country. Don't skip dessert—the rotating gelato pop flavors are killer.
Insider Tip: Order the Suzie Special, nicknamed after Craft's wife—it's romaine and kale with farro, half spicy tofu and half seasonal vegetables topped with green olives, breadcrumbs, crispy garlic, and hot honey.
PLAN YOUR TRIP: Visit Fodor's St. Louis Guide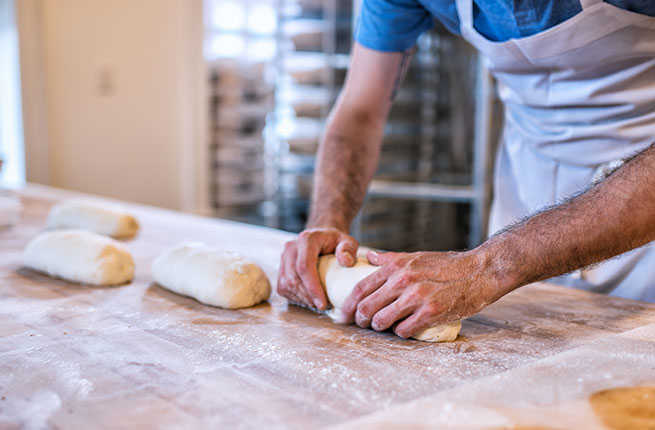 Spencer Perikoff
Cafés may be a dime a dozen, but if you like bread, Ted Wilson and Brian Lagerstrom's rye, ciabatta, cheesy bread, and sourdough will blow you away. At Union Loafers, Wilson's obsession with bread is an example of the maker's movement in St. Louis, where accomplished chefs are specializing and perfecting just one craft. Many chefs wow diners with exotic ingredients, but here humble sandwiches and salads are elevated to unprecedented heights. Simple menu descriptions belie the complexity of flavors in the ham and cheddar, rare roast beef, and smoked trout salad sandwiches.
Insider Tip: Wednesday night is pizza night. Be there promptly at 6 p.m. to snag a table and try the thin-crust pies.
PLAN YOUR TRIP: Visit Fodor's St. Louis Guide
Lawrence Bryant
This ambitious Italian restaurant on the eighth floor of the Four Seasons Hotel is open all day but showcases its full potential at dinner. Executive Chef Gian Nicola Colucci is a Piedmont native, and everything from pasta to gelato is made in-house. During the summer, you might spot Colucci picking fresh basil and Japanese eggplant from the terrace garden for an eggplant mozzarella special. Veal Milanese, panzanella salad, and addictive toasted ravioli with tomato sauce for dipping are a few more favorites. The terrace here has panoramic views of the Gateway Arch and downtown, with a gentle breeze and adjacent pool. There's no better place to dine al fresco in the city.
PLAN YOUR TRIP: Visit Fodor's St. Louis Guide
Spencer Perikoff
Small plates with bold flavors is the name of the game here—roasted sweet corn and ricotta bruschetta is spiced up with red Thai chili, and green beans are elevated from mundane to magnificent with basil aioli, candied pine nuts, and pickled blueberries. After working with Gerard Craft at Niche and Taste, Chef Matthew Daughaday opened his own restaurant in September of 2015 and surrounded himself with a passionate team. Reeds has one of the best wine lists in town, and the flexible menu works well for a simple drink and bite at the bar or a more elaborate celebration. Save room for Pastry Chef Summer Wright's chocolate ganache tart with passion fruit caramel or cornmeal-almond cake with froyo and mulberry sauce.
PLAN YOUR TRIP: Visit Fodor's St. Louis Guide
Greg Rannells
This has been the city's premier fine dining destination since 2003 and the best place to take somebody you are trying to impress. Chef Kevin Nashan makes classic dishes new again with surprising and delicious twists, always layering multiple textures and flavors with produce and herbs growing in the urban garden surrounding the parking lot. Start with housemade charcuterie, lobster turnovers, or sweetbread tostada. The entrées are just as intriguing. There's steak encrusted with wasabi and served with a side of tempura veggies, or rabbit and waffles, with Nashan subbing rabbit sausage and fried rabbit nuggets for the traditional fried chicken. His second restaurant, Peacemaker (located just down the street), celebrates casual Acadian cuisine.
PLAN YOUR TRIP: Visit Fodor's St. Louis Guide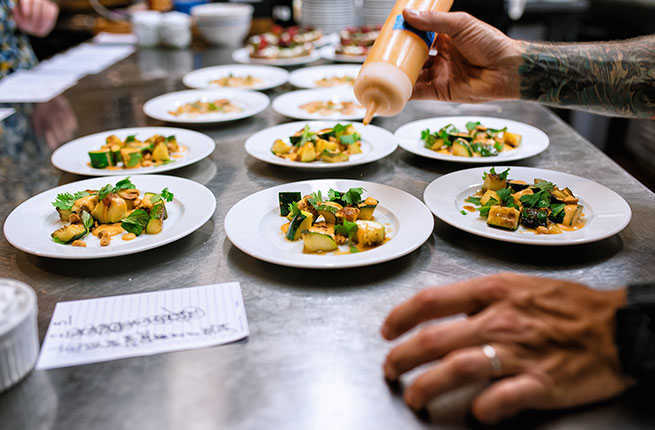 Spencer Pernikoff
Chef Gerard Craft closed his flagship restaurant Niche in June, reopening it a few months later as Sardella, named for a funky Calabrian fish sauce. The upbeat new concept embodies the theme of Old World recipes transformed into more modern cooking and serves three meals a day. A seasonally rotating menu includes hand-stuffed pastas, roasted meats, creative grain bowls, pastries, and an extensive coffee program from local Sump Coffee. Start the morning with young coconut yogurt with buckwheat and flax seed granola, peaches, and dates, or a savory farro and quinoa bowl with cabbage, squash, and pickled carrots. Dinner is served family-style in contrast to Niche's more formal tasting menu format, with items like milk stout-braised oxtail and pici pasta with sardella sauce.
PLAN YOUR TRIP: Visit Fodor's St. Louis Guide
Spencer Pernikoff
In a city known for baseball, blues, and beer, sampling local brews when you're in town is a must. At Schlafly, it's best to arrive thirsty and hungry because not only are there more than a dozen beers on tap, but the food is far more thoughtful than average bar food, sourced carefully from local farmers and food artisans. Schlafly frequently incorporates their beer into food recipes, from pale ale beer bread to oatmeal stout shallot gravy for the beef and chorizo meatloaf. Soups and chili are simmered with beer and Northern Missouri pecans are cooked with Schlafly's stout for an outstanding pecan pie.
Insider Tip: Visit on Wednesday from 4–7 p.m. to shop the weekly farmers market in the parking lot. The brewing team also brews special small batch beers on their portable Pilotworks system everyWednesday so guests can watch and learn about the process.
PLAN YOUR TRIP: Visit Fodor's St. Louis Guide
St. Louis Convention & Visitors Commission
For a sweet dose of nostalgia, head to Ted Drewes for the same frozen custard locals and tourists have been enjoying since 1931. The family business has been around for four generations, and between Thanksgiving and Christmas Eve, they also sell Canadian balsam fir Christmas trees from their tree farm in Nova Scotia. There are concretes, sundaes, malts, shakes, and floats with a plethora of fruit, nut, candy, and sauces to mix into vanilla, chocolate, and strawberry custard. Favorite flavor combinations include the Terramizzou, a blend of chocolate and pistachio nuts, and the caramel apple pie sundae, because all pie should be served à la mode.
Insider Tip: If you don't get a chance to stop by, you can also try their frozen custard dispensed out of bright yellow vending machines in the airport.
PLAN YOUR TRIP: Visit Fodor's St. Louis Guide