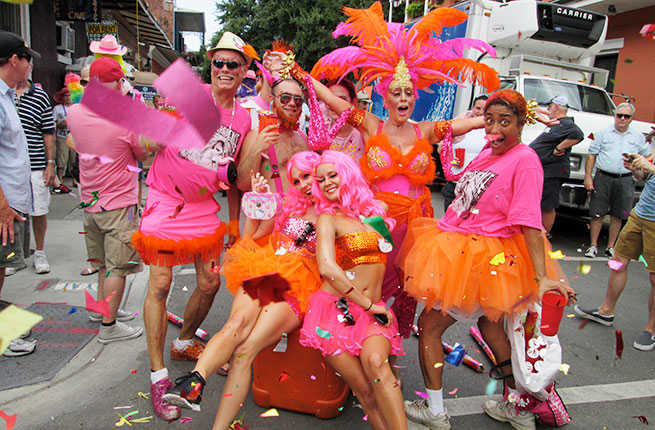 In a festival mood, but been to Mardi Gras a hundred times? Worried that the raucous crowd of the country's most famous street party is just not for you? You can still party in the city that care forgot and have a wonderful time. New Orleans has a wide variety of festivals for everyone, whether you want to catch the newest fringe theater performance or celebrate international music. Here are ten other festivals for anybody looking for a good excuse to plan a trip to New Orleans.—Lynn Brown
New Orleans CVB
When: August
Located in the Warehouse Arts District, White Linen night showcases the city's visual arts scene. Galleries along Julia Street feature exhibitions from artists from around the state, as well as an after-hours dance party at the Contemporary Arts Center. The event is free, but you may want to bring along some cash to sample the food and drink offerings set up outside.
Insider Tip: Join in the fun and wear white to this event. It not only helps you fit in, it also helps offset some of the summer heat.
PLAN YOUR TRIP: Visit Fodor's New Orleans Travel Guide
Tulane Public Relations via Wikimedia Commons, [CC BY 2.0]
When: April
Billed as the largest free music festival in the south, this festival sees more than a dozen stages set up around the French Quarter playing everything from rock to classic New Orleans jazz. French Quarter Fest also features the "world's largest jazz brunch", with booths set up around the French Quarter serving classic New Orleans food and drinks. Originally started as a way to showcase the newly renovated French Quarter after the 1984 World's Fair, this festival has been entertaining visitors and locals alike for the last 34 years.
Insider Tip: Many of historic homes in the French Quarter offer free tours of their lavish courtyards and gardens during French Quarter festival.
PLAN YOUR TRIP: Visit the New Orleans French Quarter Festival
When: Labor Day Weekend
An annual "block party" in celebration of the city's LGBT community, Southern Decadence began in 1972 as a going away part and evolved into an annual celebration that draws over 100,000 people every year. Events range from walking tours to karaoke to drag shows. The festival is most known for its colorful (and sometimes risqué) costume parades.
PLAN YOUR TRIP: Visit Fodor's New Orleans Travel Guide
Paul Broussard/New Orleans CVB
When: March 11–17, 2017
New Orleans puts its own twist on a national favorite, with a multi-day celebration that takes place in the city's Irish Channel neighborhood. The event, thrown annually by the Irish Channel St. Patrick's Day Club, combines the typical St. Patrick's Day themes of green beer and shamrocks with more traditional New Orleans-style parades and block parties.
Insider Tip: Watch out for flying cabbages, which serve as "throws" from parade floats.
PLAN YOUR TRIP: Visit Fodor's New Orleans Travel Guide
New Orleans CVB
When: July
Essence Magazine's annual music extravaganza has been a tradition in New Orleans since the early '90's. While the music festival features contemporary R & B, hip-hop, and pop stars, it also serves to highlight the city's local African American community by opening up the streets of the Central Business District for black artists, writers, restaurants, and organizations. This outdoor market feel continues inside the Convention Center, where the festival runs its own Essence Marketplace, which sells goods from all locations in the African diaspora.
PLAN YOUR TRIP: Visit the Essence Festival
RIDE HAMILTON
Tennessee Williams Literary Festival
When: March
Named after one of the world's most famous playwrights, the Tennessee Williams literary festival is a celebration of both the writer himself and all things literary in the Big Easy. Authors, playwrights and a wealth of other speakers give master classes, talks and performances all across the city. A number of cash prizes for writing are also available to those who submit their work ahead of time. Winners are announced at the fest.
Insider Tip: Test out your vocals at the annual "Stella!" shouting contest, where contestants recreate the famous scene from Williams' play A Streetcar Named Desire.
PLAN YOUR TRIP: Visit the Tennessee Williams Literary Festival
New Orleans CVB
When: November
Originally New Orleans' version of the Fringe Festival, Faux/Real is a celebration of all things artistic, from theater to dance, literature to food, and of course, all the music you'd expect from a festival based in New Orleans. Faux/Real events tend toward the weird, creative, and avant-garde, including cabarets, pop-up-style dinners, and performances at creative and unexpected locations all across the city.
PLAN YOUR TRIP: Visit the Faux/Real Festival
Craig Mulcahy/New Orleans Film Festival
New Orleans Film Festival
When: October
What started as a small local event in 1989 has grown to become one of the country's major film festivals. NOFF prides itself on showing local, national, and international films to hundreds of visitors every year. Film screenings are open to the public and take place at various locations around the city.
Insider Tip: Can't make it in October? The New Orleans Film Festival also hosts a French Film Festival every year in March.
PLAN YOUR TRIP: Visit the New Orleans Film Festival
The New Orleans Jazz & Heritage Foundation/Eric Simon
Congo Square New World Rhythms Festival
When: March
Held annually in Congo Square, an area of Armstrong Park where enslaved Africans gathered for ceremonies and celebrations, the World Rhythms Festival honors the African and Caribbean cultures that gave rise to the culture of New Orleans. This free event features music and dance from Africa and the Caribbean, as well as some local New Orleans favorites.
Insider Tip: The event is family-friendly, with special activities and programming for the little ones.
PLAN YOUR TRIP: Visit the New World Rhythms Festival
Cecilia Gaubert Lashab | Alliance Française de la Nouvelle-Orléans
When: July Can't make it to France to celebrate the French Revolution? Celebrate in New Orleans instead! America's most French city celebrates the storming of the Bastille with a wide array of events that pay homage to the city's roots. The New Orleans Museum of Art hosts the Bastille Day Fête and other locations in the city offer unique New Orleans events, like a waiter's race, a regatta, and a dog costume contest. Enjoy French food, wine, and music!
Insider Tip: The historic Faubourg St. John neighborhood, where French aristocrats originally made their homes in the former French colony of Nouvelle Orleans, also hosts an annual block party on this day.
PLAN YOUR TRIP: Visit the Bastille Day Celebration