Greater Fort Lauderdale CVB
Although it can often be overlooked in favor of Miami, its southern neighbor, Fort Lauderdale stands out as one of the nation's top 10 LGBT destinations. If that's not a surprise, you might be one of the million-plus LGBT travelers who visit greater Fort Lauderdale every year; if that statistic is news to you, then you've got a lot to learn. Aside from being home to the world headquarters of the International Gay and Lesbian Travel Association, this city features outstanding cultural institutions catering to the LGBT community, hundreds of gay-owned and -operated businesses, and an inclusive, welcoming vibe—not to mention beautiful beaches. Read on to discover why Fort Lauderdale is Florida's gay mecca. —Michael Alan Connelly
Greater Fort Lauderdale CVB
Sebastian Street Gay Beach
Since you're in southern Florida, chances are good that you'll want to spend some time on the beach. Fort Lauderdale Beach spans more than 2 miles, but Sebastian Street Beach is widely known as the most popular gay beach in town. (To get there, simply look for the Ritz-Carlton; the beach is directly across the street.) This is the stretch of sand to seek out if you're looking for a lively scene and good people-watching in the center of it all. If you prefer to escape noise and crowds, look to the southern sections of Fort Lauderdale Beach, as it tends to get rowdier as you go farther north.
PLAN YOUR TRIP: Visit Fodor's Fort Lauderdale Guide
Michael Connelly
World AIDS Museum
In an unlikely location in a Wilton Manors storefront space sits the first museum dedicated to the HIV/AIDS epidemic, the World AIDS Museum. Despite its humble surroundings, this is a must-visit museum for anyone interested in learning more about LGBT history. The permanent "Chronology of AIDS" exhibition traces the history of the virus and places its development into a sociocultural context, providing an authoritative take on how history has been shaped by the AIDS epidemic, and vice versa. The museum also displays sections from the AIDS Quilt, artwork inspired by the virus, and a basketball jersey once worn by Magic Johnson, who attended the museum's dedication ceremony in 2013.
PLAN YOUR TRIP: Visit Fodor's Fort Lauderdale Guide
Greater Fort Lauderdale CVB
Pride Center at Equality Park
Located on a 5.5-acre riverfront campus in Wilton Manors, the Pride Center at Equality Park serves the LGBT community with information, education, health services, advocacy, cultural experiences, social opportunities, and more. If you want to get involved, you can request a tour of the facilities or simply check the calendar to find events ranging from gallery openings to speaker series to flea markets, and much more.
PLAN YOUR TRIP: Visit Fodor's Fort Lauderdale Guide
Dennis Dean
Pineapple Point Guesthouse & Resort
Today you'll find no shortage of familiar brand-name hotels (W, Conrad, Ritz-Carlton) on Fort Lauderdale's beachfront strip, but that wasn't always the case. In the past, gay travelers often gravitated toward smaller, gay-friendly properties that served as both lodging and meeting place. Over the years, more and more of those properties have disappeared as being gay has gone mainstream, but male travelers can still experience this type of setting at Pineapple Point Guesthouse & Resort. The property is set on 2.5 acres of lush tropical foliage, with a secluded feeling that lends itself to relaxation. Comprising six buildings, the accommodations range from deluxe bedrooms to a three-story villa with its own pool.
PLAN YOUR TRIP: Visit Fodor's Fort Lauderdale Guide
Andrew Epstein
Stonewall Museum Gallery
The Stonewall Riots happened in New York City, but you'll find the Stonewall National Museum & Archives in Fort Lauderdale. Founded in 1973, it's grown into a singular cultural and educational center, with the largest lending library of its kind in the country (more than 18,000 books and audio-visual materials), and archives containing more than 5,000 items including periodicals, posters, and oral history collections. Unless you're planning to borrow something from the library, it makes more sense to visit the museum's Wilton Manors Gallery, which opened in March 2014 and displays a mix of rotating exhibitions, items from the archives, and a timeline of American LGBT history.
PLAN YOUR TRIP: Visit Fodor's Fort Lauderdale Guide
Wilton Manors
Just northwest of Fort Lauderdale sits Wilton Manors, technically its own city, but more or less considered to be the area's "gayborhood." In addition to its cultural centers and many gay businesses, Wilton Manors is the epicenter of dining, drinking, and nightlife for LGBT residents and visitors. You'll find many options on Wilton Drive—"the Drive" in local parlance—including fun drinks and an eclectic menu at Mind Your Manors. For Sunday brunch, the ever-popular Rosie's Bar and Grill is an open-air restaurant with a lively ambiance courtesy of the rotating DJs and bottomless mimosas. For nighttime adventures, head to local favorites along the Drive such as Georgie's Alibi, The Manor, Sidelines, and Village Pub.
PLAN YOUR TRIP: Visit Fodor's Fort Lauderdale Guide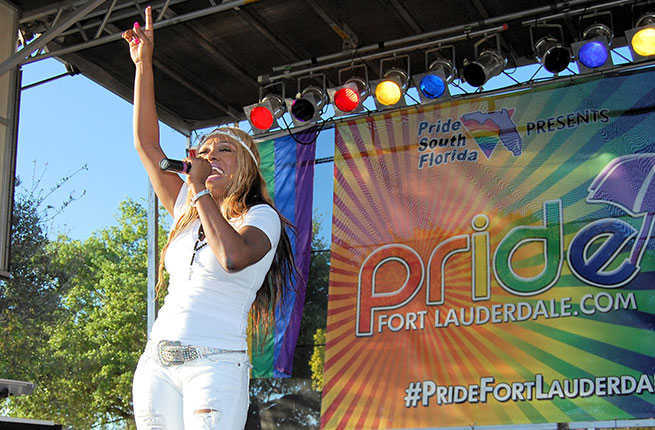 Greater Fort Lauderdale CVB
Pride South Florida
While most pride festivals around the world are held in summer, Pride Fort Lauderdale takes place over a week in October, one of the best times of year to visit, weather-wise. Throughout the week there are parties, food festivals, and special events, culminating in a two-day blowout weekend stacked with concerts, DJs, and parties. Keep an eye on the official website for details.
PLAN YOUR TRIP: Visit Fodor's Fort Lauderdale Guide
Courtesy of the Fort Lauderdale Gay & Lesbian Film Festival
Fort Lauderdale Gay and Lesbian Film Festival
While Miami and Fort Lauderdale's LGBT film festivals used to be separate entities, the two have now combined to form MiFo, with each city still mounting its own festival. This year's Fort Lauderdale edition will take place October 7–16 (Miami's will be held April 21–30, 2017). Having started out as a three-day festival, the Fort Lauderdale festival has grown into a two-weekend affair that showcases more than 50 films made by LGBT filmmakers or featuring LGBT actors.
PLAN YOUR TRIP: Visit Fodor's Fort Lauderdale Guide
Courtesy of Bonaventure Resort & Spa
25th Annual Southern Comfort Conference
Fort Lauderdale's commitment to inclusion extends to the transgender community, so it's no surprise that the Southern Comfort Transgender Conference, the largest of its kind in North America, is held here. Now in its 26th year, the conference will be held September 27–October 1 at the Bonaventure Resort & Spa. The conference features a lineup of authors, vendors, entertainers, and leaders from across the transgender spectrum.
PLAN YOUR TRIP: Visit Fodor's Fort Lauderdale Guide