SvetlanaSF / Shutterstock
With its hilly terrain, waterfront location, and iconic bridges, San Francisco is always ready for its close-up. There are snapshot-worthy scenes across the city, so we've tracked down the most stunning spots for taking it all in. Here are 15 places where you can fully appreciate San Francisco's unique beauty, from the steel span of the Golden Gate Bridge at sunset to the pastel-hued, Victorian charm of the Painted Ladies.
by Donna Heiderstadt
Henrik Lehnerer / Shutterstock
Landmark with a View: Coit Tower
This white concrete column atop Telegraph Hill has long been a city landmark and offers 360-degree views from the arched windows of its observation deck.
What You'll See: The entire city and bay spread out just below you. Coit Tower, named for wealthy San Francisco eccentric Lillie Hitchcock Coit and built with money she bequeathed, is both a vantage point and one of San Francisco's most photographed buildings. It is also home to a flock of wild parrots.
How To Enjoy It: Visit just before sunset (it's $7 for the elevator to the top) when the Transamerica Pyramid, framed by the tower's arches, is bathed in a golden glow.
For more free activities, read Top 25 Free Things to Do in San Francisco.
Alexander Demyanenko / Shutterstock
Park with a View: Alamo Square
It's home to one of the city's most iconic images, featured on everything from postcards to the opening credits of the 1980s TV series Full House.
What You'll See: The Painted Ladies, six pastel-hued Victorian houses built from 1892-1896 and backed by San Francisco's skyline and the bay. They are located on Steiner Street, on the east side of Alamo Square Park, and although the two houses on the right are currently under scaffolding and it requires the right light (late afternoon) for them to look their best, it's a great spot for a panoramic snap.
How To Enjoy It: Walk up the hill in the park across the street for the best angle of both the houses and the skyline.
For more free activities, read Top 25 Free Things to Do in San Francisco.
Courtesy of Mandarin Oriental, San Francisco
Room with a View: Premier Bridge-to-Bridge Room at the Mandarin Oriental San Francisco
While several of the city's high-rise hotels have rooms with a view, none offers the wide-open vistas of this light-filled, 450-square-foot luxury space at the Mandarin Oriental San Francisco.
What You'll See: A breathtaking 180-degree panorama—best from floors 40-48 in rooms ending with 06—that takes in the entire waterfront, from the Golden Gate Bridge to the Bay Bridge. At $925 per night, with Alcatraz in the distance and the striking Transamerica Pyramid just blocks away, it's an undeniably indulgent view.
How To Enjoy It: Uncork a bottle of Cabernet, put your iPod in the dock, and play Tony Bennett's "I Left My Heart in San Francisco." Sleep with the curtains open to catch the skyline as the morning fog lifts.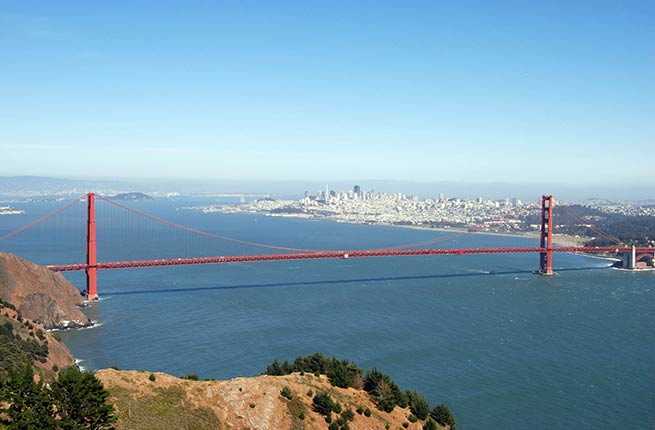 (c) Tugboat98 | Dreamstime.com
Headlands with a View: Hawk Hill
Head to this perch to get an idea what eagles, hawks, and other birds of prey experience as they ride wind currents above the hypnotic hills of the Marin Headlands
What You'll See: The entire 8,980-foot-long span of the Golden Gate Bridge backed by the San Francisco skyline far below you as you gaze down from 2,032 feet
How To Enjoy It: Visit Hawk Hill on a clear day in the early afternoon and bring along a picnic lunch (park your car facing the view and enjoy), a windbreaker, and binoculars; in addition to the 19 species of raptors that call the grassy headlands home in fall, the Mission blue butterfly is also endemic.
For more free activities, read Top 25 Free Things to Do in San Francisco.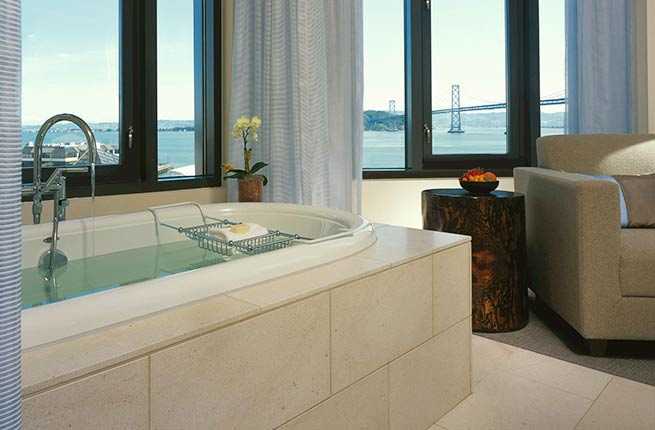 Cesar Rubio
Bathtub with a View: Panoramic Circular Suite at Hotel Vitale
This is the ultimate place to soak in the amazing view as you steep yourself in a sleek mid-suite tub facing floor-to-ceiling windows.
What You'll See: Hotel Vitale offers a 180-degree panorama of the Ferry Building's distinctive 245-foot clock tower (modeled after the one in Seville, Spain) and sweeping suspension cables of the Bay Bridge.
How To Enjoy it: The tub is big enough for two, so couples in search of a romantic mid-city retreat can book the suite (from $899/night), order a bottle of champagne, dim the lights, and watch the Bay Lights, the world's largest LED sculpture.
bgrissom / Shutterstock
Hiking Trail with a View: Twin Peaks
Take your urban hike off the asphalt and away from honking horns.
What You'll See: You'll need to navigate stairways and alleys to get to the trailhead (Google "Twin Peaks hiking trail San Francisco" for directions from locals) and it's steep (922 feet up), but along the way you'll see native grassland and perhaps even endangered Mission Blue butterflies. Once you're at the top (it takes 45 minutes to an hour), you'll take in the best 360-degree view in San Francisco for free.
How To Enjoy It: Pack water and snacks, and let a summit picnic be your reward. You can also drive up the Eureka North peak if hiking's not your thing.
For more free activities, read Top 25 Free Things to Do in San Francisco.
Aubrie Pick
Happy Hour with a View: Waterbar
The combination of perfectly chilled $6 glasses of Cotes du Rhone and $1.05 oysters (5 cents per oyster goes to the Watershed Project to protect and rebuild the bay area's oyster population) makes for one delicious deal—and the view is a fantastic bonus.
What You'll See: At Waterbar, the massive span of the Bay Bridge practically hovers above you.
How To Enjoy It: Get there early (ideally around 3:30pm) to snag seats in the lively circular Oyster Bar with its large windows, or on the outside terrace with its more open bridge and bay views. Happy Hour runs until 5:30pm daily.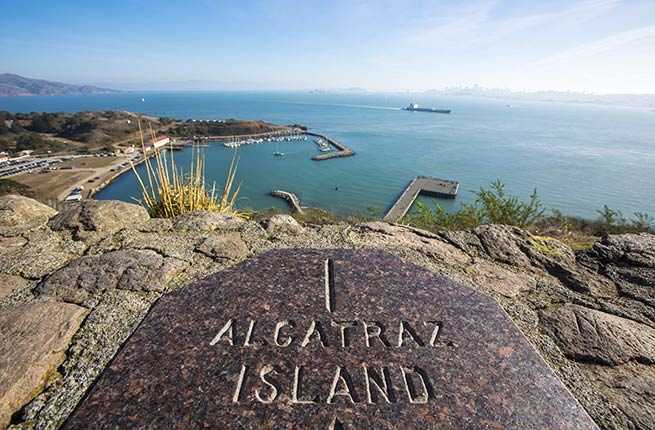 Piyavachara Nacchanandana / Shutterstock
Historic Attraction with a View: Alcatraz
To see how Al Capone, "Machine Gun" Kelly, Robert Stroud (aka The Birdman of Alcatraz), and 1,573 other inmates lived during the 29 years Alcatraz operated as a maximum security federal prison, when the view was a taunt rather than a treat, head to this island oasis.
What You'll See: Alcatraz, nicknamed "the Rock," is a 22-acre island in the middle of San Francisco Bay, so you'll pretty much see it all.
How To Enjoy It: Take time to savor a multitude of views: the island itself on your ferry ride over from Pier 33, the Golden Gate Bridge from the dismal recreation yard, and the city skyline from the yards and paths surrounding the Cell House.
Kodiak Greenwood
Resort with a View: Cavallo Point
The perfect place to enjoy San Francisco without actually sleeping in it, Cavallo Point is an atmospheric, dog-friendly resort located across the bay in Sausalito on the grounds of historic Fort Baker.
What You'll See: A photogenic glimpse of the russet-hued suspension towers of the Golden Gate Bridge from several areas on the grounds and from some of the 142 rooms, namely the Contemporary King Golden Gate View rooms (from $429/night).
How To Enjoy It: Stroll the grounds and refuel with a hearty lunch in the clubby Farley Bar.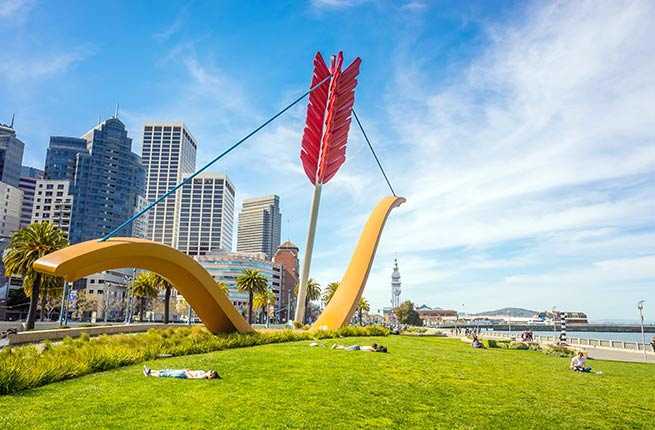 f11photo / Shutterstock
Public Art with a View: Cupid's Span
Nothing says "love" like a monumental gold-and-red steel-and-fiberglass sculpture of a bow and arrow
What You'll See: Position yourself at the right beneath it and snap a picture with the sculpture, created in 2002 by Swedish pop-art pioneer Claes Oldenburg and Dutch artist Coosje van Bruggen, juxtaposed against the Bay Bridge.
How To Enjoy It: Walk along the bustling Embarcadero toward the sculpture as you take in views of the revitalized Waterfront.
For more free activities, read Top 25 Free Things to Do in San Francisco.
S.Borisov / Shutterstock
Street with a View: Lombard Street
The "world' most crooked street," constructed in 1922, is one of those tourist sights you just have to experience (even if Vermont St. is actually more crooked)
What You'll See: At the top of Lombard St., you'll see the first two hairpin curves being negotiated by cars in front of you with a view of the Coit Tower and the scenic bay before you.
How To Enjoy It: Drive it! Hand your cell phone or camera to your passenger and maneuver the eight tight turns from top to bottom amid the famous manicured hydrangeas. Then look back up: The best photo ops are from the bottom.
For more free activities, read Top 25 Free Things to Do in San Francisco.
Courtesy of The Scarlet Huntington
Spa with a View: Nob Hill Spa at The Scarlet Huntington
A little self-indulgent pampering during a vacation or business trip will leave you feeling reinvigorated.
What You'll See: Through the floor-to-ceiling windows of the indoor relaxation pool and whirlpool, you'll enjoy a serene view of blue sky and skyline from this spa at The Scarlet Huntington (formerly The Huntington Hotel) spa's prime Nob Hill location.
How To Enjoy It: Book a relaxing massage (from $135) or rejuvenating facial (from $145) and leave time for a swim before or after.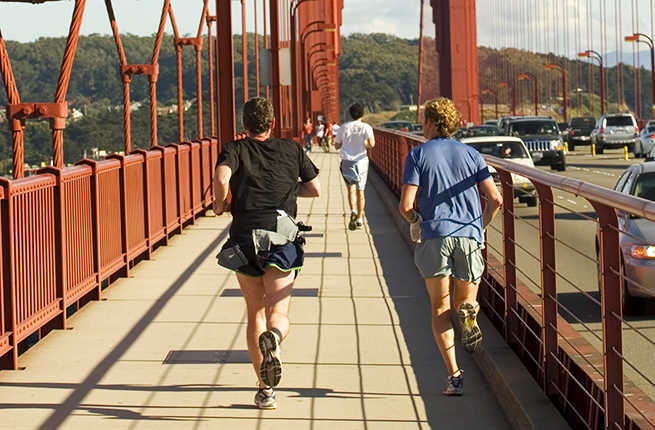 Rafael Ramirez Lee / Shutterstock
Running Route with a View: Across the Golden Gate Bridge
Don't just drive across America's most famous bridge—run across it. The Golden Gate Bridge has a pedestrian pathway on its east side that makes for one scenic workout (it's about 3.4 miles round-trip).
What You'll See: On the first stretch, away from downtown, gaze out on the rolling hills of the Marin Headlands, while on the return leg you'll be treated to a wide-angle view of the San Francisco skyline.
How To Enjoy It: Wait for the morning fog to lift, take a taxi to the Southeast Visitor Area, and follow signs for the pedestrian walkway—if you can handle a run of seven or eight miles, continue through Crissy Field along the water on the way back.
For more free activities, read Top 25 Free Things to Do in San Francisco.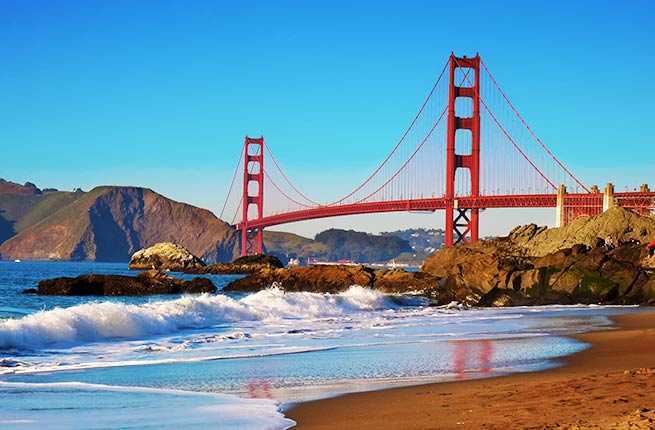 SvetlanaSF / Shutterstock
Beach with a View: Ocean Beach
The mile-long shoreline of Baker Beach is a local favorite, perfect for sandcastle building, fishing, and spotting sea lions having fun.
What You'll See: The views of the Golden Gate Bridge and the Marin Headlands from this beach are spectacular. These sands are also a recognized nudist spot, so you might catch a game of naked Frisbee on the north end.
How To Enjoy It: The thrashing waves and powerful currents make swimming a treacherous activity, but the abundance of picnic tables, grills, and drinking water make the beach a perfect lounge spot for a meal against the gorgeous landscape. Also, at the edge of the beach stands Battery Chamberlin's historic cannon, for which ranger-led tours are held the first weekend of every month.
For more free activities, read Top 25 Free Things to Do in San Francisco.
holbox / Shutterstock
Cable Car with a View: Powell-Hyde
The city's most famous cable car line (from Powell and Market to Fisherman's Wharf) is worth the wait.
What You'll See: San Francisco neighborhoods at their finest, from Russian Hill's grand buildings to the crooked-yet-perfect Lombard St. Best of all is the exhilarating stretch of Hyde between Chestnut and Bay streets as you whiz down the system's steepest grade and enjoy a view of Alcatraz and the Golden Gate Bridge.
How To Enjoy It: Ride the entire 2.1-mile route and choose a standing position on the outside runner at the front of the car's left side. Face forward, hold on with your right hand, and line up the perfect shot.