Courtesey of Calistoga Ranch
The beautiful Napa Valley, a short 90-minute drive north from San Francisco, is undoubtedly a well-sought and famous grape-growing region of world-class vineyards and wine production. The dreamy landscape of rolling hills, luxurious resorts, charming inns, stellar climate, renowned food, and, of course, wine make for an unbeatable destination. Instead of hopping from winery to winery, we've harvested a compilation of unexpected surprises from unique attractions, hands-on classes, wellness activities, hilltop, and misty forest views, and restaurants defying the Napa cuisine norm and non-vino bottle souvenirs.
Kate is a freelance writer based in New York. She's the founder of the creative collaborative, From Your Desks. She's a Contributing Editor at Fathom and her work has appeared in AFAR, Bon Appetit, Departures, Forbes, The Huffington Post and Refinery 29. She travels for the food. Follow Kate on Twitter: @k8bdonnelly.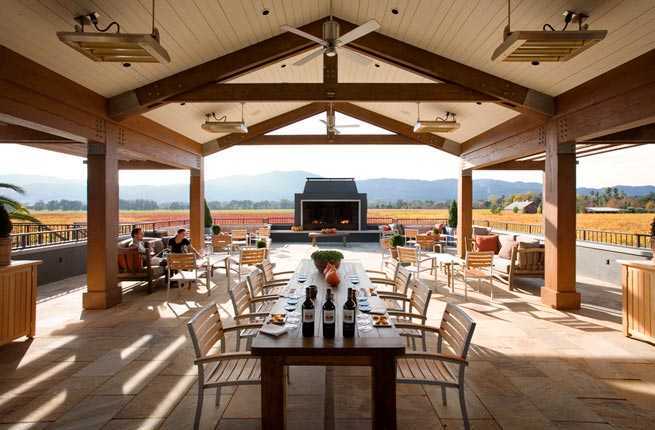 Courtesy of Round Pond Estate
Sample Olive Oil at Round Pound
Savor Napa's blossoming olive-oil renaissance at the spectacular estate of Round Pond producing four artisan oils from imported Mediterranean olive trees. Tour the mill, learn about cultivation, harvest and production methods followed by a tasting. In a rush? The Splash & Dash experience allots for samples of handcrafted oils and red wine vinegar blends. Elsewhere, charming spots like Long Meadow Ranch's historic Logan-Ives House, with a general store vibe, includes tastings of their silky critically hailed Prato Lungo Extra Virgin Olive Oil (try some drizzled on burrata at their farm-to-table restaurant Farmstead). Later, visit the wildly popular St. Helena gourmet Olivier and St. Helena Oils shops.
PLAN YOUR TRIP: Visit Fodor's Napa and Sonoma Travel Guide
Courtesy of Land Trust of Napa County
Cheers to Nature at the Land Trust of Napa
Founded in 1976, the Land Trust of Napa, protecting close to 55,000 acres, is an ideal spot for nature lovers and hiking, biking, and kayaking enthusiasts. Depending on the season, guided tours range from a 15-mile hike across the magnificent Dunn-Wildlake and Dunn Ranches with excellent birds-eye views of both Calistoga and St. Helena to an easy 3-mile trip to a waterfall near Conn Creek. Bicycle enthusiasts can chose eight local routes including the moderate 12-mile Lake Hennessey ride, passing through grape vines and rural roads, while more leisurely riders will enjoy pedaling around Calistoga along the scenic 11-mile Old Toll Road. Pack good footwear and athletic gear.
PLAN YOUR TRIP: Visit Fodor's Napa and Sonoma Travel Guide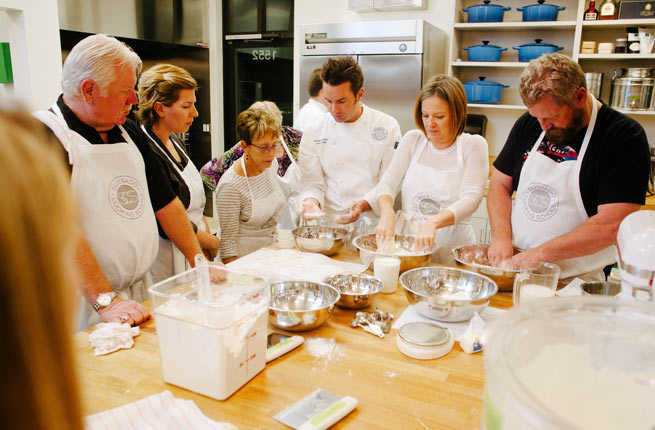 Meg Smith
Enhance Your Cooking Skills at Silverado Cooking School and the Culinary Institute of America
Serious hands-on cooks will enjoy Silverado Cooking School, with classes teaching the important techniques like blanching and sautéing helmed by chef Malcolm de Sieyes. Located in a historic 1888 stone winery, the renowned Culinary Institute of America (CIA) at Greystone gives food enthusiasts a front row seat of chefs-in-action demonstrations. Afterwards, shop at the on-site culinary store with unique tools like an avocado slicer and yeast thermometer. Chef Thomas Keller's Finesse Shop is perfect unique finds like the stunning porcelain KwangJuYo Lucy Bowls. Enjoy the spacious, local 40,000-square-foot Oxbow Public Market, packed with 24 artisan vendors like Napastak selling teas and jams and Whole Spice with a bevy of 300 rare, exotic spices.
PLAN YOUR TRIP: Visit Fodor's Napa and Sonoma Travel Guide
Courtesy of Archetype
Buy Souvenirs and Gifts at Pope Valley Pottery and Scarecrow
Bring an extra suitcase for local treasures like artist Kelly Farley's stunningly simple Pope Valley Pottery, a line of gorgeous serving and nesting bowls, coffee mugs, and vases (available for purchase at Archetype in early 2015). In Rutherford, Scarecrow winery's co-owner Mimi DeBlasio produces Barney's-worthy 24K gold jewelry bestowing the scarecrow emblem. Harvesting grapes from her family's vineyard, Lydia Mondavi's 29 skincare and cosmetics offers anti-aging, antioxidant grape seed products and makeup like sparkling Pinot lip gloss (sold at Pearl's Wonderful Clothing). Need something for the sweet tooth? Grab a mix of Kollar Chocolates, confections made using ingredients like fennel pollen, gooey chocolate turtles from the small La Forêt Chocolate and caramels with Fleur de Sel at the Parisian-style storefront Woodhouse Chocolate.
PLAN YOUR TRIP: Visit Fodor's Napa and Sonoma Travel Guide
Courtesy of Indian Springs Resort and Spa
Discover the Mud in Calistoga
At the northern end of Napa Valley, Calistoga hosts a wealth of natural hot springs. Native Wappo Indians first unearthed the mud practice known for its detoxifying benefits. Experience a local bath, a mix of hot spring water and natural minerals infused with rich volcanic ash and peat. The venerable Indian Springs, settled on 16-acres of palm trees, roses, and lavender is perfect for unwinding—there are four on-site thermal geysers and hot mud soaks (clothing optional). The modest should consider the gloriously private Calistoga Ranch Spa. Try the "Calistoga Mud Wrap" with a dry brush exfoliation, a full body massage, or the "Sense of Place" with a mud mask of volcanic ash painted onto your back.
PLAN YOUR TRIP: Visit Fodor's Napa and Sonoma Travel Guide
Aubie Pick Photography
Namaste in Wine Country — Yoga at Domaine Carneros
You certainly don't have to be a yogi to appreciate the wide, expansive views of sublime manicured vineyards and azure sky. Consider an early morning, open-air alfresco yoga class on the grand grounds of the Taittinger-affiliated Domaine Carneros. After savasana, snack on smoked salmon bruschetta and nurse a flute of organic bubbles. Near St. Helena, Vineyard 29 (known for its acclaimed Cabernets) has teamed up with a local Pilate's outfit for private classes on its picturesque veranda, or a half-day of working out and wrapping up with a tour and tasting. Elsewhere, Ladera Vineyards offers cycling tours including a bike, helmet, and hearty picnic lunch.
PLAN YOUR TRIP: Visit Fodor's Napa and Sonoma Travel Guide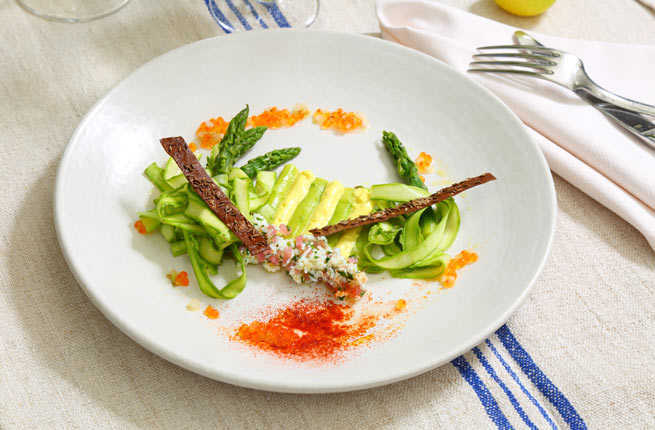 Courtesy of Archetype
Taste the New Cuisine at the Farmer and the Fox
A departure from traditional Napa cuisine, the British gastro pub The Farmer and the Fox lets you feast on slow cooked rabbit Wellington. Also treat yourself to the delicious, approachable Archetype. Start with The Doctor Ann, bergamot tea infused with local No. 209 Gin, lemon juice, and raspberry foam. Highlights include the delicious Half Moon Bay sand dabs paired with grilled rapini and crisp hushpuppies. In Downtown Napa, Chef Masaharu Morimito's flagship Morimoto Napa takes honors for breaking Napa cooking rules. The mod space is perfect sipping sake as you feast on the fabled toro tartare, spicy king crab, and sticky ribs with a tamarind glaze.
PLAN YOUR TRIP: Visit Fodor's Napa and Sonoma Travel Guide
Faith Echtermeyer/Courtesy of di Rosa, Napa
Art Time at di Rosa + Nature Preserve
Located in the Carnernos hills, the 217-acre di Rosa + Nature Preserve houses one of most extensive Northern California art collections thanks to its eccentric late founder Rene di Rosa. The property serves as the grounds for three separate galleries with modern works like the popular Mother Tina's Car by David Best, featuring a 1967 Pontiac with heavy ornamentation, and a hillside sculpture meadow with colorful works by Mark di Suvero and Viola Frey amid spectacular views of the 35-acre Winery Lake. Don't miss the wildlife preserve with peacocks dotting the grounds. To fully grasp the museum's collection, sign up for the 2-hour tour (reservations strongly recommended).
PLAN YOUR TRIP: Visit Fodor's Napa and Sonoma Travel Guide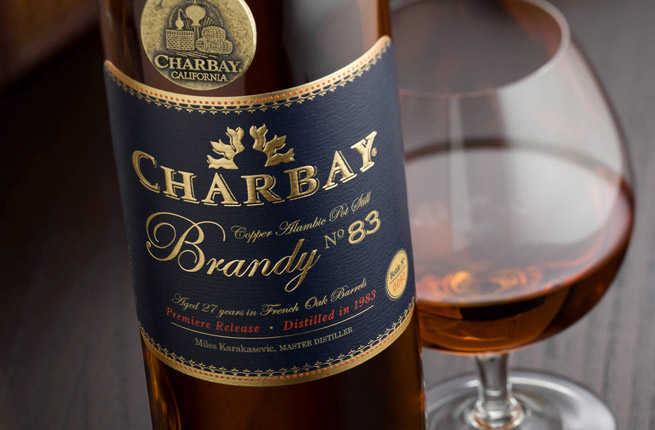 Courtesy of Domaine Charbay Distellery
Sip Beer and Spirits at Napa Smith
The wine-wary should visit Napa's only brewery, Napa Smith, and sample the organic IPA, Hop Java Pale Ale, and Bonfire Imperial Porter. Afterwards, head to Domaine Charbay Distillery, which churns out flavored vodkas (think blood orange), rum, and whisky. Located at the Oxbow Market, the Napa Valley Distillery serves as a tasting salon and recently launched its Old Hollywood Gin blended with local Napa spices. Later, head to the moody Goose & Gander and order a house-made Bali Spice Old Fashioned spiked with bourbon, bitters, clove, and cinnamon. The hip, Avro-KO designed Fagianai's Bar at The Thomas makes a mean Spanish Sidecar with 10-yeard Torres brandy, lemon, saffron, and paprika tincture.
PLAN YOUR TRIP: Visit Fodor's Napa and Sonoma Travel Guide
Courtesey of Calistoga Ranch
Stay at the Auberge du Soleil
Lest you forget you're in the heart of Napa Valley, the Auberge du Soleil easily has you believe you're in the windswept landscapes of Provence. The 50 earthy, yellow-toned rooms project a European vibe, with cottage-style wooden beans, slanted ceilings, and mod fireplaces. Take a stroll in the sculpture garden, and don't miss the stunning sunsets from your room. Equally desirable, the secluded 48-acre Calistoga Ranch, a rarified eco-retreat with stunning landscape and private cottages, will have you transformed into a zen, woodland spirit. Don't miss a breakfast at The Lakehouse (farm fresh eggs courtesy of the on-site chicken coup) with warm, cozy stone fireplaces.
PLAN YOUR TRIP: Visit Fodor's Napa and Sonoma Travel Guide