Tulum has become the darling of Mexico's Riviera Maya, attracting everyone from bearded backpackers to lithe yoginis to young parents with its postcard-worthy beaches and authentic Mayan culture. That's good news for the town's hospitality industry—new spots are popping up almost daily, taking advantage of Tulum's rising popularity and building boom. Perennial favorites like Hartwood and Taqueria Honorio have received numerous culinary accolades and are not to be missed, but there is much more to this picturesque beach town's food scene. Here's where to eat and drink in Tulum now. —Davina van Buren
Tucked off a quiet side street a couple of blocks off the main drag in pueblo, Cetli flies under the radar. But don't let the location fool you—this is arguably the most authentic Mexican fare you'll have in Tulum. The meal begins with a complimentary sampling platter filled with tiny empanadas, local cheeses, oranges dusted with crunchy grasshoppers, fresh herbed butter, jams, and salsa verde.Next, go for the house specialty, chiles en nogada: poblano peppers stuffed with minced beef and pork, prunes, raisins, pineapple, and cinnamon, finished with walnut cream sauce and pomegranate seeds. Pair it with the tamarind margarita. Live music, candlelight, traditional Mayan decorative objects and warm, attentive service complete this slow food experience.
PLAN YOUR TRIP: Fodor's Tulum Guide
At Unico, local ingredients from fishermen and farmers are used in creative dishes with influences from the Caribbean, Europe, and Asia. This is reflected in dishes such as the duck confit agnolotti, spiced lamb meatballs, and seared tuna with sauteed spinach, fried plantains, and avocado cream. This open-air, second-floor spot is along the main avenue in town.
Insider Tip: Unico serves the best sangria in Tulum.
PLAN YOUR TRIP: Fodor's Tulum Guide
A meat eaters haven, El Asadero serves thick, juicy steaks, giant chorizo sausages, and asada and pastor. Vegetarians have a few standout options, too—like the grilled cactus topped with Oaxaca cheese and charred veggies. Included with the meal is a plate of chips and various salsas for dipping, and there's also an excellent wine list with several Mexican varietals. Snag a sidewalk table to enjoy live music, varying from mariachi bands to guitar-and-drummer duos. El Asadero works equally well for a romantic dinner or a family gathering.
PLAN YOUR TRIP: Fodor's Tulum Guide
It might sound counterintuitive to look for a traditional American breakfast while in Mexico, but sometimes you just need a taste of home. Azafran sits on a side street in town, with a lovely, quiet garden out back where breakfast and lunch are served daily (except Tuesdays). The standout menu item, both taste and value-wise, is the "hangover breakfast": two eggs, house-made German-style sausages with homemade spicy mustard, bacon, mashed potatoes, a small salad, fresh squeezed juice, and coffee from Vera Cruz. The rest of the menu—and the warm, friendly service—is equally delightful.
PLAN YOUR TRIP: Fodor's Tulum Guide
Ask around about Tulum's nightlife, and you are sure to hear about Batey. This bustling hotspot hosts world-class performers, open mic nights, dancers, and local artists. An old Volkswagen out front has been converted into a sugar cane press, and the fresh juice is used to make their signature flavorful mojitos. If you like spice, try the Mayan, which is infused with chiles and bitter orange. Though mainly a bar, there is a small tapas menu—and it's fantastic. Batey is full every night, especially during high season, and sometimes it's hard to get a table. But no worries: when it gets packed inside, revelers take the party into the street out front.
Insider Tip: Don't be surprised that drinks are served sans straws, an effort to reduce landfill waste.
PLAN YOUR TRIP: Fodor's Tulum Guide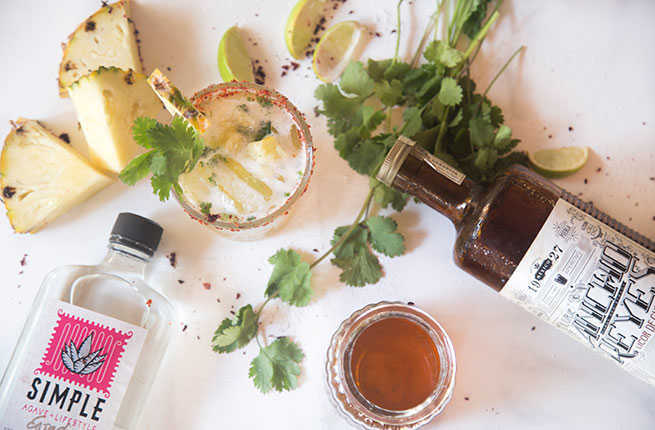 The name says it all—at this establishment, the focus is on fresh, simple ingredients and presentation. The menu is heavy on local seafood, although the tempura (avocado, red onion, broccoli, and cauliflower served with tzatziki) and the cactus leaf and mozzarella salad make excellent starters. To sample the best of Simple's offerings, go for the seafood platter: shrimp, escolar, octopus, and red snapper. Ask for a table in the palapa—a traditional Mexican open air shelter with a palm leaf roof—where music and dancing complete the experience.
PLAN YOUR TRIP: Fodor's Tulum Guide
You can't go to Mexico and not have tacos. And while you'll find plenty of options at the street carts in town, make time for this laid-back, unpretentious, and inexpensive joint in the hotel zone. Named for the resident English Sheepdog mascot, Eufemia serves up some of the best tacos you will ever put in your mouth, without the haughty vibe you can get at some of the other beach establishments. No shirt, no shoes, no problem. Come early and snag a piece of primo beachfront where you can lounge, listen to music, and order snacks all day. Happy hour is from 6-8 p.m. with two-for-one cocktails. Taqueria de Eufemia is definitely one of the best places to hang out in Tulum.
PLAN YOUR TRIP: Fodor's Tulum Guide
Gilligan's Island meets fine dining at this rustic restaurant, located on the jungle side of the beach road. Stone steps lead up to the seating area, where you are surrounded by dense forest. The menu is small and changes often, but diners can always choose their own lobster. Other standouts include a grilled fruit and blue cheese salad, deviled avocado, and succulent grilled ribs. If you are looking for an intimate dining experience in Tulum, this is your spot.
PLAN YOUR TRIP: Fodor's Tulum Guide
Just a couple of doors down from Hartwood, Tulum's most well-known restaurant, is this sexy little mezcal bar and outdoor kitchen. For dinner, order several small plates to share. The wood-roasted cauliflower with mint cilantro chutney, pickled beets with lime yogurt, jicama, and cardamom, and homemade hummus are not to be missed, but the stars of the show are the cocktails. They have creative names like "Gypsy Disco," "Jungle Fever," and "Gitano Swizzle," but our go-to is "Kisses in the Car," a spicy blend of mezcal, passion fruit, tangerine, and habañero. After dinner, the scene turns a bit more clubby with loud music and dancing in the palm tree garden.
PLAN YOUR TRIP: Fodor's Tulum Guide
Famed Copenhagen restaurant NOMA is presenting open-air pop-up dinners in Tulum from April 12—May 28 in the hotel zone at the beach. The $600, multi-course menu includes pairings of alcoholic and non-alcoholic beverages. If you've always wanted to dine at NOMA but couldn't make it to Denmark, here's your chance to experience the hype in North America.
PLAN YOUR TRIP: Fodor's Tulum Guide