Everybody knows tequila, but it's barely the tip of the agave plant when it comes to traditional alcoholic beverages in Mexico. While many of the regional specialties barely make it out of the homes they're made in, Mexico City bars offer a unique opportunity to sample distinct, hard-to-find beverages not labeled for export. From the funky raicilla to the viscous pulque, here's where to find the most interesting Mexican traditional alcohols in Mexico City.—Naomi Tomky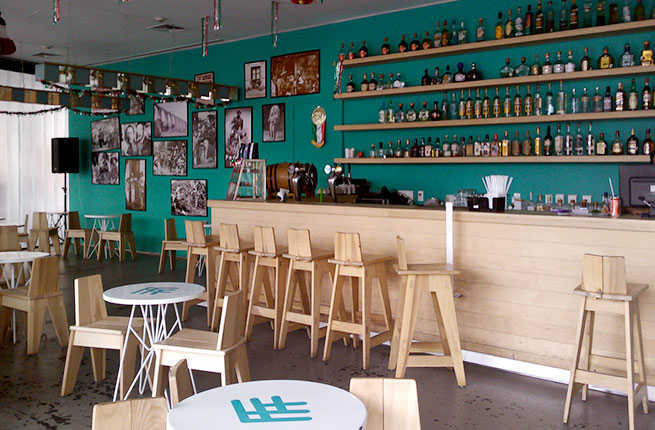 Itzel Hdz via Wikimedia Commons, [CC BY-SA 3.0]
Tequila
Where to Find It: El Museo del Tequila y el Mezcal
Start your journey into traditional drinks with a little education: this small museum on the Plaza Garibaldi walks you through the history of tequila and mezcal, what they each are, and how they're made. Tours end with a roof-top tasting in the cantina—also an excellent opportunity to sample a few more tequilas and mezcals in a place designed to help you learn about them.
PLAN YOUR TRIP: Fodor's Mexico City Guide
Mezcal
Where to Find It: Bósforo
A blackboard menu lists the origin and style of each of the mezcal bottles which sit, barely labeled, below. Navigate the lack of information by chatting with the bartenders, all of whom will pair your tastes with the perfect artisanal, rare mezcal. You'll also find—depending on the day—puntas, or the first distillation of the mezcal; bacanora, another agave liquor, less-smoky and more peppery, from Sonora; and sotol, a drink made from an agave-like plant in Chihuahua.
Read More: 5 Authentic Spots in Mexico City
Pechuga
Where to Find It: La Botica
Since opening more than a dozen years ago, La Botica has opened a number of additional locations and developed their own excellent line of mezcals, but drinking in the original Condesa location is still both charming and quite beneficial for your mezcal education. While the hand-written menu can be confusing, the servers are helpful and will find you a pechuga (mezcal distilled with raw chicken) or añejo (aged mezcal) to suit your needs from the endless rows of tiny, apothecary-esque bottles on the wall.
PLAN YOUR TRIP: Fodor's Mexico City Guide
Limosneros
Pox
Where to Find It: Limosneros
In the back of this stunning restaurant, glass teardrops holding clear beverages hang from the ceiling. Like everything else here—from the ingredients in the food to the art on the walls—the bar is designed to show off the best of pre-Hispanic Mexico. The hanging beakers are actually mezcal bottles, and should you order a drink, it will be poured from one. But for a taste of something a bit harder to find, try pox (pronounced poh-sh), a Mayan sugar cane drink distilled from a fermented corn base (included in your meal if you order the taco tasting menu).
Read More: 5 Authentic Spots in Mexico City
Matthew Clemente/Shutterstock
Pulque
Where to Find It: Pulqueria Las Duelistas and Pulqueria La Nuclear
Pulque, a thick, lightly-alcoholic pre-Hispanic drink made from fermented maguey sap, was once considered declassée. Lately, hipster hangouts like this divey saloon have turned the drink's reputation around: here, students gather around pitchers, tourists mingle at the bar, and old drunks sip in the corner under the colorful murals of Aztec symbols. In addition to the plain version of pulque, Los Duelistas offers flavors like celery, mango, and almond to make it a bit easier to drink.
Visitors can find a softer side of the pulque scene at this quiet bar in La Roma. Young couples hold hands on the wooden benches as they sip pulque from the traditional ceramic jugs. Here, the pulque scene is a bit more old-school and a bit more mellow, but you'll still find muraled walls and the lightly-fizzy drink in both plain and flavored versions like amaranth and peanut.
Read More: 5 Authentic Spots in Mexico City
Igor Normann/Shutterstock
Aguardientes
Where to Find It: La Nacional
La Nacional showcases the best drinks from around the country. That means in addition to a wide selection of mezcals from around Mexico, they stock stool from Chihuahua, bacanora from Sonora, and even a few sugar-cane based aguardientes.
PLAN YOUR TRIP: Fodor's Mexico City Guide