Rudi1976 | Dreamstime.com
The beauty of Norway comes in many forms throughout the year. In winter, the landscape is a bright, snow-layered horizon, dotted with multicolored buildings that appear especially radiant during short Arctic days. Through summer, cities and rural valleys are filled with green trees, grassy meadows, and sparkling fjords. But no matter the season, Norway is always an inviting country where picturesque scenery beckons visitors to experience its lovely, vibrant coast and out-of-the-ordinary attractions.—Kelsy Chauvin
Bleung | Dreamstime.com
No trip to Norway is complete with out a little Viking time. Head to Oslo's Bygdoy peninsula to view historic sites; just don't miss seeing actual millennium-old vessels at the Viking Ship Museum. The three ornate, but dilapidated wooden ships displayed here date back as far as the 9th century, and are in various conditions thanks to their final functions as burial ships, which were preserved for centuries in burial mounds.
PLAN YOUR TRIP: Visit Fodor's Norway Guide
VisitOslo/Tord Baklund
Among other things, Oslo has used its strong economy (bolstered by abundant natural-gas reserves) to invest in and improve its neighborhoods. The long-term Fjord City Project has rebuilt Oslo's waterfront and skyline, and made a world-renowned, design-forward neighborhood out of Thief Island (so named for being a prison islet centuries ago). Visitors now stroll its promenade, eat at its sleek restaurants, stay at the uber-chic hotel The Thief, and visit the Astrup Fearnley Museum, one of the world's elite modern-art institutions.
PLAN YOUR TRIP: Visit Fodor's Norway Guide
Tt | Dreamstime.com
Bergen was once the biggest city in Norway, a cultural hub and major shipping port for all of Scandinavia. Today, it's second in population only to Oslo, and offers plenty of distinctive sights and culture. Visiting the UNESCO World Cultural Heritage Site of Bryggen ("wharf" in Norwegian) is a must. There, the quaint, colorful wooden row buildings date back to the 18th century. Nearby, take the Ulriken643 cable car 643 meters up to the top of the highest of Bergen's famous Seven Mountains, where you can dine on Norwegian fare at the lofty Floien Folkerestaurant while enjoying the panoramic harbor view.
PLAN YOUR TRIP: Visit Fodor's Norway Guide
Norway's stunning coastline is best seen from the water, and Hurtigruten is a favorite way to see it. Part cruise ship, part ferry, part commercial vessel, these boats serve travelers and locals alike. Hurtigruten offers offshore excursions at ports from Bergen to Alesund to Trondheim and many more, with activities, educational talks, and other onboard events to liven up a week cruising the Arctic waters.
PLAN YOUR TRIP: Visit Fodor's Norway Guide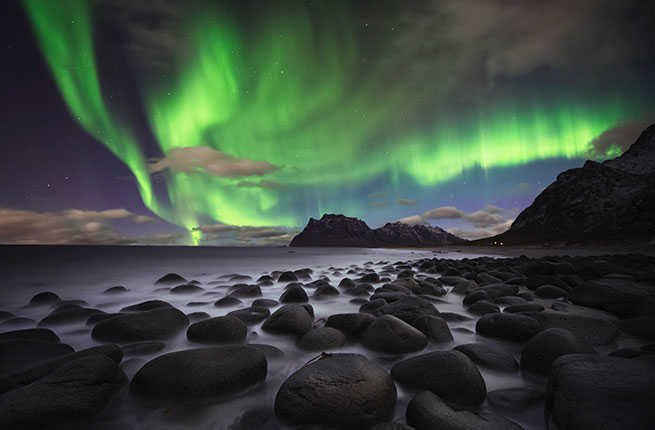 Inigocia | Dreamstime.com
One of the driving forces to visit the far north is the beguiling wonder of the aurora borealis. September through April are good months to catch sight of them, but the best odds are in January and February. Check out the highly accurate forecasts of NorwayLights.com, which shares specific hour-by-hour predictions for viewing the northern lights from various Norwegian cities.
PLAN YOUR TRIP: Visit Fodor's Norway Guide
Kelsy Chauvin
One of Norway's—and the world's—most breathtaking cliffs is the North Cape, or Nordkapp, which marks the northernmost point of continental Europe. Join a tour from the port city of Honningsvag for the half-hour ride to the Cape, where you can explore a subterranean exhibition, grab lunch, and of course, snap your photo with the iconic Globe monument.
PLAN YOUR TRIP: Visit Fodor's Norway Guide
Terje Rakke/Nordic Life/Visit Norway
The far northern city of Kirkenes, a few miles from the Russian border, is home to the Snowhotel. Guests can book rooms in climate-controlled cabins all year—or in chillier months, spend the night in a cold room, each one uniquely sculpted from snow and ice. Either way, don't miss an afternoon exploring the fjords (iced over in winter) followed by fireside dining in a rustic cabin. Dogsledding and snowmobiling are part of the hotel's winter fun, while summer brings fishing, rafting, and other activities under the midnight sun.
PLAN YOUR TRIP: Visit Fodor's Norway Guide
Roumyantseva | Dreamstime.com
The amount of inspiration and determination alone behind Vigeland Park is staggering. But it does provide a sense of how deeply committed Gustav Vigeland was when he designed and adorned the park's 80 acres. Today, the grounds are filled with more than 200 captivating, emotionally charged sculptures made from bronze, granite, and wrought iron. It's the world's largest sculpture park made by a single artist, and one of Norway's most-visited attractions.
PLAN YOUR TRIP: Visit Fodor's Norway Guide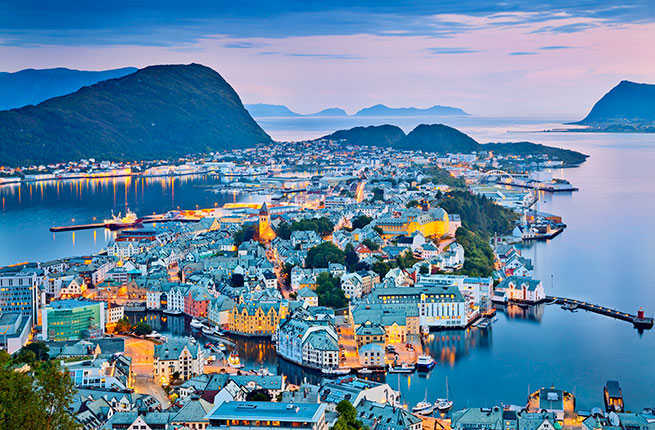 Rudi1976 | Dreamstime.com
Famous as the "Art Nouveau city," Alesund is indeed a beautiful, historic town founded in 1838. Occupying a peninsula about halfway up the Norwegian coast, Alesund thrived in shipping and fishing industries until it was devastated by a fire in 1904. The city was rebuilt using architecture heavily influenced by the Art Nouveau styles of the early 20th century.Today, don't miss a visit to the town's Art Nouveau Centre, which is housed in the preserved Swan Pharmacy building, itself a marvelous example of century-old style.
PLAN YOUR TRIP: Visit Fodor's Norway Guide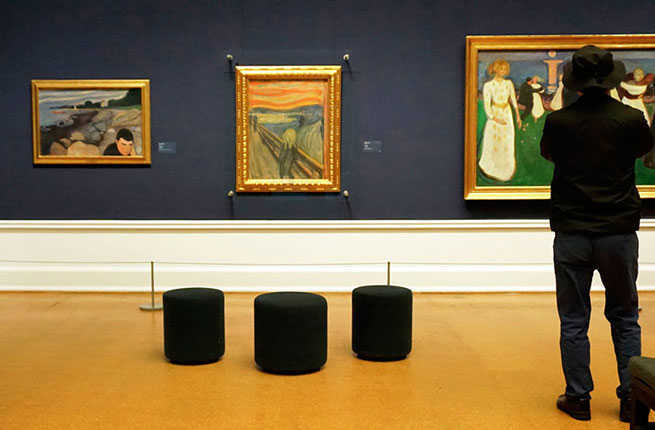 VisitOslo/Tord Baklund
Though Edvard Munch faced the familiar struggles of an artist while he was alive, his works eventually made him one of Europe's most exalted painters. His 1893 masterwork The Scream is perhaps his most striking and memorable piece; it resides in the National Gallery in Oslo. There you can also view other Munch paintings including his Madonna, as well as pieces by Manet, Cézanne, and many more.
PLAN YOUR TRIP: Visit Fodor's Norway Guide