Famous Palace Bar in Dublin. by Keith Cooper Attribution License
Walk into any classic pub in Dublin and there's one thing you won't hear: a television. This is intentional—pubs are for drinking and talking, not for staring at screens. It's this environment that has made (and continues to make) Dublin's public houses prime hubs for the literaty set. Dublin is full of literary ghosts, if you know where to look. From Davy Byrne's Pub, where James Joyce placed one of his characters eating a gorgonzola sandwich, to Toner's Pub, where Dracula scribe Bram Stoker raised a glass, here are 10 places to visit in Dublin with a long literary history.
by Jessica Colley
Some pubs are famous for who drank there, while others are famous for the literary works they appeared in. Davy Byrne's Pub is a pilgrimage site for James Joyce fans, who, like Joyce's character Leopold Bloom in Ulysses, stop in for a glass of burgundy and a gorgonzola sandwich. Located off central Grafton Street, the pub is on a pedestrian-only block with a few outdoor tables for some excellent people watching. Follow Leopold Bloom's order, or opt for seafood, the pub's specialty, instead. This is an ideal spot to start an evening with half a dozen oysters and pint of Guinness.
The stained glass and dark wood interior of McDaid's (3 Harry Street) remains unchanged since this central pub was a favorite haunt of Irish writers Brendan Behan, Patrick Kavanagh, and Flann O'Brien. Also located off Grafton Street, this pub was once the unofficial headquarters of Envoy magazine. This classic pub was a meeting place for the literary avant-garde during the 1940s and 50s. In 2009, a frenzy was caused one evening at sunset when then-Secretary of State Hillary Clinton stopped in for a drink.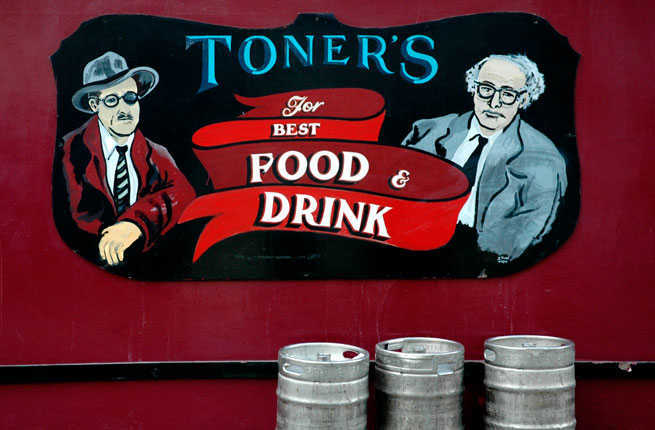 Tourism Ireland
On Baggot Street a couple blocks away from St. Stephen's Green there is an unassuming pub on a corner. Swing open the door to Toner's in the afternoon and you're likely to see a few men reading the newspaper or nursing pints of Guinness. This understated, comfortable little pub was the drinking den of choice for many of Ireland's literary greats, including Oliver St. John Gogarty and Bram Stoker. Toner's is also the only pub in Dublin that can claim W.B. Yeats as a customer, as it is said to be the only pub visited by the iconic poet.
In Dublin you will hear people talking about their "local"—the pub that they either live near or choose to frequent regularly. This literary pub was the local for writers like Flann O'Brien and Liam O'Flaherty, who followed a favorite barman named Paddy O'Brien from McDaid's over to Grogan's. This pub is still a popular pick for contemporary Irish writers that favor its relaxed atmosphere, consistent pints, and famous toasties (a toasted ham and cheese sandwich).
Since 1823, Dubliners have been raising a glass beneath the stained glass skylight of The Palace Bar on Fleet Street. This 19th century Victorian pub became known during the 1940s and 50s as a gathering place for journalists, as it was a favorite of Bertie Smyllie, then-editor of The Irish Times. This pub also served as a meeting place for a variety of writers including Clarke, Kavanagh, Brinsley MacNamara, and Flann O'Brien. Before his death in 2013, Nobel Laureate Seamus Heaney was also known to stop into The Palace Bar for a drink.
Another central pub off Grafton Street is Kehoe's, a multi-level traditional pub dating back to 1803 with several snugs and private corners for rowdy literary-focused conversations. Kehoe's was a favorite of Kavanagh and Behan when they "fell out" with nearby McDaid's. The 1940s and 50s were the great literary days of this pub, when writers would take advantage of the quiet morning hours to have a pint and spark creativity among friends and colleagues.
Courtesy of Marriott International
Horseshoe Bar at the Shelbourne Hotel
Every literary city needs a classy watering hole, and in Dublin, that's the Horseshoe Bar in the Shelbourne Hotel. This polished, spacious bar has a long reputation as a sophisticated meeting place for not just writers, but also for politicians, businessmen, and actors. Writers such as Behan, Rudyard Kipling, and Elizabeth Bowen were known to raise a glass here at the landmark location just across the street from St. Stephen's Green.
Courtesy of Dublin Tourism
Items from the past 300 years of Dublin's literary history are brought together under one roof in the Dublin Writers Museum. Set in a restored Georgian mansion on Parnell Square (north of the River Liffey) this museum focuses on writers including Oscar Wilde, Samuel Beckett, Joyce, W.B. Yeats, Austin Clarke, and many more. Dublin literary heritage is explored from its beginning through modern times in this fascinating little museum, full of rare first-editions and telling personal items. Expect to see Beckett's telephone and Clarke's desk among pens, letters, handwritten postcards, and typewriters.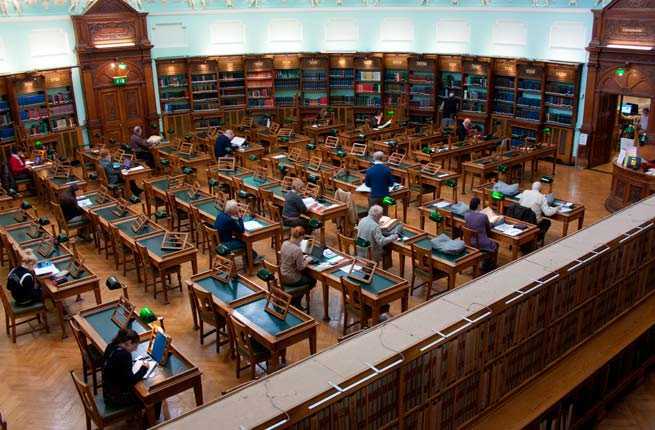 Semmick Photo/Shutterstock
The National Library of Ireland
For an alternative to the dark depths of a traditional pub, explore the fascinating exhibit on the life and works of W.B. Yeats at the National Library of Ireland. The Irish poet (who founded the Abbey Theatre and served two terms as an Irish senator) is celebrated in this expansive exhibition, featuring digitized copies of his personal notebooks. Leaf through pages with the flick of your finger or check out the several audio-visual elements of the exhibit, including other famous Irish writers reading the work of Yeats aloud.
Patrick Kavanagh statue on the Grand Canal
In Dublin, it is easy to drink in the places writers drank, but be sure take the time to see the landscapes that inspired their work. For Kavanagh, one of those places was the Grand Canal, a narrow expanse of water on the southside of Dublin. At the point where the Grand Canal crosses Baggot Street, there is a bench where a statue of Kavanagh permanently sits, looking pensively into the water. Kavanagh wrote in his poem Lines Written on A Seat on the Grand Canal, "O commemorate me with no hero-courageous / Tomb—just a canal-bank seat for the passer-by."