Cafefin
Once upon a time, ordering coffee in Prague was a matter of asking for preso—a pungently bitter take on espresso—and praying the beverage would be palatable. Thankfully now a new generation of cafes are percolating their way through the Czech capital in which single-origin beans are pulled by world champion baristas. Be sure to check out the city's historic coffeehouses too, where pioneering thinkers from Kafka to Einstein once congregated to muse on life's great mysteries.—Lisette Allen
Paralelní Polis
Conventional money is useless at Bitcoin Coffee, reputedly the only café in the world where your latte can only be paid for with the cybercurrency. Part of Paralelni Polis, a cultural centre and co-working space founded by the Ztohoven collective of ethical hackers and artists, the café's free-standing bar is intended to symbolise the open exchange of information in the digital age which the group espouses. The baristas here care just as much about quality coffee as cryptoanarchy and only pull espressos made with grounds from the Liberec-based roastery Nordbeans.
PLAN YOUR TRIP: Visit Fodor's Guide to Prague
Café Louvre
Opened in 1902, Café Louvre was Antonin Pelc's attempt to bring the Parisian coffeehouse experience to Prague. Be seduced by the vestiges of old-world glamour which still remain: the imposing entrance hall complete with fountain and a glass tank full of turtles, the waiters sporting bow-ties and waistcoats while gliding effortlessly between tables and its smoky billiard room. The coffee menu is extensive: linger over a café au lait while leafing through the extensive collection of international newspapers and filling up on a decadent breakfast before further exploration of the city. Best to book on weekends.
PLAN YOUR TRIP: Visit Fodor's Guide to Prague
onesip coffee
With only a handful of seats in its bijou interior, pocked-sized espresso bar onesip coffee is about popping in for a pick-me-up on the move before deliberately losing yourself in the maze of streets which make up the unfailingly pretty Old Town. Owners Adam Gaszczyk and Zdeněk Hýbl favor the mellow tones of British speciality coffee brand Round Hill Roastery.
PLAN YOUR TRIP: Visit Fodor's Guide to Prague
Tricafe
The existence of the delightful shabby-chic oasis that is TriCafe complete with wicker rocking chairs, patchwork knitted seat cushions and friendly staff so close to the tourist crush of Charles Bridge is a veritable miracle. Genial owner Jan Matatko can often be seen helming the grinder; niche roasteries like Berlin-based Bonanza source the sustainable beans. Browse one of the second-hand paperbacks on sale while gazing across the square at Divadlo Na Zábradlí, where dissident-turned-president Vaclav Havel saw his plays performed and met his future wife Olga.
PLAN YOUR TRIP: Visit Fodor's Guide to Prague
Super tramp coffee
Successfully tracking down Super Tramp Coffee is an achievement in itself – it's tucked away at the end of a narrow cobbled lane in the courtyard in one of Prague's many imposing neo-Renaissance buildings a short walk from Karlovo Náměstí—but it merits the effort. Grab a seat at a bench on the patio to soak up the chilled vibe over a squidgy brownie and an immaculately presented coffee from the Budapest-based roastery Casino Mocca and feel smug about dodging the herd. This is a Wi-Fi-free zone, so leave the laptop in your hotel.
PLAN YOUR TRIP: Visit Fodor's Guide to Prague
Original Coffee
Tucked away down a side street off picturesque Bethlémské náměstí, Original Coffee serves single origin caffeine fixes to savvy locals and passing tourists. An offshoot of the well-established mamacoffee brand which has long served organic Fairtrade coffee in its cafes across the city, this incarnation is staffed by knowledgeable baristas offering alternative brewing methods beloved by millennials—aeropress, chemex and drip V60—as well as espresso-based coffees. Be impressed by the fruity undertones of the Rwanda Coko Prime Honey and nonplussed by the surreal cartoon of a Shiva goddess style cat brandishing multiple cafetieres which decorates the wall.
PLAN YOUR TRIP: Visit Fodor's Guide to Prague
Café Slavia
Located opposite the National Theater, Café Slavia, where Apollinaire and his surrealist pals once sipped absinthe, this cafe has solid literary credentials. Pay tribute to the avant-garde by indulging in a kava Slavia: coffee laced with the infamous green liqueur and topped with a swirl of whipped cream. Be sure to secure a seat by the windows at the back of the large main salon for a magnificent view over the river encompassing Petřín with its miniature Eiffel Tower and the sprawling Prague Castle citadel.
PLAN YOUR TRIP: Visit Fodor's Guide to Prague
Jakub Dohnálek
Smetana Q, the latest contemporary gallery to hit Prague's artistic scene, also houses a café bistro on its ground floor that's has already a firm favorite among the iPad-wielding crowd. The rough-hewn walls along with the oversized bare lightbulbs dangling over the counter dominated by an oversized Visacrem espresso machine all announce that this is a café with hip aspirations: no surprise then the beans in the brews are provided by top Czech roastery Doubleshot. To truly recharge, head for the back room with a view of the giant mural of inspiring quotes from Dali, Warhol, and Karlo where a hushed silence reigns.
PLAN YOUR TRIP: Visit Fodor's Guide to Prague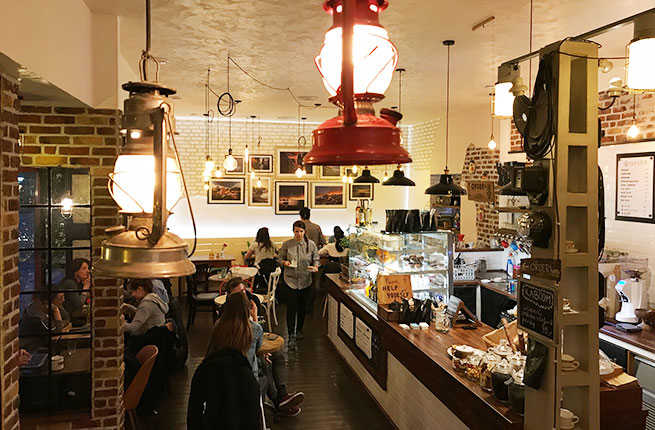 Cafefin
A short walk from the giant alien ray gun that is the Žižkov TV Tower, Cafefin is the brainchild of Vietnamese-born Jackie Tran who wanted to build on his family's hugely successful Tuan and Lan Bistro restaurants by opening a cosy café combining a contemporary vibe with a strong connection to their homeland; the original bistro a few doors down still has hordes of eager customers snaking out the door patiently waiting for pho. Don't miss the signature Viet-inspired Fin iced coffee made with creamed coconut milk; the quirky peacock which adorns the cappuccino foam is sure to be an Instagram hit.
PLAN YOUR TRIP: Visit Fodor's Guide to Prague