Courtesy of The Elephant Stables
Sri Lanka—one of the destinations on the Fodor's Go List 2015—has been steadily climbing its way back to the top of many travelers' wish lists thanks to its diverse scenery, fantastic food, and fascinating history. When looking for a place to stay, forget the big-name brands—though they exist, with more large properties to come later this year. Instead, turn your attention to charming colonial-era hotels that tell the island's story, effectively transporting travelers to the spice-trade days of old-world architecture and warm Sri Lankan hospitality. For a stay that's just as unique as this tiny nation, check into one of Sri Lanka's best boutique hotels.
By Kate Springer
Courtesy of Casa Colombo Collection, Colombo
Casa Colombo Collection, Colombo
WHERE: Colombo
Taking its 200-year-old heritage digs for a hyper-modern spin, Casa Colombo Collection, Colombo does colonial-chic like nowhere else in Sri Lanka. There's no end to the excess at this luxury establishment, which houses twelve suites and a personal butler for each room. Though Casa Colombo still retains many aspects of the original house, which was home to Indian traders, the interiors are relentlessly contemporary. You can expect Moorish architecture and mosaic floors, juxtaposed with added flair like the pink-tiled swimming pool, neon mood lighting, and flashy in-room technology.
PLAN YOUR TRIP: Visit Fodor's Sri Lanka Travel Guide
Courtesy of Galle Face Hotel
WHERE: Colombo
With seaside views of the Indian Ocean and a striking white façade, the Galle Face Hotel is a destination in itself. Established in 1864, the property takes you back to the days of royal banquets and high society. Of course, you can't keep up appearances without a touch-up here and there—the property is currently undergoing an extensive renovation that's due to complete this year. The project aims to restore some of the original grandeur to its classic North Wing while installing some modern amenities to keep up with the times. There are five bars and restaurants to choose from, as well as a salt-water pool and great views of the ocean.
Insider Tip: High tea at The Verandah restaurant is a treat, and don't miss the chance to have sunset cocktails outside on the checkerboard bar.
PLAN YOUR TRIP: Visit Fodor's Sri Lanka Travel Guide
Courtesy of The Wallawwa
WHERE: Outside Colombo
Often the first or last stop for savvy travelers, The Wallawwa is conveniently hidden just fifteen minutes from the international airport. But this is not your average humdrum airport hotel—the restored colonial mansion dates back to the eighteenth century and once housed the Royal Air Force. At 300 years old, The Wallawwa remains as graceful as ever. Picture refined high ceilings and clean white walls. The seventeen spacious rooms and suites follow suit, with breezy drapes, four-poster beds, rain showers, and some featuring plunge pools and deep-soak tubs. Within the five acres of tropical gardens, you'll stumble upon several little nooks for lounging, a small pool, and an open-air restaurant that plucks herbs, spices, fruits, and veggies from its own garden.
Insider Tip: Many airlines arrive and depart from Bandaranaike International Airport after midnight, making the colonial comforts of The Wallawwa a no-brainer.
PLAN YOUR TRIP: Visit Fodor's Sri Lanka Travel Guide
Hilde Verbeke
WHERE: Kandy
With a private location in the jungle outside of town, The Kandy House offers a quiet alternative to buzzing Kandy, the country's second-largest city and the last ancient capital. At this restored colonial manor—originally built in 1804 by the Kandyan Kingdom's last Chief Minister—you'll feel as if you're passing under the arched doorways into your own private home. Named after Sri Lanka's fluttering butterflies, each of the nine rooms has a shabby-chic feel, featuring local textiles, four-poster beds, draping mosquito nets, antique furniture, and verandas. On the lush, tropical grounds you'll find an infinity pool and a variety of civilized games for your amusement—think cricket, croquet, and carom, a traditional Sri Lankan game that's akin to shuffleboard.
Insider Tip: Stop by Kandy's attractions—namely, The Temple of the Tooth Relic and the Botanical Peradeniya Gardens—before you check into Kandy House. Once you're here, you won't want to leave.
PLAN YOUR TRIP: Visit Fodor's Sri Lanka Travel Guide
Courtesy of Elephant Stables
WHERE: Kandy
Before it was opened as a hotel in 2013, Elephant Stables had a long run as the colonial home of wealthy aristocrat Sir Cudah Ratwatte. The plantation grounds and old gardens have been returned to their former glory, while the house itself underwent a considerable makeover. Gray concrete walls and wide arched doorways pay tribute to the hotel's animal namesake, and the rooms and suites take their cues from the country's sought-after spices—think pops of radiant red in the Pepper room and fresh yellows in the Vanilla suite. Highlights include an infinity pool overlooking the countryside and the restaurant's Sri Lankan curries, which have earned rave reviews. Though you likely won't see any elephants roaming the ground these days, the hotel does have a couple of pet tortoises.
Insider Tip: It's pretty common for luxury hotels in Sri Lanka to discourage or prohibit children, but Elephant Stables is a family-friendly hotel. The Cottage is a great fit for a family of four.
PLAN YOUR TRIP: Visit Fodor's Sri Lanka Travel Guide
Courtesy of Ceylon Tea Trails
WHERE: Hatton, Central Highlands
Leading the luxury pack for decades and often filling a year in advance, Ceylon Tea Trails has established a reputation for its superlative service and impeccable surroundings. The four bungalows form a dotted line across Sri Lanka's tea country, no more than a half-hour's drive from one to the next. Offering a glimpse into colonial British lifestyle, each historic bungalow sits atop a mountainside overlooking the Ceylon tea region. There are only four to six rooms per property, and the same genteel service can be expected throughout. The days seem to move extra slowly here, so read by the pool, stroll through the garden, unwind at the spa, or play croquet and billiards. The place is all-inclusive, so go ahead and get your money's worth of gourmet meals and fine wines.
Insider Tip: Tea Trails offers every guest a signature tea tour, which is run by the resident tea planter himself. During the complimentary walk, you'll have the opportunity to soak up some history, see tea planters in action, tour a factory, and taste several different grades of tea.
PLAN YOUR TRIP: Visit Fodor's Sri Lanka Travel Guide
Courtesy of Mandira Bungalows
WHERE: Hatton, Central Highlands
Many of the upscale properties in tea country are fairly pricey, but the recently renovated Mandira Bungalows offers excellent value for those looking for a more low-key vibe and family-style hospitality. Three bungalows are scattered across the Hatton high country, each with four to five spacious bedrooms. Channeling old-world luxuries, the bungalows feature gorgeous restored furniture, black-and-white tiled bathrooms, hardwood floors, and quaint English-style gardens. Part of the charm of tea country is that there are no real tourist sights you have to check off your list, so take a stroll with the resident naturalist or relax with a book on one of the inviting patios.
Insider Tip: Mandira is BYOB, so stock up on the wine before you head to the hills.
PLAN YOUR TRIP: Visit Fodor's Sri Lanka Travel Guide
Courtesy of Aman Resorts
WHERE: Galle Fort
In the seventeenth century, the Amangalla building provided living quarters for both the Dutch East India Company and the Dutch garrison. It later transformed during the booming 1800s into the New Oriental Hotel, where English sailors took refuge in its rowdy bar. By the 1900s, the hotel had become a more civilized destination, with diplomats, bohemians, and poets flocking to its open-air terraces. The new incarnation as an Aman property, which opened in 2005, sports the same harbor views and sky-high ceilings, but it now has a refreshed look thanks to floor-to-ceiling renovations. Each of the rooms and suites is beautifully appointed with four-poster beds, antique furniture, large bathtubs, and the original 300-year-old teak floors. There's also a Secret Garden-esque pool, which is surrounded by pretty pavilions, a few lounge chairs, and the fresh scent of blooming frangipani flowers.
Insider Tip: Climb the creaky stairs to the top floor in the early evening, sip on a crisp G&T, and watch the sun set over the harbor. If you're lucky, a monkey may even pop onto the windowsill for a photo op.
PLAN YOUR TRIP: Visit Fodor's Sri Lanka Travel Guide
Courtesy of Anilana
Anilana Craigbank Nuwara Eliya
WHERE: Nuwara Eliya, Tea Country
Tucked away in the 1800s British "hill station" outpost of Nuwara Eliya, Anilana Craigbank goes all out with when it comes to bygone charm—think log fireplaces ablaze at night, art deco interiors, meticulously manicured gardens, an in-house chef, butler service, and afternoon tea on the veranda. Conveniently named after the points on the compass, the four rooms boast plush upholstery, French windows, high ceilings, and freestanding tubs. Unlike many of the more secluded tea country estates, Craigbank is located near town, so there's a lot to do nearby. Play a round of 18 holes at the century-old golf club or plump for a fancy dinner at The Hill Club.
PLAN YOUR TRIP: Visit Fodor's Sri Lanka Travel Guide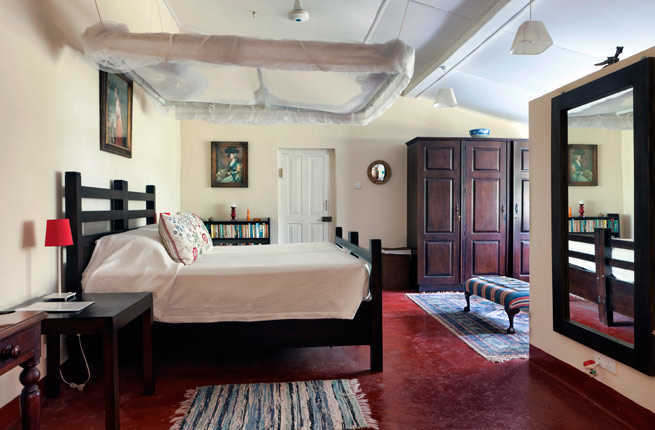 Courtesy of Ellerton
WHERE: Between Peradeniya and Gampola
On a verdant hillside 2,400 feet above sea level, the Ellerton is nestled between tea country and Kandy. The property is more than 100 years old, so you'll still get that old-world, tea-estate feel, as well as great views of Alagalla Mountain. Outside, it's all green scenery and colorful gardens; inside, the eight rooms combine rustic, simple charm with antique furnishings and modern pops of color. Though the rates include breakfast, soft drinks, cocktails, wine, taxes, service, and driver accommodations, you should expect to pay separately for lunch and dinner. The experience is less about all-out luxury and more about friendly Sri Lankan hospitality.
Insider Tip: If you're traveling with friends or kids, ask about the Valley House or the Garden Rooms. Situated away from the main house, these options are a little bit more private and have their own terraces.
PLAN YOUR TRIP: Visit Fodor's Sri Lanka Travel Guide