Geir Olav Lyngfjell / Shutterstock
There's a whole lot of world out there to explore in 2015, with so many destinations worth visiting that it can be overwhelming to even think about where you should go next. Fortunately, the team at Fodor's is here to guide the way: Our Go List features the 25 can't-miss spots that we think should be on every traveler's radar in 2015. Featuring emerging hot spots, value destinations, locations that are hosting special events in 2015, and more, our list has something for every type of traveler, no matter what your budget or how much time you want to take off. Rely on our expert advice for trip-planning inspiration, and get ready to have a very exciting year of travel. There's only one question: Where will you go first?
Incredible Arctic / Shutterstock
Take a luxury cruise through waters few humans have ever seen.
Why Go Now: This trip is all about the bragging rights. Only 200 some ships have made the full journey through the fabled Northwest Passage since Roald Amundsen first explored the area in 1906, but with the region now ice-free for a few summer months, more ships are doing the trek every year. Abercrombie & Kent has chartered the Ponant ship Le Boréal for a cruise in 2015, and luxury cruise line Crystal Cruises will make the trek from Seward to New York City (stopping in Greenland on the way) in 2016 (Crystal Serenity will become the largest passenger liner to do this itinerary). Other expedition cruise lines such as Lindblad Expeditions do half the passage, starting in Reykjavik or Svalbard and sailing into Canadian waters.
Insider Tip: Despite the considerable cost and time commitment involved (cruises start at around $20,000 and take 24 to 32 days depending on the itinerary), expect these trips to sell out quickly. Travelers who are fortunate enough to journey on these cruises will to disembark in some very isolated Arctic villages, something few others can claim to have done.
When to Go: This trip has a very limited window of opportunity, since ice clears only for a short period in late summer. For the time being, these cruises are only scheduled for August and early September.
PLAN YOUR TRIP: Visit Fodor's Cruise Guide —Douglas Stallings
Laglider | Dreamstime.com
The Hudson Valley and the Catskills, New York
A relaxing (and affordable) alternative to New York City filled with world-class cuisine, outdoor adventures, and hipster charm.
Why Go Now: Forget New York City—the allure of the Hudson Valley and nearby Catskills Mountains are now impossible to ignore. Just a few hours north of the city, quaint towns like Hudson, Rhinebeck, and Tarrytown have officially morphed into hip enclaves, with charming boutique stores, a blooming art scene (don't miss Storm King and DIA: Beacon), and farm-to-table restaurants that give Brooklyn a run for its money thanks to the Culinary Institute of America. Outdoor enthusiasts flock to the Catskills for its skiing and hiking options while history buffs enjoy the Franklin D. Roosevelt National Historic Site and United States Military Academy at West Point.
Insider Tip: The Walkway Over the Hudson is now the world's longest pedestrian bridge, connecting the cities of Highland and Poughkeepsie while offering beautiful views of the Hudson River. You can walk, run, or cycle while taking in the view. Don't forget to stop at the food vendors set up at either end during summer.
When to Go: Each season is gorgeous in its own way in the Hudson Valley—spring and summer offers plenty of outdoor activities in places like Harriman and Bear Mountain State Parks. Skiers can't miss the Catskill trails in winter, while fall-foliage lovers will find plenty of stunning scenery in autumn, along with numerous harvest festivals featuring local produce.
PLAN YOUR TRIP: Visit Fodor's Hudson Valley Travel Guide —Amanda Sadlowski
JaySi / Shutterstock
A safe desert haven in Southern Africa pairing sustainable tourism with community outreach.
Why Go Now: Namibia's stunning Coastal Desert was recently named a UNESCO World Heritage Site. A sweeping swath of sanded wilderness that looks out onto the Atlantic Ocean, this 75 million-year-old desert offers some of the most spine-tingling views of the night sky in the world. Namibia has also been recognized by the prestigious World Wildlife Fund, which granted the country's conservancies the Gift of the Earth Award; the country is home to numerous wildlife-friendly safari destinations, including the Africat Foundation and Okonjima Game Reserve as well as Desert Rhino Camp, run by Wilderness Safaris in partnership with the Save the Rhino Trust. This month, Air Namibia announced that in April it will start operating direct flights between Walvis Bay, Namibia, and Cape Town as well as Walvis Bay and Johannesburg, making access to this beautiful country even easier for tourists.
Insider Tip: Namibia has had fewer cases of Ebola (zero) than the United States. The Namibian capital, Windhoek, is about as far away from Monrovia, Liberia—where the outbreak is uncontained—as Key West is from Vancouver.
When to Go: Namibia's climate is basically dry and makes for a suitable safari destination year-round. September and October are the best times to spot game in Namibia, since the weather tends to be a bit warmer and the wildlife congregates near waterholes. November can be unpredictable with intermittently dry and rainy spurts. Between December and March, Namibia's climate is humid with afternoon thunderstorms. In April and May the landscape is greener and the atmosphere dust-free.
PLAN YOUR TRIP: Visit Fodor's Namibia Travel Guide —Kristan Schiller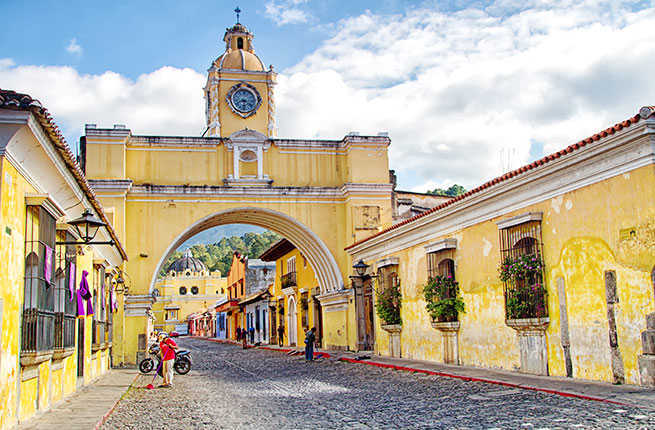 Milosz_M / Shutterstock
Colorful colonial-era towns, thrilling landscapes, and mysterious ruins beckon.
Why Go Now: The dining scene is constantly changing in Antigua, the colorful 16th-century colonial capital that should be your base for exploring Guatemala. Newcomers like sophisticated Angeline have upped the ante, making this UNESCO World Heritage site a must for foodies. While you're here, climb the Pacaya Volcano (and peer down into the pool of lava), take a boat across shimmering Lake Atitlán, or head into the mountains to villages where locals still wear traditional garb. If you're an amateur archaeologist, take a quick flight north to visit the sprawling Mayan city of Tikal.
Insider Tip: Stay overnight in Chichicastenango, one of Central America's most enchanting market towns, so you can watch vendors from the surrounding villages transform the sleepy square in front of the whitewashed church into a bustling bazaar. For the best views, grab a balcony seat at one of the surrounding eateries.
When to Go: Guatemala has been called the "Land of Eternal Spring," but the winter months are the best time to visit. November to April is the dry season, and you'll encounter clear blue skies. This is also when most of the dazzling religious festivals take place.
PLAN YOUR TRIP: Visit Fodor's Guatemala Travel Guide —Mark Sullivan
Cheryl Casey / Shutterstock
Enjoy the most beautiful beaches in the United States and refreshing Southern hospitality.
Why Go Now: Why not now? The soft quartz beaches of the Florida Panhandle are more beautiful than what you'll find on most Caribbean islands and undoubtedly among the best in the United States. Chilly winters limit year-round vacationers, but those who venture down will experience a region that feels more Southern than the Latin-influenced culture of South Florida. Some towns have rollicking college-oriented nightlife, some are quieter and geared toward families. Fresh seafood is uniformly excellent, and the virtually unimpeded 100-mile stretch of beach from Pensacola to Panama City feels endless. Add the chance to explore less-visited but wonderful places like Apalachicola and Florida Caverns State Park, and you have the makings of a memorable vacation.
Insider Tip: Every Panhandle beach town has its own personality. Pensacola Beach is low-key and family-friendly. Destin is filled with condos and the busy Sandestin Resort. Grayton Beach is upscale and artsy. Panama City Beach is commercial but bookended by gorgeous natural areas. Inland are interesting towns and the state's capital, Tallahassee.
When to Go: High season is summer, from Memorial Day to Labor Day. Spring Break is also a busy time (but you can always avoid the crowds if you wish). The sweet spot may be early May and late September, when the water is warm but crowds are thinner.
PLAN YOUR TRIP: Visit Fodor's Florida Panhandle Travel Guide —Douglas Stallings
ggw1962 / Shutterstock
Canada's easternmost province has stark and beautiful landscapes, quaint lighthouses, incredible wildlife, and unparalleled hospitality.
Why Go Now: Newfoundland has fabulous hiking opportunities, stunning vistas, magnificent national parks, and a wealth of Viking history to explore. The province doesn't, however, tend to get a lot of international press attention. That changed recently, with the opening of the stunning new Fogo Island Inn. The dramatic-looking luxury property provides guests with hiking trip opportunities, art workshops, and fishing expeditions, many led by local hosts. All of the inn's furniture and textiles have also been made by local artisans, tying the property deeply to the community. The onsite library, cinema, yoga space, and wood-fired rooftop sauna also keep guests entertained.
Insider Tip: Newfoundland is one of the few places in the world where you can go to see icebergs. In late spring and early summer you can see the 10,000-year-old giant chunks of ice from shore, or get up close in a zodiac boat or a sea kayak.
When to Go: Spring, summer, and early fall are the best times to go to Newfoundland: icebergs arrive in April or May and can stick around until July; whale sightings are mid-June to late August; and bird-watchers should come between mid-May and September. Most music festivals take place from the end of May through early October. Winter can be a bit foreboding.
PLAN YOUR TRIP: Visit Fodor's Newfoundland Travel Guide —Caroline Trefler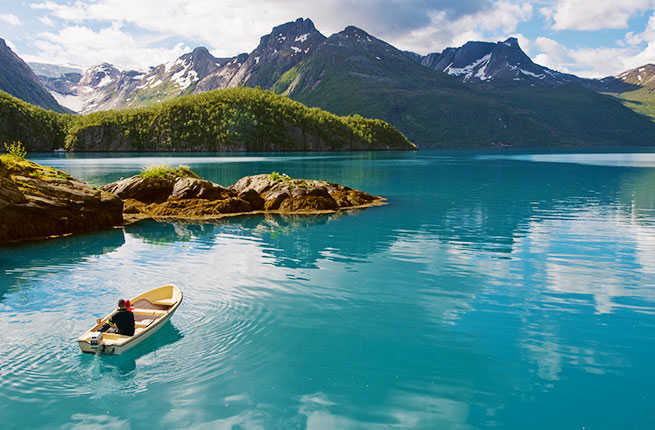 Geir Olav Lyngfjell / Shutterstock
Forget Frozen—this gorgeous Scandinavian country is a real-life wintry kingdom just waiting to be explored.
Why Go Now: Disney's animated megahit Frozen has increased interest in this unique European country, considered one of the most beautiful places in the world. While the unparalleled and striking beauty of Norway's snow-covered mountains and fjords (long, narrow inlets of deep blue water between soaring cliffs) have lured travelers for years, there is much more to do than just admire its natural splendor. Oslo, one of Norway's liveliest cities, is a cultural metropolis of hip restaurants, vibrant nightlife, and world-renowned museums. Don't miss the spectacular National Gallery, or Nasjonalgalleriet, which boasts the country's biggest collection of Norwegian art.
Insider Tip: Book a table at Oslo's De Fem Stuer in the historic Holmenkollen Park Hotel Rica for stunning views over the city and delicious Modern Nordic and international cuisine. Nearby is the famous Holmenkollen ski jump, a modern marvel and the only steel ski jump in the world.
When to Go: Norway attracts visitors year-round. The most popular season to go is summer (when the days are longer and the sun shines around the clock), but to avoid crowds, autumn is far quieter (and cheaper). January and February are extremely dark and cold, so avid skiers and snow lovers should aim for March, but those itching for a glimpse of the spectacular Northern Lights can best view them any time between late autumn and early spring.
PLAN YOUR TRIP: Visit Fodor's Norway Travel Guide —Perrie Hartz
Daniela Pelazza / Shutterstock
Medieval villages and hilly vineyards characterize this superb wine country.
Why Go Now: Discover Northwest Italy's idyllic Piedmont, recently granted UNESCO world heritage status, before the crowds descend. The vineyards of the Langhe-Roero and Monferrato region produce Barolo, a bold red wine that's also called "the king of wines," and it certainly lives up to the moniker. It's so tannic that it typically needs to age at least 10 years before the complex tobacco, rose, and earth flavors it is known for can develop. Turin, the Piedmont's main city and home of FIAT and the automobile museum, has a Parisian air and makes an excellent base for exploration. Alba is a must-visit for foodies—highly prized white truffles are found in the woods nearby. Best known for its sparkling wine or spumante, Asti's medieval towers also enchant. Throughout, the rolling hills dotted with castles are picture-postcard worthy.
Insider Tip: A car allows you to travel to the smaller wine towns and visit vineyards. Book well in advance if you plan to visit Alba during the truffle festival—it's attended by top chefs and buyers.
When to Go: September and October are festival times in the Piedmont. The Fiera Internazionale del Tartufo Bianco takes place during the height of white truffle season in mid-October to mid-November. Asti's wine festival takes place in early September.
PLAN YOUR TRIP: Visit Fodor's Piedmont and Valle D'Aosta Travel Guide —Salwa Jabado
kavram / Shutterstock
This stunning region's natural wonders have never been more accessible.
Why Go Now: For dazzling landscapes and superior outdoor activities, Chilean Patagonia can't be topped. Torres del Paine National Park, with its aquamarine lakes and towering granite peaks, is a premier global destination for hikers and nature lovers. Easy-to-spot wildlife abounds in this region, whether guanacos, sea lions, or colonies of Magellanic penguins. In northern Patagonia, you can climb up snow-capped volcanoes or browse through Chiloé's vibrant crafts markets. Just because Patagonia is rugged doesn't mean that you can't stay there in style. Luxury hotels such as The Singular Patagonia and Tierra Chiloé have opened all over the region recently. And it's never been easier to travel to this remote region, with increased flights into Puerto Natales and Chiloé.
Insider Tip: A relaxing way to discover the marvels of Chilean Patagonia is on a luxury cruise. Several cruise lines depart from Punta Arenas in the summer and navigate around the tip of South America. Some even continue on to Antarctica.
When to Go: Because of Patagonia's often inclement weather, many hotels and attractions shut down from late fall to early spring (May–September). It's best to visit during the summer, when the weather is more conducive to outdoor activities. The crowds are largest during January and February.
PLAN YOUR TRIP: Visit Fodor's Chilean Patagonia Travel Guide —Luke Epplin
Boerescu / Shutterstock
Towering castles, ancient abbeys, and walled villages make history come alive.
Why Go Now: Vampire hunters have long been drawn to Romania, where several astounding fortresses in the Transylvanian countryside are associated with the notorious Vlad the Impaler. But budget-minded travelers are discovering that this is one of the most affordable destinations in Europe. Head to the brilliant blue Voronet Monastery, a medieval masterpiece called "the Sistine Chapel of the East," or take in the fanciful Peles Castle, a neo-Renaissance royal residence that ranks among the best on the continent. The countryside is surprisingly unspoiled, dotted with quaint villages where locals rent rooms in their homes and seal the deal with a shot of plum brandy.
Insider Tip: Rent a car and drive to Transylvania's fascinating fortified churches, dating from the 13th and 16th centuries. Built to be easily defended against invaders, seven of these high-walled houses of worship are UNESCO World Heritage sites.
When to Go: Summer is the most popular time to visit, but resort areas can get crowded. Cool nights and warm days make spring and fall ideal for hiking, biking, bird watching, or castle-hopping.
PLAN YOUR TRIP: Visit Fodor's Romania Travel Guide —Mark Sullivan
Permchai Phoorivatana / Shutterstock
A tiny, unexplored country on Arabian Peninsula offering authentic culture, stunning natural beauty, and luxury hospitality.
Why Go Now: This traditional Arab society spent the better part of the last century cloaked in seclusion while neighboring Dubai has shown little restraint with its massive overdevelopment. Oman has chosen to take the slow road—and it shows. Oman's stunning beaches, isolated deserts, rugged coastline and opulent spa hotels (Six Senses Zighy Bay and Shangri-La's Barr Al Jissah Resort & Spa to name a few) are drawing well-heeled international tourists in manageable numbers. And even the small demonstrations that took place here during the Arab uprising focused mainly on local issues while not directly rebelling against the country's leadership. The country's first luxury eco-resort, Alila Jabal Akhdar, has recently opened, and both Four Seasons and Aman have plans to open there soon.
Insider Tip: While traveling in Oman, it is essential to respect their local customs. Women should dress conservatively and cover their heads with a scarf, especially upon entering a mosque.
When to Go: Oman's climate is typical of the Arabian Peninsula with blistering summers and mild winters. Visiting during summer is not recommended due to the extreme heat; winter months are temperate with a typical Mediterranean climate. Evenings this time of year can be breezy and even somewhat chilly.
PLAN YOUR TRIP: Visit Fodor's Oman Travel Guide —Kristan Schiller
Sushaaa | Dreamstime.com
One of the biggest beer-making cities in the world is the 2015 European Capital of Culture.
Why Go Now: Located in the heart of Western Bohemia, Pilsen (or Plzen in Czech) is the region's biggest city and an off-the-beaten track alterative to popular Prague. As a capital of culture, Pilsen will host over 600 events in 2015, highlighting the city's theater, concert, and art scenes as well as what's made it appealing to visitors for centuries. Stunning Gothic architecture line the streets and the city square while the Historical Underground gives a fascinating look into the city's 13th-century tunnels originally used for food storage and beer production. Speaking of: yes, there is plenty of beer here; don't miss the Pilsner Urquell Brewery, the largest in the country and a must-see for beer-lovers eager to learn how the popular lager is produced.
Insider Tip: Pilsen offers several key museums. Stop by the Patton Memorial Museum, created in celebration of the liberation of Pilsen by American forces at the end of World War II, as well as the Brewery Museum, a unique place dedicated entirely to the history and process of brewing.
When to Go: Winters here are pretty brutal, so try to experience Pilsen in the summer, spring, or fall, when you can enjoy the quaint streets and pretty parks. The Slunce ve Skle Festival, in mid-September, celebrates smaller beer breweries from throughout the country.
PLAN YOUR TRIP: Visit Fodor's Pilsen Travel Guide —Amanda Sadlowski
PHB.cz (Richard Semik) / Shutterstock
The Caribbean's "most British" island is a sophisticated tropical paradise with a rich history, lodgings to suit every taste and budget, and plenty to pique your interest day and night.
Why Go Now: East coast travelers now have two new nonstop-flight options. Delta will fly twice weekly between Bridgetown, Barbados, and both JFK, New York, and Hartsfield Jackson International, Atlanta. Sandals unveils a top-to-bottom renovation of its recently acquired property in St. Lawrence, on the beautiful southern coast. In addition to 7 new gourmet restaurants, the resort will offer guests a deluxe spa and swim-up suites from the longest river pool in the Caribbean.
Insider Tip: If you stay on the remote southeast or east coasts, you may want to rent a car for your entire stay. In more populated areas, such as Bridgetown, taxis and public transportation is readily available.
When to Go: High season in Barbados runs from mid-December through mid-April. If you visit in mid-May or June, prices may be 20% to 50% less, Mid-August through late November is typically the least busy time; however, some hotels close for several weeks in September and/or October for annual maintenance and staff vacations.
PLAN YOUR TRIP: Visit Fodor's Barbados Guide —Eric Wechter
Axel Lauer / Shutterstock
An other-worldly natural wonderland for outdoor enthusiasts, with great nightlife to boot.
Why Go Now: Iceland is an easy flight from New York (under 6 hours) and Iceland Air offers free stopovers in Iceland on many flights to Europe and elsewhere. Just looking at a photo of the famed Blue Lagoon geothermal spa will probably convince you that you need to plan a trip to Iceland but there are many other reasons to go. Iceland is one of the best places for viewing the Northern Lights, and experts say there will be excellent conditions now through winter 2016. The spectacular new ION luxury hotel just outside Reykjavik beckons with luxurious accommodations, organized adventures, and top-notch modern Nordic cuisine.
Insider Tip: Iceland in winter isn't as cold as you might think. Due to the Gulf Stream, average temperatures in Reykjavik in winter are often above 32 degrees Fahrenheit, making it warmer than a typical New York winter.
When to Go: Winter means spectacular Northern Lights sightings, geothermal baths to warm your soul, and surprisingly mild temperatures. In summer, there is daylight almost around the clock, for maximum time hiking, horseback riding, swimming, kayaking, meeting locals, and having fun.
PLAN YOUR TRIP: Visit Fodor's Iceland Travel Guide —Caroline Trefler
TK Kurikawa / Shutterstock
Melbourne is stylish and funky, with stunning Victorian architecture, excellent regional wines, and a world-class dining scene.
Why Go Now: Australia's most European city is so much more than its magnificent manicured gardens and parks, tree-lined boulevards, and Victorian-era facades. Post-war immigration from Vietnam, Lebanon, Sudan, Turkey, Italy, and Greece helped create an unrivaled food culture and the city is literally awash with great wine and the freshest seafood imaginable. Long-term urban renewal projects have prettied up the Yarra River and transformed the City Center (CBD) with high-rises like the Eureka Tower. But the inner suburbs, like edgy Fitzroy and Brunswick, chic South Yarra and Prahran, and buzzy St. Kilda are where Melbourne's solid claim to being the nation's cultural capital is cemented.
Insider Tip: Take advantage of Melbourne's Greeter service, a wonderful initiative that pairs visitors with a local volunteer with shared interests for a free two- to four-hour tour.
When to Go: Melbourne is a great place to visit any time of year. Summers (December–February) are hot, with temperatures hovering in the 80s and nice long days thanks to daylight savings. Spring (September–November) is mild and autumn (March to May) is filled with fine, clear days. Winter (June through August) is a tolerable 64 degrees and days can be overcast and a brooding—perfect for drives along the spectacular coast.
PLAN YOUR TRIP: Visit Fodor's Melbourne Travel Guide —Margaret Kelly
Palo_ok / Shutterstock
Asia's cultural melting pot is in the midst of a construction boom—it's no longer the island nation you thought you knew
Why Go Now: Singapore is celebrating its Golden Jubilee in 2015 and preparations have been a long time in the making. Marina Bay is still buzzing with its iconic Marina Bay Sands resort and the futuristic Gardens by the Bay and its grove of "Supertrees." Add to that a slew of chic hotel openings, a budding fashion scene, and this upcoming opening of the National Art Gallery and the Singapore Sports Hub, which will host the 28th Southeast Asian Games in 2015. All this is in addition to everything that Singapore is renowned for: a spectacular food scene, grand heritage buildings, chaotic hawker centers, and dazzling shopping malls.
Insider Tip: Don't miss sampling the local Jungle Beer, an inspired brewery that infuses regional flavors like shiitake, soursop, and guava. They've won a fistful of awards from the Beerfest Asia competitions and their stout was triple-crowned "Best in the World", "Best in Singapore," and awarded the gold in 2013.
When to Go: Singapore's weather is consistently hot and wet year-round, but this translates to lush, beautiful flowering landscapes and lots of air conditioned malls. It's a tad wetter from November through January and a little drier in February.
PLAN YOUR TRIP: Visit Fodor's Singapore Travel Guide —Margaret Kelly
Rostislav Glinsky / Shutterstock
The City of Light buzzes with new sights and luxury hotels.
Why Go Now: If you think you know Paris, think again. 2014 was a year of unprecedented change, underscored by a fresh, modern outlook. Starchitects added dazzling buildings, like Renzo Piano's futuristic Fondation Jerome Seydoux-Pathe and Frank Gehry's glass-clad Fondation Louis Vuitton, to the cityscape. Classics got a reboot, too: the Picasso Museum finally reopened after a fraught reno and the Pont des Arts fought off love locks with glass panels providing prime Seine views. Paris's luxury hotels upped the ante when the Plaza Athenee unveiled its plush revamp the same weekend as the Peninsula Hotel debuted Paris's priciest rooms. The trend will continue in 2015: The bold, new Jean Nouvel–designed Philharmonie de Paris and the hotly anticipated reopenings of the celebrated Ritz and Hôtel de Crillon are all bound to make news.
Insider Tip: The Picasso Museum is such a hot ticket, tickets sell out weeks in advance; be sure to reserve well ahead. The Fondation Jerome Seydoux-Pathe offers guided tours of its new Renzo Piano wing on Saturdays only; you'll also need to reserve ahead, by email, to attend.
When to Go: Paris is particularly gorgeous in June, when the sun doesn't set until 10pm. September is another good bet, with splendid weather and cultural events timed for the rentrée (or return) from summer vacation.
PLAN YOUR TRIP: Visit Fodor's Paris Travel Guide —Arabella Bowen
Erandalx | Dreamstime.com
A small country rich in beaches, heritage sites, and spicy curries welcomes tourists again.
Why Go Now: Exotic Sri Lanka is like South India in microcosm, but with a cuisine and culture all its own. The buzzing capital, Colombo, a heady blend of Sinhalese, Muslim and Tamil influences, has long attracted visitors, but after 26 years of civil war, other regions are opening up. Travelers are discovering colorful temples, colonial-era trains, fragrant tea plantations, a wealth of UNESCO World Heritage sites and some of the finest wildlife spotting in Asia. Tourist development is on the rise—luxury boutique hotels are popping up, while Shangri-La's Hambantota Resort and Spa, set on 145 acres of the southern coast, is set to open in 2015, a sister to the Shangri- La Colombo, planned for 2017. Sheraton is also due to open a Colombo property in 2015.
Insider Tip: Explore the stunning Kalpitiya peninsula, uniquely positioned between the ocean and the Puttalam Lagoon, before slated billion-dollar development (including a proposed airstrip) takes hold. The area offers beautiful unspoiled beaches, wildlife viewing, whale-watching and a smattering of lovely eco-resorts at Alankuda Beach.
When to Go: The climate is tropical: High season is December to March, though with two monsoon seasons rainfall patterns can vary widely. From May to August prices plummet, and the weather in the East and North of the country is pleasant.
PLAN YOUR TRIP: Visit Fodor's Sri Lanka Travel Guide —Róisín Cameron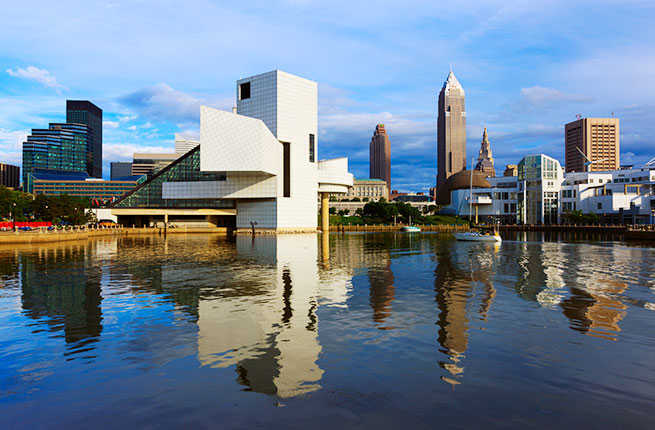 ThisisCleveland.com
Rust Belt-chic town for art and culture vultures, basketball fans, and stalwart foodies.
Why Go Now: The fact that super-athlete LeBron James has returned to his hometown to strut his stuff with the Cleveland Cavaliers isn't the only reason to visit the Rock and Roll Capital of the World this year. With culinary kings like Michael Symon and Jonathon Sawyer, an orchestra rated one of the top five in the nation, and a major new wing at The Cleveland Museum of Art, the second-largest city in Ohio has long shed its industrial past. Now, it's also home to the stunning Museum of Contemporary Art Cleveland, the first U.S. design by prominent Iranian architect Farshid Moussavi.
Insider Tip: There are 10 farms in Cuyahoga Valley National Park that are part of a special program called the Countryside Initiative, a collection of farms committed to sustainable agriculture which offer visitors a chance to see first-hand the farm-to-table experience during periodic farm tours.
When to Go: Cleveland's weather can be unpredictable, but in general winters are frigid and summers are sunny. See the Cavs play in spring; in the summer, hop aboard the Cuyahoga Valley Scenic Railroad; and in winter, enjoy a concert by the Cleveland Orchestra in their dazzling art deco home, Severance Hall.
PLAN YOUR TRIP: Visit Fodor's Cleveland Travel Guide —Kristan Schiller
jejim / Shutterstock
Come for historic but fast-changing cities and stunning landscapes—and fabulous food.
Why Go Now: Vietnam has developed rapidly, and the 40th anniversary of the end of the Vietnam War in 2015 is the perfect time to explore the iconic urban and rural scenes that have made it increasingly popular. Energetic cities from Hanoi to Hoi An to Ho Chi Minh City buzz with enticing restaurants and hotels like Hanoi's spectacular Sofitel Legend Metropole, while temples, colonial buildings, and markets retain their classic charm. New options help you explore beyond Vietnam's cities, whether you overnight on a boat in Halong Bay or see the towns and rice paddies of the Mekong Delta on a river cruise or by bicycle. Wherever you travel, the true friendliness of the people and reasonable costs are added benefits.
When to Go: November through March are peak times for sun in the south without too much heat or rain; the north will be cooler. April to June and September and October are less busy. Avoid the busy Tet New Year festival in January or February.
Insider Tip: Vietnamese markets, including floating ones, provide windows onto daily life that shouldn't be missed. The best times to mingle with locals as they shop are earlier in the morning and in late afternoon and at night.
PLAN YOUR TRIP: Visit Fodor's Vietnam Travel Guide —Linda Cabasin
Ksenia Ragozina / Shutterstock
A flashy but affordable hotspot with some of South America's best beaches.
Why Go Now: Balmy weather, glamorous beaches, a thriving arts scene, and affordable luxury lure families and luminaries alike to this resort town on the southeastern Uruguayan coast in summer. Punta del Este has some of the most spectacular beaches in South America, and ample opportunities to surf, swim, or see-and-be-seen. Food mavens won't be disappointed by the dining choices here, whether they grab a piping-hot pastry at Medialunas Calentitas or fresh seafood at Parador La Huella. During the summer, the vibrant nightlife here lasts until sunrise. When it's finally time to sleep, do so in style at new luxury hotels like The Grand Hotel or longstanding favorites.
Insider Tip: The beaches are the main draw, but make time for some nearby attractions. A short boat ride away, Isla de Lobos is home to a massive colony of lounging sea lions. The colorful Feria Artesanal (crafts market) in the center of town overflows with local handiworks.
When to Go: For the full experience, head to Punta del Este in January and February, when the beaches swell with visitors. For a mellower time, come in late spring (November–December) or early fall (March), when the temperatures are warm but the crowds have thinned.
PLAN YOUR TRIP: Visit Fodor's Punta del Este Travel Guide —Luke Epplin
Sopotnicki / Shutterstock
New direct routes make getting to the country's top ski resort a breeze.
Why Go Now: The country's top ski resort just got a lot easier to reach, thanks to new direct flights from 13 cities on Delta and United in peak winter season. The birthplace of extreme skiing has character in spades, with a cool Western vibe and funky arts and après-ski scenes unlike anywhere else in the U.S.A. Jackson's always improving, too: Intermediate skiers and riders can now ride a high-speed chair to upper-mountain blues, while hot restaurants serving local bison and boar have put the town on foodies' radars. And there's a lot more to do than ski. Jackson's proximity to Yellowstone and Grand Teton national parks presents some of the best off-slope activities around, including wildlife safaris with abundant elk, moose, and bighorn sheep sightings.
Insider Tip: For a postcard-perfect photo op, drive out to the tiny Chapel of the Configuration, a darling decades-old wood church with awe-inspiring Teton views.
When to Go: Jackson's ski season often extends into April. To save on costs, look for hotel packages that include discounted lift tickets and book dates outside of holiday weeks.
PLAN YOUR TRIP: Visit Fodor's Jackson Hole and Northwest Wyoming Travel Guide and check the Delta and United winter air schedule for the dates and routes that suit you best. —Arabella Bowen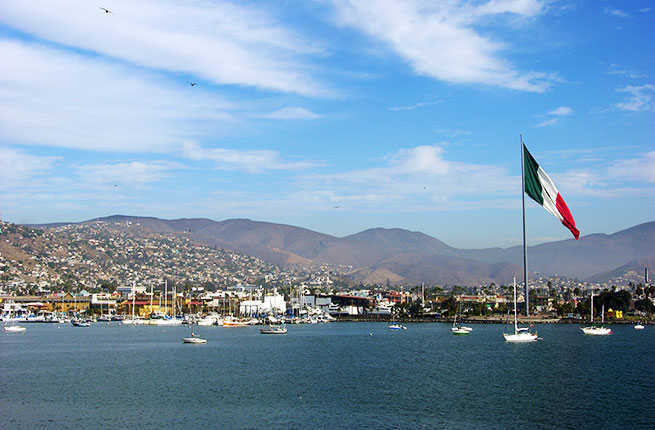 Ramunas | Dreamstime.com
Responsible for some 90% of the Mexico's wine production, Valle de Gaudalupe is a gorgeous valley covered with sprawling vineyards, farm-to-table restaurants, and boutique hotels.
Why Go Now: Because you want to get there before it is the next Napa Valley. For the past few years , wine experts, including Wine Enthusiast, who recently named the region one of the ten best wine destinations, have been calling Valle de Guadalupe the next Napa. Get there while it's still relatively undiscovered and experience winemaker Phil Gregory's wine cave made from recycled fishing boats, sample vintages from Mexican wine legend, Hugo D'Acosta, and dine in the growing number of restaurants in the middle of farms, where chefs harvest vegetables and then bring them directly to the cutting board.
Insider Tip: A private car is essential for touring the wine country as you will need to drive from one winery to the next. Or you can arrange half- or full-day tours with many of the taxi drivers in Ensenada.
When to Go: Climate is pleasant year-round, but the region's best event is the Harvest Festival in August. This 21-day celebration brings in thousands of wine lovers who commemorate the harvest with wine tastings, cultural blessings, live music, and elaborate feasts. Be sure to make hotel reservations well in advance.
PLAN YOUR TRIP: Visit Fodor's Guide to Mexico's Wine Country —Eric Wechter
Courtesy of kentuckytourism.com
Bourbon Country and Louisville, Kentucky
A wallet-friendly weekend getaway for bourbon lovers and dedicated foodies
Why Go Now: Amid the ongoing bourbon renaissance, Kentucky is ready for its close-up. In the rolling hills outside Louisville, bourbon distilleries give memorable tours through historic warehouses and production facilities, topped with flavorful tastings of the state's signature drink. You can visit a handful of distilleries and still have time for a late-afternoon horse ride through the Kentucky bluegrass. In Louisville, the foodie scene continues to thrive, whether in high-end restaurants like Proof on Main or hipster joints like Garage Bar. At night, hit the Urban Bourbon Trail to sample some of the brands you missed during your distillery tours. Along with sleek hotels like 21C Museum Hotel and top-notch museums, there's everything you need here for an eventful long weekend.
Insider Tip: The Kentucky Bourbon Trail offers invaluable planning information for nine of the largest distilleries in the state. If you don't have a car or would prefer to travel with a guide, Mint Julep Tours & Transportation gives entertaining bourbon, horse, and city tours.
When to Go: The Kentucky Derby, the famed horse race, takes place on the first Saturday of May, while Thunder Over Louisville, the country's largest fireworks display, is held in mid-April. Even if you don't come for the festivities, late spring is the best time to visit, with mild, sunny weather.
PLAN YOUR TRIP: Visit Fodor's Kentucky Bluegrass Country Travel Guide —Luke Epplin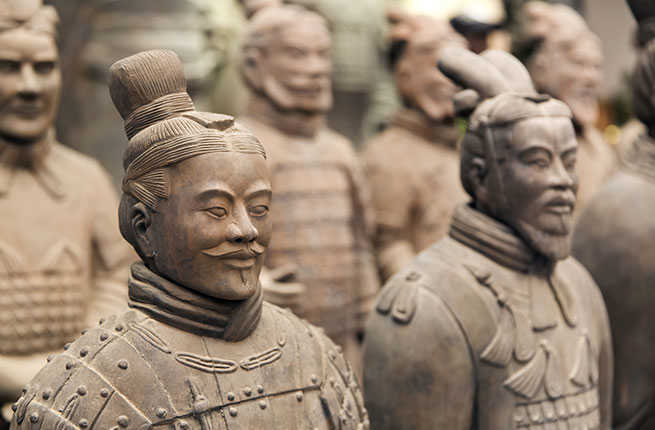 lapas77 / Shutterstock
Follow in the footsteps of Marco Polo and explore China's oldest trade route and some of the country's most dramatic sites and landscapes.
Why Go Now: The Chang'an-Tianshan Corridor, a 3107-mile stretch of this ancient series of trade routes, where silk, porcelain, spices, and other goods were exchanged and where civilizations converged, was added to the list of UNESCO world heritage sites in 2014. Far from the bustle of Beijing, this remote section of China delivers the kind of sites worth traveling across the world to see. Start your trip in Xian, the capital of Shaanxi province with a visit to the incredible Terracotta Warriors of Qin Shihuang. Each of the thousands of warriors, created about 246 BC, is unique and possibly carved in the likenesses of the workers who created them. Outside of Dunhuang, an oasis town in Gansu Province, are the extraordinary caves of the Mogao Grottoes. Filled with Buddhist art dating from the 4th century AD to the 10th century AD, the caves are one of the most impressive sites in the country.
Insider Tip: Xian is the main hub for the Silk Road and is a quick flight from China's major cities. Opt to fly to other cities along the Silk Road. Distances are long and train and bus travel is arduous. U.S. travelers to China must have a visa and a passport with at least six months left before it expires. Visa regulations have been relaxed of late and U.S. citizens traveling to China can now apply for a ten-year long multiple-entry visa.
When to Go: The best time to visit is from early May to late October, when it's warm and the blue skies and long days are optimal for exploring and photographing the area. It's also high tourist season and a lot of festivals take place.
PLAN YOUR TRIP: Visit Fodor's The Silk Road Travel Guide —Salwa Jabado