splendidkutch.in
Indian cities like Delhi, Mumbai, and Calcutta may draw the most visitors from abroad, but 75 percent of the country's population lives in villages. Though tradition lives on in rural India, Indian villages have also emerged as centers of experimentation in sustainable living. Visitors looking for inspiration and innovation—or simply a break from the grind of city life—can arrange a visit to India's thriving eco-villages, where they can learn about grassroots solutions to our most pressing environmental problems. Many even host volunteers.—Ariel Sophia Bardi
Arna Jharna
WHERE: Jodphur, Rajasthan
This eco-community, centered on finding balance between the desert and its inhabitants, comprises an ethnographic museum built on the site of an old sandstone mine. The museum displays vernacular traditions—an ongoing, three-year exhibit showcases 160 types of Rajasthani brooms, and includes broom-making workshops—and serves as a sanctuary for desert flora and fauna. It caters mostly to Rajasthan's own rural communities, but accommodations and local meals are also available to foreign visitors.
Read More: 20 Ultimate Experiences in Rajasthan
Auroville and Sadhana Forest
Auroville and Sadhana Forest
WHERE: Pondicherry, Tamil Nadu
Auroville, a utopian spiritual community situated on the hot, arid fringes of seaside Pondicherry, remains India's best-known eco-village internationally. Yet it was founded in 1968 by a French expat—Mirra Alfassa (known to devotees as "The Mother"), the long-time spiritual partner of Indian New Age philosopher Sri Aurobindo. Today, it's home to some 2,500 residents from around the world, and hosts thousands more visitors each year. While devotion to "The Mother" might not be to everyone's liking (her portrait is omnipresent), Auroville also serves as a laboratory for sustainable living, running courses in natural building and permaculture, among others, while its restaurants serve up delicious, farm-fresh food. Nearby Sadhana Forest, unaffiliated but with shared ideals, focuses on reforestation and hosts long-term volunteers.
Read More: 10 Incredible Temples to Visit in Southern India
Govardhan Eco-village
WHERE: Palghar, Maharashtra
Seventy miles north of Mumbai, this eco-ashram is located at the foothills of the Western Ghats, India's low-lying, western mountain range and a UNESCO World Heritage Site. Run by ISKCON—better known outside of India as the Hare Krishna movement—it focuses on a range of environmental activities, from water conservation to green building techniques, based in part on ancient Vedic traditions. The center welcomes volunteers and runs workshops in organic farming and yoga.
Read More: 10 Incredible Temples to Visit in Southern India
Shiv Kumar / Greenpeace
WHERE: Jamui, Bihar
These days, not much good news comes out of India's agricultural sector, with a rash of farmer suicides darkening its image abroad. Chemical fertilizers, pushed by corporations and subsidized by the government, have led to wide-scale soil erosion. But Kedia has emerged as a sustainability success story. In 2014, Greenpeace India helped to develop the Bihari village into an eco-farming community, and it now runs entirely chemical-free. Villagers make their own pesticides and fertilizers from natural materials, and each household is equipped with a biogas plant, which converts waste into energy. Add picturesque fields and a peak into Bihari village life, and Kedia definitely merits a visit.
Read More: 10 Incredible Temples to Visit in Southern India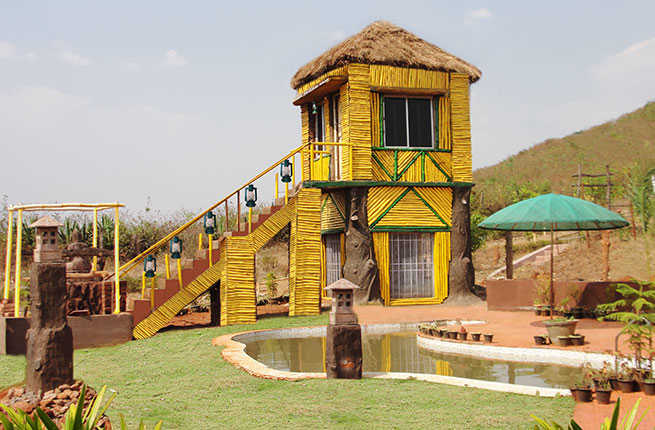 Siddharth Village
WHERE: Bhubaneswar, Orissa
Not just one village, but an entire network of eco-villages around the eastern state of Orissa, Siddharth works with 200,000 tribal people to promote indigenous culture, organic farming techniques, and farmer trainings. Guests are welcome to stay at its picturesque headquarters in the rolling green Barunei hills, located outside Orissa's state capital, where visits and homestays to surrounding villages can be arranged. A third of all proceeds go to Orissa Nari Samaj, a federation of 54 tribal women's groups.
Read More: 10 Incredible Temples to Visit in Southern India
splendidkutch.in
WHERE: Bhuj, Gujurat
Not strictly a village, this eco-resort is nonetheless a pioneer in promoting sustainable livelihoods throughout rural India. Through a partnership with the United Nations Development Program (UNDP), the resort, located in the Gujarati grasslands, looks to tourism to protect the cultures of the region—it uses traditional mud-brick, thatched houses and arranges visits to artisan workshops—while raising awareness about its fragile ecology.
PLAN YOUR TRIP: Fodor's India Guide