F9photos | Dreamstime.com
The South Indian states of Tamil Nadu, Kerala, Karnataka, Andhra Pradesh are home to more than 100,000 Hindu temples, which have stately towers called gopurams often recognizable from far away. These temples serve as religious areas for worshipers who congregate there daily or seasonally to demonstrate their devotion to the major gods (Brahma, Vishnu or Shiva) and their consorts. Most of the temples are dedicated to Shiva or Vishnu, often with intricately carved corridors, mysterious inner sanctums, and idols often fashioned out of gold or silver. The darshan—the moment of seeing this holy person or deity—is considered a sacred moment for many temple visitors.—Charu Suri
Aluha | Dreamstime.com
WHERE: Tanjore, Tamilnadu
This popular temple also has an air of mystery associated with it: the age-old question remains as to how the Cholas managed to lift 80 tons of granite to build a 216-foot tall gopuram, especially when the stones were not available nearby. It is also the only structure in the world whose interlocking stones still lie in place without any binding materials like cement or mortar, which makes it architecturally fascinating. Once used by the Hindu King Raja Raja Chola, this UNESCO World Heritage Site provides a setting worthy of a Dan Brown novel, with hundreds of underground passages, positive energy, and cool corridors.
Insider Tip: Don't forget to visit the rare frescoes found in the sanctum sanctorum, which were discovered in 1940.
PLAN YOUR TRIP: Visit Fodor's Tips to find a Hotel in Tanjore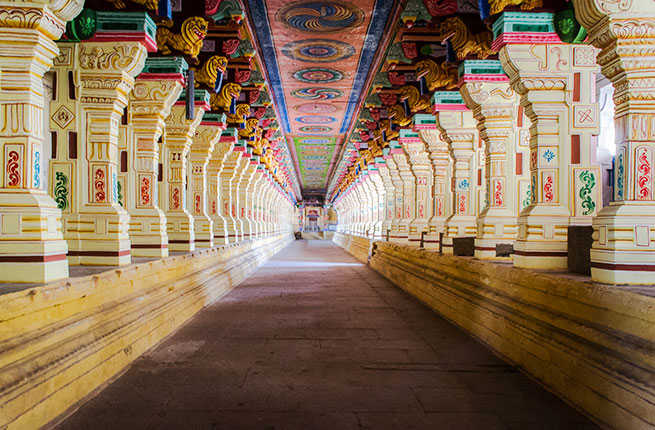 Mishrarohan | Dreamstime.com
Where: Rameswaram, Tamilnadu
This temple, constructed in the 17th century, has a staggering number of beautifully carved pillars lining its corridor. Like other prominent temples, it also has gate towers that face north, south, east, and west. It is known to be a site where devotees worshipped the god Rama, and is one of the 274 holy temple sites in India where three of the most revered saints glorified the gods with their songs.
Insider Tip: It best known for its long perimeter corridors measuring 3,850 feet, the longest of any Hindu temple in India.
PLAN YOUR TRIP: Visit Fodor's Most Spiritual Places in India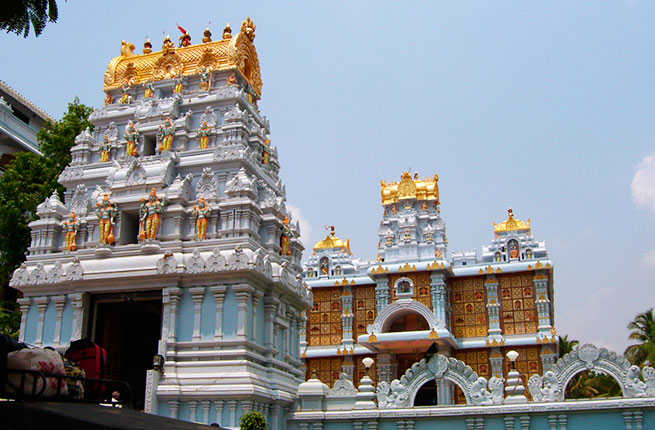 Raji.srinivas via Wikimedia Commons, [Public Domain]
WHERE: Andhra Pradesh
Tirupathi, in Andhra Pradesh, is the considered the third-richest holy site in the world (after the Vatican and Mecca), with coffers amounting to well over $1 billion in contributions per year. The trek to this sun-drenched temple site can be as arduous or as easy as you choose; many zealots hike up the 2,799 feet mountain, but there are buses at the foot of the hill that will whisk you away to Tirumala (the summit) in a half-hour.
Insider Tip: The lines to see the inner sanctum are long, but you can purchase tickets in advance with designated times to visit the darshan, an opportunity to catch a glimpse of God Balaji, who blesses the many children who come to the mountain to get their hair tonsured. If you don't feel like making the trek back down immediately, stay in one of the guesthouses for approximately $30 per night.
PLAN YOUR TRIP: Visit Fodor's India Itineraries
Jpldesigns | Dreamstime.com
Where: Chidambaram, Tamilnadu
The Lord Shiva, also known known as Nataraja or the cosmic dancer, is the spotlight in this popular temple located in the town of Chidambaram, roughly 150 miles south of Chennai. The town itself has a varied and distinctive history, and was ruled at intervals by the Cholas, Pandyas, Marathas, and the British Empire. The five-temple structure, constructed around 900 AD, lies in the heart of the city and boasts a golden roof, as well as a fresco of Nataraja on the walls of the temple.
Insider Tip: Try to visit the temple early for the Pooja ceremony that takes place at 9 a.m.
PLAN YOUR TRIP: Visit Fodor's Tips For South India in Two Weeks
Prasannatr | Dreamstime.com
WHERE: Madurai, Tamilnadu
Located on the south bank of the Vaigai River in Madurai, roughly 300 miles south of Chennai, is this majestic temple dedicated to Parvathi, the wife of the Lord Shiva. It serves as the nerve center of this romantic and artistic city known also for its poetry. The exact date of the temple's construction is unknown, but many believe it was built in the 6th century. One of the most impressive features of this temple are its 14 gopurams (gateway towers), two of which contain gold vimanas (shrines). It is one of South India's most popular temples, attracting millions of visitors annually, so expect a lot of elbow-jostling. One of the highlights is the main temple lake's "golden lotus," a very sacred site for devotees; people walk around the lake before entering the inner sanctum of Parvathi.
Insider Tip: The most crowded time to visit is in April during the Chithirai Festival, where devotees arrive to celebrate the marriage of Shiva and Meenakshi, so avoid this period if you are claustrophobic.
PLAN YOUR TRIP: Visit Fodor's Reasons to Visit South India Now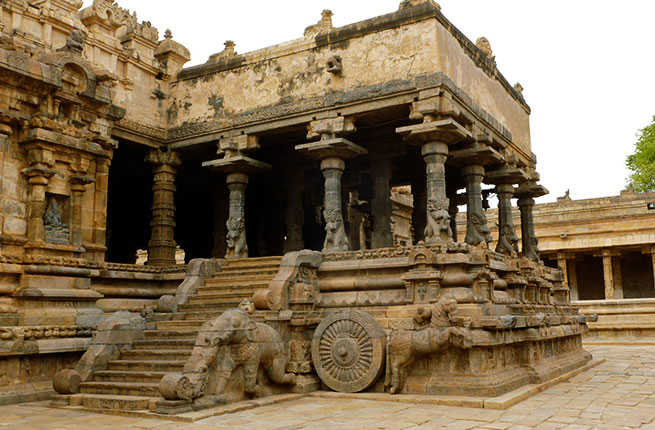 Jonathan Freundlich via Wikimedia Commons [CC BY-SA 3.0]
WHERE: Kumbakonam, Tamilnadu
This Dravidian-style temple, built by King Rajaraja Chola in the 12th century, is part of what constitutes the "Great Living Chola" temples, and is best known for the purifying effects of the waters in its sacred lake or tank. It is relatively modest in scale, but its stone carvings are exquisite; many visitors believe that the sculptures in this site are more beautiful and intricate than those in Tanjore's Brihadeeswarar temple.
Insider Tip: The temple features musical steps (striking the steps produce harmonious sounds), shrines, and a lovely, long path that serves as the entrance.
PLAN YOUR TRIP: Visit Fodor's Travel Advice for South India
Silas | Dreamstime.com
Where: Mysore, Karnataka
Situated like a stately lighthouse on top of the Chamundi Hills near the palace city of Mysore is this beautiful temple, which was named after the goddess Durga, a protector of the kings who have lived in the area for centuries. Originally constructed in the 12th century, this relatively small temple can be reached via a picturesque trek of 1,000 steps. A stately golden gopuram crowns this temple, and the doors are made of silver.
Insider Tip: Free lunches are also given to devotees daily.
PLAN YOUR TRIP: Visit Fodor's Tips for a Day Trip to Mysore
F9photos | Dreamstime.com
WHERE: Mahabalipuram, Tamil Nadu
This series of temples, carved out of granite in 700 AD, are named for their poetic location on the shores of the Bay of Bengal. It's now a UNESCO World Heritage Site and composed of one main and two smaller temples, collectively featuring more than 100 sculptures of gods, birds, beasts, and saints. It also features the world's largest bas-relief, called Arjuna's Penance, which depicts a famous scene from the Indian epic of the Mahabaratha.
Insider Tip: This Dravidian-style temple is dedicated to the Lord Shiva and is an easy drive from Chennai, on the newly paved East Coast road, so rent a car and do it on your own.
PLAN YOUR TRIP: Visit Fodor's Tips to Find a Hotel in Mahabalipuram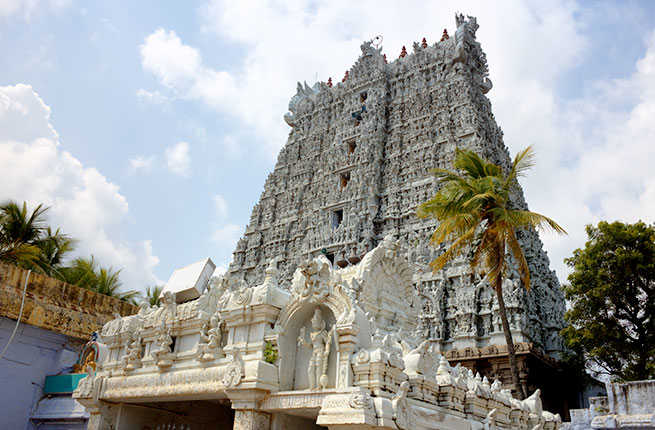 Varyukhin | Dreamstime.com
WHERE: Kanya Kumari, Tamilnadu
This is the only temple in India that houses a deity with the Lords Brahma, Vishnu, and Shiva fused into a single form, and therefore is a pilgrimage-worthy trek for many devotees who make their way all the way to Kanya Kumari, at the tip of India. It is also an architectural marvel, with its signature white gopuram, visible from a great distance.
Insider Tip: If the concept of "musical pillars" sounds strange to you, it's worth paying a visit: these granite pillars are a signature of the temple. They produce different beautiful sounds when tapped, which adds to the temple's unique charm.
PLAN YOUR TRIP: Visit Fodor's Forum Tips for Kanya Kumari
Vinayaraj via Wikimedia Commons, [CC BY-SA 3.0]
WHERE: Kerala
Kerala's Vaikom Mahadeva, dedicated to the Lord Shiva, is believed to be the oldest temple in the state, and has a loyal following by worshippers of both Shiva and Krishna. The temple is in a picturesque spot, in a city bordered by India's longest lake, Vembanad. There are actually three temples; legend has it that if devotees worship at all three, their wishes will be granted.
Insider Tip: One of the most beautiful aspects of Vaikom are its entrance diyas (lamps) that are almost as tall as the temples themselves, and glow beautifully at night. Note that photos are not permitted here; don't bring a camera lest it be confiscated from you.
PLAN YOUR TRIP: Visit Fodor's Kerala Travel Guide