Suzhou Tourism
Located in the Jiangsu Province of Eastern China, Suzhou is a thriving metropolis of 13 million people, which makes it all the more remarkable that it offers healing and wholeness for travelers. Framed by 85 historical sites, Suzhou's Grand Canal is 1,200 miles long and rivals the Great Wall as one the most magnificent man-made wonders in China. The labyrinth of waterways gives way to the Hanshan Temple, the city's most important landmark. Due to Internet censorship, expect your favorite websites like Google, Facebook, and YouTube to be blocked, which means you can entirely disconnect from technology and fully connect to Suzhou. It may not be a beach destination, but for a brief moment, Suzhou will rescue you. Here are 10 ways to find healing in Suzhou.—Marlise Kast-Myers
Shanshan533 | Dreamstime.com
Tongli
Considered the "Venice of China," Suzhou sits in the center of the Yangtze River Delta, where gondolas ply narrow waterways lit by paper lanterns and shadowed by stone bridges. Base yourself in the Old Town District, with a layout that has remained unchanged for over 2,500 years. Spend a day in Tongli, one of eight water towns outside of Suzhou. On the banks of Taihu Lake, the town is divided into seven islets, linked by 15 canals and 47 bridges.
With its gardens, temples, and mansions, Tongli has served as a sanctuary for poets, painters, and Confucian scholars for over 1,000 years. Today, its spellbinding waterways are best explored by gondola, or by strolling through its willow-shaded alleys, where locals carry heavy loads on bamboo poles. Visitors can hire a gondola for about 70 RMB ($10 USD) for a 30-minute ride.
PLAN YOUR TRIP: Visit Fodor's Suzhou Guide
Suzhou Tourism
Moxibustion therapy
Beyond the whitewashed homes and tranquil teahouses of Tongli is the Moxibustion Institute of Qing Shan Tang. Here, masters of the art train in the medicinal therapy of burning dried mugwort (moxa) near particular points on the body.
Treatments begin with a shoulder massage, followed by a smoking cylinder of moxa pulp placed at the base of the neck. Dating back 1,000 years, the therapy promotes well-being and relieves everything from inflammation and fevers to headaches and constipation. A one-hour treatment costs just under $30 USD.
PLAN YOUR TRIP: Visit Fodor's Suzhou Guide
Walkdragon | Dreamstime.com
Tiger Hill
Near the heart of Suzhou, you'll find Tiger Hill, home to several historical sites including the Tomb of King He Lu, the Yunyan Temple Pagoda (Huqiu Tower), and the Verdant Mountain Villa once belonging to Emperor Guangxu of the Qing Dynasty. According to ancient poet Su Dongpo (aka Su Shi), "To visit Suzhou and not see Tiger Hill would lead to a lifetime of regret."
As the cultural symbol of Suzhou, the leaning Huqiu Tower is a must-see, with its 154-foot, seven-story pagoda tilting at a 4 percent grade in all its glory. From serene robed monks to bonsai masters shaping 400-year-old trees, you're liable to find healing here without even trying.
PLAN YOUR TRIP: Visit Fodor's Suzhou Guide
Hongtao926 | Dreamstime.com
Bonsai
With Suzhou's 60 classic gardens—nine of which have been named UNESCO World Heritage Sites—you're liable to encounter a bonsai master working his magic. With prior notice, tour operators can arrange for you to meet with the sculpting pros at Tiger Hill and learn the ancient art of trimming with purpose. One of the best places to see award-winning bonsais on display is at Tiger Hill's Wanjing Villa.
PLAN YOUR TRIP: Visit Fodor's Suzhou Guide
Suzhou Tourism
Tui na massage
Feel like royalty for a day with a relaxing facial or body treatment made with crushed pearls. Commonly used in traditional Chinese medicine, pearl powder contains calcium, magnesium, zinc, iron, and other healing minerals that will make your skin glow.
When in Suzhou, take time out for a Tui Na massage. This soothing therapy uses rhythmic compression techniques, usually in combination with acupuncture to bring about balance and positive energy flow. Other traditional Chinese massages are available at Suzhou's Dragonfly Retreat Center at Harmony City Mall, east of Jinjihu Lake.
Some of the best spas in Suzhou can be found at the Pan Pacific and the Shangri-La Hotel. The latter boasts a health club, tennis courts, an indoor lap pool, and a full-service spa. All treatments combine Eastern and Western philosophies and are based on the principles of restoring balance and beauty.
PLAN YOUR TRIP: Visit Fodor's Suzhou Guide
Marlise Kast Myers
Detox Vegetarian diet
While most people don't expect to cleanse while on vacation, Suzhou has too many reasons not to eat right while in the city. Bypass the food vendors and opt for a steaming pot of Biluochun green tea. The canals are lined with merchants selling tea leaves or hot brew.
For something more substantial, save your appetite for Old Town, and you won't be disappointed. TongDe Xing Noodle Shop will win you over with its broth. Reportedly the best place in Suzhou to get noodles (say locals), TongDe Xing serves a tightly woven mound of noodles dropped into a steamy dark broth. Closed by 1 pm, this place is about as authentic as you can get. You won't find English, wine, or toilet seats here.
PLAN YOUR TRIP: Visit Fodor's Suzhou Guide
Marlise Kast Myers
Silk Factory
As the hub of silk production, Suzhou is the place to get those silk sheets you've always wanted. Start at the Suzhou's Silk Factory and Embroidery Institute where you'll be guided through the whole process, from raising silkworms to padding silk pillows.
You'll see the mulberry leaf–eating invertebrates in action, as they produce cocoons with single silk strands one mile long. The tour ends at a silk shopping mall, where you can buy anything and everything that could possibly be made of silk. This is the place to stock up on silk goods since quality is high and prices are low. Does silk offer healing? Maybe not, but retail therapy and a restful night will certainly go a long way.
PLAN YOUR TRIP: Visit Fodor's Suzhou Guide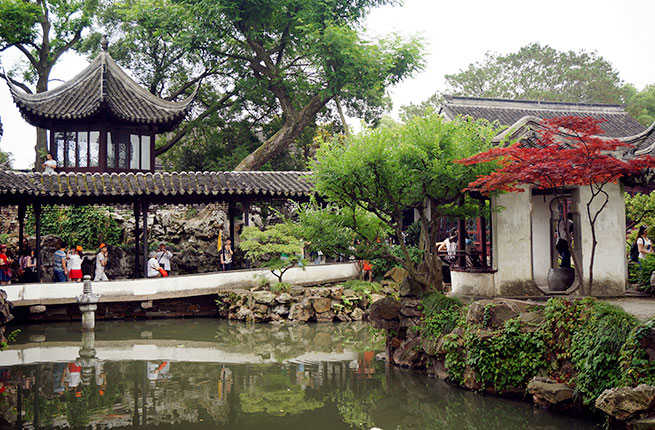 Humble Administrator's Garden
In between Pingjiang and Shantang streets, you'll find the Suzhou Museum and the Humble Administrator's Garden—one of nine in Suzhou designated as UNESCO World Heritage Sites. As Suzhou's largest garden, it also happens to be the city's most famous and crowded. Expect to get whacked by a few selfie sticks and backpacks somewhere between the lotus ponds and bonsai trees.
Despite its popularity, it's still worth visiting. Try and also squeeze in a stroll through the Lingering Garden. Both gardens were built during the Ming Dynasty and are considered the archetype of classical garden design.
PLAN YOUR TRIP: Visit Fodor's Suzhou Guide
Suzhou Tourism
Tai Chi
Although Tai Chi is something you can probably do at your local fitness studio, when in Suzhou, you'll want to partake in this profound part of Chinese culture. Suitable for all ages and fitness levels, Tai Chi consists of a sequence of slow, graceful movements with smooth transitions.
The uninterrupted flow is known to improve health and cultivate the mind. Most large hotels offer Tai Chi classes, or you take part during weekends at Suzhou's Rui Xing Club in Fangzhou Park SIP.
PLAN YOUR TRIP: Visit Fodor's Suzhou Guide
Suzhou Tourism
Acupuncture
This form of traditional Chinese medicine uses thin needles inserted into the body and is a "must do" for healing-seekers in Suzhou. Considered one of the best alternative therapies, small pins are painlessly inserted into meridian lines to restore balance and stimulate nerve impulses. This ancient treatment has been known to cure everything from addictions and arthritis to asthma and insomnia. You can find an entire team of acupuncture experts at Parkway Health in Suzhou's SIP district.
PLAN YOUR TRIP: Visit Fodor's Suzhou Guide
Suzhou Tourism
Hot Springs
Settle into a bubbling pool at one of Suzhou's hot springs, where you can find affordable naturopathy at the foot of the Jiangsu Mountains. The long list of benefits includes increased blood circulation, higher metabolism, stimulation of the immune system, and relaxation of the body and mind.
Not only do the thermals have a therapeutic effect on the skin, but they are the perfect way to warm up on chilly winter days. Some of the area's leading hot springs are Tian Yi and Yishe in Wuzhong District, and Yangshan in the Xushu Guan Economic Development Zone.
PLAN YOUR TRIP: Visit Fodor's Suzhou Guide