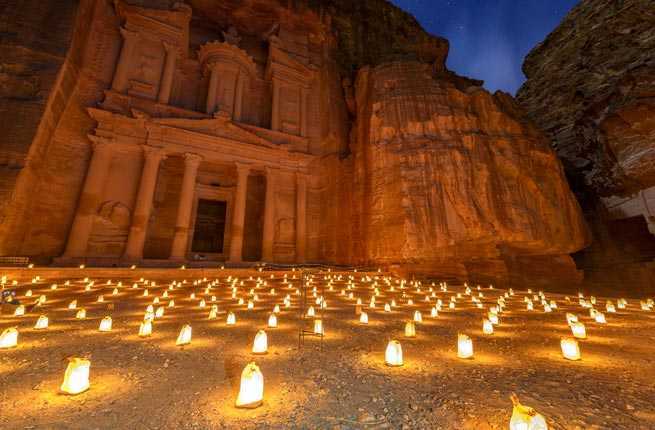 Bargotiphotography | Dreamstime.com
From ancient, man-made wonders to modern cities, soul-stirring desert landscapes to plush beach resorts, Jordan is a land of fascinating contrasts and history, all within a country the size of Maine. The local culture of hospitality has deep roots in its Bedouin history: It was simply a matter of survival, and anyone crossing the unforgiving desert was welcomed as a guest. Even though most of Jordan's Bedouins are only semi-nomadic these days—and you'll most likely show up in a car rather than a camel—Jordanians remain the most gracious and generous of hosts, and the country is one of the friendliest destinations for travelers. To show you that there's more to the country than just world-famous Petra, we've selected nine other must-see places that will inspire you to pack your bags immediately.
By Deb Hopewell
This area on the Jordan River is widely believed to be where Jesus was baptized, but both Jordan and Israel have claimed the holy rite happened on their respective banks: Jordan on the east and Israel on the west. This summer UNESCO named the Jordan location a World Heritage Site—the country's fifth such designation.
Though impossible to know the precise spot of the baptism, the excavated site on Jordan's shore (just north of where the river empties into the Dead Sea) has produced the ancient ruins of several chapels, baptismal pools, and monks' caves, which experts say are considered evidence of early Christians commemorating this spot, helping bolster Jordan's claims.
PLAN YOUR TRIP: Visit Fodor's Jordan Travel Guide
Outcast85 | Dreamstime.com
For nearly a century, this vast desert valley (wadi) and its towering monoliths have been inextricably linked with the larger-than-life T.E. Lawrence, so it was only fitting that David Lean immortalized both when he shot Lawrence of Arabia here in 1962. Petroglyphs carved into the cliffs' soft red sandstone bear witness to the fact that this area has been inhabited for thousands of years, most recently by the Bedouin, who still live in this protected UNESCO World Heritage Site.
Don't pass up an opportunity to stay at one of the many (quite affordable) Bedouin guest camps, whose furnished tent accommodations are modest, clean, and comfortable, to feast on delicious grilled meats and vegetables. Don't sleep in because a camel ride to watch the sunrise in Wadi Rum is an experience you'll never forget.
PLAN YOUR TRIP: Visit Fodor's Wadi Rum Travel Guide
Bargotiphotography | Dreamstime.com
Lost to the world for centuries until a Swiss explorer rediscovered it in 1812, the magnificent hand-carved architecture of Petra is Jordan's number one tourist attraction (and a UNESCO Heritage Site). More than 2,000 years ago, the Nabataeans began carving what would eventually be more than 3,000 dwellings, banquet halls, altars, and tombs into the red, ochre, and rose-hued sandstone and engineering ways to carry spring water to nearly 20,000 inhabitants.
Today the Treasury (the Temple of the Sun in Indiana Jones and the Last Crusade) is the best-known feature in Petra, but hike or take one of the burros for hire to climb to the much-larger and equally impressive monastery.
PLAN YOUR TRIP: Visit Fodor's Petra Travel Guide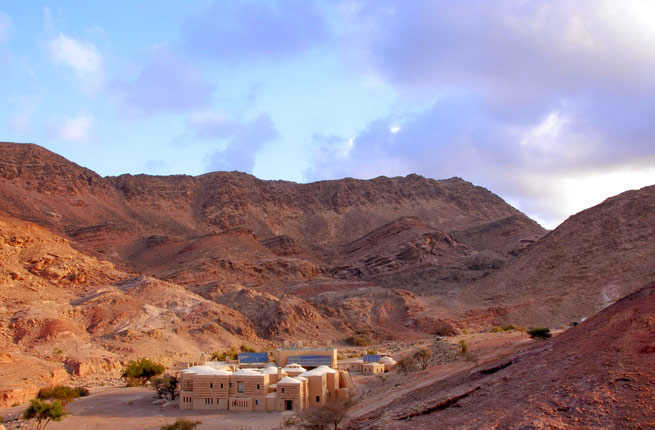 Courtesy of Feynan Ecolodge
This nature preserve is the largest in the country: 119 square miles of rugged limestone, granite, and sandstone cliffs that reach nearly 5,000 feet before dropping to the valley floor, some of it below sea level. Despite its seemingly harsh surroundings, it's a popular hiking area and home to wildlife like the threatened Nubian ibex, lynx-like caracal, and the largest breeding population in the world of Syrian serin, a type of finch.
If you plan on visiting for more than a day, splurge on a stay at the award-winning Feynan Ecolodge. The resort is completely off the grid and generates its own solar power, and all water comes from a natural spring. Nighttime is particularly enchanting, as there's no lighting except for candles burning throughout the property.
PLAN YOUR TRIP: Visit Fodor's Side Trip from Amman Travel Guide
Pixattitude | Dreamstime.com
The Dead Sea has an almost mythical place in history. Tourists flock to the resorts that line the lake to slather on mineral-laden Dead Sea mud from head to toe. Once it's dry, it's time to wade in and have a float—a somewhat awkward exercise at first because of the water's unusually high salt content that keeps you bobbing at the surface. Not only is this one of the most hypersaline environments in the world, but also the lake's shore is the lowest land point in the world: 1,407 feet below sea level.
PLAN YOUR TRIP: Visit Fodor's Dead Sea Travel Guide
Deb Hopewell
Jordan's capital, one of the longest continually inhabited cities in the world, is a modern city of more than four million that has preserved its ancient past while solidly embracing the twenty-first century. Amman is one of the most Westernized cities in the Middle East, largely due to Jordanians who study and work in the U.S., Canada, and Europe before returning home.
On a hilltop in the heart of downtown are the ancient ruins of the Citadel, including the colonnaded Temple of Hercules built by the Romans and a Byzantine church. Down below and just across a busy thoroughfare is the Roman theater, just steps away from the spice shops and bustling marketplaces.
PLAN YOUR TRIP: Visit Fodor's Amman Travel Guide
Courtesy of Visit Jordan
At 2,680 feet, it's not a particularly tall mountain, but the views are expansive: This is believed to be where God led Moses to show him Israel and the Promised Land and where tradition holds he was buried. Today the mountaintop is a popular pilgrimage site, with an excavated fourth-century church, small museum, an olive tree-shaded garden, and views of the Jordan Valley and Dead Sea below. On a clear day, you can see Jericho, Bethlehem, and the rooftops of Jerusalem in the distance.
PLAN YOUR TRIP: Visit Fodor's Side Trip from Amman Travel Guide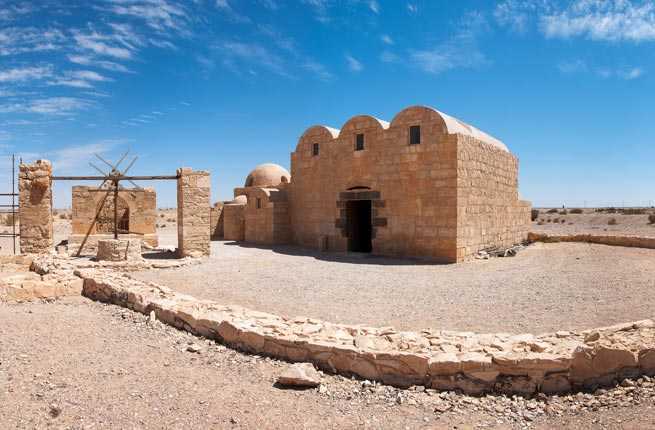 Rad100 | Dreamstime.com
This desert "castle" about fifty miles east of Amman is not much to look at from the outside; its unassuming architecture is all that's left of a complex built as a playground for caliphs in the early eighth century. But inside, frescoes painted on the walls and ceilings of the halls, rooms, and baths depict daily life and fanciful stories in a style unheard of at the time.
Not long after these paintings of naked women, music-playing animals, and zodiac symbols were completed, the first Islamic injunction against images decreed that such paintings be destroyed. Somehow, the images at Qasr Amra were overlooked and survived—and are now collectively a protected UNESCO World Heritage Site.
PLAN YOUR TRIP: Visit Fodor's Jordan Travel Guide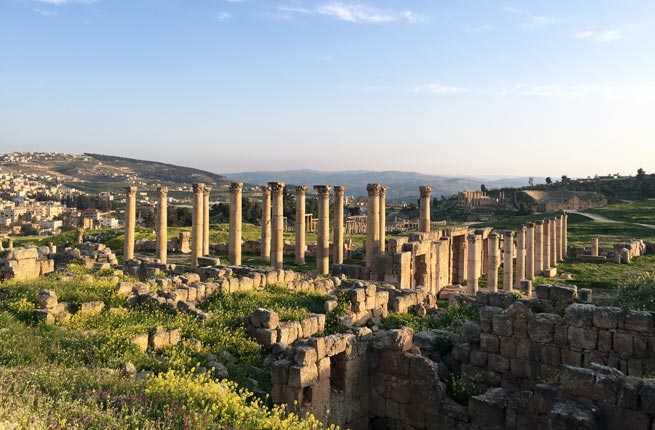 Deb Hopewell
Just thirty miles north of Amman is one of the world's best-preserved Roman provincial cities, though archaeologists have found evidence of people living on the site thousands of years before that. Alexander the Great founded the city around 331 B.C., but its real heyday came after the Romans absorbed it a few hundred years later. Even though experts estimate only a quarter of the site has been uncovered, the excavated ruins sprawl over a huge area that includes the colonnaded main street, oval forum, hippodrome, and the impressive Arch of Hadrian.
PLAN YOUR TRIP: Visit Fodor's Side Trip from Amman Travel Guide
Courtesy of Visit Jordan
This holiday destination on the Gulf of Aqaba (on the northwest reach of the Red Sea) is the only coastal city in the country and the place where Jordanians go to swim, chill, and get pampered at one of a half dozen or so five-star resorts. Fifty years ago Jordan swapped a big chunk of hot interior desert with the Saudis in exchange for seven miles of coastline just south of Aqaba's port, providing access to the Yamanieh coral reef, a clear, beautiful snorkeling and diving attraction.
PLAN YOUR TRIP: Visit Fodor's Aqaba Travel Guide