Rafal Cichawa/Shutterstock
Why wait until summer to go on vacation? There are plenty of reasons to take some time off before the busy travel season starts. From fabulous festivals to hot new hotels, there's a lot to see and do around the world this spring. From watching the catwalks at New Orleans Fashion Week to celebrating Balinese New Year, you'll find that this season is brimming with great excuses to travel. Here are our top 10 destinations to check out before summer rolls around.
By Kathleen Squires
A serial traveler who often lets a country's cuisine dictate her itineraries, New York City-based writer Kathleen Squires has visited all 7 continents and over 60 countries, with stints living in London, Tokyo, and Buenos Aires. Her work also appears in The Wall Street Journal, Saveur, Cooking Light, and National Geographic Traveler.
Douglas Mason
New Orleans
Why Go Now: The catwalks of the Big Easy come alive during New Orleans Fashion Week (March 15–22), while theatrical types gather for the Tennessee Williams/New Orleans Literary Festival (March 19–23), which has been honoring the playwright for 28 years. The Mardi Gras of music, the New Orleans Jazz & Heritage Festival presented by Shell (April 25–May 4), celebrates its 45th year with a stellar lineup that includes everyone from Robin Thicke to Bruce Springsteen.
Where to Stay: The Courtyard New Orleans Downtown/Convention Center is freshly renovated, playing up the building's past as a sugar and molasses factory. The Ritz-Carlton New Orleans just completed renovations of its club level as well as a full re-do of the Presidential Suite.
PLAN YOUR TRIP: Visit Fodor's New Orleans Guide
Denver
Why Go Now: Hop fans will be happy to know that 200 different beers are brewed in the Mile-High City daily, staking Denver's claim as the "Napa Valley of Beer." A walking brewery tour is the perfect thing to do as the gentle weather sets in. Or, check out the booming distillery culture for local whiskey, gin, vodka, and more. This spring will also see the debut of Salt & Grinder (3609 West 32nd Avenue, Denver), a charcuterie and sandwich shop from acclaimed restaurateur Frank Bonanno.
Where to Stay: The Renaissance Denver Downtown City Center Hotel opens in April, within the meticulously restored Colorado National Bank building. The lobby includes sixteen important works from Colorado muralist Allen Tupper True.
PLAN YOUR TRIP: Visit Fodor's Denver Guide
Rafal Cichawa/Shutterstock
Cartagena, Colombia
Why Go Now: The vibrant old town of Cartagena is one of the best-preserved ancient enclaves in the Americas, but the coastal city also features crystal-clear waters and thriving coral reefs that make it a year-round diving destination in the outlying islands of Baru, Rosario, and San Bernardo. The Cartagena International Film Festival (March 13–19) is the oldest in Latin America and specializes in Spanish-language films.
Where to Stay: The newly-opened boutique Hotel Casa San Agustín marries old-world charm with modernity. The brand-new InterContinental Cartagena is slated to open its doors this spring.
PLAN YOUR TRIP: Visit Fodor's Cartagena Guide
Kemal Taner/Shutterstock
Seville, Spain
Why Go Now: Those who observe Lent tighten their belts, but in Seville, there is a huge payoff for the sacrifice. Two weeks after Easter, the enormous, citywide blow-out known as the Feria de Abril counteracts piety during the Easter season. This is a week of eating, drinking, dancing, singing, parades, bullfights, and an overall good time. Although it is known as the "April Fair," this year, the festivities fall in May (May 6–11).
Where to Stay: The recently-renovated Hotel Alfonso XIII has one of the best locations in the city, convenient to all of the major sights. Tiles, arches, wood beams and lanterns give it a Moorish feel.
PLAN YOUR TRIP: Visit Fodor's Seville-Andalusia Guide
Blanscape/Shutterstock
Osaka, Japan
Why Go Now: The pink blooms of cherry blossoms, known as "sakura" in Japan, are truly a sight to see when they burst open in spring. There are few better backdrops than the historic, white-washed Osaka Castle, with its park's 4,300 cherry trees that bloom in early April. Bring your camera for photo-ops galore.
Where to Stay: Newly-opened Osaka Marriott Miyako Hotel is now the tallest building in the city and in Japan. Part of a complex that includes a department store, galleries, and museums, it offers ultimate convenience for guests. The Hotel New Otani Osaka offers proximity to the castle and views of the park.
PLAN YOUR TRIP: Visit Fodor's Osaka Guide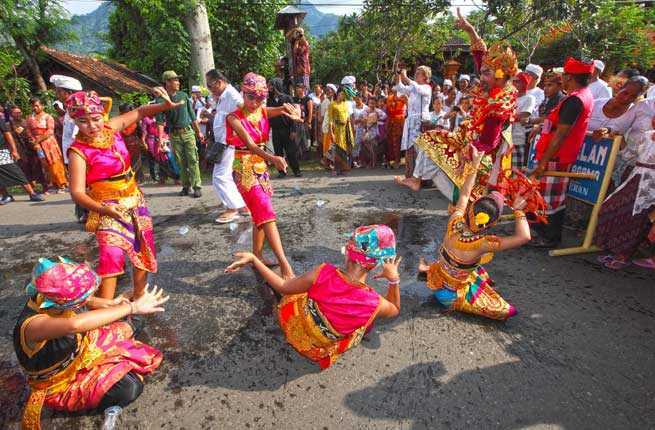 Manamana/Shutterstock
Bali
Why Go Now: March marks Bali's dry season and, more importantly, a month of celebrations that starts with the Balinese New Year on March 12. At the end of the month, Galungan is the most important holiday of the year and capped by Nyepi, a day of silence (March 31). The restaurant Mejekawi by Ku De Ta in Seminyak is catching buzz as the "Noma of Asia," for its farm-fresh. The eatery has hosted guest chefs from around the world, including a recent visit from Noma pastry genius Rosio Sanchez.
Where to Stay: Slated to open in the spring, Sea Sentosa Bali is built along one of the island's best surf beaches on the west coast. Near Ubud, The Four Seasons Resort Bali at Sayan is a popular choice.
PLAN YOUR TRIP: Visit Fodor's Bali Guide
Courtesy of El Blok
Vieques
Why Go Now: Word is that the bioluminescent bay in the waters surrounding this island off Puerto Rico is dimming by the day, so this season may be one of the last to catch sight of the famous glow-in-the-dark waters. In late April, Vieques will host a major hotel opening—El Blok, a LEED-green-certified boutique with 23 rooms and a restaurant from local hero Jose Enrique Montes, the culinary genius behind San Juan's Jose Enrique restaurant.
Where to Stay: El Blok promises to be fully opened by Easter. Geometrically-shaped Hix Island House boasts lofts inspired by the Japanese Wabi Sabi concept.
PLAN YOUR TRIP: Visit Fodor's Vieques and Culebra Travel Guide
Courtesy of Pastoral Artisan Cheese, Bread & Wine
Chicago
Why Go Now: On March 14, the "Animal Inside Out" exhibit opens at Chicago's Museum of Science & Industry. Think of the popular "Bodies" exhibit, except this one's for creatures. Also, the Pastoral's Artisan Producer Festival (April 12), run by one of Chicago's favorite gourmet shops, gathers nearly 100 culinary specialists from around the globe to tout charcuterie, cheese, beer, wine, and more. Foodies are also eagerly anticipating the latest opening from Mexican restaurant maven Rick Bayless, XOCO Wicker Park (1471 N. Milwaukee Avenue, Chicago), slated for March or April.
Where to Stay: The Godfrey Hotel Chicago opened in early February in an eye-catching, Cubist-inspired building in the epicenter of the bustling River North neighborhood. Its 15,000-square-foot indoor/outdoor rooftop lounge features fire pits that make chilly nights comfortable.
PLAN YOUR TRIP: Visit Fodor's Chicago Guide
Patricia Hofmeester/Shutterstock
South Island, New Zealand
Why Go Now: While wineries in the northern hemisphere are just waking up, it's harvest time in the Central Otago wine region, located on South Island. Making a name for itself in Pinot Noirs, the lovely, mountainous area is also an attraction for leaf-peeping and its palette of colors at this time of year. Don't miss celebrated vineyards such as Rippon in Wanaka and Amisfield in Lake Hayes.
Where To Stay: Set at the foot of the region's Southern Alps, the Whare Kea Lodge & Chalet is the perfect spot for foliage enthusiasts and connoisseurs of the area's fine wines.
PLAN YOUR TRIP: Visit Fodor's New Zealand Guide
© Ross Brinkerhoff / Fodor's Travel
Paris
Why Go Now: "April in Paris" was a celebrated song for a reason: Springtime is truly the loveliest time of year to enjoy the City of Light. Animal lovers are anticipating the reopening of the Parc Zoologique in April, after a $175-million renovation that will painstakingly recreate natural habitats. The Musée d'Orsay will unveil a new Van Gogh exhibit on March 11, and on May 17, the city's museums will burn the midnight oil—literally—by staying open late with free admission during the European Night of Museums.
Where To Stay: The brand-new Radisson Blu Paris slipped into the former Louis Vuitton headquarters. Right in the shadow of the Eiffel Tower, La Bourdonnais hotel returns after an extensive renovation.
PLAN YOUR TRIP: Visit Fodor's Paris Guide