Stephen Collector / Boulder Convention and Visitors Bureau
Berkeley and Cambridge readily come to mind when thinking about outstanding college towns, but the truth is there are countless student hubs worth visiting all over the country, from coast to coast. With vibrant art scenes, top-notch restaurants, charming eccentricities, historic sights, and gorgeous scenery, the best college towns in the U.S. have something to offer every traveler, no matter what time of year. To come with a list of twenty outstanding picks, our team of expert editors nominated their favorites. School is back in session, so make your way to one of our favorite college towns across the nation.
By Sara Quaranta
Appalachianviews | Dreamstime.com
Though its acres of parkland, miles of trails and proximity to breathtaking nature like Glacier National Park and Flathead Lake never go unnoticed, the home of the University of Montana is often overlooked when it comes to its thriving restaurant scene. Check out The Silk Road Restaurant for a tapas-style tour of the world, from Austrian pork schnitzel to mango habanero sorbet, or pop into Biga Pizza for the Vesuvio, a pie topped with mozzarella, salami, hot cherry peppers, and kalamata olives.
Missoula is also home to Montana's largest brewery, Big Sky Brewing Co. The taproom closes at 7 p.m. at the latest, so it's perfect for reliving your day-drinking college days—except now you can enjoy a Moose Drool Brown Ale rather than a can of Natty Light.
PLAN YOUR TRIP: Visit Fodor's Missoula, Kalispell, and Northwest Montana Travel Guide
Steve Blazo / The Shops at Yale
Outbidding other communities to play host to Yale, New Haven became the home grounds of the prestigious Ivy in 1716. A trip to quite possibly the supreme pizza town in the United States is not complete without a stop at Frank Pepe Pizzeria Napoletana, founder of the white clam apizza. Then, wash down your meal with drinks at one of the many local dive bars, like Rudy's.
This ex-co-capital of Connecticut is filled to the brim with arts and culture. Make sure to visit the Yale University Art Gallery and Peabody Museum, as well as the Guilford Art Center and Long Wharf Theatre. For something different, drop in to Joker's Wild Comedy Club or catch a New Haven Ballet performance.
PLAN YOUR TRIP: Visit Fodor's New Haven, Mystic, and the Coast Travel Guide
Capturing the hearts and stomachs of Michigan Wolverines since 1982, Zingerman's alone is worth the trip to Ann Arbor. With bagels, brownies, and some of the best meals you'll have between two slices of bread, it's no wonder Oprah called this deli an eleven on a five-point scale. After lunch opt for a stroll on South Main Street or head out with a canoe and fishing pole to Huron River.
Of course, a game-day visit to a city hosting the second-largest stadium in the world and the winningest program in the history of college football is a must. Join in the maize-and-blue frenzy as the players rush midfield to hit the "Go Blue" banner, and then head to the seventy-plus taps at Ashley's for post-game drinks and pesto waffle fries.
PLAN YOUR TRIP: Visit Fodor's Michigan Travel Guide
Courtesy of visitcharlottesville.org; Photo by Anthony Lau
Charlottesville, Virginia
The UNESCO World Heritage Sites and Thomas Jefferson-designed Monticello and University of Virginia define historic Charlottesville. Along with these famed sites, you can pack in more of the past with a visit to James Monroe's home, Edgar Allan Poe's room at UVA, and the Lewis and Clark Exploratory Center.
The pedestrian-perfect, brick-paved blocks of the Downtown Mall are lined with farm-to-table outdoor restaurants, charming shops, and street vendors, and picturesque wineries and vineyards circle the city. Sip on reds and whites surrounded by the rolling hills at Trump Winery, paired with a picnic at Jefferson Vineyards, or combined with a few rounds of corn hole and horseshoe at Knight's Gambit Vineyard.
PLAN YOUR TRIP: Visit Fodor's Central and Western Virginia Travel Guide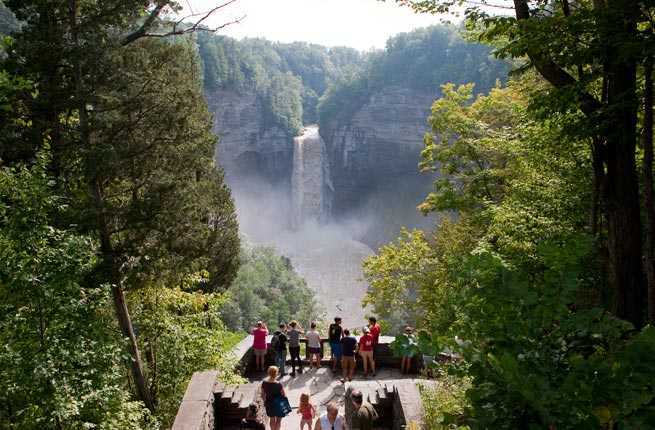 Kristian Reynolds
Home to both Cornell University and Ithaca College, this laid-back and extremely walkable city has one of the prettiest landscapes of all college towns. More than 100 lakes, waterfalls, and gorges, along with the Cornell Plantations, add to the untouched scenery. Eclectic Ithaca also entertains a remarkable, diverse music scene and a wide range of arts events, in addition to assorted restaurants, breweries, and wineries.
For a side trip to another naturally beautiful college town, nearby Syracuse (about an hour and a half drive northeast) offers many cultural options including the Syracuse Symphony Orchestra, the Everson Museum, and multiple theaters. Portions of the downtown area have been revamped, making the home to Syracuse University a lively nightlife destination.
PLAN YOUR TRIP: Visit Fodor's The Finger Lakes Travel Guide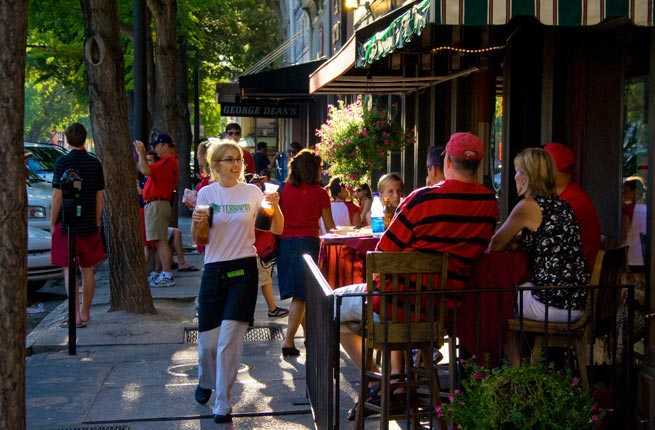 Courtesy of Athens Downtown Development Authority
The birthplace of R.E.M and the B-52s attracts a trendy, artsy culture. For a taste of the live-music scene, hit up the Georgia Theatre; for a tamer cultural experience, head to the Georgia Museum of Art, which celebrates and endorses diversity in art. James Beard-winner Hugh Acheson started the onslaught of world-class eateries here with contemporary Southern cooking at Five & Ten.
Like a true Southern university, Georgia football takes over on game days. Join the rowdy crowds for the consistently top-ranked team's "Dawg Walk" through the fans and band and make sure to catch a glimpse of Uga, the school's live mascot. With an incredible bar-per-capita ratio, this city's nightlife is perfect for celebrating a big win.
PLAN YOUR TRIP: Visit Fodor's Central and North Georgia Travel Guide
The downtown of Northwestern University's stomping grounds is full of quirky coffee shops and promising restaurants. Pop into the charming Unicorn Café for a bookish, coffeehouse vibe or funky Kafein with its hipster décor and extensive menu. Bennison's Bakery is a classic, while up-and-coming Hewn boasts delicious artisan breads. Stop by Edzo's for truffle fries and one of the best burgers in the Chicago area or Found for a seasonally changing menu of rustic American dishes, surrounded by a bohemian hodgepodge of eclectic furniture.
Evanston, the setting for Mean Girls and where much of Sixteen Candles was filmed, is located on Lake Michigan and provides easy beach access. It is also nearby the beautiful, domed Baha'i House of Worship, the world's oldest surviving Baha'i temple, and the only one in the U.S.
PLAN YOUR TRIP: Visit Fodor's Chicago Travel Guide
Courtesy of Palmer Square
Princeton's picture-perfect campus and historic sites like the homes of Albert Einstein, Woodrow Wilson, and Grover Cleveland make Princeton a must-visit. The municipality offers many cultural options including the free Princeton University Art Museum, The Princeton Festival, and the Princeton Garden Theatre, which shows "first-run films of high artistic quality," including classic and foreign films.
The college town also boasts parks full of nature preserves and outdoor activities, along with top-notch shopping on Nassau Street and some of the state's best dining, due to its accessibility to ingredients from nearby farms. Check out Hoagie Haven for novelty sandwiches like the Phat Lady, packed with cheesesteak, mozzarella sticks, fries, ketchup, and hot sauce. For something more upscale, try Elements for fresh ingredients prepared with modern techniques.
PLAN YOUR TRIP: Visit Fodor's New Jersey Travel Guide
Stephen Collector / Boulder Convention and Visitors Bureau
With its building-height limit, the University of Colorado Boulder's home is dominated by Rocky Mountain views and hundreds of miles of nature trails and bike paths leading into the mountains, offering a nature-filled escape for outdoor enthusiasts. The hippie hangout of the '60s has been voted among America's foodiest towns, and its craft-beer culture was among one of the first. For farm-to-table dining, try Black Cat Bistro, which sources from its own farm. Then take a tour of the huge Avery Brewing facility, or stop by The Bitter Bar for cocktails on tap.
Just over an hour away is Fort Collins, home of Colorado State University. The relaxed city is surrounded with mountain views and parks and filled with music venues and live events. It is also the proud owner of the Colorado Brewers' Festival and the title of most microbreweries per capita in Colorado.
PLAN YOUR TRIP: Visit Fodor's Boulder and North Central Colorado Travel Guide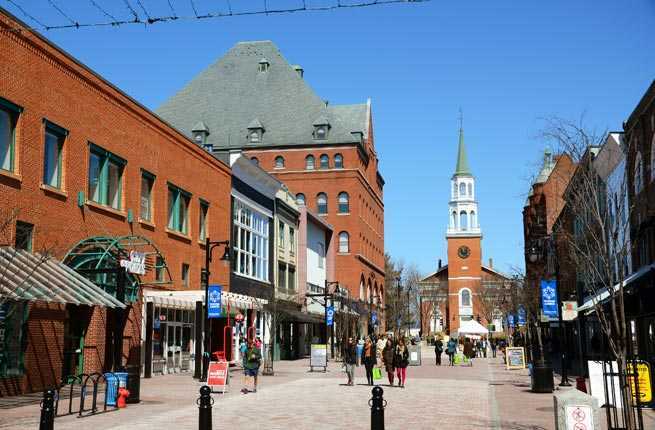 Jiawangkun | Dreamstime.com
Not only is Burlington home to four colleges including the University of Vermont, but it is also home to Ben and Jerry's Ice Cream. With Lake Champlain and waterfront activities in the background, Burlington is bustling with music, art, and culture, all visible at the Church Street Marketplace, a pedestrian mall bursting with little boutiques, cafes, and craft vendors.
A strong supporter of the local food movement, this college town has a ton of organic farms and a popular farmers' market, along with a robust lineup of breweries and bars. Dine in the beer garden at Farmhouse Tap and Grill for bourbon-braised Adams Farm chicken or a Misty Knoll free-range turkey burger. Another locally sourced standout is Juniper. Try the Citizen Cider-steamed mussels with chorizo before heading to its ingredient-driven cocktail bar.
PLAN YOUR TRIP: Visit Fodor's Northern Vermont Travel Guide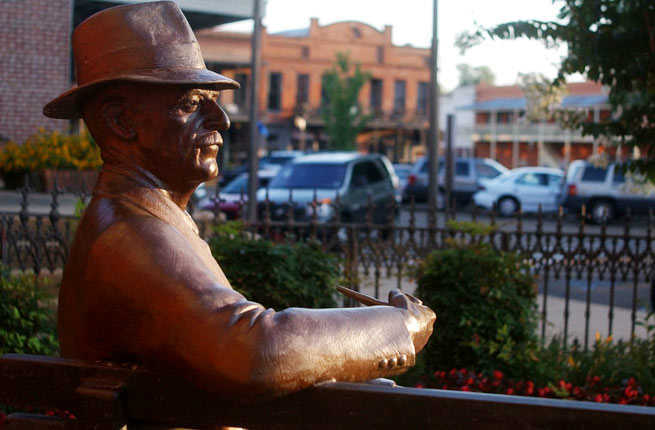 Courtesy of Visit Oxford
Oxford checks off all of the boxes of the cliché Southern college town, but it offers much more beyond tailgating kegs and grills. This charming city is built on meaningful history from the Civil War to the Civil Rights Movement, and it has a thriving music scene as a regular tour stop and home to a recording studio used by Elvis Costello and the Counting Crows.
Make sure to check out independent Square Books and stop by The Square, the cultural hub of the city, for great Southern cooking. Head to local favorite Ajax Diner for cheese-stuffed meatloaf and sweet potato casserole, or go more upscale with John Currence's City Grocery for imaginative Southern food like Szechuan cashew catfish and fried grilled okra.
PLAN YOUR TRIP: Visit Fodor's Mississippi Travel Guide
Courtesy of the Flagstaff Convention & Visitors Bureau
Flagstaff is often a base for excursions to Native American reservations, national parks, and the Painted Desert, but the city is a trip in itself. The home of Northern Arizona University's diverse landscape, almost 700 acres of parks, and more than fifty miles of hiking and cycling trails appeal to all outdoor enthusiasts, and the Arizona Snowbowl in the San Francisco Peaks beckons skiers and snowboarders in the winter and families and festival-goers in the summer.
Among some of the festivals Flagstaff throws are the Hopi Festival of Arts and Culture, the ten-day Flagstaff Festival of Science, and Pickin' in the Pines, a three-day extravaganza of acoustic and bluegrass. But this college town is perhaps best known for the Lowell Observatory and its unrivaled stargazing.
PLAN YOUR TRIP: Visit Fodor's North-Central Arizona Travel Guide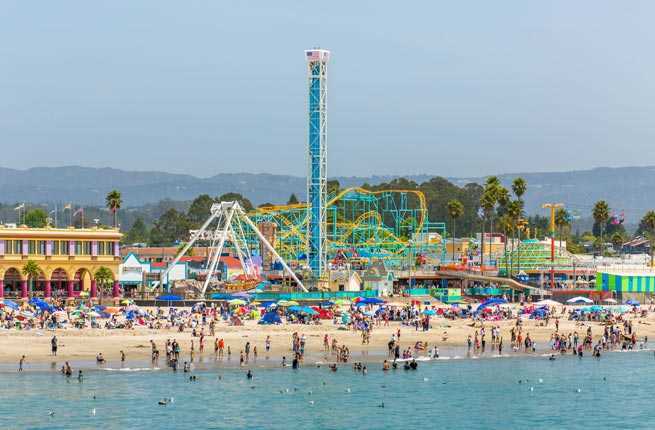 Wolterk | Dreamstime.com
The home of the University of California, Santa Cruz, is bordered by many national parks and the Pacific Ocean. Take a hike through the coastal redwood forest, or enjoy the sun-bathed beaches and the splendor of the coastline by taking advantage of the city's world-renowned surfing and other watersports.
Don't miss the 108-year-old Santa Cruz Beach Boardwalk, the oldest amusement park in California, whose iconic Giant Dipper roller coaster and carousel are National Historical Landmarks. Head to the Santa Cruz Wharf to spot some sea lions before heading back into town to Oswald Restaurant for California cuisine, Oyunaa's for Mongolian, or Hula's Island Grill for Hawaiian.
PLAN YOUR TRIP: Visit Fodor's Monterey Bay Travel Guide
Lightphoto | Dreamstime.com
Williamstown, Massachusetts
Built around Williams College, this peaceful town offers loads of charm. The endearing downtown is lined with ritzy boutiques and peppy restaurants. Make sure to visit in the summer to experience the Tony Award-winning Williamstown Theatre Festival, which has showcased the likes of Gwyneth Paltrow and Christopher Walken. Stop by The Clark for works by Degas, Monet, and Renoir and Gilbert Stuart's famous Portrait of George Washington. Then head over to the nature preserve Field Farm for trails and footpaths through well-kept gardens and sculptures.
About an hour and a half southeast is Amherst, the seat of three colleges including Amherst College. The downtown is littered with galleries and trendy music and clothing shops. Make sure to pop into the Emily Dickinson Museum, which commemorates her birth and life in Amherst.
PLAN YOUR TRIP: Visit Fodor's Berkshires Travel Guide
Jamiehooper | Dreamstime.com
The self-proclaimed "Great City for the Arts and Outdoors" houses the University of Oregon, an arboretum with more than 500 tree species, and a slew of recreational activities including rafting and kayaking. It's also tucked into the middle of wine country, with beautiful wine trails for biking.
As a supporter of the arts, the city hosts a growing reggae scene; the Saturday Market, where everything is created or grown by the vendors; and multiple festivals including the Oregon Festival of American Music and the SLUG Queen coronation, an entertaining pageant to crown the unofficial ambassador of Eugene.
Make sure to stop by Luckey's Club Cigar Store, one of the oldest bars in Oregon, before leaving. A previously all-male salon, it survived both the Prohibition and the Great Depression.
PLAN YOUR TRIP: Visit Fodor's The Willamette Valley and Wine Country Travel Guide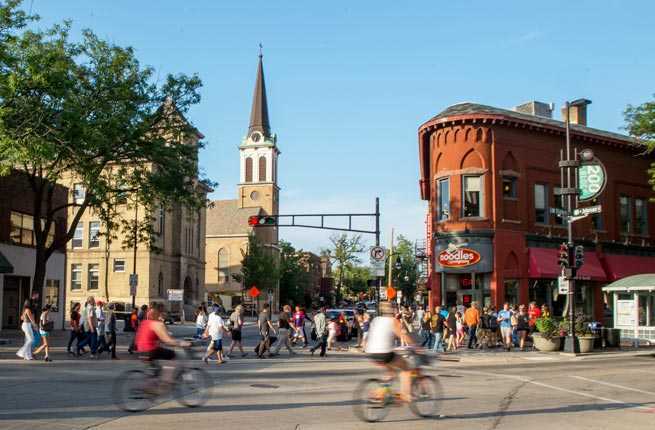 Focal Flame Photography / Greater Madison Convention & Visitors Bureau
The state capital and home of University of Wisconsin-Madison is an extremely walkable and naturally beautiful city, set among four lakes. The university's arboretum contains more than twenty miles of trails, and outdoor activities are plentiful: sailing, hiking, and biking in the warmer months and ice fishing, ice skating, and snowkiting in the winter. For a more urban outdoor charm, State Street, covered with eateries, trendy shops, and a lively nightlife scene, is a must.
The city also hosts the Great Taste of the Midwest beer festival in the summer and the Dane County Farmers' Market, the biggest U.S. producer-only farmers' market (cheese and meat abound). Stop by The Old Fashioned for a true Wisconsin meal—think brats and cheese curds—and of course, the namesake drink.
PLAN YOUR TRIP: Visit Fodor's Madison Travel Guide
Jilllang | Dreamstime.com
Chapel Hill, North Carolina
Life in this classic college town inevitably centers on the University of North Carolina at Chapel Hill (the first state university in the U.S.), the powerhouse Tar Heel basketball team, and the energetic collegiate atmosphere. Indulge in the small-town feel by stopping at the boutiques and eateries on Franklin Street and attending the many food, arts, and music festivals throughout the year.
Recently called "America's Foodiest Small Town" by Bon Appetit, Chapel Hill is a must for the food-obsessed. For unbeatable Southern comfort food, hit up Mama Dip's, or stop by the funky Sandwich for BLTs with avocado and roasted jalapenos, twice-cooked fries, and "antidepressant chocolate chip cookies." For more upscale dining, pop into Lantern for locally sourced ingredients with an Asian twist.
PLAN YOUR TRIP: Visit Fodor's Central North Carolina Travel Guide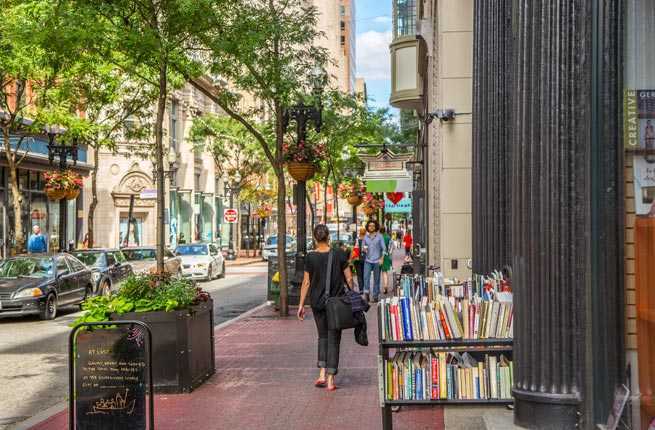 Courtesy of Go Providence; Photo by Nicholas Millard
The city holding Brown University and Rhode Island School of Design also holds the title for the most coffee/doughnut shops per capita in the U.S. Stop by Bolt Coffee Company for smooth lattes or Dave's Coffee for cold-brew coffee on tap to find out why coffee milk is this state's drink.
In addition, the capital has a tremendous food scene, including a vast array of food trucks (try Championship Melt for gourmet grilled cheese), a surprisingly robust offering of burger joints (stop by Harry's Bar & Burger), some great food tours to showcase cutting-edge cuisine and talented chefs, and even the Culinary Arts Museum.
The capital also has a flourishing arts community. Highlights include the Tony-Award winning Trinity Repertory Company and WaterFire, a summertime installation of about 100 bonfires on the river.
PLAN YOUR TRIP: Visit Fodor's Providence Travel Guide
Phoebezzf | Dreamstime.com
This western college town, home to Montana State University, is a funky mix of collegians, academics, skiers, and cowboys. As a door to both Yellowstone and Grand Teton National Parks, Bozeman has unbeatable opportunities for alfresco activities like rock climbing, mountain biking, white-water river rafting, and fishing, as well as three skiing areas.
The city is packed with restaurants, bars (and an awesome micro-brew scene), coffee shops, boutiques, and galleries. Stop by the university's arboretum or the Museum of the Rockies for some natural culture. For something a little different, check out the American Computer & Robotics Museum for a surprising amount of exhibits from artificial intelligence to the history of Apple, or pop into the Gibson Acoustic Guitar facility for a comprehensive look into the making of the iconic instruments.
PLAN YOUR TRIP: Visit Fodor's Helena, Bozeman, and Southwest Montana Travel Guide
Samantha Decker Photography
Saratoga Springs, New York
The home to SUNY Empire State College and Skidmore College is most known for the Saratoga Race Course, the oldest sporting venue in the U.S., which hosts the Travers Stakes. It's also well known for its mineral water healing springs that you can visit, bottle, or indulge in spa treatments in. Saratoga Springs also has more than twenty golf courses and a lively nightlife. Make sure to stop by Caffe Lena, the oldest continuously operating coffeehouse in the nation and one of Bob Dylan's first performance venues.
About two hours southwest is another college town, Oneonta, home to Hartwick College and SUNY Oneonta. Oneonta provides tons of hiking across the Susquehanna Trail, and sportier types can check out the National Soccer Hall of Fame and nearby Baseball Hall of Fame. Stop by Brooks' BBQ for top-notch ribs and pulled pork cooked in a giant indoor charcoal pit.
PLAN YOUR TRIP: Visit Fodor's Albany and Central New York Travel Guide