Adisa/Shutterstock
Whether taking full-immersion cooking courses, hiking through vineyards and orchards for tastings, hunting down the best urban street food, or scouring new farmers' markets, culinary tourists are increasingly fanning the globe in search of authentic food experiences. A recent survey commissioned by the World Food Travel Association found that of the 170 million leisure travelers in the U.S., more than 30 percent chose trips based on the availability of culinary activities. From a tasting tour of China's regional cuisines to a cooking class in the foothills of Morocco's Atlas Mountains, these 10 food-focused experiences are among the tastiest in the world.
by Deb Hopewell
Mariusz Niedzwiedzki/Shutterstock
Dolce Vita in the Dolomites
WHERE: Italy
With its picture-perfect views of vertiginous mountains, manicured green valleys, and postcard villages, the Dolomites in far Northern Italy will be your home during this Whole Journeys "active foodie" tour. Each day, you'll earn your hearty dumplings, fabulous Alto Adige wines, and to-die-for strudel with vigorous hikes in the mountains, including a tour of the Geoparc Bletterbach, a UNESCO World Heritage Site. During your stay at the delightful Hotel Villa Berghofer, you'll assist the chef in making gnocchi and other dishes that will be served that night at dinner.
Insider Tip: Unleash your inner Heidi for a night at the Rifugio Franz Kostner, a rustic, albeit warm and cozy, hut high in the Sella mountains. After your hike up to the hut (you can also cheat and take a chairlift), you'll be rewarded with jaw-dropping mountain views and a hearty dinner with the owners' locally made wine.
PLAN YOUR TRIP: Visit Fodor's Dolomites Guide
marco mayer/Shutterstock
Let's Go Cook la Bonne Cuisine
WHERE: France
Your home base for this tour is Chateau de la Barge, a 14th-century castle hotel nestled in the heart of France's famed Burgundy region, and where the hotel's chef will teach you how to whip up such French classics as coq au vin, bœuf Bourguignon, cassoulet, Crêpe Suzette and wine-poached pears. There's plenty of built-in free time in the afternoons to discover the area's Pouilly-Fuissé and Beaujolais wineries on your own, or to join planned activities including an artisan-cheese tasting, a visit to Cluny Abbey, and an excursion to the Saturday market in the village of Chatillon.
Insider Tip: The chateau's gregarious owner, Patrick Revoyre, usually participates in all of the classes and excursions, and he dines with guests, too. He's even been known to invite the group to his home for a BBQ with his friends.
PLAN YOUR TRIP: Visit Fodor's Burgundy Guide
WHERE: Mexico
Set in a luxury villa above the town of Tepoztlán, often referred to as the "Sedona of Mexico," this culinary experience will find you settling into the rhythms of village life in no time. Chef Ana Garcia will show you how to make such toothsome Mexican dishes as chiles en nogada, red and green mole, pescado a la talla, and tamales. After the morning classes, hike up to the nearby pyramid or relax by the heated pool carved out of volcanic rock.
Insider Tip: For a less expensive option, stay instead at the singularly unique Tubohotel on the outskirts of Tepoztlán. The 20 or so cylindrical "rooms" are made out of repurposed concrete drainage pipes and stacked into pyramids.
PLAN YOUR TRIP: Visit Fodor's Tepoztlán Guide
bigfatcat/Shutterstock
WHERE: China
Intrepid's busy tour begins in Beijing, where you'll prowl the hutongs (alleys) in search of tantalizing street food, dine on the city's signature dish (Peking duck), and explore the Forbidden City and Tiananmen Square before heading to the famous Donghuamen Night Market, where the adventurous can snack on deep-fried centipedes or lizards on a stick. After a trip to the Great Wall, you'll head to Xi'an to see the famous Terracotta Warriors, then savor spicy Sichuan cuisine in Chengdu, where you'll also visit a farm village. Wrap up your trip in Shanghai, increasingly a destination for trendy bars and cutting-edge restaurants.
Insider Tip: The Chengdu area has been home to the critically endangered giant panda for thousands of years, and this trip includes a visit to the Chengdu Giant Panda Breeding Research Base, which works to increase the beloved animal's numbers.
PLAN YOUR TRIP: Visit Fodor's China Guide
Nonnakrit/Shutterstock
WHERE: Peru
Begin this tour in Lima, where you'll stock up at the main market before learning how to prepare traditional Peruvian dishes, and how to appreciate the complexities of various piscos (grape brandy), Peru's national liquor. After exploring the modern-day capital city's museums, you'll embark for the capital of the ancient Incan empire, Cusco, to discover the Sacred Valley and the fascinating ruins of Machu Picchu. After returning to Lima, head to the countryside for a class in pachamanca, the ancient method of using hot stones to cook marinated meats and vegetables.
Insider Tip: No foodie trip would be complete without learning to make ceviche, a traditional Peruvian dish. Chunks of raw fish are marinated in lime juice, chopped onion, and chilies, and served with toasted corn kernels, slices of cooked potato, and seaweed.
PLAN YOUR TRIP: Visit Fodor's Peru Guide
Paul Cowan/Shutterstock
Delicacies of North India
WHERE: India
This two-week-plus Travel the Unknown tour covers just about every destination you'd want to hit in Northern India: Delhi, Agra, Dharamsala, Amritsar, Rajasthan, and Jaipur, to name a few. With so much ground to cover, you'll taste and learn to cook a host of Rajasthani, Kashmiri, Awadhi, and Bengali dishes. You'll visit monuments and attractions too numerous to mention, but a few of the highlights are the Taj Mahal, McLeodganj (the official residence of the Dalai Lama), Fatehpur Sikri (a UNESCO Heritage Site), and Amritsar's Golden Temple.
Insider Tip: You'll witness the Beating the Retreat ceremony at the Wagah Border between India and Pakistan, where the flags have been lowered by soldiers on both sides every evening since 1959. Though the parade might look somewhat hostile to onlookers, the colorfully turbaned soldiers are meant to be imitating the strutting of a proud rooster.
PLAN YOUR TRIP: Visit Fodor's India Guide
Adisa/Shutterstock
WHERE: Marrakesh
After breakfast under a Berber tent on the rooftop of your luxury riad, accompany the Gourmet on Tour chef to the market to help choose ingredients for the night's meal, employing the Arabic words you've practiced that morning. That evening, feast on the dishes you've helped prepare in the cooking class at the riad, including oven-baked sardines with eggplant; caramelized fennel and baby onions; lemon chicken tagine; and rosewater meringues. The next day, head to the foothills of the Atlas Mountains, where you'll cross a river by mule to a nearby mountain village to prepare and enjoy a traditional Berber lunch.
Insider Tip: The five-day trip includes a day at the spa—including hammam, gommage, massage, facial, manicure and pedicure, and hairstyling—and either a daylong, off-the-beaten-path shopping excursion or a day trip to a 12th-century mosque in the Atlas Mountains.
PLAN YOUR TRIP: Visit Fodor's Marrakesh Guide
(c) Aliena | Dreamstime.com
Andalucia Culinary Delights
WHERE: Cádiz, Spain
This Unique Traveller tour is centered in Vejer de la Frontera, a sun-drenched, white-washed hilltop town overlooking the inland mountains near Cádiz. During four, half-day cooking classes and sherry tutorials, the dishes you'll learn to prepare might include fish baked in local sea salt, classic paella, and sherry and chocolate cake. Visit the fish market in the small coastal town of Barbate to buy ingredients for the Spanish lunch you'll help prepare, and enjoy a tapas tour in the old part of Cádiz.
Insider Tip: Vejer abuts the Sierra de Grazalema Natural Park, a nearly 128,000-acre UNESCO biosphere reserve known for its limestone cliffs, caves, and gorges, not to mention its population of threatened Egyptian vultures.
PLAN YOUR TRIP: Visit Fodor's Cádiz Guide
© Peter Guttman/PeterGuttman.com
WHERE: Bangkok
This Trip Feast experience begins and ends in bustling Bangkok, where you'll visit a local market before a hands-on cooking class, take a ferry on the Chaophraya river to the old royal district at Rattanakosin Island, linger over drinks on a rooftop bar, and wander Yaowarat, Bangkok's huge Chinatown. After another cooking class in Amphawa, take a nighttime boat tour to view this area's famed fireflies. You'll also see traditional flat boats stacked high with goods at Damnern Saduak Floating Market and take an elephant ride to tour the Hua Hin Hill Vineyard.
Insider Tip: On Day 5, you'll have the option of waking up at 6 am to learn about and partake in a daily Buddhist practice of offering alms to the monks.
PLAN YOUR TRIP: Visit Fodor's Bangkok Guide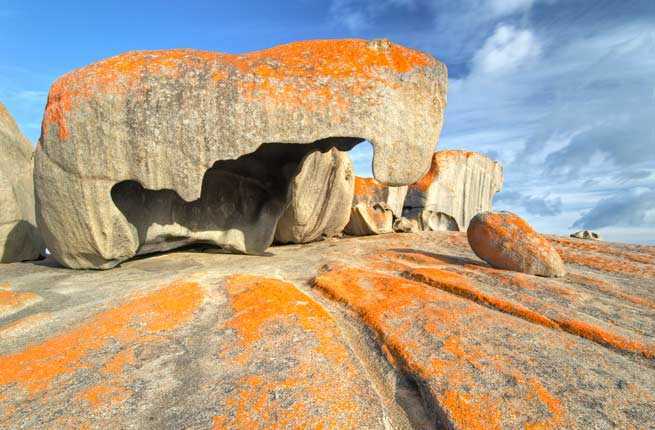 Light & Magic Photography/Shutterstock
Kangaroo Island Gourmet Food Safari
WHERE: Australia
This Gourmet Safaris tour whisks you from Adelaide to Australia's third largest island, where you'll spend four nights in your own beach house. Venture out to see wildlife—seals, penguins, sea lions—as well as to explore superb beaches and dramatic headlands. Tour the sources of many of the products the island is known for, such as olive oil, sheep's-milk cheese, Ligurian bee honey, southern rock lobster, and wine. Dinner on the last night is back in Adelaide at the trendy new Bistro Dom.
Insider Tip: You'll have an opportunity to scavenge for samphire ("glasswort"), a sea vegetable that grows on shorelines and has been popular in the U.K. for quite a while. It is particularly delicious when paired with seafood.
PLAN YOUR TRIP: Visit Fodor's Kangaroo Island Guide