Waldorf27 | Dreamstime.com
The word is out: Central America gets rave reviews as a place to retire with its ever-improving standard of living and health care, increased availability of consumer goods, and mild climate. That's right: No snow! We recommend testing the waters before you take the expat plunge, with a short-term rental. Here are 10 places to visit in Central America that are perfect for when you're ready to quit your job, sell your house, and relax in paradise. — Jeffrey Van Fleet
Pxhidalgo | Dreamstime.com
WHERE: Panama
No place in Central America glitters quite like Panama's cosmopolitan capital. The Canal Zone has made Panama City Central America's original expat enclave. The American administration is gone, but its infrastructure is still in place in the form of tidy bungalows with green yards that are favorites of foreign retirees. Or you can roost in an apartment in one of the skyscrapers that define the city's impressive downtown skyline. A city of 1.5 million residents means big-city pleasures: amazing shopping, fabulous dining, and a snazzy new Metro to get you around. The capital comes with a few no-go areas, day or night, but all are well delineated and you'd have no reason to find yourself there. Panama City does get beastly hot, so brace yourself for an acclimatization period, and turn on the air-conditioning in the meantime.
PLAN YOUR TRIP: Visit Fodor's Panama Guide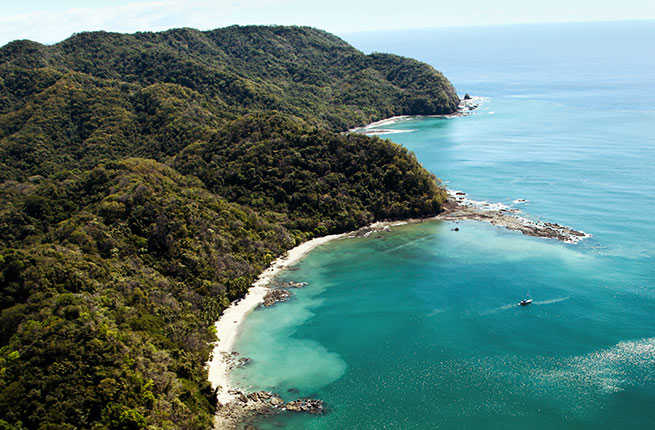 Tamifreed | Dreamstime.com
WHERE: Costa Rica
The living is easy at the beach, as masses foreigners have discovered by retiring in the coastal communities around Costa Rica. However, one up-and-coming area of the south Pacific coast is the Ballena National Marine Park, a reserve set aside for observation of the annual migration of humpback whales. The area is anchored by the towns of Dominical, Uvita, and Ojochal. Dominical is growing up but remains true to its surfing roots, while Uvita maintains its típico Costa Rican flavor and Ojochal hosts a substantial Québécois population. In between, beaches and mangroves hug the coast and forests and waterfalls lie just inland. Once you get off the sleek new Costanera highway, the region's main drag, you encounter some of Costa Rica's legendarily rugged roads. Opt for four-wheel drive.
PLAN YOUR TRIP: Visit Fodor's Costa Rica Guide
Pxhidalgo | Dreamstime.com
WHERE: Guatemala
Central America doesn't get more gracious than Antigua, one of Central America's best cities for colonial architecture. Antigua means "old," in the sense of "days gone by," and although you will walk by restored churches, convents, monasteries, and palaces each day, this is a living, working city rather than an indoor/outdoor museum. You can still find some colonial-style houses, built around a patio, in need of some fixing up, and many retirees here dive into such projects. At nearly a mile in elevation, you are assured of mild temperatures year-round. Antigua's two dozen language schools make it a terrific place to learn Spanish, as long as you don't spend all your time outside class conversing in English with the vast expat community.
PLAN YOUR TRIP: Visit Fodor's Guatemala Guide
Tompozzo | Dreamstime.com
WHERE: Honduras
Scuba divers get all dreamy eyed at the mention of Roatán, the largest of the Bay Islands, off the north coast of Honduras. The island draws a significant foreign retiree population who want a Caribbean island at a fraction of the cost of St. Barth's. English has easily become Roatán's second language—some argue that it's its first. A certain been-there, done-that pioneer segment of the population is now staking claims on Utila and Granaja, the two smaller neighboring Bay Islands. Both have less-developed infrastructure than Roatán's, but it's just a matter of time before that changes.
PLAN YOUR TRIP: Visit Fodor's Honduras Guide
Amaiquez | Dreamstime.com
WHERE: Panama
When you get to Boquete, you might think you've taken a wrong turn and ended up in Bavaria. European immigration in the early 20th century resulted in a tidy alpine town whose residents take enormous pride in their window flower boxes. Boquete is Panama's center for adventure tourism, but its cool, 3,900-feet altitude draws a large foreign retiree population. At 19,000 people, the town sprawls throughout its mountain valley, watched over by the active Barú volcano, Panama's highest mountain. One particular advantage is the country's use of the U.S. dollar as its currency, making money exchange a non-issue.
PLAN YOUR TRIP: Visit Fodor's Panama Guide
Nstanev | Dreamstime.com
WHERE: Belize
Central America's only English-speaking nation sways to the beat of far-off Jamaica, rather than the dominant Latino culture. Ambergris Caye (pronounced "key"), the largest of Belize's Caribbean barrier islands, counts a substantial foreign retiree population, most of which congregates in San Pedro, the island's main town. Costs skew higher here; everything must be imported to an island, but as long as you don't insist on living on the beach, you can cut housing expenses. Tropical homes here are constructed to take advantage of prevailing breezes, making air-conditioning less necessary than you'd think. Golf carts are the preferred method of getting around this island that's 25 miles long and one mile wide.
PLAN YOUR TRIP: Visit Fodor's Belize Guide
Picturist21 | Dreamstime.com
WHERE: Panama
Numerous hot springs around this town inside the crater of an extinct volcano are reputed to restore your lost youth. But the cool climate and clean air of "El Valle" are just as likely to rejuvenate you as taking the waters will. (On the topic of climate, this is a cloud forest. A chilly dampness, not to everyone's liking, hangs in the air at certain times of the year.) The foreign retiree community is small here; the town has preserved its local flavor better than other destinations. Residents have a love–hate relationship with the well-heeled tourists from Panama City who descend on El Valle each weekend, but locals are always happy to get their quiet bicycle rides, small cafés, and a daily farmers' market back come Monday morning.
PLAN YOUR TRIP: Visit Fodor's Panama Guide
Waldorf27 | Dreamstime.com
WHERE: Nicaragua
Throughout Nicaragua's turbulent history, wonderful old Granada always maintained its air of gentility—some detractors might call it "aloofness"—and the city rivals Antigua, Guatemala, as Central America's colonial hotspot. The Sandinistas—yes, those Sandinistas—are once again in power in Nicaragua, but today's government realizes that the 1980s are over and free markets rule. Although the typical Granada-style colonial houses built around a central patio can no longer be snapped up for a song, there are still fixer-uppers that have become favorite projects for retirees. As befits Nicaragua's number-one tourist destination, Granada hosts a varied and expanding dining scene.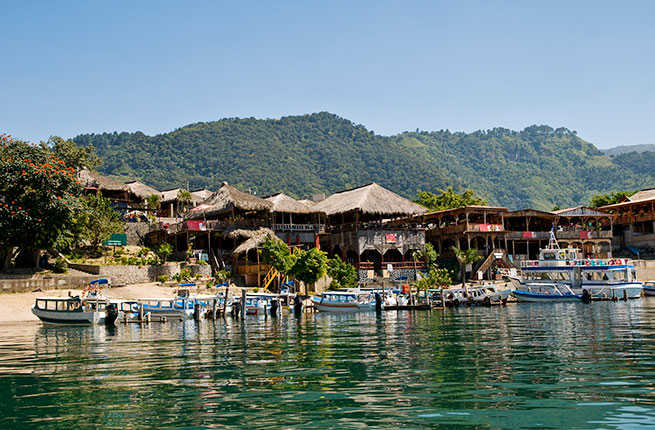 Matewe | Dreamstime.com
WHERE: Guatemala
A shimmering lake and three volcanoes form Guatemala's most iconic postcard view; the highland community of Panajachel is the region's hub. A long-established outpost on the Gringo Trail, this onetime hippie mecca has grown up, and those 1960s visitors are now gray and of retirement age. Pana's expat community congregates on the streets leading off its main drag, Calle Santander. More adventurous foreigners plant their flags around the perimeter of the lake in communities whose names read like the old Catholic Litany of the Saints, from the tony-slash-indigenous Santa Catarina Palopó, to the largely indigenous Santiago Atitlán, to the aspires-to-be-hip San Pedro La Laguna. A network of boat taxis bops from town to town more quickly than you can circumnavigate the lake by road. Tend to cross-lake errands in the morning here, since the water gets notably choppier by mid-afternoon.
PLAN YOUR TRIP: Visit Fodor's Guatemala Guide
Alprol | Dreamstime.com
WHERE: Costa Rica
Few foreigners retire to San José, Costa Rica's congested capital. But Escazú and Santa Ana, the first and second suburbs to the west, have become the country's prestige addresses. Tradition mixes with modern commercial development in both, and, alas, neither city has done a stellar job of containing urban sprawl. Exiting the highway to either community, you'll be forgiven for thinking you've been dropped into the middle of southern California. But ascend the hills that front each to the south and the BMWs give way to oxcarts. This is the Costa Rica of folklore, and legend hold that spirits, benevolent and malevolent, populate these hills. Haunted or not, the higher elevations, with their homes that command views of Costa Rica's Central Valley, have become favorites of foreign retirees.
PLAN YOUR TRIP: Visit Fodor's Costa Rica Guide